Posted by Kyle Davis on 16th May 2018
Skid Steer Auger Bits
Whether your a fencing contractor, a landscaping professional, head of a nursery or owner of a ranch, when it comes to boring holes for fence posts or planting trees, there's no better tool for your skid steer than a durable Skid Steer Auger Attachment outfitted with the proper Auger Bit. As jobs become more specialized and customer demands more specific, the industry has responded by offering a full suite of Skid Steer Auger Bits in a whole host of diameters, collar sizes and lengths, each manufactured and constructed for a specific earth drilling application. Standard earth drilling is the most common request, but Auger Bits are also available for heavy rock, asphalt and compacted soil, as well as dedicated tree planting auger bits to streamline operations. There are even dedicated Stump Planers that can be paired with an Auger Drive. Mini Skid Steer? No problem, as there are many smaller diameter bits that will perform seamlessly on your machine, and even 3 Foot Auger Bits available to combine with your mini loader. No matter your industry, your job demands, or your machine, Skid Steer Solutions and their trusted manufacturing partners have a Skid Steer Auger Bit that is sure to offer premium performance and efficiency. Explore our full guide below to learn more, view photos and video, and to dive more in depth on the specific and specialized offerings you'll find at Skid Steer Solutions.
.
Table of Contents
Continue reading for a full overview of the Skid Steer Auger Bits available on our website. For a more in-depth dive into specialized models, sizes, and applications, follow the table of contents and links below.
.
.
Trusted Manufacturers of Skid Steer Auger Bits
- Eterra
- McMillen
- Pengo
- Digga
.
Eterra Skid Steer Auger Bits
Eterra is an up-and-coming manufacturer of a full catalog of attachments and tools, and their Skid Steer Auger Attachments and Auger Bits are playing a major part in the companies growth. Before we discuss the features of the bits themselves, it's worth highlighting the major selling point of Eterra's highly regarded Auger Drives: The Flip Hitch and Cement Mixing System. Both Mini Skid Steers as well as full size Skid Steer Auger Attachments from Eterra can be selected with the ability to swing the auger 180 degrees, allowing for the addition of a cement mixing bowl, or, for the purposes of this guide, the addition of an Eterra Auger Bit that can then perform horizontal drilling. This added functionality has been highly regarded in the industry since Eterra released it on the market. It can also be selected in Eterra's Auger Big Bundle, along with a full host of bits, to complete a comprehensive collection of auger tools.
As for Eterra's Earth Auger Bits, they come available one class, and that's Heavy Duty, there is no standard or light duty option available, as all Eterra Auger Bits come Heavy Duty and ready for extreme ground conditions, up to an including hard-compacted soil and rocky terrain. For the drilling of asphalt, concrete or solid rocks, Eterra offer the option to outfit their bits with Heavy Duty Tungsten Carbide Teeth, as well as a Tungsten Carbide Fishtail, heightening the boring power of an already heavy duty earth drilling system.

Eterra Auger Bits comes in sizes 4"-36" in diameter, with 4"-24" the ideal options for mini loaders. Rated to 4500 ft. lbs., Eterra highlights that their Auger Bits have been designed with single flighting, they feel that too many double flighted bits boasts about this feature without providing the actual benefits. The single flighting of Eterra's bits provide the same heavy duty Earth Drilling functionality, but also clear soil and material faster, avoiding inefficient clogging and time wasting maintenance required of some double flighted models. This also cuts down on inefficiencies by keeping the drilled hole clean and concise, without the need to carve out a larger area due to a jammed up bit or too much material falling back into the working area.
In addition to these bits, Eterra also offers an Auger Stump Planer that combines with their 3500 and 4500 model Auger Drives. The Stump Planer comes available in 10" and 14" sizes, adding to your auger arsenal the ability to shave down and eliminate random stumps that slow down your earth drilling operations. With 3 steel tool cutters and a rugged starter planer pilot, the Stump Planer digs into stumps, feed through cleanly, and avoids overloading and sticking.

Eterra Skid Steer Auger Bits and Accessories
- Eterra Heavy Duty Earth Auger Bits
- Eterra Flip Hitch Auger Mounting Frame
- Eterra Heavy Duty Tungsten Carbide Fishtail
- Eterra Heavy Duty Tungsten Carbide Tooth
.
McMillen Skid Steer Auger Bits
McMillen brings a serious punch to the Skid Steer Auger Bit marketplace. Backed by the powerhouse of Paladin Attachments, McMillen boasts years of research and development, as well as countless successful applications and complete projects. McMillen prioritizes craftsmanship in their design and construction, forgoing mass production to ensure proper quality and dependability in each bit they sell.
A stand-out model of the McMillen Auger Bit line is certainly their HDR Rock Ripper Auger Bits. These has long been a best-seller on Skid Steer Solutions, and it's not hard to understand why. Designed for the most extreme applications, McMillen Rock Auger Bits can handle solid, fracturable rock, frozen ground, hard clay, compacted soil, and just about anything else demanding operators can throw at them. Available in diameters that range from 6" to 36", this model should be seriously considered by any Auger operator looking to earth drill with heavy-duty force and reliable results.
The other added benefit provided by McMillen is the sheer size and scope of their product line. McMillen is able to offer their earth auger bits in a truly comprehensive list of lengths, diameters and collar sizes. Additionally, these Auger Bits come available in two grades: HDC Bits are the Heavy-Duty option, while HDF are the Medium-Duty option.
To give you a glimpse into how diverse the McMillen selection is, here are some of the available options:
Grade: HDC, HDF
Length: 3 Foot, 4 Foot, 5 Foot, 6 Foot
Diameter: 6", 8", 10", 12", 15", 18", 20" 24", 30" 36", 42", 48"
Collar Size: 2" Round, 2.56" Round, 2" Hex
With a selection that deep, there is sure to be a McMillen Auger Bit that will fit your machine, your auger drive, your application and your jobsite demands. It also gives loyal McMillen earth drillers the ability to amass a truly wide-reaching and multi-functional assortment of earth drilling bits and tools, with nothing able to stand in the way of productivity and efficient job completion.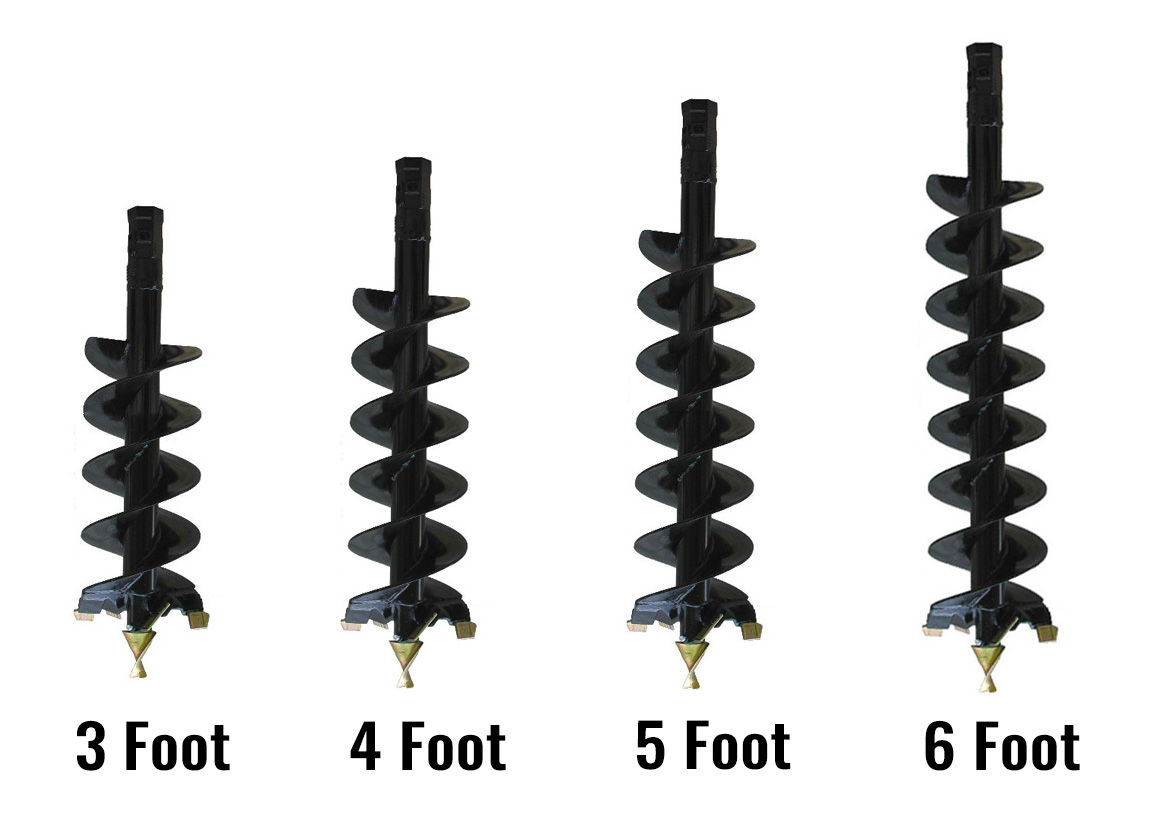 McMillen Skid Steer Auger Bits and Accessories
- McMillen HDR Rock Auger Bits
- McMillen HTF Tree Planting Auger Bits
- McMillen Fixed Length Auger Extension
.
Blue Diamond Skid Steer Auger Bits
Relatively new to the Skid Steer Solutions marketplace, Blue Diamond Attachments is a force to be reckoned with in the Skid Steer, Mini Skid Steer and Compact Excavator marketplace. Having established a reputation for excellent customer service, impeccable design and manufacturing techniques, and top-notch parts support for all products, this company located in Knoxville Tennessee produces American-Made equipment operators can be proud to own. With an extensive dealer network all across the nation, the number of satisfied Blue Diamond customers is growing by the day.
The Blue Diamond dedication to quality can be found in their line of Auger Bits. With a slightly more concise selection when compared to McMillen, Blue Diamond offers a handful of options, all at the standard length of 4 feet. All Blue Diamond bits come standard with rugged features to handle earth drilling of all types. Hardened drive-in teeth and hardened fishtail points are the default option, with carbide teeth typically available upon request. Heavy duty double flighting is a key feature of the Blue Diamond line, making these bits thick and heavy-duty, ready for earth drilling, all the way up to hard clay, frozen soil, rocky soil, even solid rock and concrete when it comes to the Blue Diamond Extreme Duty Rock Bits. Many models come with a variety of collar sizes, as well. Investigate Blue Diamond and their line of Auger Drives and Auger Bits, and you'll soon be impressed with the strength and sturdiness of their product line. And you can operate with confidence knowing this American company stands behind every product they sell 100%. We would say that makes Blue Diamond the perfect partner for Skid Steer Solutions.
.
Blue Diamond Skid Steer Auger Bits and Accessories
- Blue Diamond Standard Duty Earth Auger Bits
- Blue Diamond Heavy Duty Auger Bits
- Blue Diamond Extreme Duty Rock Auger Bits
- Blue Diamond Tree Auger Bits
- Blue Diamond Fixed Length Auger Extension
- Blue Diamond Variable Length Auger Extension
.