Posted by Mackenzi Griffin on 9th May 2023
Augers are some of the most common and accessible skid steer attachments available. This is largely due to their remarkable versatility, consistency and reliability. If you didn't know already, augers can do much more than just dig pristine holes in the earth. You can use an auger to break up rocks, mix concrete, or to power other attachments.
Skid Steer Auger Drives
The powerful, precise drilling performed with an auger begins with an Auger drive. The strong motor and gearbox spin bits, providing the power behind digging precise, uniform holes. However, augers are more than just glorified drills, you can swap out the drill bit for other attachments, such as a post driver, concrete mixer or a trencher, and transform your auger drive into an easily adaptable attachment.
Let's go over some of our favorite auger drives.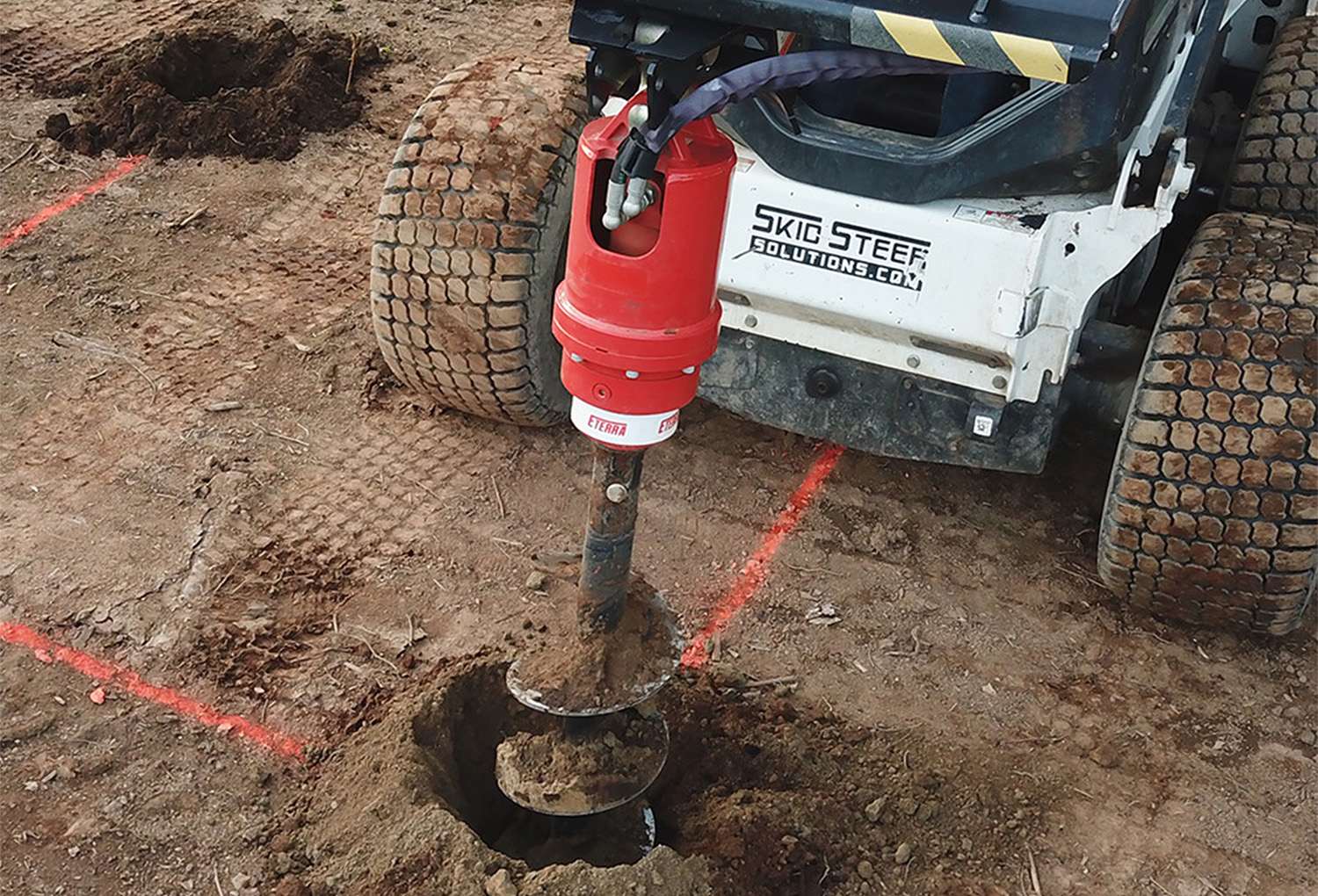 A high-quality auger drive should be strong enough to power through any tough unseen elements below the surface and durable enough to withstand all the back force caused during drilling.
Eterra's innovative planetary drive system and durable thrust plate provide both. This auger also comes standard with a swivel and quick attach mount that easily attaches to the Twin Rail Plate. Plus, a standard main hanger gives you the option to upgrade to the Eterra Flip Mount, to attach the Eterra Cement Mixing system.
The strength, durability and dynamic features of this auger make it a wise investment for our professional multi-taskers out there.
CID's Heavy Duty Skid Steer Auger Drive
Powered by CID's version of the planetary gearbox, this auger drive administers great force to any drilling job you need it to. The top-quality steel universal mount plate and heavy-duty output shaft absorb any unforeseen blows, help it last longer, and keep you and your skid steer safe.
This attachment is simple, tough, and an excellent fit for the casual operator looking for something that can keep up with a hefty workload and will last for years to come.
Skid Steer High Flow Auger Attachment by Digga
Digga knows augers, their high flow drive is powered by an Eaton motor with an integrated pressure relief valve and a high torque gearbox, this design eliminates the need for bulk valve blocks. A two-piece shaft design will ensure maximum side load ratings while reducing the load on your bearings.
Adding Digga's anti-kickback valve easily converts this auger drive into a screw anchor drive. This is a fantastic auger drive for landscapers, nurseries or arborists in need of an adaptable auger drive for multiple drilling styles.
Mini Skid Steer Auger Drives
Applying a versatile auger drive to the accessibility of a mini skid steer is a deadly combination for any project. Possessing all the same power and capabilities of a full-sized skid steer drive, the mini auger drive can be an easily interchangeable and adaptable attachment.
The EterraMini Skid Steer Auger Attachment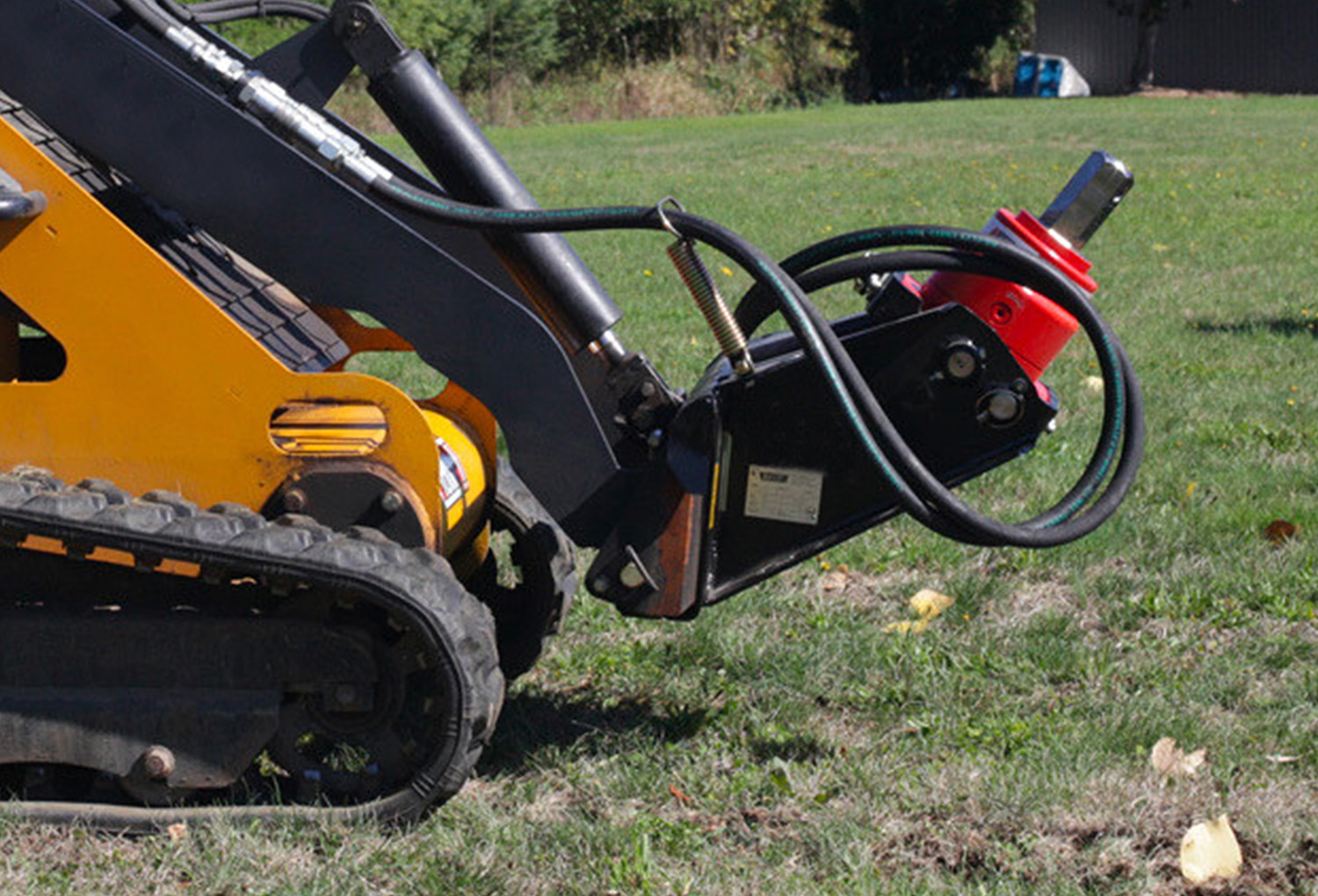 Eterra's mini auger drive eliminates the need for pounding around with a bunch of tools when you're adjusting your auger or mounting a new attachment. Simply unhook the lynch pin and slide the locking pins out with your fingers. That is convenient, no tools required and means less you need to keep track of on the job.
This mini auger drive is a great addition to your mini skid steer attachment collection for anyone with the goal of improving productivity.
Digga's Mini Skid Steer Heavy Duty Auger Drive
When you fire up Digga's Mini Skid Steer Extension Mount and Auger Drive you will maximize depth, reach, and power. With this mount you can run standard auger drives for up to 3,275 ft. lbs. of torque.
This wonderful feature allows you to use the same drive on your mini skid steer, standard skid steer or excavator. All you need is the proper mounts.
Just remember, increased torque is lower drilling speed. This attachment is perfect for a multi-vehicle owner looking to save costs with just one attachment purchase.
Mini Skid Steer Auger Drives from McMillen
Designed specifically for Mini Skid Steer Loaders and Compact Tool Carriers, to take full advantage of your small, nimble machine to drill and bore in the most difficult to reach areas.
This is an auger drive geared toward landscapers and construction owners that with small yet, rugged jobs to accomplish.
Despite your needs, machine and skill level there is an auger drive to match. Fortunately, we offer a wide range of auger drives, bits, and accessories to accommodate any application and fulfill any necessity.
We have barely broken through the surface, learn all about skid steer auger bits in our Complete Guide to Auger Bits.