Posted by Maranda Wilson on 2nd Jan 2017
Want to make the snow disappear as quickly as its piling up on your driveway? This week, we consider other options besides the ever popular snow pusher and plow. Contrary to popular belief, having just one snow removal attachment, such as a bucket, will not suffice for all snow falls (consider it more of a staple; a snow bucket is on our list of must-have attachments).
Why?
Because the snow condition and the texture of the snow will directly impact how efficiently your attachment can clear snow. For instance, the angle broom (or sweeper) and snow blower are two attachments designed for snow conditions on opposite ends of the spectrum — the angle broom works best on minimal, powdery snow; while the snow blower works best on wet, packed snow. However, there are a number of other key differences besides snow conditions to consider before you make your purchase:
Skid Steer Angle Broom/Sweeper:
Ideal for dry and minimal snow conditions (no more than a few inches), the operator controls the broom angles using an electric valve on an one-cylinder design. The direct drive allows for forward and reverse operation, and the windrow action moves snow ahead and to the side of the broom. A great option when earlier snowfalls make it difficult to push materials to the side or maneuver with buckets. A pickup attachment on a broom allows the sweeping and depositing of snow into an integrated hopper bucket for removal and transport.
Things to consider before investing in an angle broom:
1). What type of materials are you dealing with – is it strictly snow or are will it be a multipurpose attachment for dirt, gravel, and concrete?
2). Is your machine high flow? Typically 10-36 GPM (3000 psi) required.
3). Are you interested in opting for a mechanical angle standard or hydraulic option?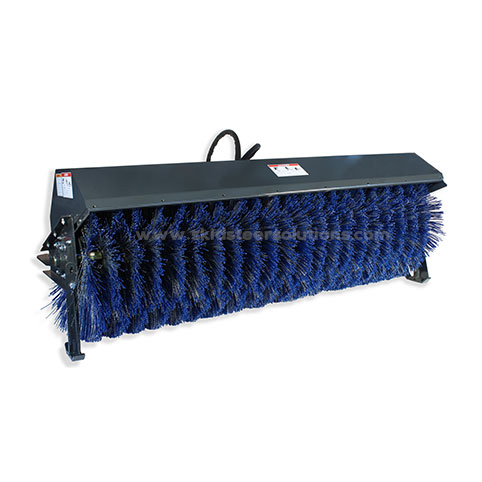 Comes with a rotary broom and skid steer mount along with hoses and flat faced couplers. The broom does not include the dust hood. Optional add-on feature.
Brushes are a poly/wire mix
Centering swing linkage with multiple pivot points to better center the broom in front of the loader while angled.
Standard broom with manual angle and 160-degree hood.
Hydraulic pressure relief valves provide system protection when operating broom in both directions.
Direct drive design with replaceable drive components.
Standard with 32" diameter poly/wire wafers.
Easy exchange of wafers, no disconnecting of hydraulic hoses required.
Price includes poly/wire wafer pack, Eaton® hoses and couplers.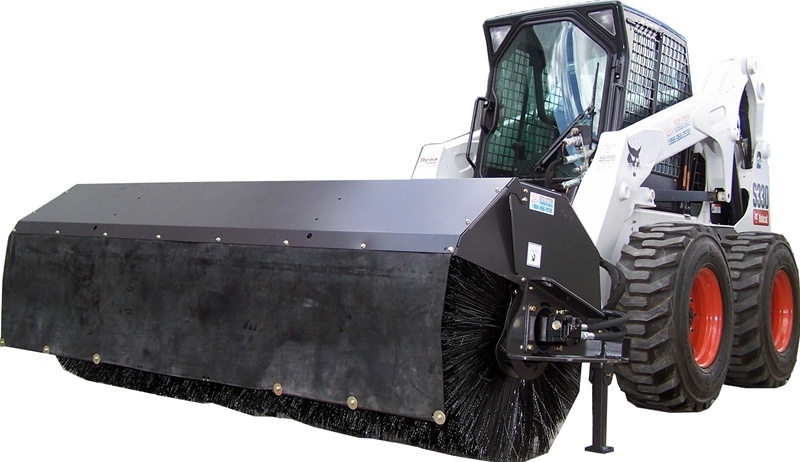 Manual tilt mechanism, with an hydraulic angle system as an option
Brushes are a nylon/metal mix – capable of scrubbing hard surfaces without the fear of premature wearing of the brushes.
Full floating hitch point allows the broom to follow the contour of what is being swept.
Requires machines with hydraulic flow capabilities to be in the range of 12-25 GPM with a pressure range of 2000-3500 PSI for optimal performance.
Price includes rotary broom and skid steer mount along with hoses and flat faced couplers. Does not include the dust hood.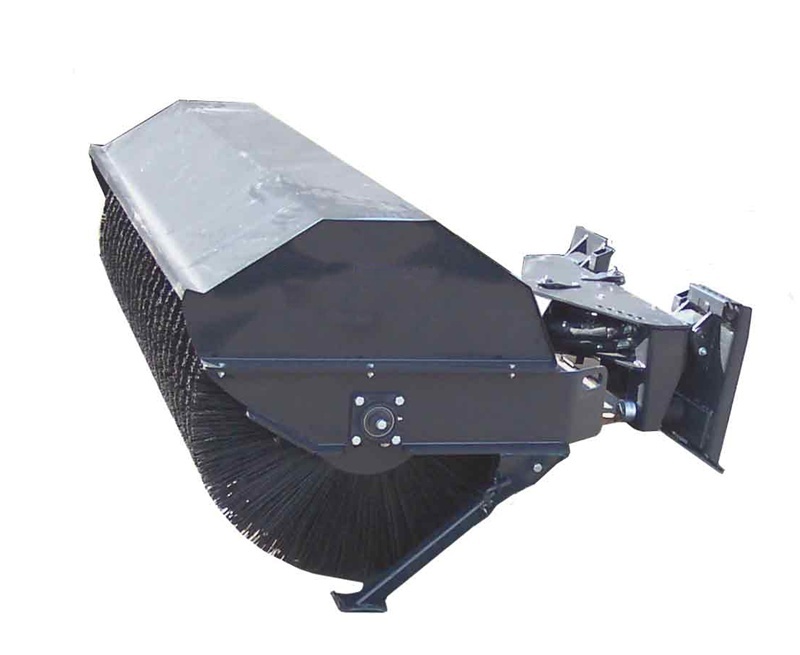 Manual tilting mechanism or hydraulically operated model.
Full floating hitch point allows the broom to follow the contour of what is being swept.
Skid Steer Snow Blower:
For the toughest snowfall, a snow blower can tackle the heaviest and wettest of snow accumulation. For streets, parking lots, driveways, and sidewalks, the snow blower is an excellent choice for narrower places. With an optional truck loading chute, snow can be directed into the truck and hauled off. Alternatively, toss snow even into a median (such as ditches, areas alongside a path, or the middle of a lawn); on average, a snow blower can throw snow as far as 40ft! The rotating chute and deflector can bank snow high or blow it far: chute rotation uses a chain and sprocket system (this ensures you won't be dealing with loose, tangled, and/or frozen cables). By adjusting the deflector up or down, the chute points snow in almost any direction and throws snow wherever the operator wants it to land. Deep snow banks, compacted snow, or heavy snowfall, the snow blower ensures a clean job that doesn't leave trailing piles of snow like a bucket or plow does.
Snow blowers can be divided into two types: single-stage and two-stage. On a single-stage snow blower, the auger (the paddle mechanism visible from the front) pulls snow into the machine and directs it out of a discharge chute. It is important to note that because the auger makes contact with the ground, single-stage snow blowers are not suited for unpaved surfaces. On the other hand, the two-stage snow blower uses the auger to pull snow into the machine as it is fed into a high-speed impeller and expelled through the discharge chute. Because their augers don't make contact with the ground, they can be used safely on unpaved surfaces and work more efficiently in deeper snow depths compared to single-stage blowers.
The downside of a snow blower is that it is prone to build up in the auger, leading to jams and motor stalls. When a jam is not properly cleared, the auger could deform prior to there being enough resistance to turn the motor off. The greatest risk is attempting to clear a jam by hand because there is the possibility for the auger to return to its original shape and restart. To avoid injury, the suggested protocol is to turn off the engine, disengage the clutch, then clear the obstruction with a broom handle or other long object.
Things to consider before investing in a snow blower:
1). Is your machine high flow?
2). Is your skid steer equipped with the correct switches in order to control the secondary functions?
3). Your blower should have thicker end plates (thicker steel all around) as a skid blower are prone to more abuse versus a three-point-hitch tractor blower (due to the down pressure).
4). What surfaces are you intending to work on? Driveways such as interlock or stamped colored crete are more susceptible to damage because of the down pressure.
5). Is the impeller engineered to balance power and torque? This ensures the throwing distance and capacity are maximized, as well as prevent plugging.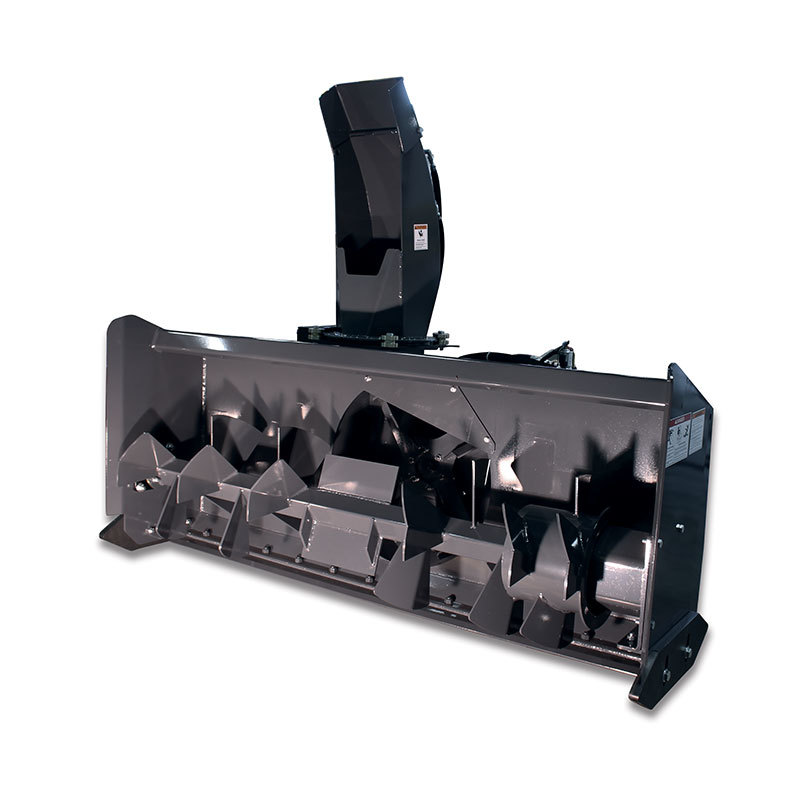 Skid Steer Snow Blower – V50 and V60 by Virnig
Paddle-style auger efficiently chews through any type of snow. Wet and heavy, light and fluffy or hard and compacted.
Optimal auger location continuously feeds the partially enclosed fan to ensure max snow volume exits the chute.
3/16" metal surrounding the fan reduces distortion from rocks and debris, resulting in longer blower life.
270-degree hydraulic chute rotation and deflector angle allows precise snow placement.
Curved chute and shortened deflector maximize throwing distance.
Two, direct drive Parker® motors with hydraulic pressure relief protection.
Reversible, replaceable poly skid shoes prevent surface marks.
Standard 5/8" x 6" reversible, replaceable bolt-on wear edge.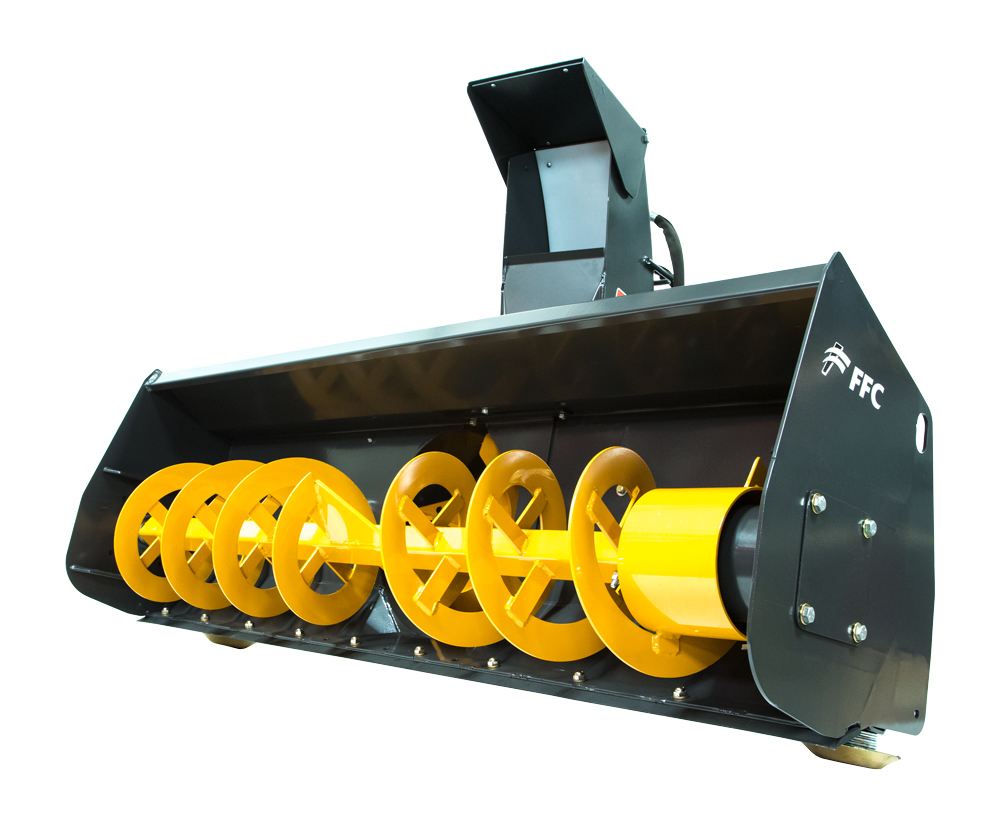 Full electrical control regardless of your machine brand, model or age.
Electrical control kits available to mitigate the most common control issues
Easily handles today's modern flow rates and pressures
Snow removal shouldn't be difficult for you or your machine. Disagree? Consider making some changes within the cab enclosure in addition to finding the right attachments.