Posted by Maranda Wilson on 18th Dec 2016
Baby, it's cold outside! While it's tempting to crack open a beer and watch sports inside where it's toasty and warm, you know that the snowy roads don't plow/push themselves. If you dread working out in the cold, it's because you have the wrong heating system... or you're missing one entirely! The only time you should be cold while working with your skid steer is during the walk from your home to your operator's seat!
The easiest solution would be to purchase a car heater that works by plugging it into a battery outlet, but the problem with this option is that the heat doesn't circulate in the cab, and often just warms up the area around the heater.
The alternative --and what we suggest-- is to install a heater directly into your unit. Sorry folks, but there's no quick and easy option if you want to a viable, long-term heating solution.A skid steer cab heater (installation kit sold separately) relies on your pre-existing cooling system to draw heat. Heat pumps operate like two-way air conditioners: to cool the air, heat is expelled outside the cab; and to warm the air, heat from the outdoors (using an electrical system) is redirected inside. We made the executive decision to stay away from an electric model because it delivers only 1/10th of the output. There is more heat available from the engine than you'll be able to get from any electric source. Moving heat, rather than generating it, allows the system to deliver more energy than it consumes. Consider this: a typical home space heater (1500 watts) would require 125 amps at 12 V.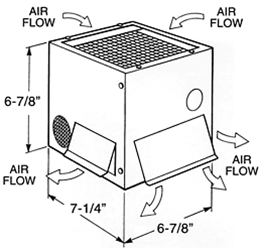 Because this appliance works as a modification to an pre-existing system, it requires some hands-on installation. Wiring must connect the battery to the switch (hot/fused), and the base of the heater must be ground properly to ensure a complete circuit to the fan motor. This can be done by opening a spot in the floor to mount the heater, and then breaking into the cooling system to run the lines to the sides of the heater.
Note: this heater is not for use on oil cooled units. Designed for water-cooled equipment only.
Here's the best part: it sounds complicated, but it's really not. Here are some of the comments we have received on the installation process.


Like heating your home, it doesn't matter how good your heater is if you don't have good insulation.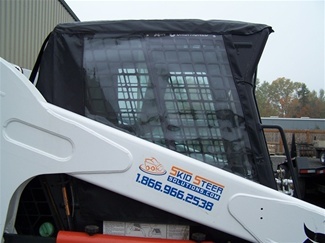 A Nylon Cab Enclosure is a great solution if you find it drafty in your enclosure. Made using tough 40 mil clear vinyl, it keeps the heat in and the elements out. Full 360-degree visibility with hook and loop fasteners means windows can be pushed open for easy access and safety. Held in place by a shock cord and S-hook, it can be installed and removed quickly. Using the nylon enclosure in addition to a heater ensures bodily heat won't lead to fogging.