Posted by Maranda Wilson on 4th Dec 2016

With the holiday season in full-swing, snow will be (or is already) in the forecast for many of our customers. At the first sign of snowfall, it is best to be already prepared with snow pusher and plow attachments.This is especially important if people are relying on you to clear the roadways in time for their morning commutes.
That's why we are currently offering 0% financing on all snow attachments until December 31, 2016 -- so that you will be ready for the first major snowfall of the year.
Now that we've convinced you with an amazing offer, the question is what model is right for you? Should I equip my skid steer with a snow pusher or plow? What's the difference? While using both attachments in tandem is ideal, the following is a breakdown of their differences and the benefits of each attachment type.
Despite the fact that most heavy machinery users already own a standard bucket, we strongly advise against using it for snow removal because it runs the risk of damage to the property, equipment, and even personnel.
Snow Plow: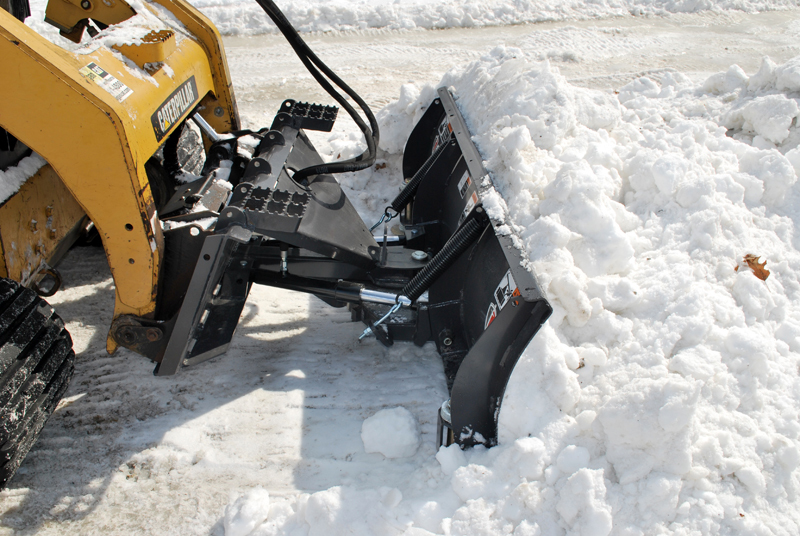 (Pictured: Skid Steer Angle Snow Plow by Virnig)
Favored for its versatility, the snow plow uses a blade to maneuver by pushing snow either forward or to the side. Ideal for clearing snow from driveways or roads because of its ability for back dragging and being a faster solution compared to attachments such as a bucket. Controlled using hydraulics, the blade's angle can be adjusted from side to side, as well as where to deposit the snow. Best for lighter snowfalls. For sections of bad asphalt, the plow may have a tendency to drag against such sections and cause further damage.
Snow Pusher: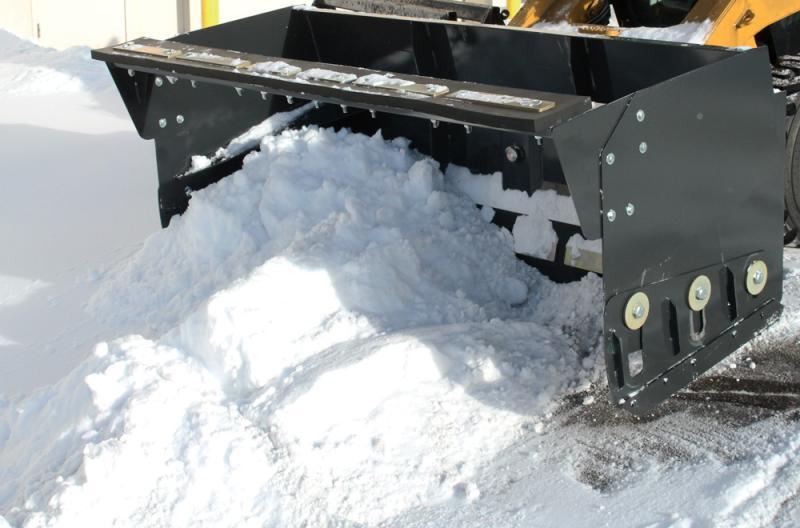 (Pictured: Skid Steer Snow Pusher by Virnig)
Similar to a snow plow in that it relies on a pushing motion, the main difference is that it is fully enclosed. Consisting of multiple scrapers as opposed to a single blade, the snow is trapped into a box-like attachment. The soft scrapers on the bottom edge ensures a cleaner, more snowless, result. Best utilized in open areas such as parking lots, since the attachment is meant to transport and stack large amounts of snow. Consider this attachment if you are looking more to transport snow versus merely pushing it off to the side. It is likely to run out of traction/power when used with a smaller machine. When used correctly, this attachment is typically less stressful for the machine as it is straight forward pushing and has less moving parts compared to the snow plow. Also as a multipurpose attachment, it is ideal for moving waste water, manure, feed lots, and flow clean-up.
Our offerings:
Skid Steer Angle Snow Plow by Virnig

Designed to hug the contours of the ground
Two-cylinder hydraulic angle design
Heavy duty construction allows full down pressure
Oscillation and adjustable cast skid shoes allows edge to follow uneven surfaces
Corrosion, dent and flake resistant NitroSteel® cylinder rods made in the USA
Trip edge containing four compression springs and hinge points
Design allows for 5 1/2" of total wear on the standard 5/8"x8" reversible, replaceable bolt-on wear edge
Skid Steer Snow Pusher by Virnig

Unique floating side plates, floating frame link and side-to-side oscillation keeps rubber edge in constant contact with the ground eliminating slippery, icy residue
Bracing on pusher sides and long-wearing ½" thick x 3" wide skid shoes ensues attachment longevity
11/2"x10" reversible, replaceable rubber edge with 6" of total wear
Rubber edger offers optimal surface protection while delivering pushing power
Skid Steer Low Profile Snow Pusher by Virnig

Better visibility because it is a foot shorter than the standard snow pusher
Floating side places and side-to-side oscillation keeps rubber edge in constant contact with the ground eliminating slippery icy residue
Edge never needs adjusting; it only needs to be reversed or replaced
Skid Steer Snow Pusher Attachment by FFC

Optional pull back kit draws snow away from buildings, fences and confined areas
Optional bucket lip mount available for 10', 12' and 14' models
All six models feature a height of 39.5" and a depth of 49.3"
Skid Steer Snow Blade Attachment Hydraulic Angle by FFC

Hydraucially angles 30 degrees in either direction
Reversible and replaceable wear edge
Adjustable skid-shoes
Spring-loaded trip mechanism
23" 7-gauge steel blade
Heavy structural steel frame
Standard hydraulic angle
Optional manual angle
Optional rubber wear edge
Skid Steer V-Plow Snow Plow Attachment by FFC

Full floating frame, which allows the blades to follow the ground contour without catching manhole covers
Each blade is sequence controlled; each blade can be operated half independently from within the skid steer loader without additional controls
Allows for the following angles

Straight
V
Scoop
Angles up to 30 degrees in each direction

Reversible cutting edge
Spring loaded trip mechanism
Blade floats 5" and tilts 5" to follow ground contour
Adjustable skid shoes
Ships with hoses, flat faced couplers, and universal skid steer adaptor mount
Heavy Duty Series: Skid Steer Snow Plow by Berlon

Stainless steel mold board resists rust from scratches and wear
Reversible bolt-on cutting edge 8" high, 3/4" thick (hardened)
Trip feature protects the surface in case the operator runs into a curb or object
Shock absorbers eliminate the blade from snapping back when the blade trips
Powder coated frame
Side steps
Hydraulic angle adjustment allows you to blade in either direction and deflect the material to one side or the other
Adjustable skid shoes reduce blade wear and gravel removal when plowing