Posted by Mackenzi Griffin on 12th Jun 2023
Buying attachment bundles provides an extensive solution for a wide range of tasks. Construction and Landscaping projects often require many attachments, such as buckets, forks, augers, trenchers, and grapples. When you buy these attachments separately, it can be time-consuming and challenging to coordinate their delivery and availability on-site. However, by purchasing them in bundles, you ensure that you have all the necessary tools at hand whenever you need them, to streamline operations and minimize downtime.
Our new Bulk Buying Page gives you the option to choose 5 or more attachments and receive 10% off with Free Shipping, or purchase over $50,000 worth of attachments to receive 15% off with free shipping.
If you're not sure how to build your ideal package check out a few of our favorite project bundles to maximize the performance of your jobsite day in and day out.
Landscaping
Together, these attachments form a comprehensive arsenal that enables efficient land clearing, debris removal, rock separation, stump grinding, tree removal, and trenching. With their combined capabilities, they streamline the process of tackling big landscaping jobs, saving time, and ensuring professional results.
To get things started, The Eterra Skid Steer Typhoon Land Clearing Mower excels at clearing dense vegetation and overgrown areas, swiftly reducing brush, shrubs, and small trees to manageable mulch.
Following the clearing process, The CID Heavy Duty Skid Steer Root Grapple is invaluable for efficiently removing and sorting debris, such as stumps, rocks, and logs. Its sturdy design and strong grip enable it to handle heavy loads with ease.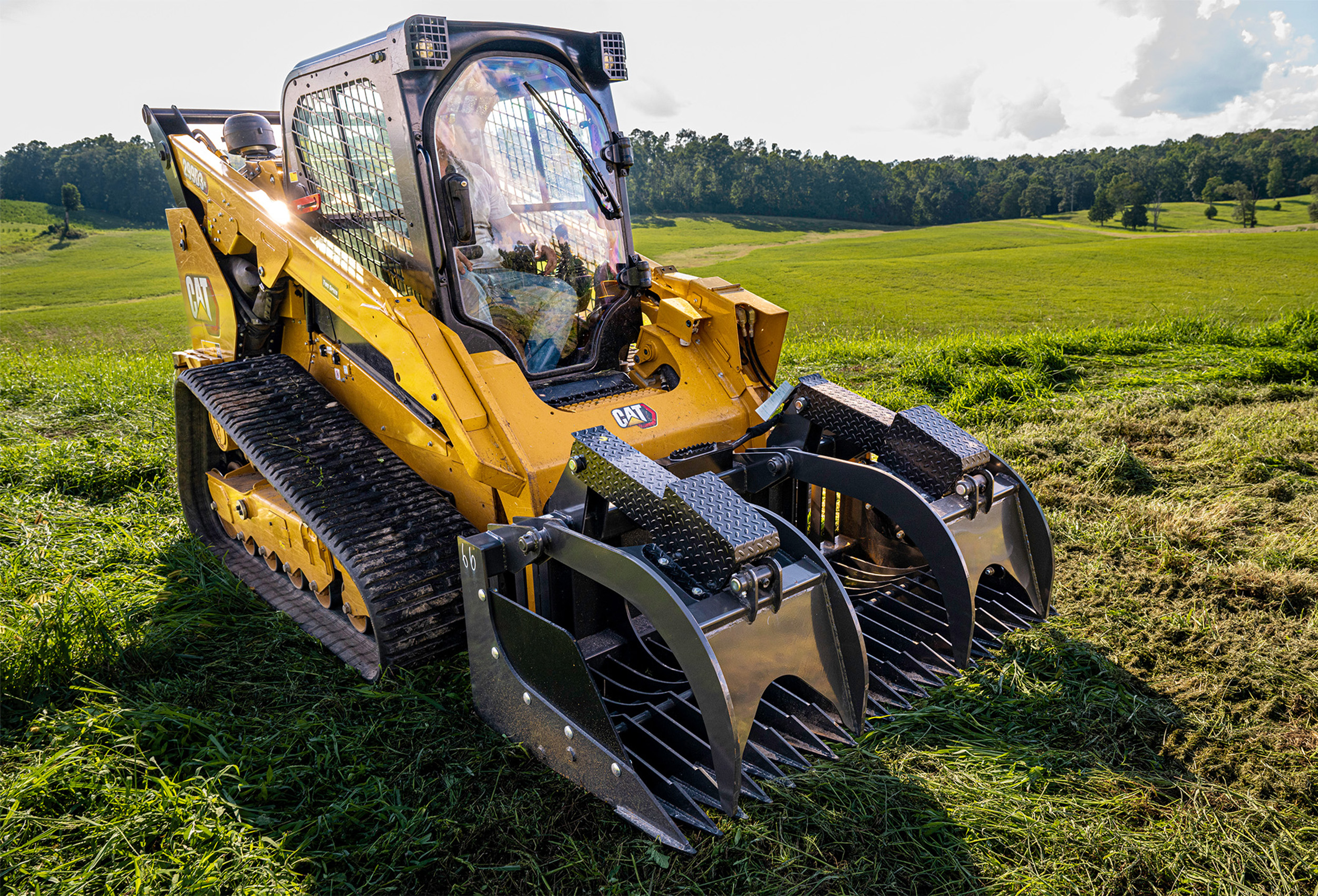 When it comes to sifting, sorting or transporting rocks, The Eterra Skid Steer Skeleton Rock Bucket is an indispensable tool. Its rugged construction and strategically spaced tines allow for easy sifting and separation of rocks, ensuring a clean and debris-free work area.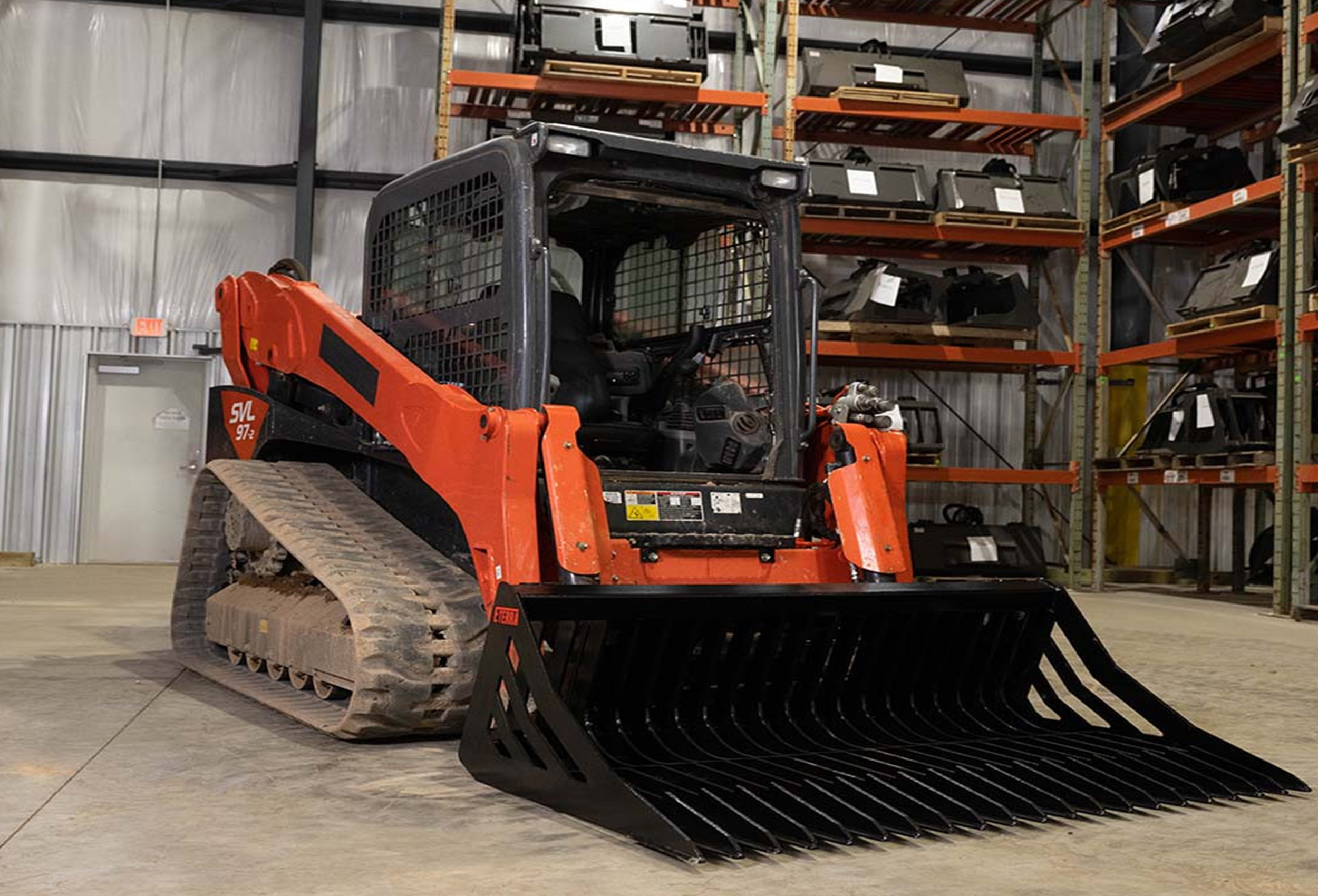 For tree removal tasks, The CID Skid Steer Rotating Tree Shear offers unparalleled efficiency. With its powerful cutting blades and ability to rotate 90 degrees, it quickly and safely cuts through trees, allowing for fast and precise removal. Then you can call on The Eterra Skid Steer Vortex Stump Grinder to effectively grind down tree stumps, to eliminate potential tripping hazards and facilitate the installation of landscaping features.
Finally, The Eterra Skid Steer Trencher provides a precise solution for digging trenches of various depths and widths, for installing irrigation systems, underground utilities, and drainage systems.
Fencing
When these attachments are united and utilized in harmony, they create an efficient fence building system. Collectively, this group of innovative attachments save time, increase productivity, and deliver high-quality results, making them the go-to tools for tackling big fence building jobs.
First up, The Eterra Skid Steer Box Grader plays a vital role in preparing the ground for fence construction. It levels the surface, removes debris, and creates a smooth and even terrain, ensuring the fence line remains straight and properly aligned.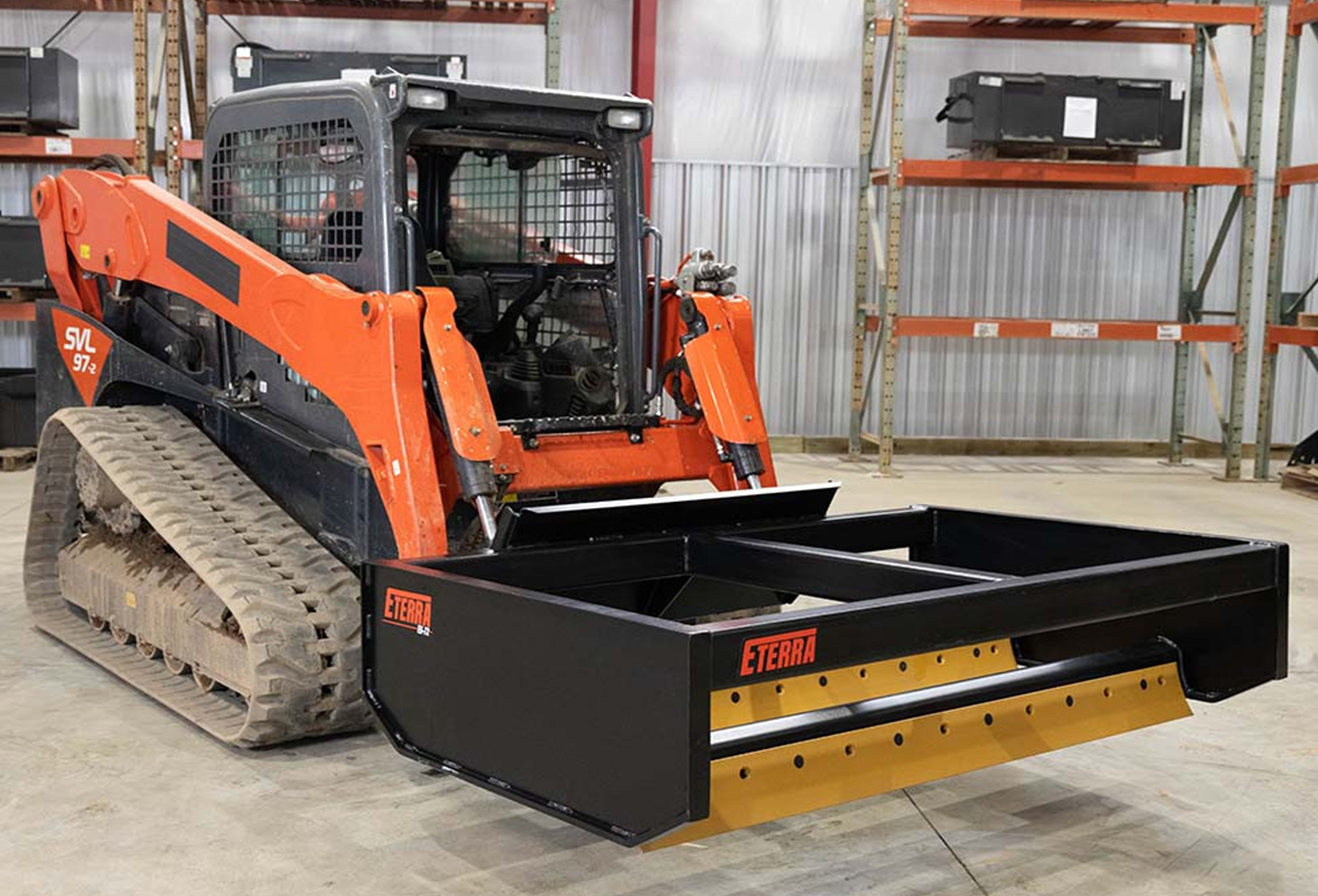 The Eterra Skid Steer Auger is a crucial component. It instantly provides your operation with precise postholes, making the installation process more streamlined. Its versatile design enables the operator to easily switch between auger bit sizes, adapting to various soil types and project requirements.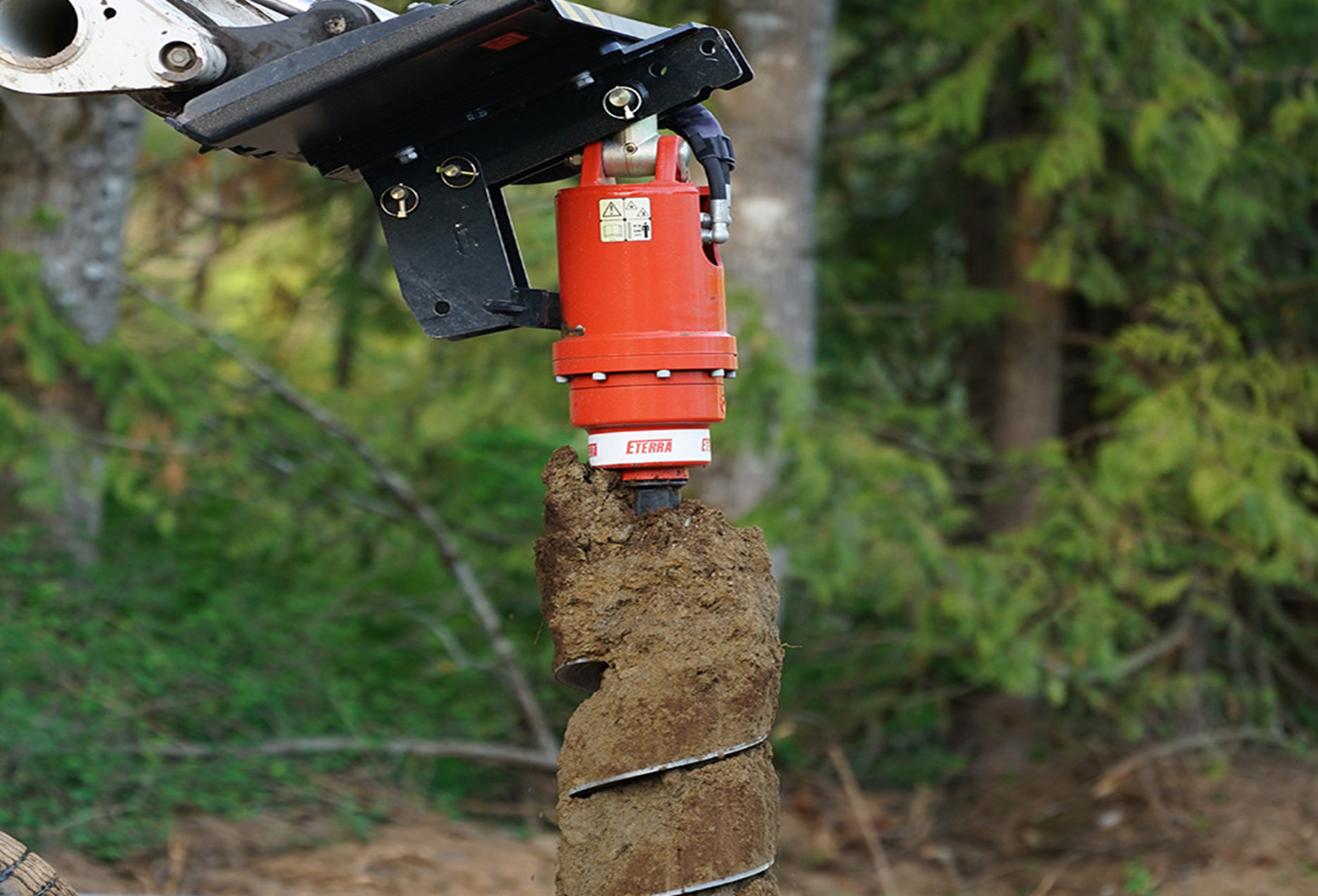 Once you have perfectly contoured land and evenly spaced postholes, The Eterra Skid Steer Post Driver forcefully drives posts into the ground, ensuring a sturdy foundation. With its hydraulic capabilities and precise control, it saves effort and maintains accuracy, even in challenging soil conditions.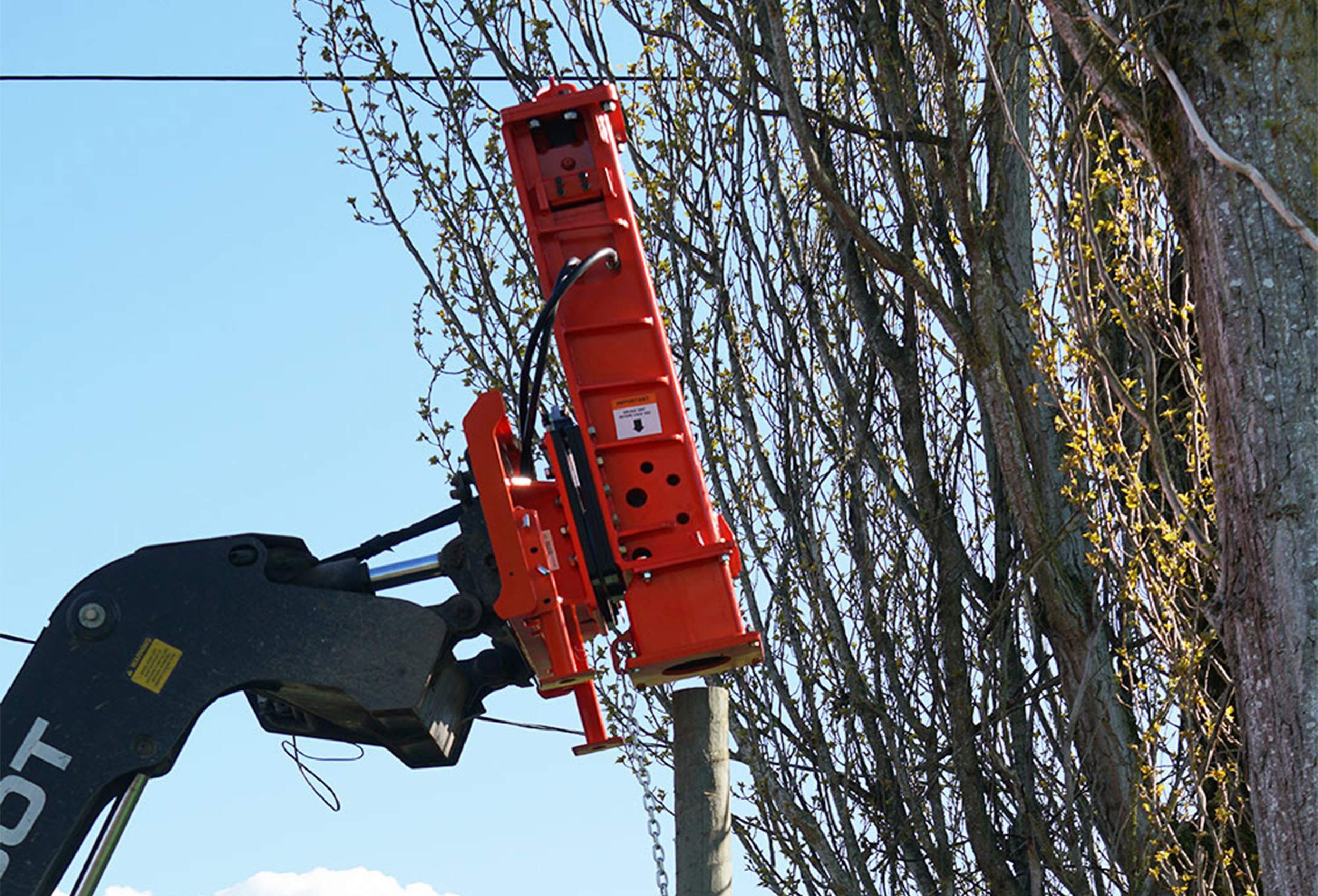 For fencing that requires set posts, The Eterra Skid Steer BMX Concrete Mixer is essential for mixing and pouring concrete footings. It eliminates the need for manual mixing and saves a significant amount of time and labor. By producing a consistent concrete mixture, it ensures the stability and durability of the fence's foundation.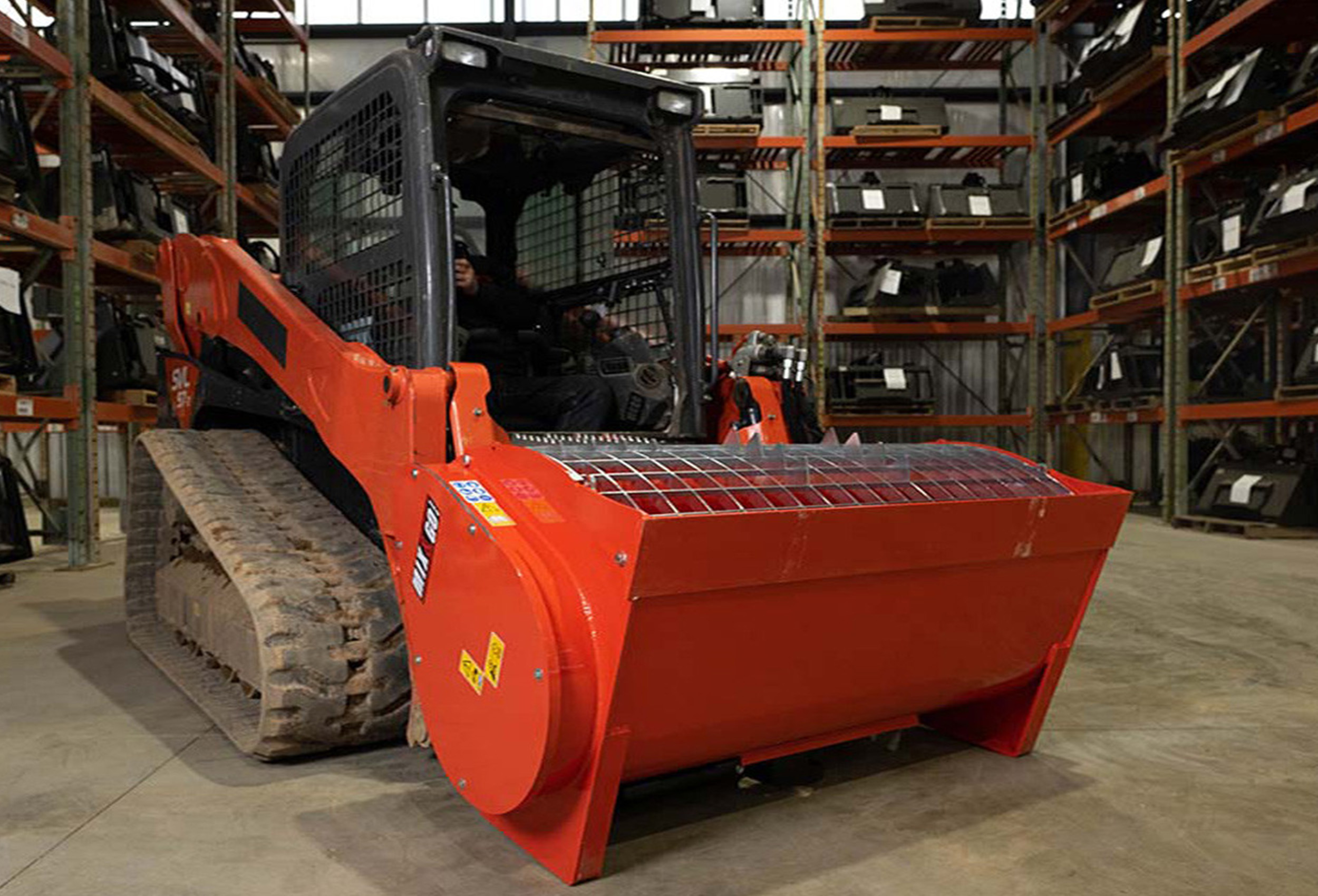 For any fencing job, CID's Hydraulic Skid Steer Pallet Forks are indispensable for moving and positioning heavy materials, such as fence panels, posts, and pallets of supplies. Their hydraulic functionality enables the operator to lift and transport materials, reducing the risk of injuries and possible material damage caused by other handling methods.
Demolition and Cleanup
For a formidable team in tackling big demolition and cleanup jobs, the collective power and efficacy of these attachments delivers a streamlined workflow, ultimately saving labor costs and hours on the jobsite.
The variable CID Heavy Duty Skid Steer Rock Grapple is the hero of debris removal, as it securely grips and transports large chunks of concrete and other materials so you can lose the wheelbarrow.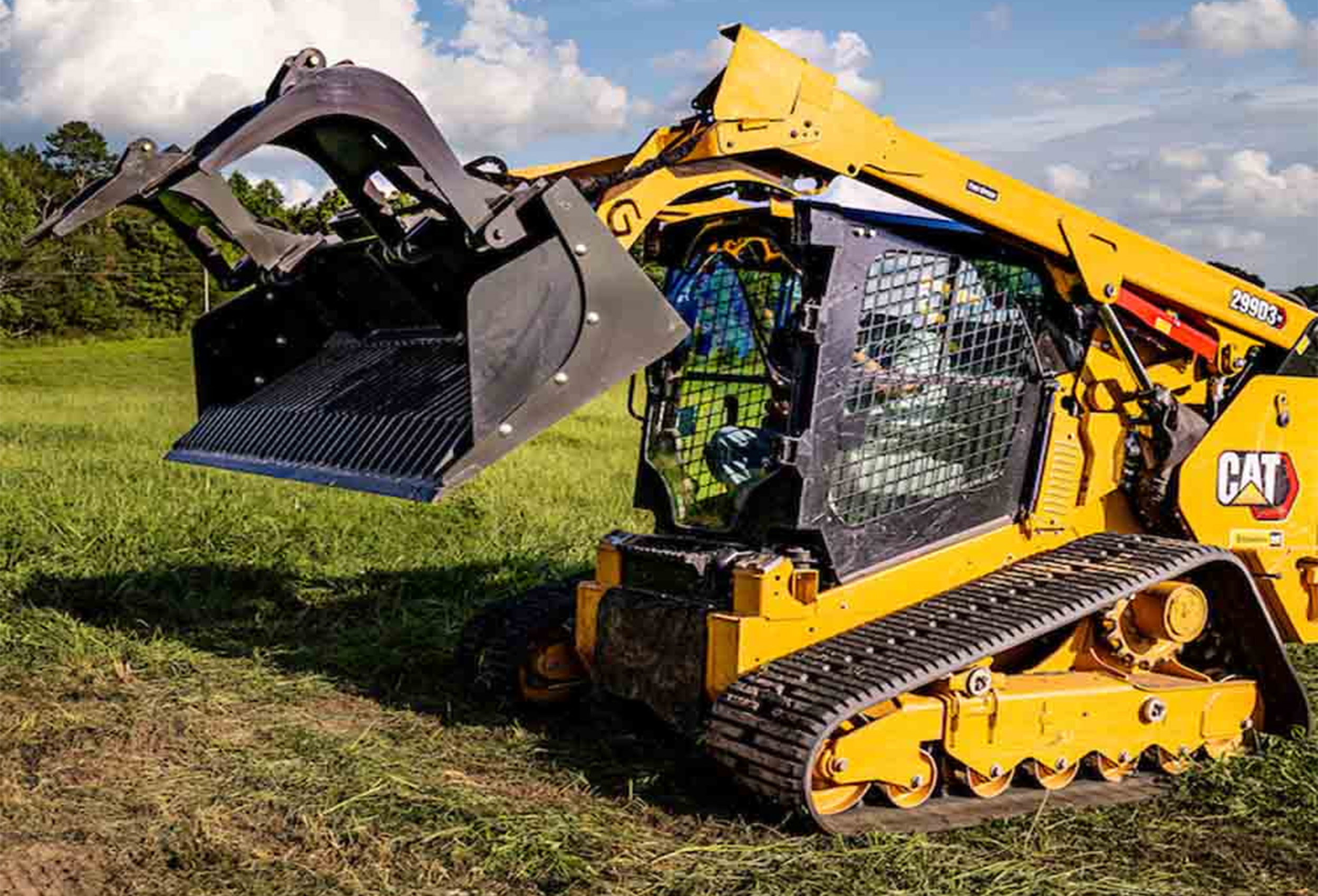 For heavy and unstable loads, Eterra's 48" Skid Steer Pallet Forks are imperative in safely transporting heavy pallets of construction materials, such as bricks, blocks, and lumber. Their wide design ensures stable transportation, while the adjustable forks accommodate various load sizes, providing you with more freedom to move anything you need to.
When it comes to clearing vegetation and roots, The CID Skid Steer Severe Duty Root Rake shines. Its sturdy tines dig deep into the ground, effectively uprooting shrubs, bushes, and small trees. This attachment's ability to clear away roots and debris allows for a clean and level surface, preparing the site for further construction or landscaping.
Lastly, The CID X-Treme Duty Skid Steer High Dump Bucket completes the ensemble by providing a convenient solution for debris disposal. Its elevated dumping height allows for effortless loading into dumpsters or trucks, eliminating the need for additional equipment and reducing manual labor.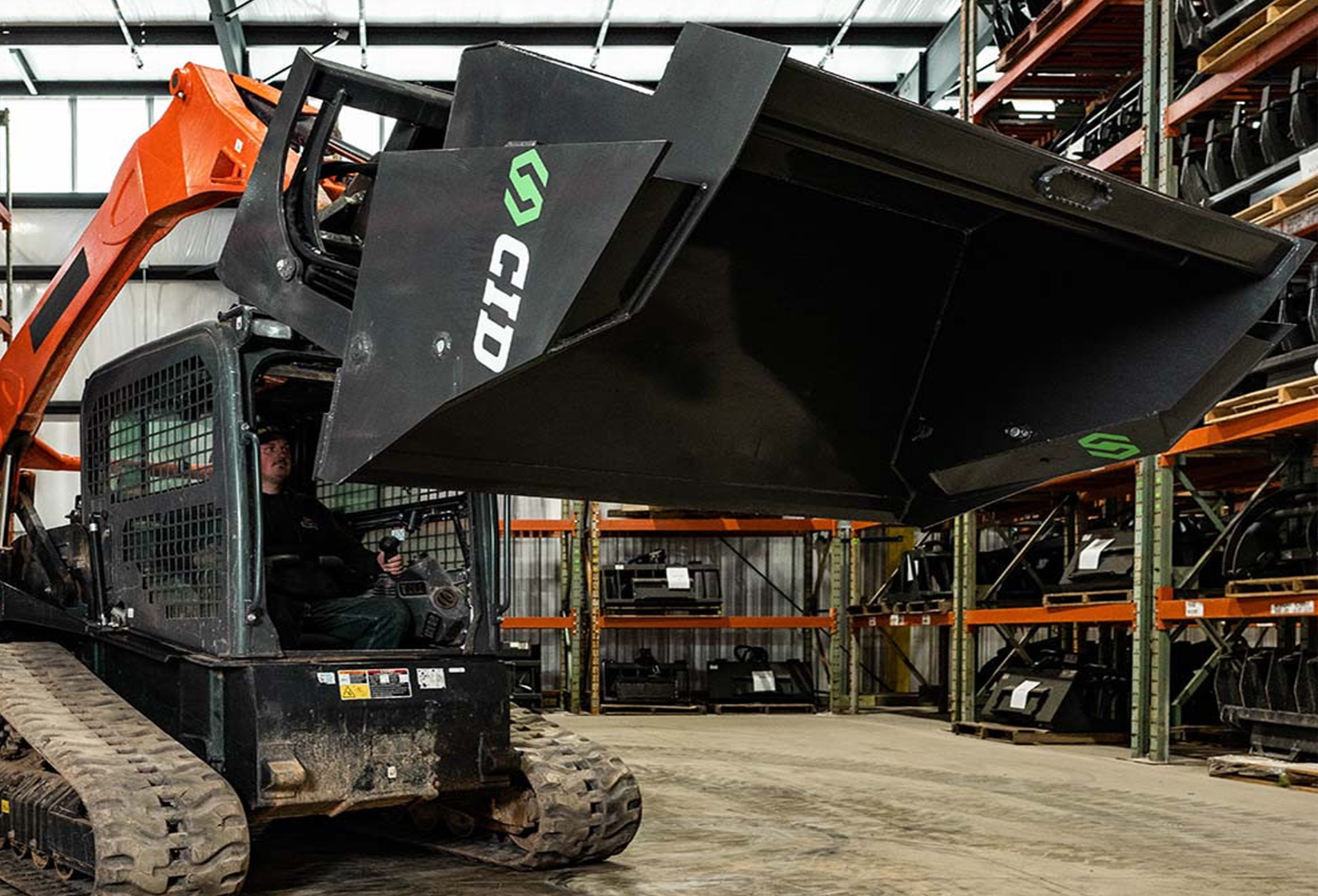 Buying skid steer attachments in bulk is a strategic move for any construction or landscaping professional. Not only does it reduce the overall cost of your purchase, but it also streamlines operations, saves time, and provides comprehensive support. By taking advantage of bulk offerings, you can optimize your investment, enhance productivity, and achieve greater success in all of your projects.