Posted by Ian Stewart on 25th Jan 2021
We're putting an emphasis on demonstrations this year, and in order to push our attachments to the limit we needed the right machines. Enter the ASV RT-120 Forestry Skid Steer and Yanmar ViO55 Compact Excavator!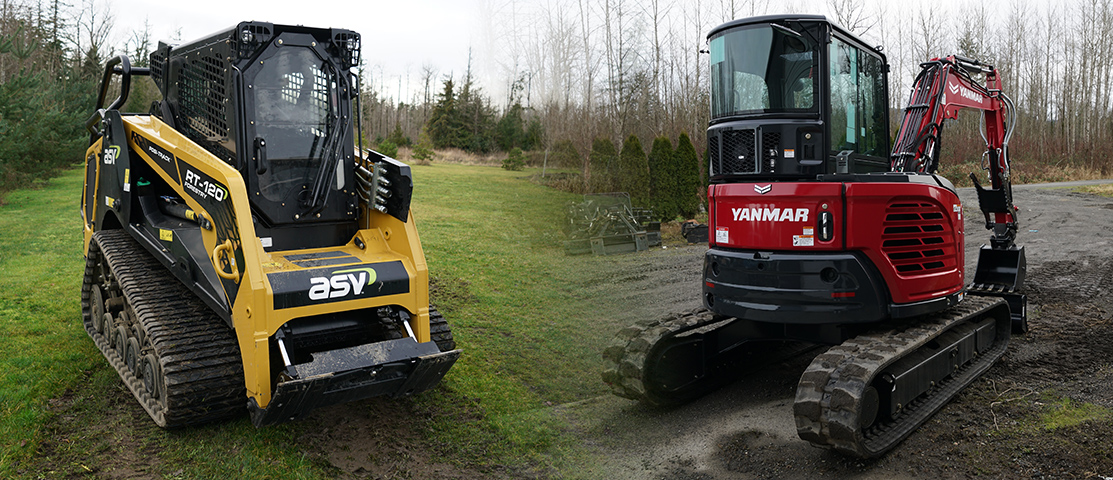 ---
ASV RT-120 Forestry Skid Steer
With 20-45 GPM hydraulic flow, 3,745 lb lifting capacity, and operating weight of 12,255 lb, this machine is one of the beefiest in the compact track loader sector. This is going to allow us to run virtually any attachment on the market including high flow mulchers. Watch our full overview video above for full machines features and specs, and subscribe to our YouTube channel so you don't miss out on some epic attachment demonstrations this year!
Yanmar ViO55 Compact Excavator
The ViO55 is a classic mid size excavator that we have always had great experiences operating. Yanmar switched up their color scheme this year from the original yellow to this deep red, which we think looks awesome! This article from Yanmar explains the color change.
Why the ViO55? Again, this machine is ideal for running a wide range of attachments that we have plans to demonstrate this year. 21.8 GPM hydraulic flow and a 47 HP diesel engine give us the ability to run stump grinders, brush cutters, augers, and more (you'll have to stay tuned to see what else we might end up demoing!). There are a number of other features that made this an easy choice for us, including the roomy enclosed cab with AC/heat.
---
Stay Tuned!
We've already put out our first demonstration video on the ASV, featuring the CID Swing Boom Cutter, and there are plenty more in the works. If you want to see what else we get up to this year Subscribe to our YouTube Channel and turn on post notifications.
Comment on this article or any of our YouTube videos with what attachments you'd like to see us run, and we'll try to fit them into our schedule (we're posting a video every week).
As always, if you need attachments for your machine visit us at SkidSteerSolutions.com.
---