Posted by Kyle Davis on 12th Jan 2018
Stanley traces its roots all the way back to 1843. A truly American company from the start, Stanley started in New Britain, Connecticut manufacturing bolts and hardware. Today, over 150 years later, Stanley has grown to incredible stature and is now known by the parent company Stanley Black & Decker. Here at Skid Steer Solutions, we're all about American-Made quality that our customers can rely upon, and as such, we're excited to announce an expansion to our catalog of products from Stanley Infrastructure. We fill these heavy-duty and rugged attachments are more than worthy of use on your Skid Steer Loader or Compact Excavator. Now, we boast an excellent assortment of Stanley Attachments:
Stanley's reach is vast in the construction and tool market. From tape measures and hedge trimmers all the way up to walk-behind Plate Compactors and Excavator Mounted Concrete Breakers. Stanley is a titan in the construction, demolition, processing and landscaping industries - with solutions for hard-working people too numerous to list here. Thankfully, we're a Skid Steer Loader and Compact Excavator company, and so we can speak to those tools and that industry without having to dive too deep into other areas of Stanley's reach such as recycling, municipal utilities, railroads, and on and on.
So what makes Stanley Skid Steer and Excavator Tools worthy of your consideration? Stanley boasts serious durability and longevity. They make serious claims about tool life and stand-behind everything they sell. Additionally, ever tool they sell has been designed with the goal of reducing operating costs, increasing worker productivity, and eliminating downtime.

Stanley Concrete Breaker Attachments
Mountable on a Skid Steer Loader or Compact Excavator, these concrete breaker attachments are the real deal. Maximum output energy? Check. Minimal moving parts for optimal efficiency? Check. Every design feature of Stanley Concrete Breakers brings total performance to the forefront. These Attachments have the ability to be outfitted with a full suite of concrete breaking tools and bits, from the standard conical bit, line cut chisel bit, asphalt line cut bit, and much more.
These units are totally modular as well, meaning transitioning the main unit to differing mounts for different types of machines is a breeze. The same unit can be operated by a Skid Steer Loader, Backhoe or Compact Excavator, with minimal labor required to transfer.
An awesome feature in the Stanley Skid Steer Concrete Breaker is the available 4-way Position Angle Mount, allowing operators to change the angle of the breaker tool to demolish debris and material in a variety of position, taking out floors, walls, and so much more depending on the job and circumstance.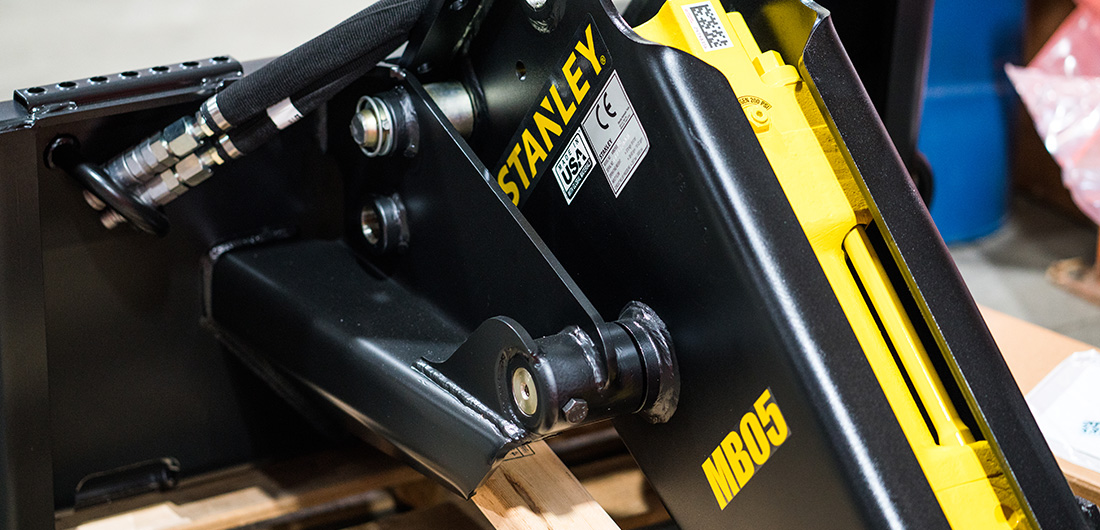 Stanley Vibratory Plate Compactors
If you're looking to completely maximized vibratory force, this is the attachment for you. Stanley Vibratory Plate Compactors feature a high level of centrifugal force and four industrial grade shock mounts, making this an efficient and powerful compacting monster.
Available for Skid Steer Loaders as well as Compact Excavators, we offer the following models:
The Stanley Drop Hammer Attachment
Long one of our favorite beastly Skid Steer Attachments, the Stanley Drop Hammer sets the standard when it comes to flat-work concrete demolition. Mounted on a Skid Steer, it's hard to find a more powerful tool with more versatile ability to access hard-to-reach areas. Break up concrete with ease and get it out of the way so the job can continue unimpeded. True to the Stanley ethos, the Drop Hammer has very few wear items, meaning maintenance and downtime are rare, keeping productivity high. Simple. Powerful. Effective. What's not to like?

We hope this information helps make you as excited about our new offerings of Stanley Attachments as we are. As always, please browse our website and product pages for further information, including on how to select between various models and options, as well as how to order and add products to your cart. If you have any questions, or would simply like to speak with an attachment expert on the phone, please don't hesitate to give us a call at 1-866-966-2538. The Stanley and Skid Steer Solutions teams look forward to servicing you and your Skid Steer Loader and/or Compact Excavator needs.