Posted by Kyle Davis on 10th May 2016
Find a Skid Steer Brush Cutter That Really Works
The Brush Cutter is one of the most signature, and impressive Skid Steer Attachments available. A true workhorse mower, mounted on your skid steer, can do some serious land clearing and brush cutting. Combine that power with the versatility and agility of a skid steer or compact track loader, and you have a machine and attachment arsenal that defines what makes our industry so exciting and productive.
When it comes time to make the plunge into the Brush Cutter Attachment market, you'll want to survey the offerings and make some conscious decisions about the type of work you'll be doing, how often, under what conditions, and what type of material you'll be looking to clear. If you're only fighting 2" material, you can get away with using a typical deck mower. But if you have some real thick material between you and a productive days work, you need to find something with a little more authority. The team here at Skid Steer Soltions has a few personal favorites to share with you.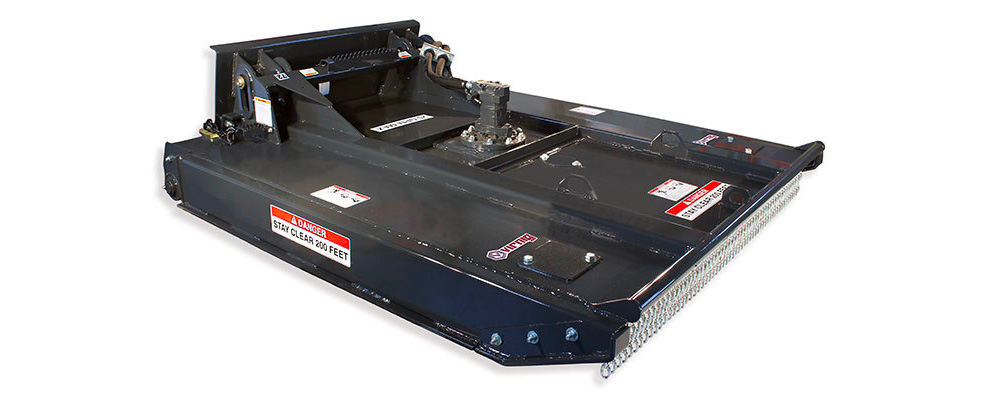 As mentioned above, sometimes you just need a simple, non-nonsense deck mower. Easy to operate and effective, able to mow down heavy grasses and light brush without fail. We like the Virnig offering because of it's versatility and ability to accommodate add-ons and upgrades that can be customized to your needs. Capable of handling up to 3" thick brush, the Virnig Deck Mower has no issue when it comes to heavy weeds and grass fields, and the three-blade cutting system is strong and reliable.
The true benefit of this model is the available options. The Virnig Deck mower comes available in 60", 66", 72" and 78" models, with motor options of 14-18 GPM, 18-25 GPM, 25-33 GPM and 33-42 GPM. This combination of sizes and motor options (both standard and high flow), give operators a lot to work with as far as optimizing for specific machines and applications. You also have the ability to add a floating deck to this brush cutter, an upgrade that will allow for more precise mowing and a more finished look if desired. There are also options for a Rear Roller and Swivel Casters, adding to the broad success you can have with this model of Skid Steer Brush Cutter,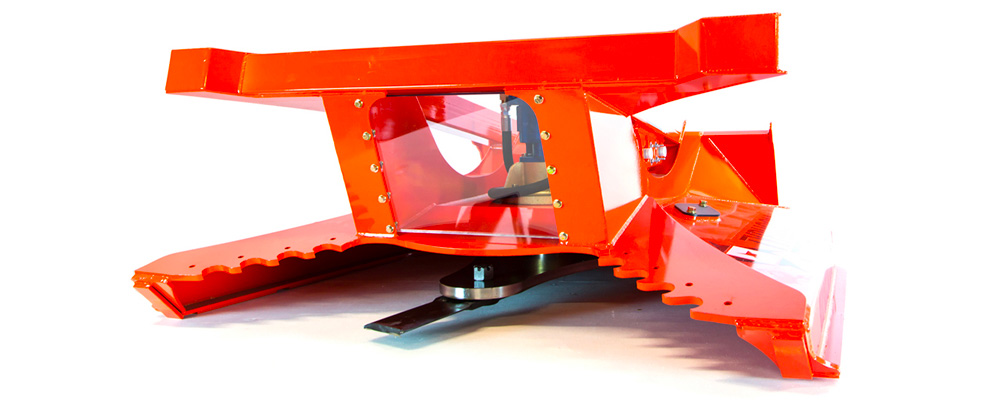 As of this writing, we're starting to enter Spring, which will soon be Summer, which means we'll be in peak mowing and clearing season for quite a while. With warmer than average temperatures here at our headquarters in Bellingham, Washington what better time than now to clear up that neglected field, tree, or fence line? No job is too big (or should we say too overgrown) – it's all just a matter of having the right equipment. We aren't kidding when we say that these Skid Steer Mower Attachments can handle any extreme job; and you're going to want to consider some of the biggest and baddest models when it comes to mowing down larger material and thicker brush. Enter the Eterra Typhoon Clearing Mower, available in a 60" model and well as a mammoth 74" model.
Here's why the Eterra Typhoon is different
Eterra's very own Typhoon Clearing Mower has all of the specs — and more— expected of an industrial grade cutter. A heavy push bar is attached to a standard cutting width of 60-inches, and makes 8-inch trees topple as if they are weeds. We'd like to highlight that cutting bar, as it is completely attached to the mower and not another piece that you're expected to purchase separately. Rather than making your cutter work in overdrive, the push bar harnesses this resistance to collapse trees while you're cutting. This design also allows the blades to reach deeper into the material as the push bar "pushes" against trees. With the Typhoon, you'll quickly discover that there is no need to sacrifice speed for efficiency.
This makes the Typhoon ideal for clearing brush from wide spaces such as roadsides, driveways, and ditches. It's precision balanced T1 steel blade bar and dual edged blades make sure to slice through whatever is in its path. Don't let your surroundings limit where you use your Typhoon: the bolt-on cover ensures the safety of nearby infrastructure (and most importantly, you and other folks) by shielding material from being tossed from the front. Rather, it efficiently forces material back into the chute to be recut for consistent mulching.
But a smart exterior design would be useless without an equally smart interior. One of the largest in its class, the Typhoon's motor (a Permco gear drive) powers a direct drive spindle hub and has a hydraulic flow of 40 GPM and 4,000 PSI. While other brands may feign quality with three or more blades, Eterra's design requires only two. Even more impressive, Eterra makes the bold claim that they could cut it down to only one but instead choose to use two because it improves overall machinery balance. Still not convinced your current brush cutter with four blades isn't quite cutting it? Let's put it this way: the more blades you have, the more power you require. This will drastically reduce the overall cutting power of your unit.
New for 2018, the Typhoon Clearing Mower is now available in an incredible 74" model, with a standard mower of 32-40 GPM and 4,000 PSI. If you require even more beastliness, there is also a Piston Motor option available at 32-40 GPM and 6,000 PSI. This 74" offering can handle up to 12" material, and make no mistake, this is one of the gnarliest clearing mowers we've come across in all our years in the industry. The same as the 60" model, the attention to detail and construction quality of the Typhoon Clearing mower is clearly impressive and first-class. The welding, the steel, the blades, the motors, all the way down the the striking color, finish and graphics on this impressive mower have been considered. The 74" is another substantial offering from Eterra, a growing force in this category.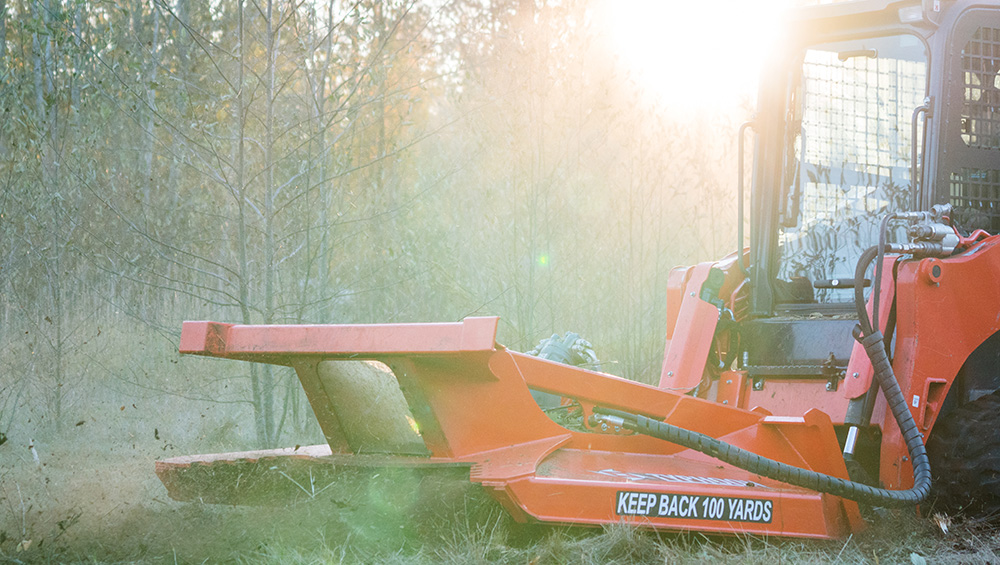 Bradco Extreme Duty Brush Cutters Mean Business
The Extreme Duty Ground Shark from Bradco is capable of taking down brush and hardwoods up to 7", an impressive feat from one of the most widely recognized names in the business. The Groundshark's calling card is a patented retractable shield, which moves up and then bak when it comes into contact with something substantial, such as a tree. This then exposes the full cutting blade to the tree or large collection of material, allowing for maximum blade exposure and a full treatment of cutting power to take down whatever is in the way. Bradco also takes maximum safety precautions to ensure operators can operate safely and with confidence.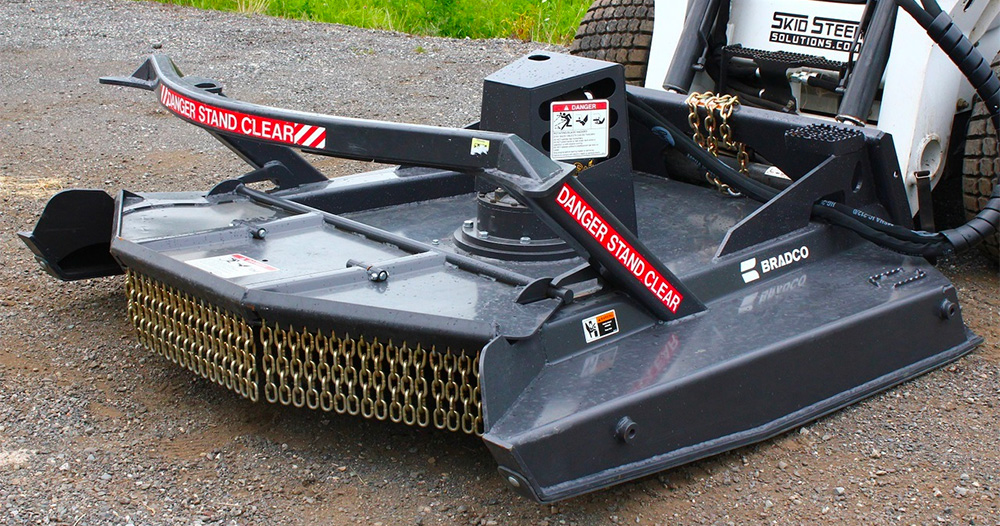 The Up-and Comer: Blue Diamond's Severe Duty Brush Cutter
A new and exciting model that's been making noise in the Skid Steer Brush Cuter realm is the Severe Duty Brush Cutter from Blue Diamond Attachments. If you've been around the industry, odds are you've heard the name Blue Diamond, as they have quickly established a reputation for high quality and exceptional customer service. Blue Diamond is new to the Skid Steer Solutions catalog for 2018, and we couldn't be more excited to showcase their extensive catalog of strong, durable and useful attachments for Skid Steers, Mini Skid Steers, and even Compact Excavators.

The Severe Duty Brush Cutter is a proud member of that product catalog, and epitomizes the strength and durability you'll find in all Blue Diamond products. The claim of "severe duty" is no joke, as this brush cutter comes standard in a 72" wide model, with motor options of 150cc (16-25 GPM), 200cc (25,35 GPM), and 250cc (35-45 GPM). This Blue Diamond Beast can mow down material up to 10". The extreme weight of this brush cutter is what sets it apart and provides the incredible strength needed for industrial-grade clearing. Weighing in at 2026 pounds, with a blade carrier of over 500 pounds and 1" thick, the massive heft of this cutter packs a serious force when you encounter heavy material while operating your machine. Some might find that kind of weight to be a slight drawback, but that will always depend on the size and lifting capacity of your skid steer loader, as well as how extreme your mowing and clearing conditions. Nevertheless, the Blue Diamond Extreme Duty Cutter is heavy, powerful, and fully optimized to perform. Keep an eye on this model, as you're sure to start seeing it out in the field and hear about it on the job.
Editor's Note: This post has been revised and updated as of April, 2018