Posted by Kyle Davis on 8th Dec 2017
Project managers, jobsite foreman, and heavy equipment operators are well aware of the benefits a telehandler can bring to any project. The strength and reach of these machine's are unmatched when it comes to lifting and transporting heavy loads to specific locations on a jobsite. One of the key benefits of utilizing a telehandler to lift and place heavy loads is the safety provided by the powerful machine. There's no more need to rely timely, costly, and dangerous methods in order to move and place heavy items. Less time spent moving heavy materials, and increased safety, make for a more productive and efficient operation.
Haugen Attachments has been monitoring the growth of telehandlers on jobsites, and with both telehandler sales and rentals booming, they devised a brand new, innovative, and patent pending product that is sure to give many jobsite leaders a great deal of peace of mind: The Smark Hook Load Shackle.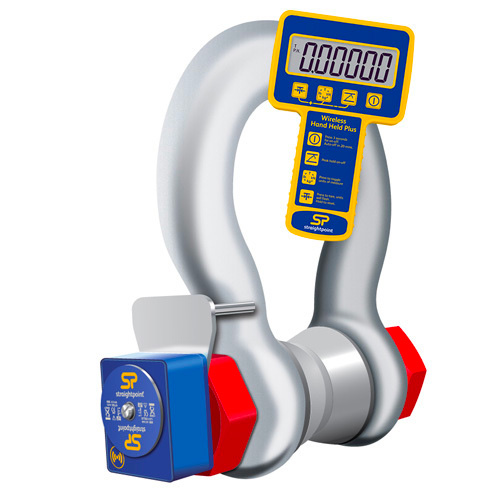 An excellent addition to Haugen's ongoing line of Telehandler Attachments, the Smart Hook Load Shackle is as simple as it is effective. Prioritizing accuracy and safety, the Smart Hook integrates seamlessly with Haugen's Telehandler Swivel Hook, slipping over your machine's fork tines, and offering an accurate load weight measurement within 1.0%. The measurement is then sent through a wireless signal to a convenient hand held monitor. Load weight can be displayed in either Feet or Tonne, and updates every 3 seconds to reflect any changes to the load. The Smart Hook boasts 1,200 hours of continuous battery life and a transmission distance of 2,300 feet, ensuring reliable, consistent operation that you can rely on every single day.
The key benefit offered by the Smart Hook is of course safety. The Smart Hook offers an essential solution to Telehandler operators and foreman. With the simplicity of the Smart Hook, you can measure your load weight, trust the accuracy of the result, consult your load chart, and lift and extend the boom of your machine with upmost confidence, prioritizing safety and jobsite efficiency. Any crew leader knows the importance of keeping their crew safe, and how essential safety success is to securing future work. If you use a Telehandler on your jobs, put the Smart Hook to use and keep your 100% safety rating in tact.
Haugen's Industrial Swivel Hook Attachment is a seamless and natural partner for the Smart Hook. The Swivel Hook comes available in two models, a 10,000 lb. capacity model and a 14,000 lb. capacity model. The Smart Hook is only compatible with the 14,000 lb. model. This useful Telehandler Attachment slips easily over the tines of any machine, centering the hook at 24". Adjustable feet keep the hook elevated from the ground and provides simple operation and fork access.
The Smart Hook is versatile as well. Since no installation is required, the unit can be moved between machines in a matter of seconds. No complicated set-up or programming is required, allowing for load weights to be read simply and clearly out of the box.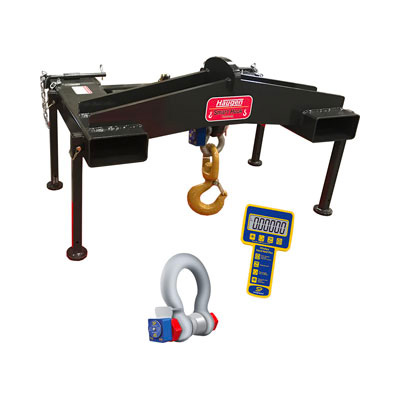 Add the Smart Hook Load Shackle to your Telehandler operation and know the weight of each load, accurately and reliably, every time. Prioritize the safety of your jobsite and crew, and avoid costly mistakes that can lead to injury, damage, and downtime. Review some of the key features and benefits of the Smart Hook below.
Telehandler Industrial Smart Hook Load Shackle
Compatible with 14,000 lb. Swivel Hook Model
Monitor can be read in LBS. or Tonnes
Monitor can be used up to 2300 feet away
Load Shackle can take up to a 14,000 lbs. capacity
Load Shackle is extremely accurate
Load Shackle battery life is 1200 hours of continuous usage
Monitor battery life is 60 hours of continuous usage
Displays weight of live load in large numbers
Display updates every 3 seconds
Operating temperature: 4F-122F
Includes cab mount with sticker