Posted by Ian Stewart on 23rd Oct 2019
SNOW---The dreaded 4 letter word. For some it's already here, and for others the freezing temps and snowstorms are on the way. Not to worry, you can find the solution to any winter problem with the proper skid steer attachment or add-on.
Blue Diamond has an outstanding lineup of snow removal attachments available this year, ready to handle any snow/ ice conditions you may face in your region. Let's go over their lineup and give some insight into which attachment(s) would best serve your needs.
SKID STEER SNOW AND MULCH BUCKET ATTACHMENT | BLUE DIAMOND - $1,245.00
A customer favorite, and perhaps the most versatile of their snow removal attachments, the Skid Steer Snow and Mulch Bucket is perfect for a variety of snow removal applications, and will also serve you year round for moving mulch, gravel, animal feed, etc. The bucket uses gussets that tie the floor to the back of the bucket in the quick attach area, adding durability and increasing bucket lifetime significantly. Bucket capacities range from 20 to 37.8 Cu. Ft. depending on model.
The attachment is offered in a range of widths and grades (Standard or Severe Duty) and is there is also a High Back option for better material handling a decreased spillage.
EXTREME DUTY SKID STEER SNOW BLOWER ATTACHMENT | BLUE DIAMOND - $10,495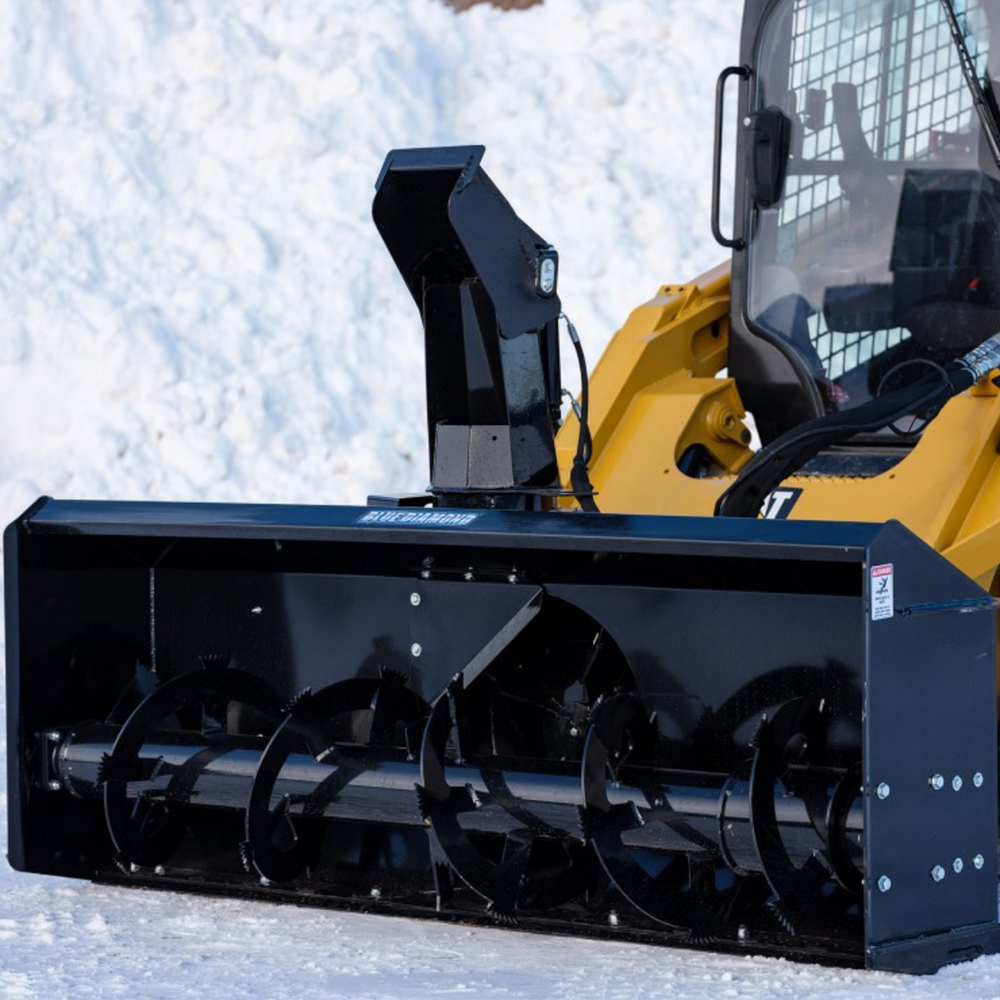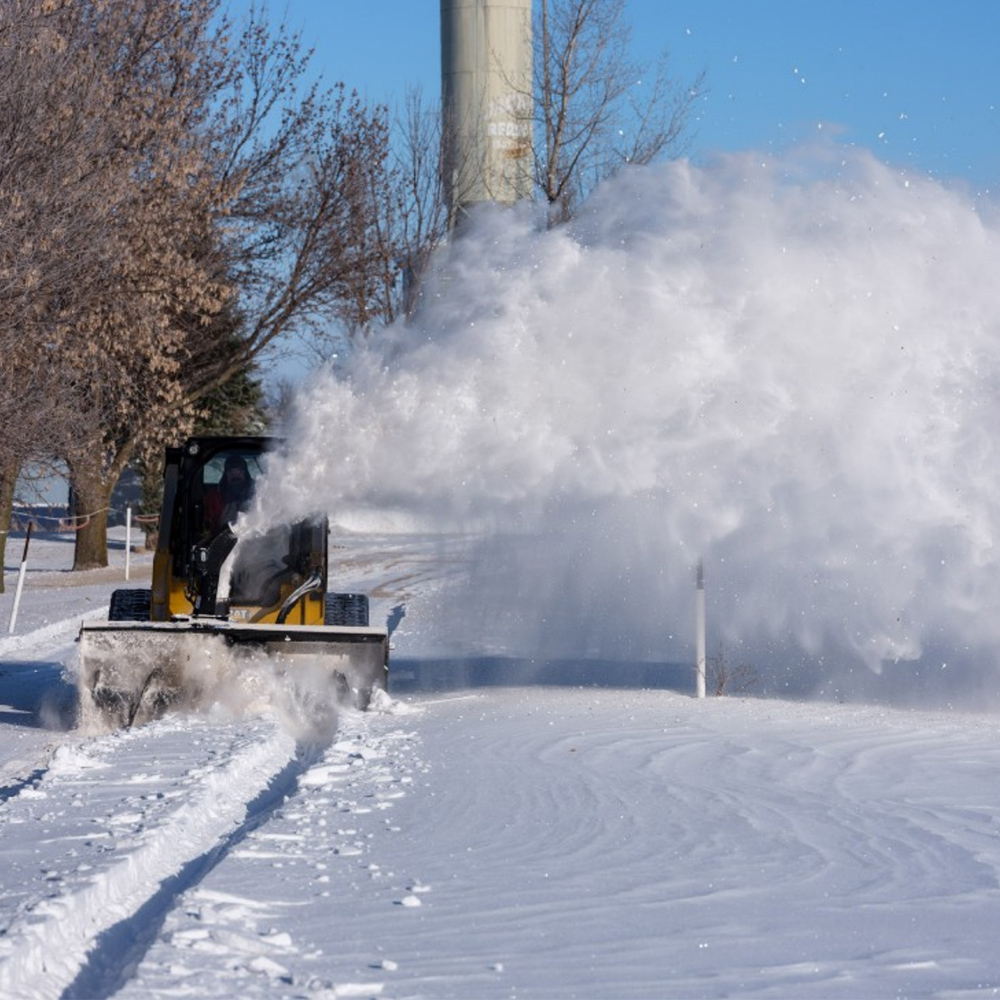 Engineered to run smoothly and last for years, this snow blower attachment will have your roads clear in no time, no matter the conditions. It features a 4 blade fan, with 22″ diameter, and 6 1/2″ depth, and a high pressure bypass relief system that eliminates the need for shear pins during sudden stops. This attachment will blow snow anywhere you want it, with a 270 degree hydraulic rotary chute with 7" opening. With a choice of widths and motor packages, you can find the optimal sized snow blower to match your skid steer or compact track loader's capacity.
Click the attachment title to view more features and specifications.
HD MATERIAL SPREADER ATTACHMENT | BLUE DIAMOND - $4,645.00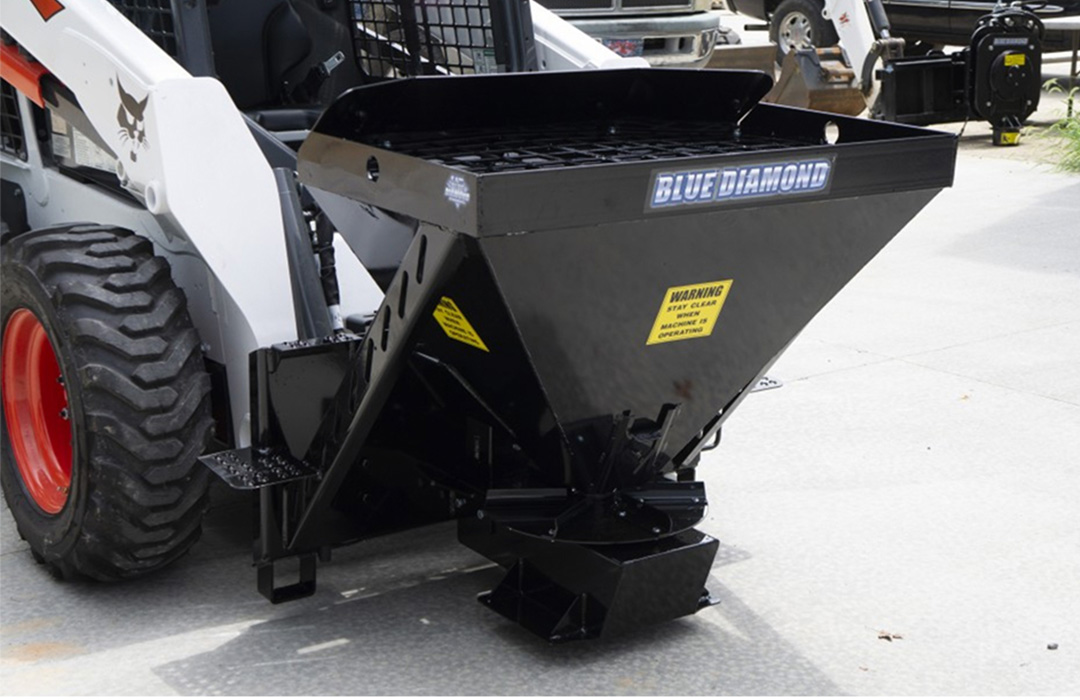 The Material Spreader Attachment is extremely efficient for spreading all kinds of material, including sand and salt! Simply use the hopper like a bucket to scoop your material and then turn on the hydraulics to spread up to 30′ wide. Available in 8 and 18 cu. ft. capacity. Combine with a snow removal attachment to keep your roads clear all winter long.
SNOW AND DOZER BLADE ATTACHMENTS
When it comes to Blue Diamond Snow and Dozer Blades, you have options! Let's compare and contrast the Multi-Blade, Trip Edge Blade, and 6-Way Dozer Blade Attachments.
MULTI-BLADE ATTACHMENT | BLUE DIAMOND - $4,295.00
The Muli-Blade is perfect for pushing, scraping, and grading in snow or light dirt. A high-performance, technical blade, the Multi-Blade features trip lockout, steep angling and a tight roll. This means it excels in both snow and dirt, and is adept at handling material, even during long runs. Added oscillation keeps the blade tight to the ground, even when contoured or uneven, keeping your machine level and effective when scraping and grading.
SKID STEER TRIP EDGE BLADE ATTACHMENT | BLUE DIAMOND - $5,995.00
The Trip Edge Blade is an extremely versatile skid steer snow removal attachment. With the incredible ability to add a Quick Attach Snow Pusher to this package, you can transform your Snow Blade into a Snow Pusher in a matter of seconds, all without leaving your machine, no tools required. Add in options like an available side wing kit that adds 11" per side, and a poly snow deflector for the top of the blade, and its clear this fully optimized snow removal tool is one-of-a-kind. The blade features blade oscillation of 6" and a 36 degree angle.
SKID STEER 6-WAY DOZER BLADE ATTACHMENT | BLUE DIAMOND - $7,295.00
The 6-Way Dozer Blade is built extremely tough and durable, able to handle even the toughest applications in dirt or snow. Simple operation and ease of use combines with great visibility to create one of the most easy to use and high functioning dozer blades on the market. Proven tilt and pivot system provides tilt up to 10 degrees and angle up to 30 degrees.
To convert to a snow plow, simply add the 8" Height Extension to the blade, along with the kit of 4 Trip Springs, and you'll be ready to plow snow simply by pulling two pins.
PRO SERIES SNOW TIRES AND WHEEL SET | BLUE DIAMOND - $2200.00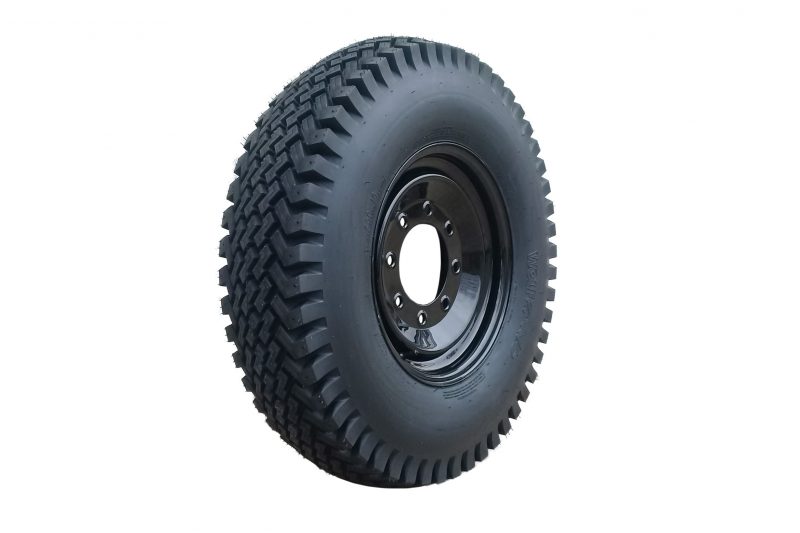 Tired of losing traction trying to push snow with those generic tires? Blue Diamond Snow Tires help your skid steer get all their power to the ground in snow and ice. The tires are 6.6" – 8.5" wide, compared to 10" – 14" wide conventional tires, giving you nearly twice the ground pressure. Combine that with a small block snow tread, aggressive spacing in the tread, optional studs, and a heavy duty 10 ply rating, and you have the best skid steer snow tires on the market. Don't lose ground with conventional tires this winter. Get the best.
MINI SKID STEER ATTACHMENTS
MINI BLADE ATTACHMENT | BLUE DIAMOND - $2,625.00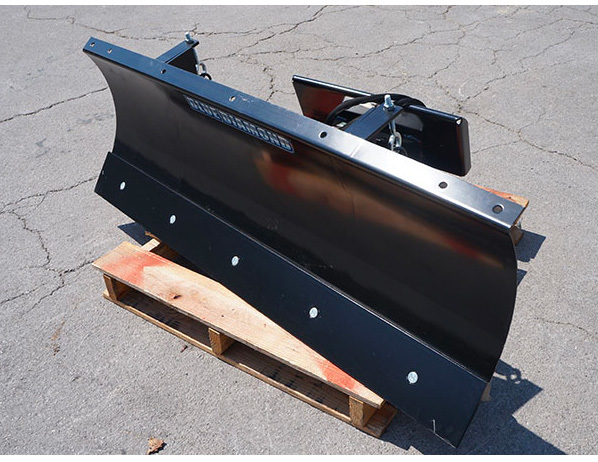 This Blade is awesome in both dirt and snow, with features designed for both applications. When it comes to snow removal, wear shoes and trip springs are included so this blade can perform in the winter elements. Available in 48" and 60" widths, the Mini Blade can also be selected in both Manual and Hydraulic Angle options. Take your mini loader to the next level, and perform dirt and snow work where larger machines can't reach with the Mini Blade from Blue Diamond.
Didn't see what you were looking for? View these products and much more at https://www.skidsteersolutions.com