Posted by Jayson Ramos on 16th May 2023
Backhoe attachments are the ideal tool choice for agriculture and landscaping projects. These versatile loader attachments are designed to handle a large variety of different tasks, all in one tool. There is a lot of variety when it comes to choosing the backhoe best suited for your project. Let's go over the basics and show what you want to look for in your ideal backhoe.
Backhoe Components
Backhoe Attachments consists of four main parts; the mount, boom, stick, and bucket. The mount is how the attachment attaches to your loader type. Backhoe attachments are compatible with full and mini skid steers. Double check you choose a model that fits your loader. The boom and stick are what give the backhoe its reaching capabilities; allowing you to maneuver both vertically and horizontally. The final piece is the backhoe bucket. At the end of your boom is the bucket which usually sports a combination of adjustable teeth at the end of the bucket to supply a grasping and digging capability.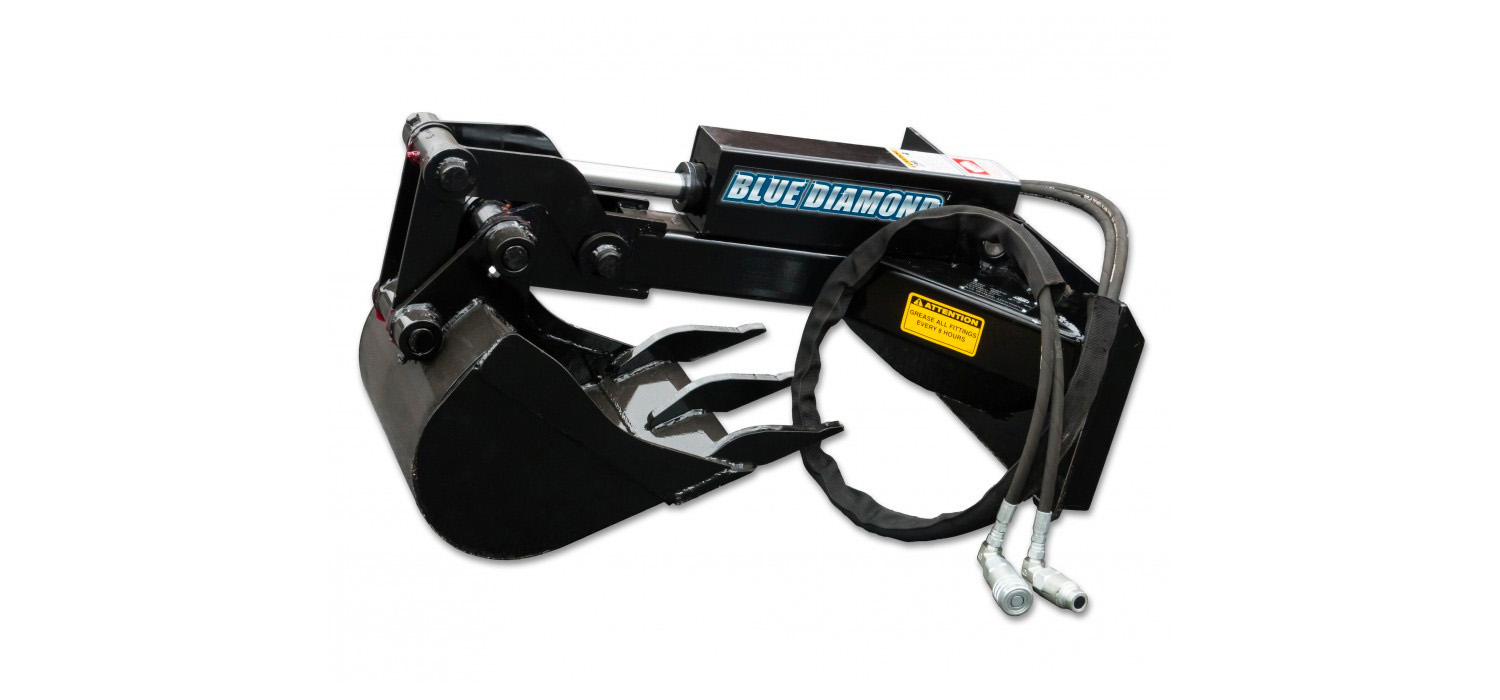 Blue Diamond Mini Skid Steer Backhoe Attachment
Sizing and Power Rating
When choosing a backhoe attachment, it is important to consider the size digging depths, and power rating you need for your project. If your project requires more transportation than digging, a larger bucket size may be more suitable for you. If you do require digging purposes, prioritizing digging depth capabilities would be favorable for your operation. Checking the strength and capability of your backhoe is essential when considering buying an attachment for it. The power of the backhoe can be evaluated by its horsepower rating, which will indicate how successful your backhoe will be. The higher the rating, the better your backhoe will operate, allowing for improved digging, bucket loading, and more. Consider the power rating your loader type can handle when looking at the power ratings. This is especially important for hydraulic backhoes. Skid steer backhoe attachments can handle a lot more horsepower compared to mini skid steer backhoe attachments for example. Ask a dealer or refer to the product description for information regarding loader power ratings.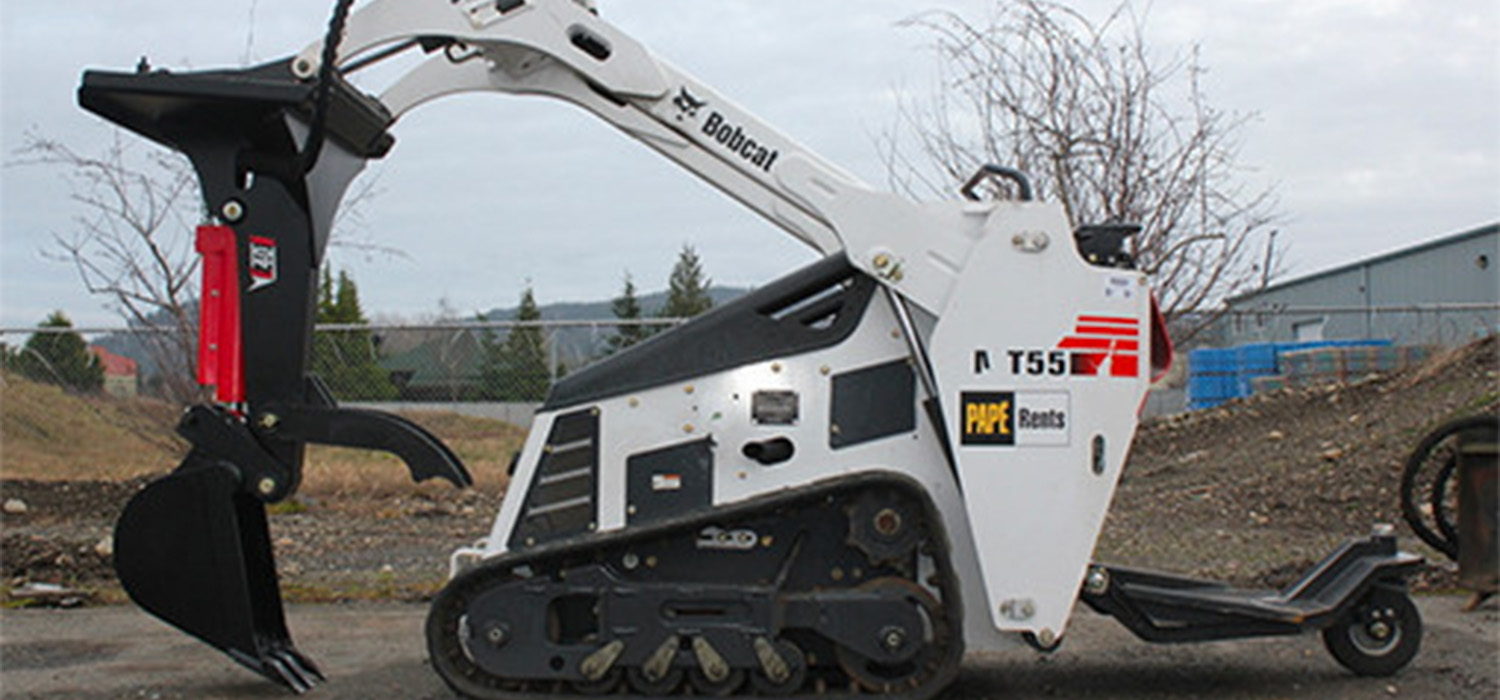 Eterra E40 48" Mini Skid Steer Backhoe Attachment
Backhoes Features and Accessories
Backhoe attachments are great additions to your arsenal thanks to the various applications they provide to your job sites. These attachments are also offered in a wide variety of options which add even further applications. Trenching, lifting, and grading are just some of the possibilities which backhoe attachments are able to accomplish. This is possible through add-on parts and accessories like bolt-on digging teeth and edges, hydraulic powered buckets, and more. It is best to come prepared with a list of task you need while searching or your ideal backhoe attachment to find which model and add-on's you need to complete your job with ease.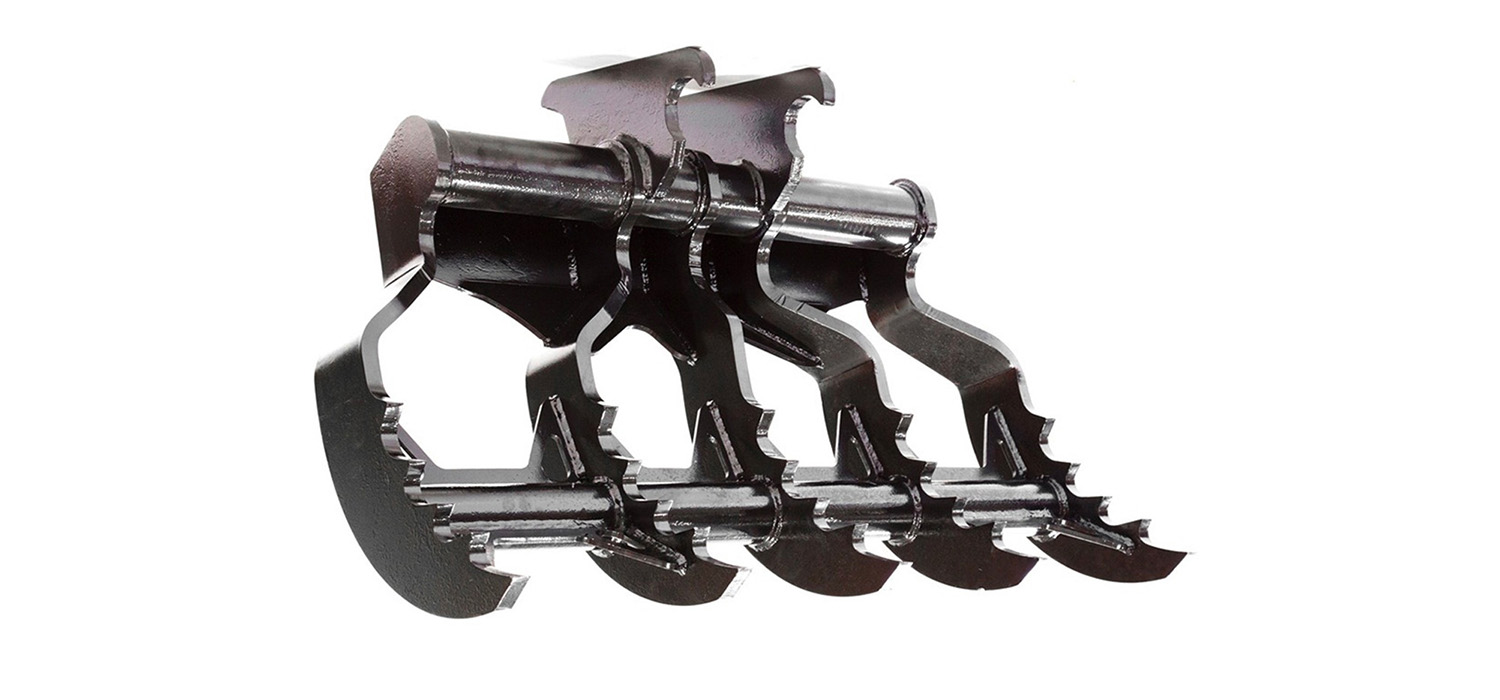 Backhoe Quick Change Grapple Rake
Backhoe attachments are the ideal tool for landscape and agricultural projects thanks to their versatility and durability; able to manage and run a wide variety of tasks you need to complete your operations. Digging, loading, trenching and more all possible with just one attachment. It is essential to consider the variety of backhoe attachments available and choose the one that best meets your needs. Pay close attention to the size, power, and other characteristics of the attachment to ensure you get the ideal tool for the job.