Posted by Jorden Leib on 14th Apr 2016
What Attachments are best for Trenching with a Skid Steer?
Unknown to most, there are a few options for trenching with a Skid Steer Loader. The main advantage of using your Skid Steer Loader or Compact Track Loader equipped with with a Trencher Attacment is the versatility and accessibility you can enjoy with your nimble machine. Access areas larger machines are too large and bulky to reach, but retain a great deal of trenching power and speed.
.
.
There are a number of high quality Skid Steer Trenching Attachments that exist on the market today, and here at Skid Steer Solutions, we have a few options in-stock you can choose from.
Meet the Bradco Trencher Attachment and the Eterra Trencher Attachment.
Let's take a deeper dive into what makes a Skid Steer Trencher Attachment so useful and efficient.
The Skid Steer Trencher
Slice into the Earth like a Chain Saw into a Tree!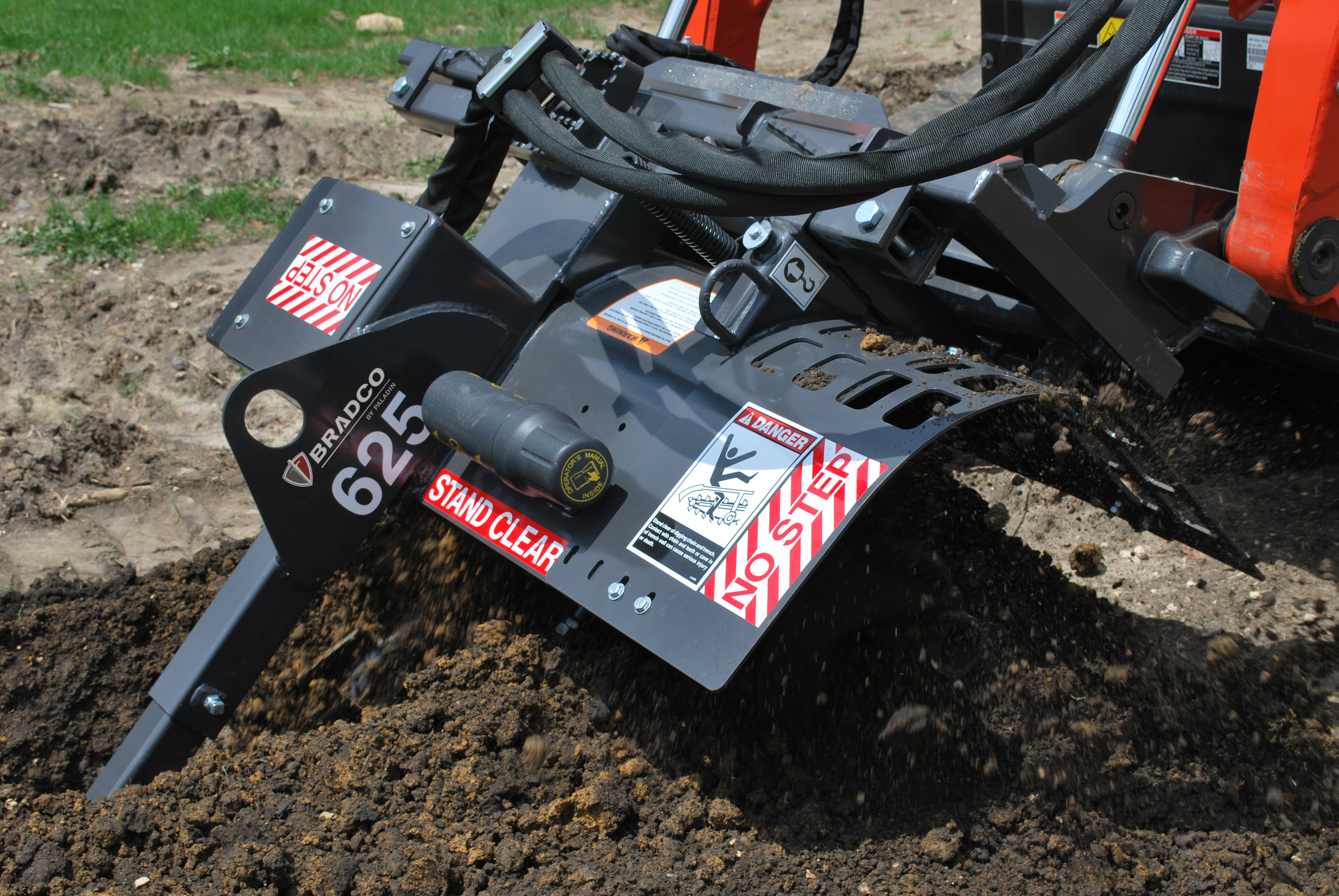 When it comes to trenching, most of our customers just need a skid steer attachment that will get the job done and last for a long time. They also want the real deal.
"For most people operating a skid steer with a trencher attachment, a boom length of 48 in. will do," explains Rob Leib, President of Skid Steer Solutions, Inc. "We used to offer a lot of different lengths, but it just made selecting and purchasing harder for our customers.
We decided to take the guess work out of the process and now simple 3' and 4' lengths from two leading manufacturers - Bradco Attachments and Eterra Attachments.
These sizes are large enough to dig trenches for footings, utility lines, irrigation sprinkler systems and drain pipes." What else can we explore as we look to simplify the Trencher Attachment purchasing process?
It is important to understand that trencher attachments operate on flow and pressure, and you will want to know your host machine's capabilities with regards to pressure and flow. Typical flow and pressure requirements for small skid steers range from 8 to 20 GPM, with hydraulic pressures ranging from 1,750 to 3,000 PSI. Typical flow and pressure requirements for mid-size to large skid steers or track loaders range from 10 to 40 GPM with hydraulic pressures ranging from 2,000 to 4,200 PSI.
Most trencher manufacturers offer a variety of digging chains. Eterra Trenchers are little more up-to-date in their standard offering. The original innovator of this combination, the chain they offer on every unit is a 70/30 digging to cutting tooth ratio, which is ideal in just about any terrain. Because soil conditions vary from location to location, matching the digging chain with the soil conditions can make all the difference in a successful trenching operation. Most manufacturers offer digging chains for usage in almost all soil conditions and in almost all weather conditions.
Some of the most popular digging chains are: the standard chain, recommended for loose or damp soils; double anti-back flex chain, recommended for harder or drier soils; full rock and frost chain, recommended for frost or rocky soils; half rock and frost chain, recommended for harder or mixed rocky soils; and a terminator or bullet chain, recommended for very hard and dry soils.
The Skid Steer Backhoe Attachment
The Poor Man's Trencher and the most Versatile Attachment Tool that Ever Existed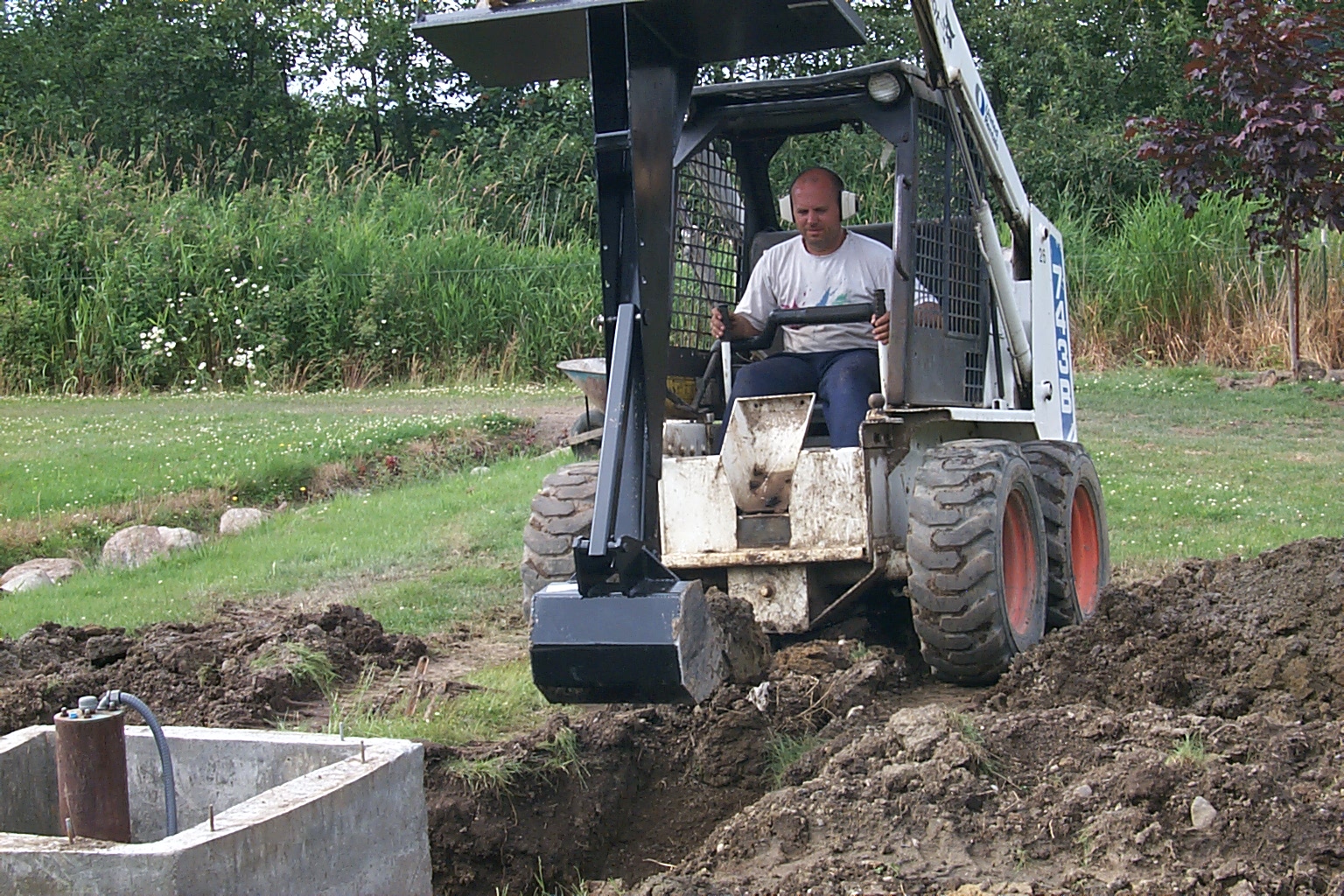 The Skid Steer Backhoe Attachment is a great solution with the added benefit of being affordable, as well as versatile, able to handle a wide range of bucket sizes and tools for jobs that go beyond standard trenching. We've actually known a few guys over the years who have made the plunge and made their own Backhoe Attachment. One of them was our founder, way back in 1996 (see photo for a blast from the past). These attachments can be used as grapples, earth movers and best of all, trenchers. Simply purchase an 8" Bucket and you've got yourself a very good Trenching product. Then utilize additional buckets and tools for a wide-variety of additional jobs. We love multi-use and innovative products, and a properly outfitted Backhoe Attachment certainly fits the bill.
Eterra is an industry-leader when it comes to getting the most out of a Backhoe Attachment. Not only do they offer a dedicated 8" Trenching Bucket for use with their E60, E70 and E40 Backhoes, they also offer 12", 16", 22", and 32" buckets. Add to the list a 5-Foot Mini Boom, a Ripper and a Grapple Rake, and you have a full suite of Backhoe implements and tools that can tackle just about anything.

Click here to shop our full catalog of Skid Steer Backhoe Attachments.
If you're considering a backhoe for your next trenching job, or any other work for that matter, watch the video to learn more about the family of Eterra Backhoes and what makes their ECX Quick Exchange system so incredible for swapping out buckets and tools with minimal hassle and downtime.
Editors Note: This post has been updated with relevant information (January, 2018)