Posted by Kyle Davis on 25th Jul 2018
Our Search for the Best Skid Steer Trencher
One of the most classic combinations of machine and attachment is the skid steer and the trencher. A skid steer loader is particularly adept to work a trencher attachment, given the relatively small and nimble operation versus much larger machines. Skid steers are able to work fast and effectively, and able to access tight jobsite areas where important trenching lines are needed most. The size and speed of a skid steer trencher is obvious, but thankfully skid steer loaders also pack enough hydraulic punch to offer maximum trenching and earth moving power to the attachment, even in harsh ground conditions, and that includes rocky and frozen soil.
Take advantage of this high-powered combination and lay down deep and straight trenching lines for a wide variety of job types: electrical, telephone lines, cable lines, fiber-optic lines, water pipe, copper pipe, gas pipe - the list goes on and on. Ideal for both commercial as well as residential construction, your skid steer or compact track loader combined with a powerful trenching attachment will produce consistent results you can count on. In our search for the best skid steer trencher attachment, we'll leave no stone unturned. We'll start by examining a few key terms and features, before moving on to a deep dive into a handful of trusted models from leading manufacturers.
.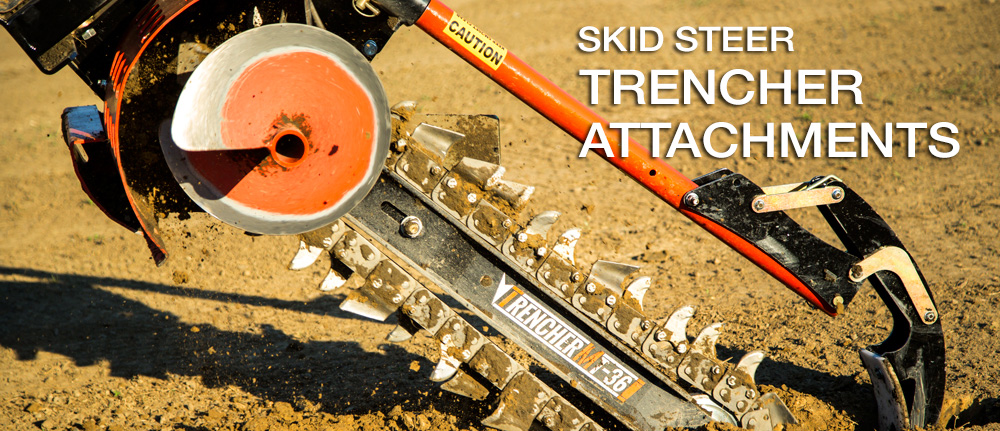 .
Skid Steer Trencher for Sale: Table of Contents
Trencher Chain Assembly
Trencher Teeth Assembly
Trencher Side Shift
Trencher Auger
Trencher Crumber
Eterra Trencher Attachment
Blue Diamond Trencher Attachment
Virnig Trencher Attachment
Bradco Trencher Attachment
Buy a Skid Steer Trencher Online or by Phone
.
Skid Steer Trencher Chain Assembly
One of the most key considerations when it comes to your Skid Steer Trencher Attachment will be the chain assembly and the chain options you desire. The chain of your attachment can come available in multiple sizes, with most manufacturers offering a wide range of options when it comes to ground type and chain assembly.
The two main chain lengths available in the marketplace at 3' or 36", and 4' or 48". The size you're looking to work with will depend on how deep you typically need to lay down line or pipe in your trench. The 48" models will weight in heavier, and most typically will require more hydraulic flow from the hose machine. More flow means more power, so if you have a larger or stronger machine, you may want to consider the larger attachment. For example, the Blue Diamond 36" Trencher requires 13-25 GPM of Hydraulic Flow, while the 48"model requires 16-30 GPM. Not a big difference, but you'll always want to make sure you're selecting the proper attachment for your loader.

Then there is chain width. Some trenchers can be selected with different chain width, allowing you your desired trench width every time. Blue Diamond Skid Steer Trenchers can be selected with 4", 6", 8", 10" or 12" widths.
The other consideration is ground type. Most manufacturers offer chain assemblies for rocky terrain, full dirt terrain, frozen terrain, and then versatile combination chains that can perform adequately in most conditions. The combo assembly may be the way to go if you live and work in climates that can change quite a bit throughout the seasons, or if you experience a wide range of soil types. If you work in a more specialized field or in a specific climate or area, then it will be worth the effort to dial down your chain assembly to perfectly match your working conditions. A more specialized tool will result in more efficient operation and faster completion of your jobs.
.
Skid Steer Trencher Teeth Assembly
Similar to the chain assembly, the teeth assembly, or teeth configuration of your trencher can also be customized to suit specific conditions. The teeth assembly typically refers to the combination of teeth, presented as a ratio or a percentage of the overall design. For example, Eterra Trencher Attachment comes standard with a 70/30 chain, meaning that 70% of the trencher teeth are aggressive tungsten carbide cutter teeth, while the other 30% are specialized dirt teeth.

Match your teeth ratio and teeth assembly to most optimally dig, cut and trench through the soil you most often encounter. If you don't feel super specialized, if you travel, or if your trenching conditions can vary quite a bit, then you can't do wrong with selecting a Combo option and harnessing a broad performing trencher attachment that can perform in a wide rance of applications.
Some other examples of teeth configurations include 100% shark teeth from Bradco, 50/50 Rock and Frost chain from Bradco (great for frozen and difficult terrain), and the Terminator chain from Virnig (50/50 cup teeth and shark teeth with imbedded carbide inserts: ideal for broad applications from soft to hard dirt as well as rocky soil). Here's another highlight from Virnig: their 50/50 Rock and Frost configuration is ideal for frozen and/or rocky soil, and while similar to Bradco's,Virnig's particular design has carbide tips that actually spin as they come in contact with rocks. This allows the teeth to break up material, while also providing even wear on your trencher teeth and increasing the longevity of your trencher attachment. Browse the various teeth configurations in our catalog and you're sure to find the right combination for your needs.
.
Skid Steer Trencher Side Shift
Manual or Hydraulic: that's the 64,000 dollar question when it comes to side shift with your trencher attachment. Side shifting will allow you to adjust the trencher to provide trenching capabilities, even near houses and other structures. There's nothing wrong with a manual side-shift, it's the most classic and straight-forward option available. It also offers the benefit of being more affordable. For dedicated trenching professionals who maybe don't have the time or the inclination to slow down productivity, exit the machine, and manually adjust the trencher side shift, many models offer a hydraulic option, at an extra cost, to keep you trenching and adjusting quickly and effectively.
.
Skid Steer Trencher Auger
A key component of your trencher attachment will be the trencher's auger, found near the base of the trencher near the attachment plate. The auger serves as a soil and material removal tool, collecting the dirt, rock and soil trenched up by the chain and teeth and left behind in your trench. As the trencher moves forward with your machine, the spinning auger will collect all that loose material and cycle it through its flighting expelling the material off to the side.
This operation is key because it ensure a clean and usable trench, free of loose soil and impediments that can make make laying down pipe or wire difficult. Blue Diamond highlights the utility of their trencher auger, boasting an "extended" auger that is able to carry and remove dirt even further, ensuring nothing falls back into the trench, leaving behind a clean trench ready for the next phase of your operation.
.
Skid Steer Trencher Crumber
Another essential component to your skid steer trencher attachment is the crumber. Simple, yet essential, the crumber is similar to the auger component, in that it's responsible for collecting up any loose soil or material and making sure it's returning to the moving attachment for proper discharge and removal.
.

Take a look at a skid steer trencher, you'll see the crumber that booms out from the top of the attachment, typically with a crumber shoe attached to the end of the boom. You'll notice the crumber booms out longer than the reach of the main trencher chain, this is so the shoe can extend downwardly into the trench that's being dug, and reach any loose material that's been left behind by the trenching action of the chain. The reach of the crumber allows the component to access that loose material and propel it back into the rotating chain action of the trencher, re-introducing the material into the trenching application, and sending it back towards the auger for full removal from your trenching and excavating area. The name of the game is keeping your trench clean and workable, and the crumber does it's part in that process very well.
.
Eterra Trencher Attachment
The Eterra Trencher Attachment boasts simplicity and effective operation. Through rigorous testing, trial-and-error, constant improvements, and customer feedback, Eterra has landed on a flagship Trencher that takes the guesswork out of shopping for the tool. Four feet long, 70/30 chain configuration, 6" wide chain, manual side-shift with an 18" auger discharge. No selections to make, no customizations to worry about, Eterra has designed and built the ultimate general purpose Trencher Attachment for operators who don't want the fuss and just want to get to work. If you're unfamiliar with this up-and-coming attachment manufacturer, be sure and learn more at the official Eterra website.

And what about those details? The Eterra Trencher has been designed for simplicity as well as affordability, but that doesn't mean that strength or durability has been compromised. The 6" wide chain with 70/30 tooth assembly is the optimal general-purpose set up, as decided by the Eterra engineering team. Pioneers of the 70/30 combination, the Eterra Trencher features 70% agressive tungsten carbide cutter teeth, and 30% dedicated dirt teeth. Everything you need, nothing you don't. This size and combination will be able to tackle just about any jobsite demand. Why manual side shift? To save customers money. Hydraulic is always nice, and some people will insist on that feature, but the Eterra manual side shift is so simple and quick, it was decided to keep it old-school and pass those savings along to the end-user. Reliable, top-of-the-line motors round out this impressive Trencher Attachment package. Check out the video below to see this tool tackle some frozen pacific northwest ground in the dead of winter, and come out on top.
.
.
.
Blue Diamond Trencher Attachment
The Blue Diamond Skid Steer Trencher is proudly made in the USA, and assembled using American components, so this tool is yet another example of Blue Diamond's commitment to quality attachments. In contrast to the single model of the Eterra option, the Blue Diamond Trencher features over 15 combinations to choose from. Start with a 36" or 48" long attachment, and then select from various chain widths (4", 6", 8", 10", 12") as well as chain configurations (rock chain, earth chain, combo chain). This type of customization means trenching professionals who know exactly what they need will be able to optimize their trencher for specific soil conditions, applications and climates. The 36" model suits loaders with a flow range of 13-25 GPM, while the 48" model is best for loaders with 16-30 GPM of hydraulic flow.

.
A stand-out feature of the Blue Diamond Trencher Attachment is the extended auger, which is able to carry the trenched dirt and soil even further from your trench area, ensuring a clean trench devoid of excess soil falling back into the area. This can come in handy for deeper trenching operations where more soil and material is to be expelled and removed. The self-adjusting crumber is also tough, durable and effective, providing more of that clean finish that is essential to professional trenching operations.
A great bonus of working with Blue Diamond is their excellent parts support. You can see the available blue diamond trencher parts here. They also offer a Mini Skid Steer model, which can be hard to find for mini skid steer loader owners. To see the extended auger in action, in combination with this useful Trencher Attachment, be sure to check out the video below.
.
.
.
Virnig Trencher Attachment
On top of reliable construction and quality trenching performance, the Virnig Skid Steer Trencher stands out in our catalog by being the only model available in a whopping 60" length, allowing for a trenching depth of 5 feet. More standard sizes of 36" and 48" are also available. Motors are also available for high-flow machines, so operators who enjoy the greater hydraulic flow of these larger machines will be able to fully put their power work, upping speed and efficiency when optimized with the proper trenching attachment and motor. Higher GPM models will provide a greater torque measurement, keeping the trencher turning, digging, removing material, and all but eliminating stalling or pausing when encountering challenges in operation.

.
Adding even more options, Virnig offers 4 different chain configurations, for a wide range of trenching excellence. Single chain comes standard, but that option can be doubled, or customers can select a "Terminator" chain or even a "Rock and Frost" chain option. The Single chain option works great in muddy or sticky soil, avoiding clogging thatns to extra space between the teeth. The Double chain is great for sandy or dry soils. The Terminator is a 50/50 combo chain, with 50% cup teeth, and 50% shark-style teeth with imbedded carbide inserts. This is an excellent and rugged all-around chain option, ideal for soil from soft to hard, and equally capable in rocky conditions. Lastly, the Rock and Frost chain lives up to its name, offering 50% cup teeth and 50% replaceable carbide tip rock teeth, an excellent combo for churning up rocky and frozen ground. If you're still thinking all of this over, Virnig offers an excellent Trencher Attachment FAQ on their website. As you ponder these myriad customizations and options, see this impressive attachment in operation in the video below.
.
.
.
Bradco Trencher Attachment
In an increasingly competitive marketplace, many new manufacturers have entered the scene, but Bradco and Paladin continue to hold onto their share of the attachment industry. Coming from giants in the industry, you know a Skid Steer Trencher Attachment from Bradco is backed by years and years of experience and customer satisfaction. In fact, the 625 Trencher has been so popular in the past, that we decided to dedicate individual listings for both the 3 Foot and 4 Foot Trencher models. Once you decide upon your desired trencher length, you'll want to consider chain and tooth assembly. Given our many years experience selling this product, Skid Steer Solutions has attempted to take some of the guess work out of the process by offering the Bradco Trencher with an agressive 6" wide chain, manual side shift, and 70/30 combination chain standard (shark-style teeth/cup teeth).

.
That being said, while that is the typical and standard offering, Bradco also offers many other options if so desired. You can also select a Full Shark Tooth Chain, 50/50 Rock and Frost Chain, as well as additional chain widths and tooth configurations. If you're interested in customizing your Bradco trenching set-up, feel free to give one of our attachment experts a call (1-866-966-2538) and we can make sure you get exactly what you need. For a full overview of the Bradco family of Trenchers and trenching options, please refer to this literature from Paladin.
If you've made it this far in the Trenching Attachment guide, then you can now consider yourself a Trenching Attachment expert. The Eterra offering will excel in simple and effective operation, right out of the box. The Blue Diamond offers an extended auger in addition to incredible quality. The Virnig Trencher can be selected in a 60" length, and the Bradco Trencher has one of the strongest names in the business standing behind the offering. With all of this information, you're now equipped to match your Trencher to your needs, and order online or over the phone. As a reward for your time, please enjoy a classic throw-back Skid Steer Solutions video from 2013, featuring the Bradco Trenching Attachment. Our team of experts is always available should you have any questions. Happy trenching!
.
.
.