Posted by Kyle Davis on 25th Jan 2018
We're excited to welcome another new and innovative family of products to our online catalog: The Skeer System of Push and Grade Attachments for Skid Steer Loaders and Compact Track Loaders. A unique combination that rests somewhere between a Grader and a Dozer Blade, we think this forward-thinking product makes for an excellent addition to the Skid Steer Solutions collection. New, innovative, and solution-oriented, Skeer makes for a great partner that matches the creative spirit of the Skid Steer Solutions team. Read on for photography, video and technical information on the Skeer System of products. Learn how these attachments can aid in your grading and soil preparation operations, as well as excavation, concrete preparation and landscape jobs.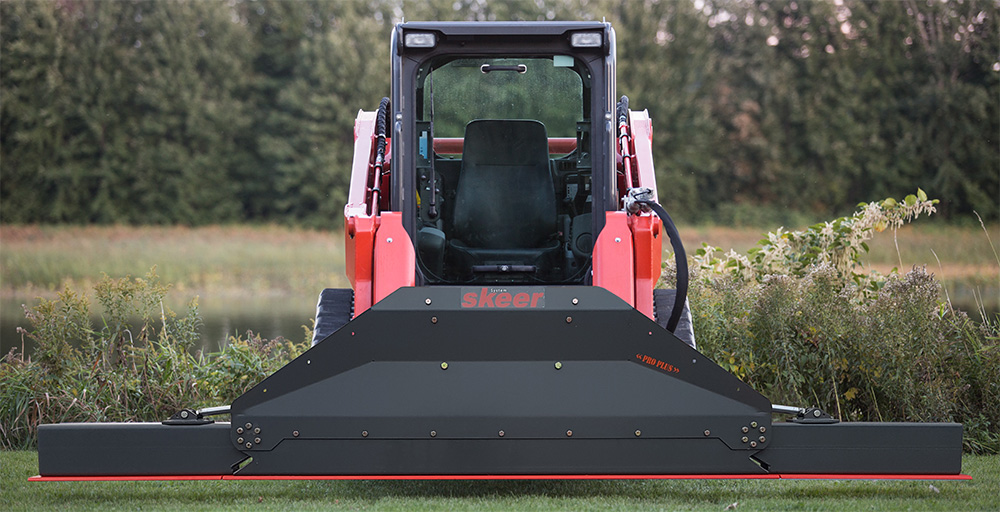 A true example of passion and resilience, Skeer's attachment products were in development for over 15 years before really entering the market. Over that prolonged period of time, extensive research and development efforts were conducted, resulting in a truly effective product that's as useful as it is visually striking. Skeer was born out of the industry of shaping mineral surfaces. A task that requires a great deal of precision, typical box graders, dozer blades, land plants and buckets just weren't resulting in the desired final product. Enter the Skeer Push and Grade Attachment, a tool that excels in jobsite preparation and surface leveling.
The key to the Skeer design is the floating base of the attachment and the buoyancy of the tool. The design of the floating base allows for excellent leveling, even when operating and relative high speeds, this means the attachment is adjusting to the surface as you move, and is dynamic enough to avoid getting stuck, getting jammed, or creating a "bad move" or imperfection in the surface you are leveling/grading. The next key is the precise sharpness of the cutting edge, or leading blade of the attachment. Strong, durable, and precise, this blade is able to push and shape material of all densities, resulting in a truly strong and versatile attachment.
Versatility, a key word in the world of Skid Steer Loaders and Compact Track Loaders. We love operating our machines because they are equal parts tough and nimble, able to access areas where bulkier machines fail. The Skeer System of products pair with those ideals perfectly. Here are some key features that contribute to the truly versatile operation of the Skeer Attachments:
Grades and levels equally well in either forward or reverse
60 degree vertical as well as horizontal pivot
The flagship, Pro Plus model features two independent wings, which are fully adjustable
Push and Grade with the wings closed, for the ultimate is pushing power
Extend both wings, over even just one, to customize the attachment to your operating needs
The side wings are capable of angled grading, meaning the base of the attachment can level at ground level, while the wing can adjust in order to accommodate a different angle due to a bank, berm, or anything else
The strength of the attachments leading edge means you can angle and dig in below surface level, for super aggressive leveling
No matter the aggression of the leveling operation, the sharp knife blade design of Skeer Attachments means you'll end up with a smooth, level surface every time
14-Pin, 8-Pin, 7-Pin and Standard electrical controls available, meaning the Skeer System will work with your machine, no matter your electrical demands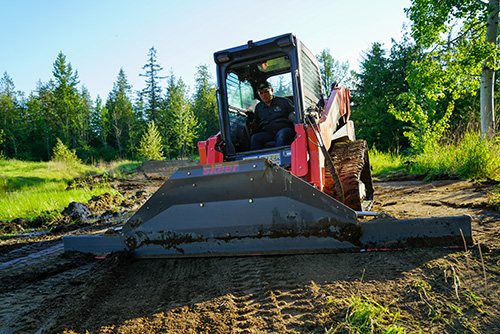 We currently feature 4 different models of Skeer Skid Steer Attachments, 3 grading attachments as well as the Skeer skid steer bucket. Please see below for links to the individual product pages, where you'll be able to learn more about each attachment, as well as view photographs and video of the tools in action. We look forward to seeing Skeer products popping up on more and more job sites, as well as all the versatile and original ways in which operators will put them to work.
Pro Plus Skid Steer Grader Attachment

The cream of the crop, fully featured Skeer Grading Attachment, the Pro Plus features the dynamic floating base, all swivel and adjustment settings (horizontal as well as vertical), and two independently operated wings. The complete package for strong and precise grading and leveling projects.
Pro Skid Steer Grader Attachment

Similar to the Pro Plus, without the independently operated wings. Floating base, polymer pivots on main base, 6-way angling and adjustment.
The Beam Skid Steer Grader Attachment

A straight-forward leveling and grading attachment with no wings. 4-way angling and adjustment.
Skeer Bucket for Skid Steer Loaders

Designed with a strong, durable and replaceable cutting edge to reduce digging and leveling imperfections.
Additional Skeer Information and Content
- Click here to see our full Photo Gallery Spotlight of the Skeer Pro Plus Attachment
- Click here to read our Attachment Spotlight of the Skeer System Bucket Attachment