Posted by Ian Stewart on 20th Mar 2020
As social gatherings and events are shut down country-wide and the business world appears to be slowing to a crawl, some businesses are doing their best to operate normally.
While some can work from the comfort of their homes, America relies on many of the working class to keep on keeping on.

This includes our warehouse workers assembling and shipping attachments, as well as business owners who use their machines for their livelihood and to do important work for their clients.
At Skid Steer Solutions we are not only continuing to work during this time, but we are offering a 5% OFF SALE on a variety of popular products from Virnig Attachments, Eterra, Haugen, Skeer, Digga, and more in order to help small businesses afford the tools they need to be successful.
This may be an opportunity to save hundreds IF NOT THOUSANDS on attachments you have been needing for a while. After all, isn't the best place to social distance yourself inside your own skid steer or excavator cab?
Take a look at the offerings below and click to view more information on the product pages:
ETERRA
EX-30 Excavator Flail Mower – Save $375
This is a do-it-all excavator mower. Clear roadsides, ditches, fields, and more with this versatile mower, capable of cutting material up to 6" but also great for mowing grass to a clean finish.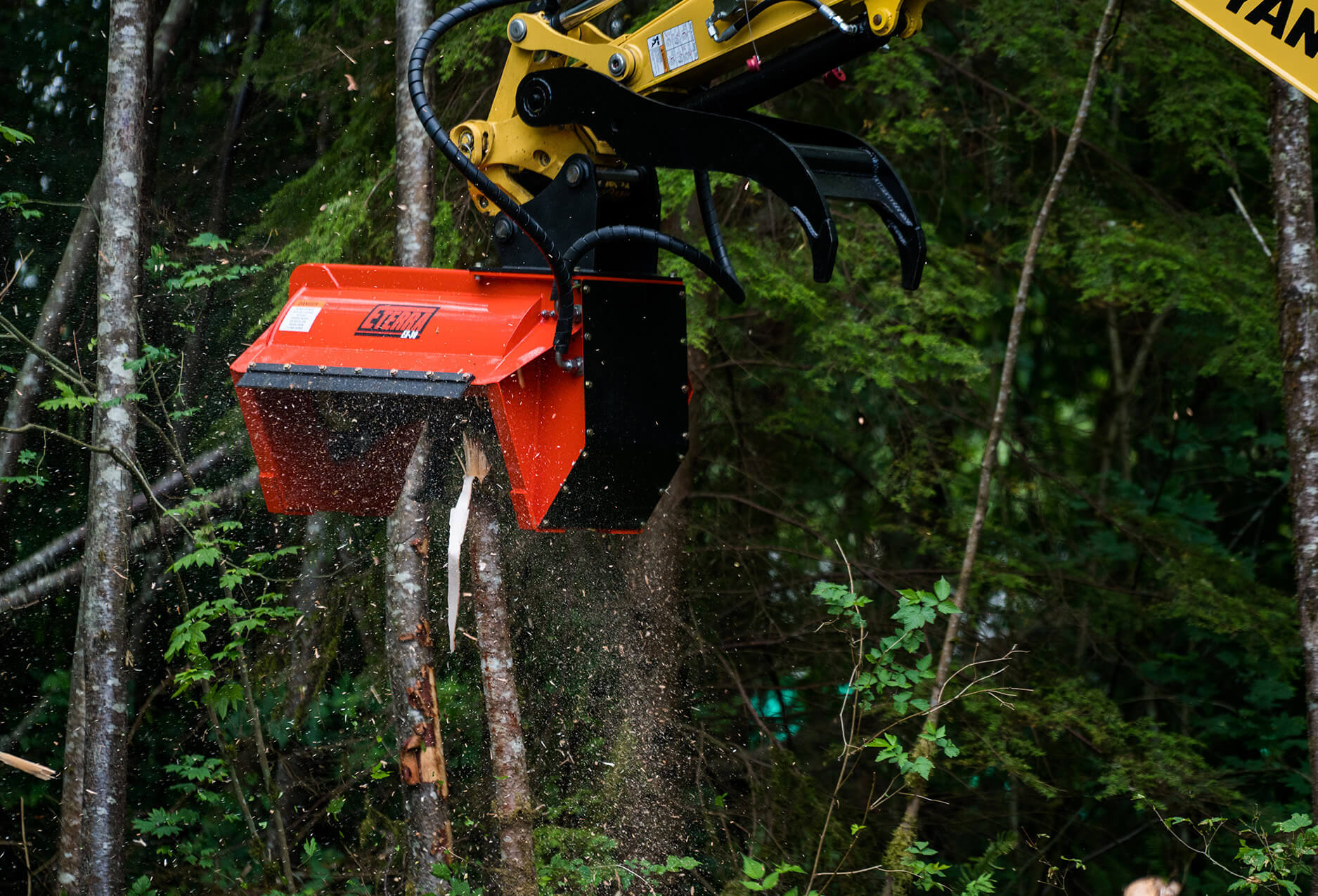 Cyclone 48" Clearing Mower – Save $375
This heavy duty Rotary Mower for Excavators and Skid Steers is the perfect combination of lightweight and power. Engineered for reduced swing weight, this mower will handle anything you throw at it up to 6"+ with moderate mulching capabilities. 9 lb blade is one of the heaviest in its class.
E40/E60/E70 Skid Steer Fixed Backhoe – Save Up To $175
A classic Eterra design and essential skid steer attachment. Perform a wide variety of tasks including landscaping, trenching, and debris or other material moving. The list could go on forever…
Raptor Skid Steer Boom Mower Attachment System – Save $1,100
This could be a great time to save big on this revolutionary skid steer attachment. A small business could be made with this mower system alone, great for industrial parks, golf courses, field or ditch mowing, you name it. If you have the cash, don't hesitate because this sale only lasts one month.
PDX-750E Skid Steer Post Driver – Save $340
This already discounted attachment is now available at an even lower price. Customers love this attachment for its compact modular design and powerful, high frequency hit rate. It simply puts posts in the ground faster than you would every imagine. Click the product page to watch a demonstration.
DIGGA
Bigfoot Trencher Skid Steer Attachment (4ft/3ft models) – Save $300
A powerful Eaton motor and a variety of depth and chain width options as well as teeth for dirt, concrete, and everything in between make this skid steer trencher a win for any trenching or irrigation project.
Skid Steer Auger Attachment – Save $110
Over 30 years of development has gone into making Digga Augers some of the highest quality, dependable skid steer auger on the market. An always reasonable price now even lower than usual.
FOR EVEN MORE brands and attachments participating in the sale, check out the full sale page at: