Posted by Kyle Davis on 14th Apr 2014
This Eterra E60 Backhoe Attachment and coupling system is one of Eterra Attachment's originals from way back when Eterra first began, and it is still immensely popular to this day. This Backhoe Attachment was original termed the EZ-HOE, then the EH-5000. Product evolution and design improvements have produced it's current name, the Eterra E60 Backhoe, with improved benefits and dynamic characteristics. Eterra now includes their original thumb accessory for free.
This backhoe has evolved into the multi-functional device it is today because Eterra has removed the original precision pins and replaced it with an exclusive ECS Quick Exchange Coupling System. This enables you, the skid steer operator, to change out the various implements with incredible ease. Read on to see this incredible collection of Backhoe tools in action, and to learn more about the ECS System and how it can save you time, energy and man-power when you're out on the job.
The various backhoe buckets and accessories available with the Eterra E60 Backhoe are:
Fixed, removable thumb. Now included for free.
This package comes standard with the E60 Backhoe and exchange coupler, 3" x 12" hydraulic cylinder, hoses and hydraulic flat face ISO ½" couplers. It also allows you to choose 5 of the above backhoe accessories for your E60 Skid Steer Backhoe System so that you can start using it right out of the box. Eterra also allows you to option for extra accessories at 50% off the accessory cost. (Shipping charges still apply.)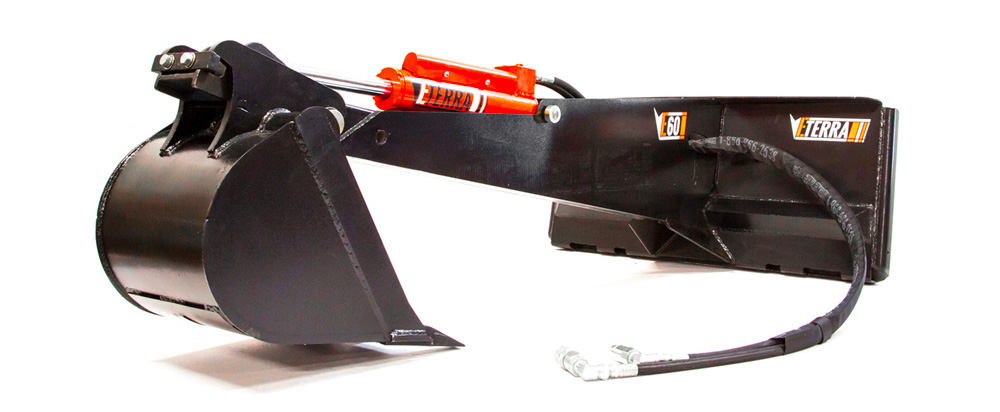 Why buy an Eterra E60 Skid Steer Backhoe System? Well, it is the #1 backhoe attachment on the market for a reason. It works great and has been designed for optimal durability. Eterra has had over 20 years to design the E60 to be the very best. That means over 20 years of trial and error, over 20 years of finding the best manufacturing material and over 20 years of invaluable customer feedback. Eterra has always worked tirelessly to set the standard, and their Backhoe Attachment is no exception. All the way from the original designs, to the current E60 model you see today, Eterra pushed their designs to the limits to provide the best possible value to their customers.
> Click here to shop the Eterra E60 Skid Steer Backhoe Attachment now!

The Eterra ECS Quick Exchange Coupler System
To see this innovative system in action, please view the video below. For operators looking to optimize their time on the job and reduce costly downtime, the ECS System is a simple and effective way to change out your various buckets, implements and tools, without having to halt production for hours at a time. With a few simple adjustments to the ECS bolts, you'll be able to slide out your current bucket or tool, and exchange in a new one in almost no time at all. Simply lock the new tool into place, slide the fit bar into place, tighten your bolts, and get back to work. If you're exchanging to a heavy tool or bucket that can't be lifted, you can maneuver your skid steer into place to pick up the bucket, and then tighten your bolts once everything is in place. The simplicity of the ECS system means everything will be secure and ready to work within minutes.
Editor's Note: This post has been updated with new information, video and features as of January, 2018.