Posted by Ian Stewart on 17th Dec 2021
At Skid Steer Solutions we serve contractors, farmers, and hobbyists that carry out all kinds of jobs using their machines. We try our best to follow along with our customers' work, and this story details two very different companies doing high quality work using the Eterra Skid Steer Concrete Mixer.
---
Hempitecture: Hemp Lime Building Systems
Hempitecture is a US leader in hemp construction, using plant based materials like HempWool insulation and Hempcrete building material. These materials are strong, long lasting, and a sustainable alternative to concrete.
Tommy Gibbons (Hempitecture COO and part time mix master) first worked with Hempitecture in 2018, building a hempcrete house and using an Imer pan mixer to mix the batches. It became apparent that they needed to expedite the process, as labor was accounting for 80% of the project cost, so they started looking into alternatives:
"There's a trade off... we're going to need a skid steer to power this [Eterra] mixer, but we can do a lot of Hempcrete at a time, and we can move the Hempcrete mixes to wherever we want on the jobsite. We were super impressed with the reliability of the mixes, the speed of it, and the ability to turn it over and get the Hempcrete out. It was feeding our spray machine at a really good cadence. That's when we noticed the power of this mixer."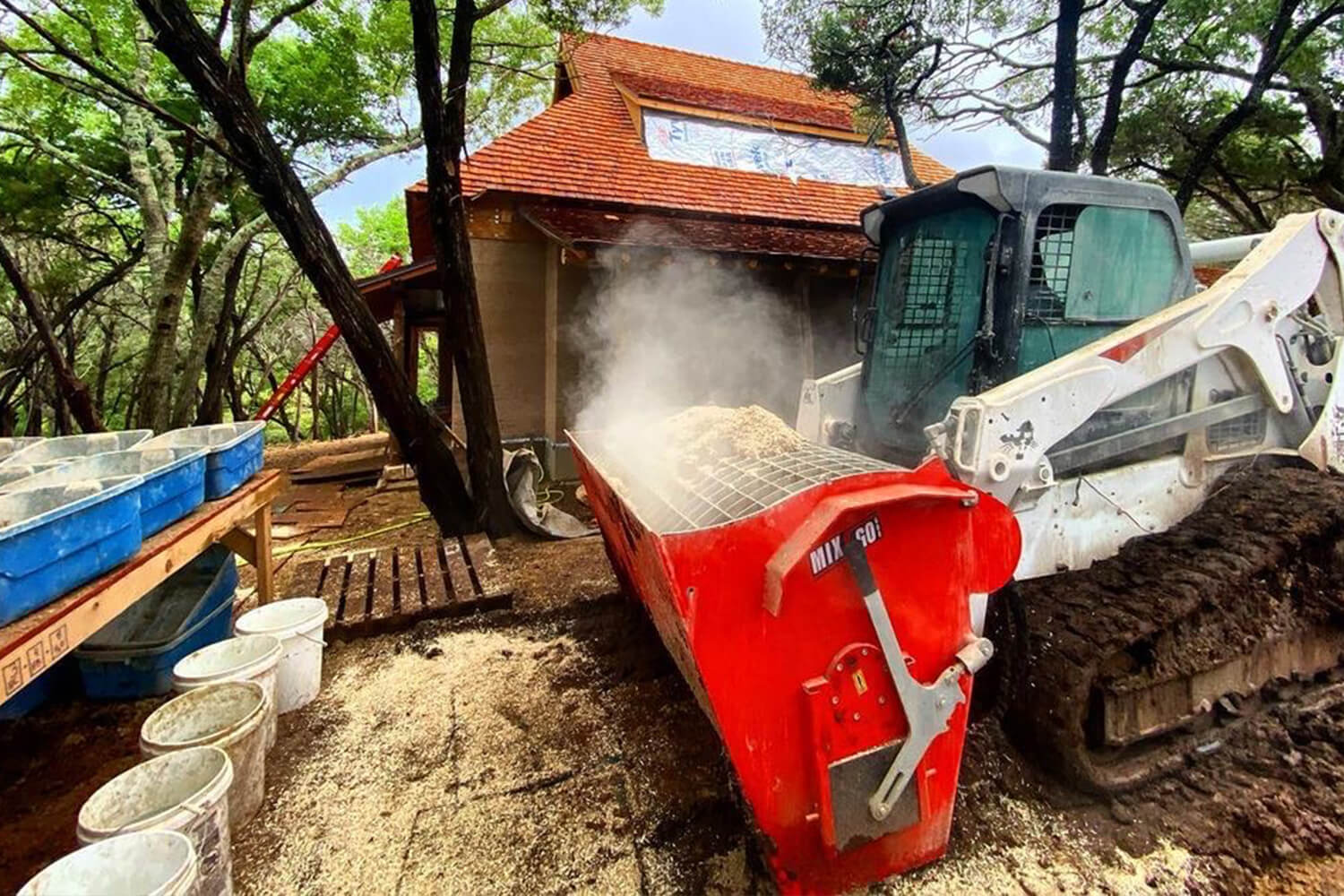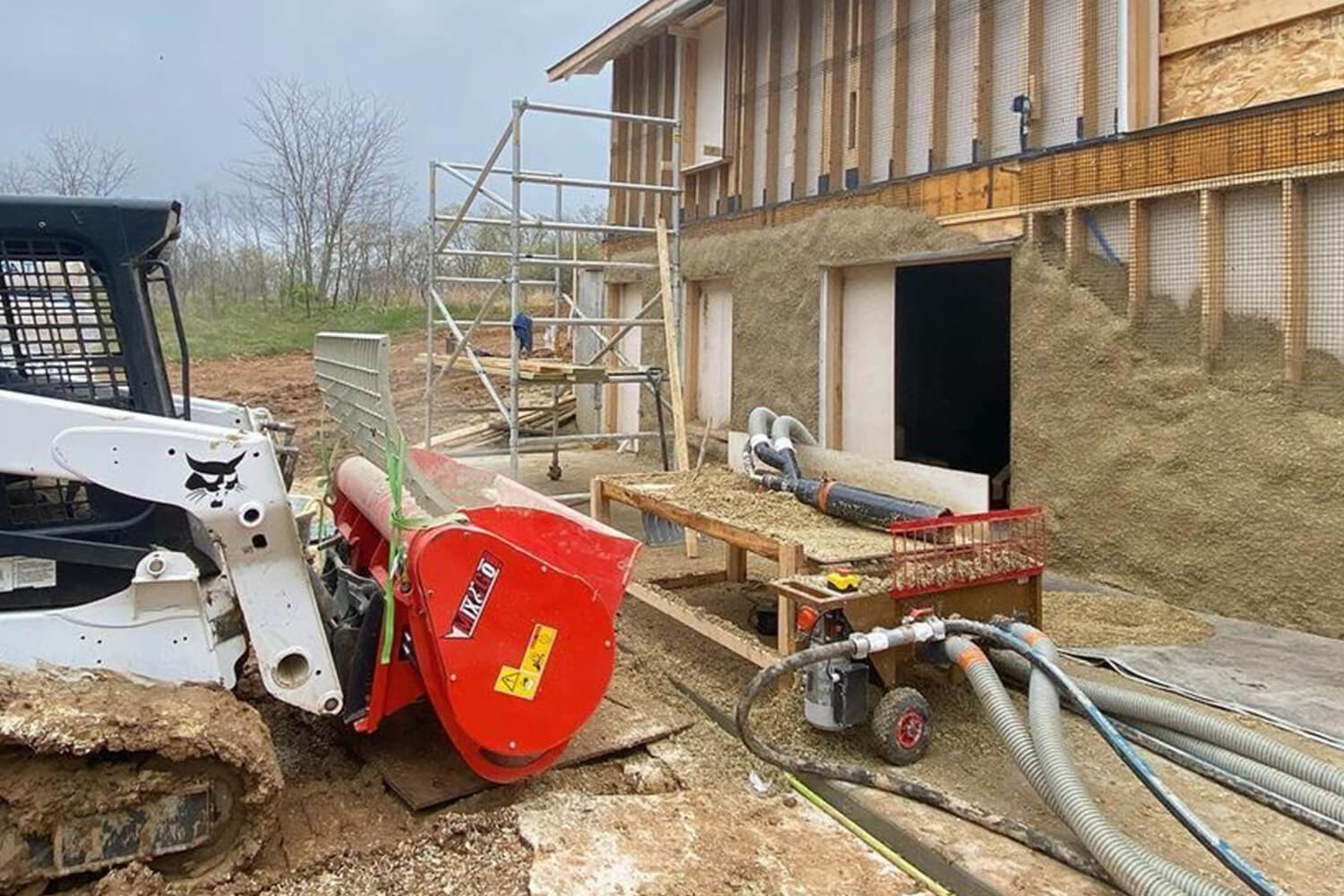 Hempitecture uses the Eterra Mixer in conjunction with a concrete sprayer machine, as well dumping the hempcrete mix directly into panels that are later erected as walls. The skid steer and attachment have become an integral part of their operation.
Hempitecture started out with the Eterra BMX-450 Concrete Mixer (16 cu. ft) and have since purchased the larger BMX-600 model (21 cu. ft.) and have done jobs using these attachments on both skid steers and excavators.
You can learn more about Hempitecture on their website.
---
Permeable Hardscape North America LLC (PHNA)
Permeable Hardscape North America is the general importer of GftK hardscaping products to North America. PHNA West distributes these products to contractors in the western United States, and is heavily involved in the projects they work on.
Montage Big Sky Montana Luxury Resort Project
In fall 2021 PHNA West worked with contractor Colorado Custom Rock to build a new valet court for the Montage Big Sky Luxury Resort. The project would require 18,000 square feet of bedding (the bedding mixes are comprised of 55 lb bedding compound, 220 lb of 1/4" aggregate, and water), which would have taken forever with their standard gravity mixer.
Nick Marti (PHNA West Co-Owner) began exploring ways to increase efficiency on this project.
"I thought [the Eterra mixer] would increase our mixing capacity of each batch, and the skid steer would allow us to transport it more easily across the jobsite. Not only did it double the amount of Trass Bedding that could be mixed, but because of the rotating paddles and the power from the hydraulics, it gave us a much more consistent mixture in less time. This project also had a sizeable area of pavers set on regular Type-S mortar, which our Eterra mixer churned like butter. Once mixed, both the side chute and bottom chute made it easy to fill the wheel barrows without worry of product waste from spillage."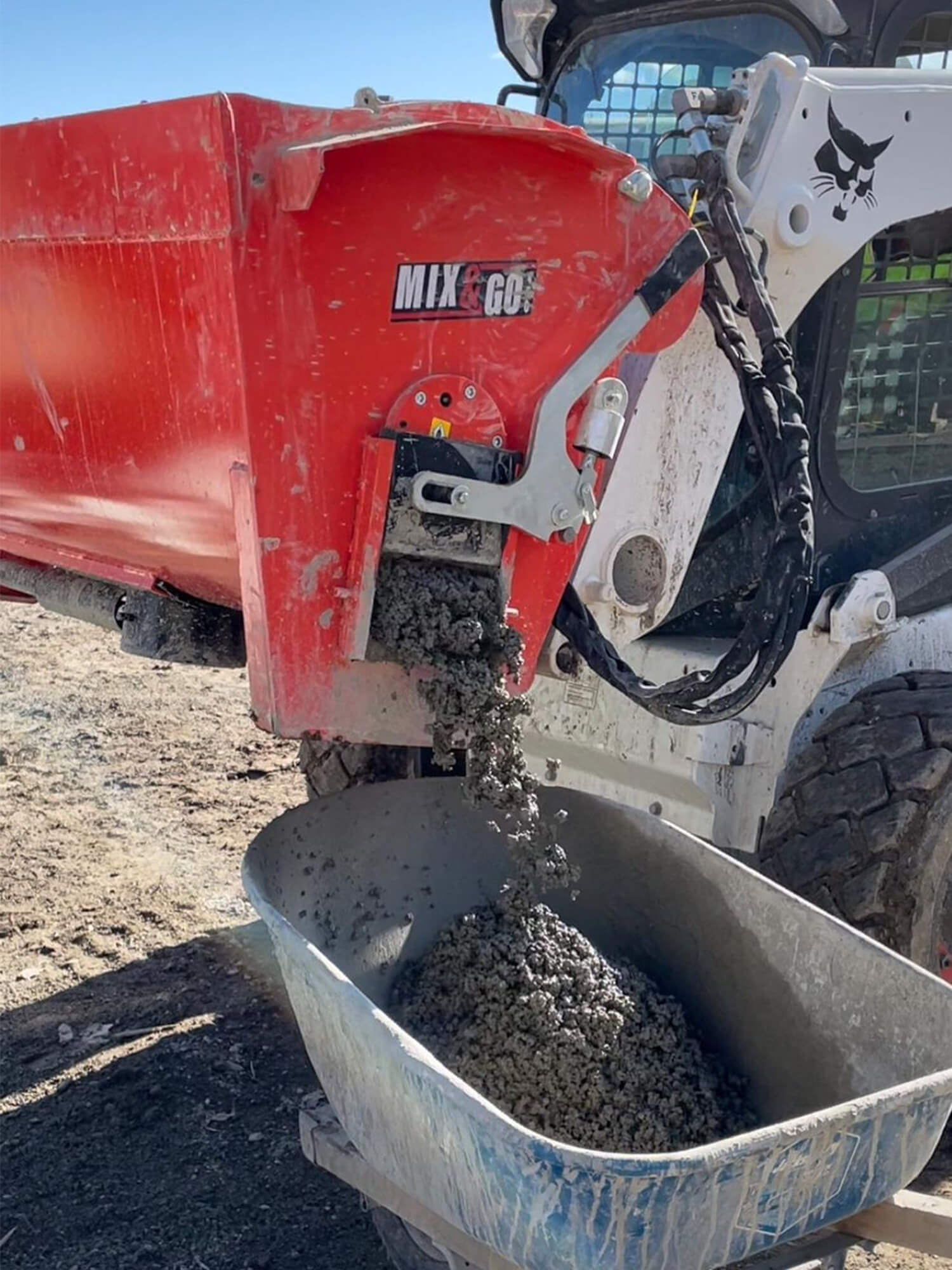 "This project was super limited on space, and all the pavers at the resort are laid above a snowmelt system – which meant we couldn't drive the Bobcat over the top of the heating pipes, and therefore required the use of the wheelbarrows. I'm hoping an upcoming project gives us a chance to have the skid steer close enough to be able to use the bottom chute to put the mortar right in place. Would be a whole new level of time savings there."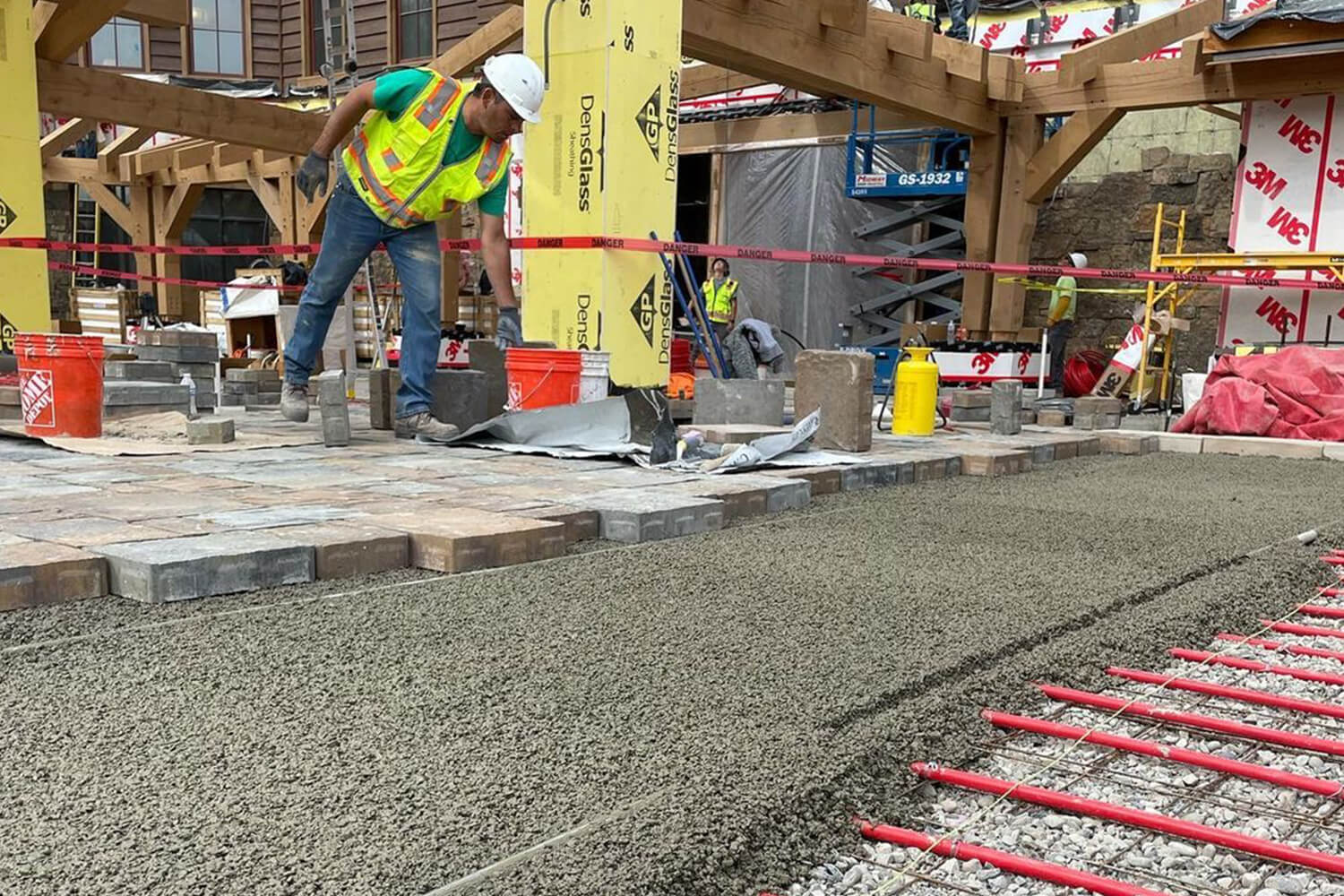 You can view more photos and of the project and the finished valet court on the PHNA West Instagram, or visit their website.
The Product: Eterra Concrete Mixer Attachment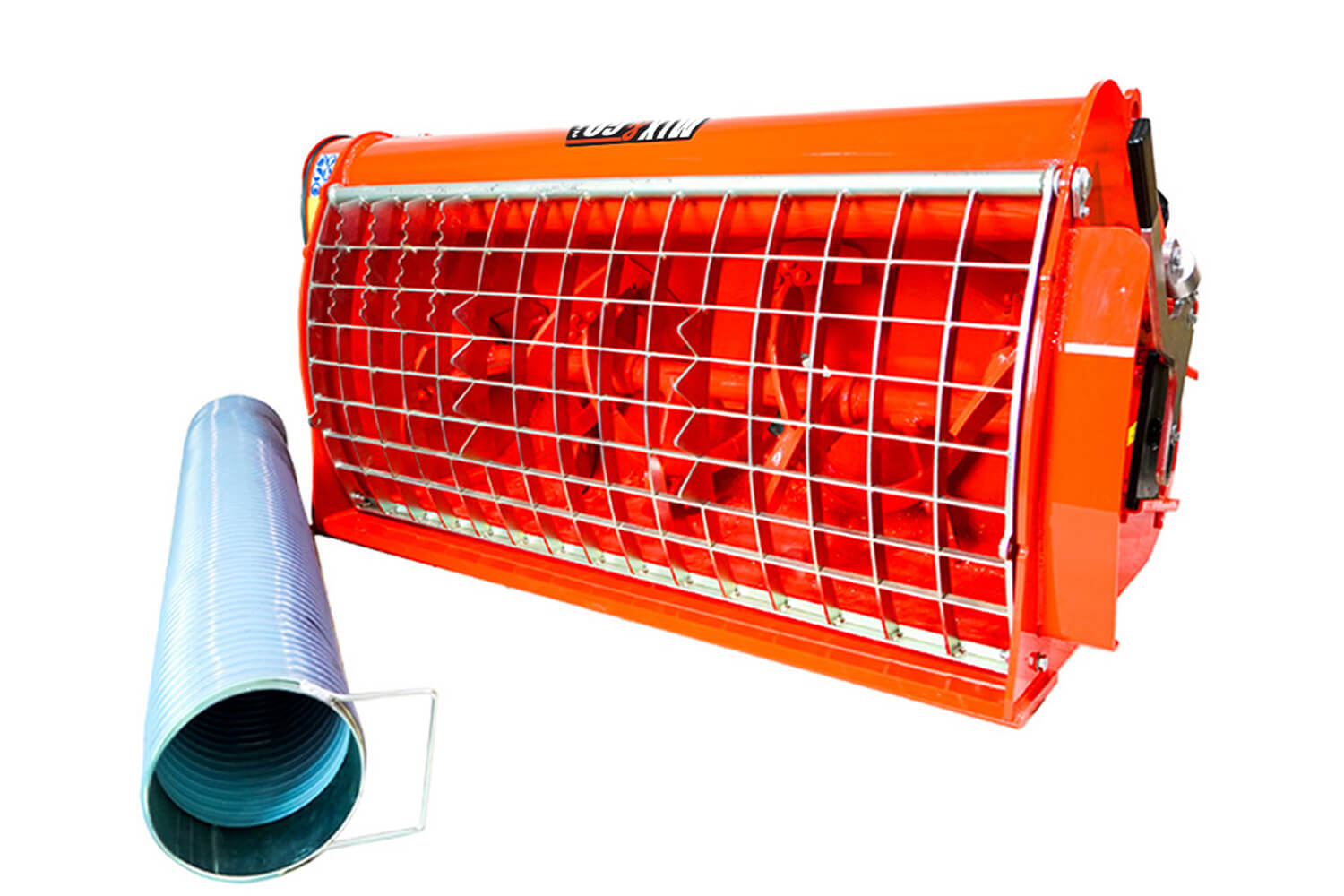 Eterra makes concrete mixing attachments in three sizes: 9 cubic feet, 16 cubic feet, and 21 cubic feet. These mixers are generally mounted on skid steers and compact track loaders, but can also be adapted to run on excavators.
Click here for details and pricing on Eterra Concrete Mixers.
---
SPECIAL THANK YOU to Tommy Gibbons at Hempitecture and Nick Marti at PHNA West for taking the time to answer our questions and share their projects with us.
Have a story to share about your attachment or project? Send us an email or reach out via social media!