Posted by Ian Stewart on 24th Jul 2020
There are tons of skid steer and excavator post drivers these days, but they are not all created equal. With so many options, it can be hard to see through all the noise and advertising. If there's one thing you can be sure of, it's that Eterra Attachments knows how to build a breaker style post driver.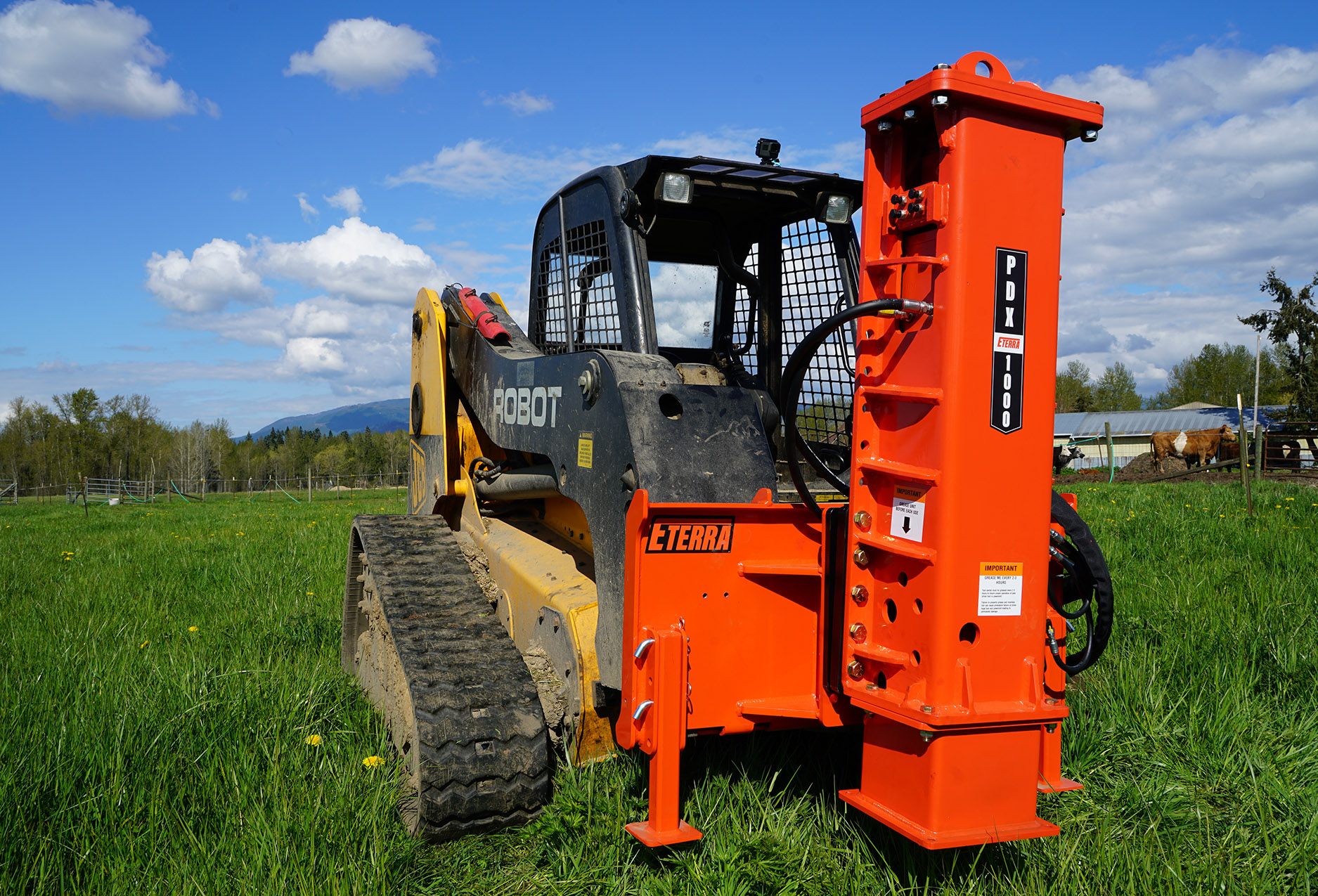 Eterra built the first ever commercial skid steer breaker style post driver back in 2007 ( the PD-550), and have been improving with each model ever since. Now, 13 years later, they are launching the best one yet, the brand new PDX-1000. The contrast between the two models is stark. The PD-550 struggles to drive a 4" pointed post, while the 2020 model has no trouble driving a 9" flat bottom railroad tie. It's amazing how far Eterra has advanced the technology, continually innovating to stay ahead of the game.
What makes this post driver so effective?
Breaker style post drivers made by Eterra have always used a fully enclosed housing. They figured out early on that it is crucial to enclose the powercell, rather than sandwich it between two plates and bolting it together like you see from many other manufacturers. Eterra also uses Urethane caps on the ends of the powercell. The benefit of this style is that it drastically reduces the vibration that is sent back through the attachment and the machine, increasing the longevity of the driver without losing any power. It also reduces the noise sent to the operator and bystanders (your clients will appreciate it and you won't hate your life while operating).
The Nitrogen Powercell itself is another strongpoint. It is powerful yet has very few moving parts, making it easy to maintain, and very safe compared with hammer style post drivers. Just keep it greased and make sure the bolts are tight, and recharge the nitrogen powercell once every year or two.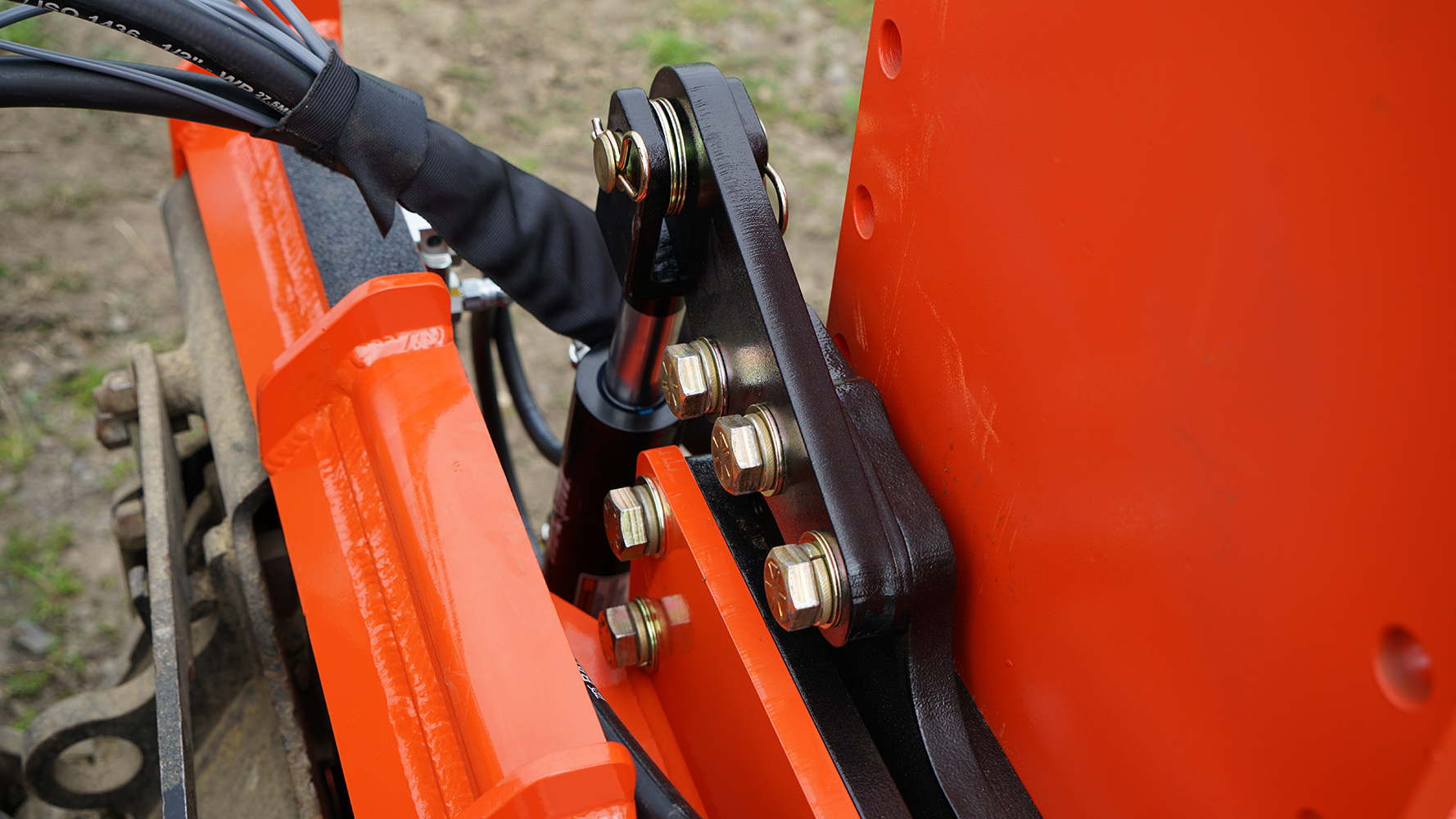 Tilt function has been a staple of Eterra's for years, and fence installers know how important this is. How often are fences build on perfectly flat ground? The integrated tilt system features high quality valves and allows you to tilt the unit 15 degrees to the right or left allowing for perfectly plumb posts on any terrain. The bolt on style of the unit provides easy switch over from the skid steer plate to an excavator mount.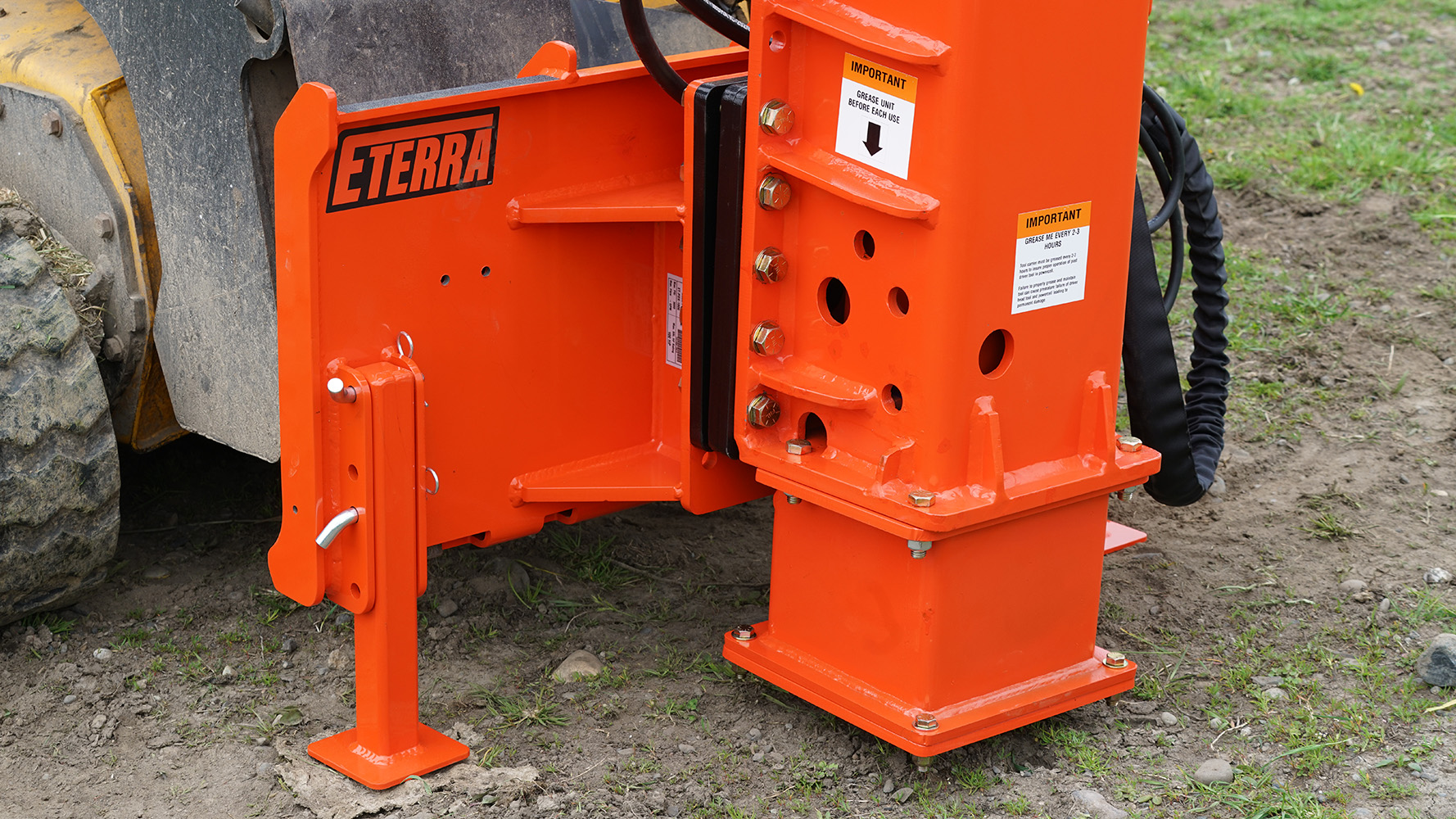 This post driver comes equipped with a variety of useful tools. Most importantly, the breaker tool. For driving posts in extremely tough ground, there is an optional 60" breaker tool which allows you to pre-drill your holes like a concrete breaker, and then easily drive your posts. 4 sizes of bolt on post guides come standard (2", 4", 6", and 8"), as well as an optional domed driver head. You can also remove the post guide altogether and drive up to 9" posts (we recommend trying this, it's awesome).
Cost?
Cost is something Eterra has never tried to compete on. You're either high quality, or cheap. You can't be both. That being said, the PDX-1000 is well worth the money. In 5 years when this thing is still driving posts like a champ, you won't be thinking about an extra thousand dollars you my have paid. If you go cheap, the frustration and discomfort will not be worth the savings. Eterra post drivers are completely designed and assembled in the USA.
The Evolution of the Eterra Breaker Style Post Driver
2007 - PD-550A
2014 - PD-550T (Tilt) Post Driver
2016 - Skid Steer Breaker Style Post Driver
2017 - PDX-750
2017 - BPD-1250
2019 - PDX-750E
And last but certainly not least...
2020 - PDX-1000 Breaker Style Post Driver for Skid Steers and Excavators
Let us know what you think in the comments! Don't forget to subscribe for more skid steer and excavator attachment content.
To learn more, visit us online at skidsteersolutions.com.