Posted by Mackenzi Griffin Photo: Ákos Szabó, Hassan Ouajbir on 20th Apr 2023
It is no secret that land clearing is a daunting job for new skid steer operators. When deciding what attachment is right for you, there are many things to consider. Today we will be clearing up some of the major differences and uses of the three most common land clearing attachments to help you make the best decision.
Brush Cutters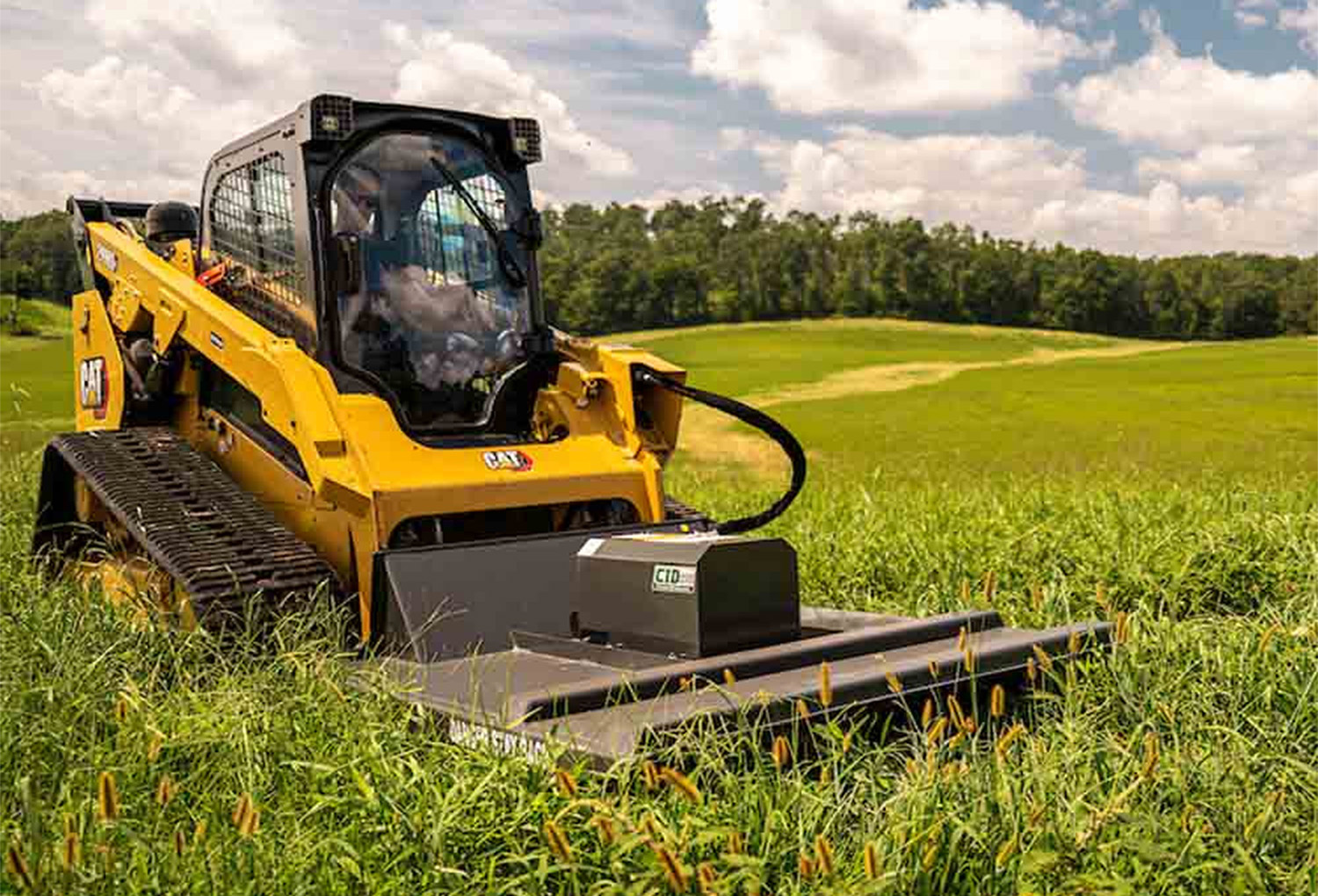 First off, let's talk about brush cutters. These bad boys are designed to handle thick, woody vegetation like shrubs and small trees. They typically have a rotating blade or series of blades that can easily slice through tough material. If you've got unmanageable overgrowth on your land, a brush cutter is the way to go.
When it comes to choosing a brush cutter, there are a few things to consider. The size of your skid steer is always an important factor when choosing any attachment. Make sure to choose a brush cutter that's compatible with your machine. You'll also want to think about the width of the cutting deck. A wider deck means you can cover more ground in less time, but it may also be heavier and more difficult to maneuver. And of course, you'll want to consider the durability and quality of the blade.
Here are a few of our favorites:
Skid Steer Standard Duty Brush Cutter Attachment | CID
Skid Steer X-Treme Piston Motor Brush Cutter | CID
Skid Steer Severe Duty Brush Cutter Attachment | CID
Mowers
Now, let's go over mower attachments. Skid steer mowers are designed to maintain grassy areas like lawns, meadows, and pastures. They typically have a closed deck with a series of rotating blades that can quickly cut through grass or thicker vegetation. Most models are built to leave behind a cleaner looking finish. If you've got a lot of land to maintain, a mower will save you quite a bit of time.
It is important to think about the width of the cutting deck, as well as the height of the blades; the blade height can affect how closely the mower can cut to the ground.
Here are a couple of great Mowers to get you started:
Typhoon Skid Steer Clearing Mower | Eterra
Skid Steer Closed Front Brush Cutter Mower | Virnig
Brushhound Skid Steer Flail Mower | Rockhound
Brushhound FH Series Skid Steer Flail Mower | Rockhound
Mulchers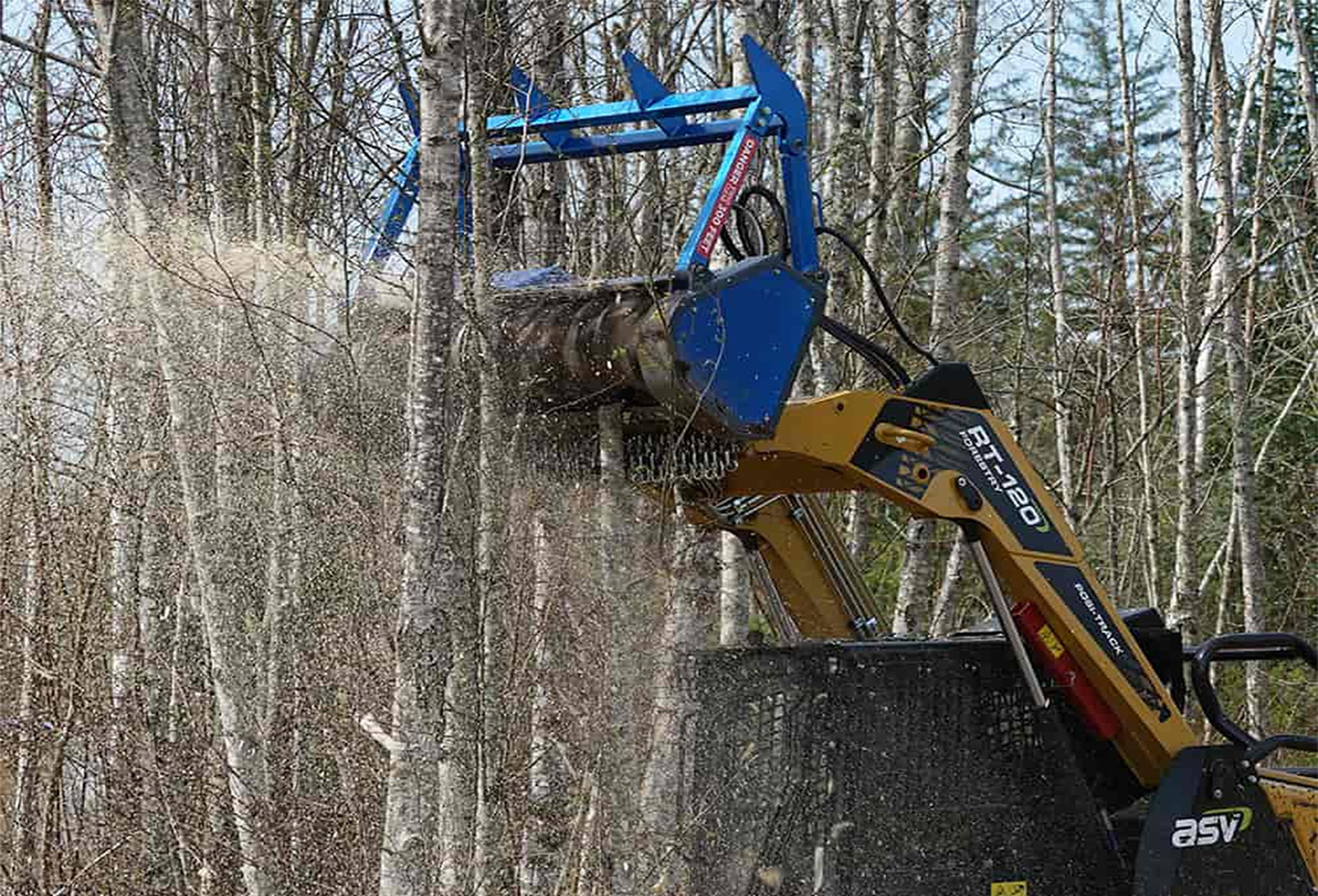 Now, if you're not familiar with skid steer mulchers, they're basically designed to shred up all vegetation, from brush and weeds to tree limbs and stumps. They can make a world of difference in dealing with an overwhelming amount of thick brush to clear.
First and foremost, skid steer mulchers are incredibly efficient because they can cover a lot of ground in a short amount of time but, perhaps the biggest benefit of skid steer mulchers is that they can save you a whole lot of money in the long run.
When you have overgrown areas on your property, they can be a breeding ground for all kinds of pests and diseases. And if left unchecked, those pests and diseases can spread to crops, livestock, pets and even your family. Clearing out those overgrown areas with a mulcher is an efficient way to prevent those problems from cropping up in the first place.
Of course, like any piece of equipment, skid steer mulchers do come with some downsides. For one, they can be pricey, so you'll need to weigh the costs against the benefits to see if they're worth the investment for you. And they do require some maintenance to stay in good working order.
Check out these high-quality Mulchers:
HSL60 Standard Flow Skid Steer Mulcher | Promac
Skid Steer Forestry Disc Mulcher Attachment | CID
HSM 72" Heavy Duty Skid Steer Mulcher | Promac
To wrap it up, always choose the right attachment for your skill level and needs. The coolest and most heavy-duty attachment may look like the right attachment for you but always factor in your skid steer's size, flow rate, and your own operating abilities, before purchasing.