Posted by Ian Stewart on 30th Apr 2020
Have you been hearing a lot about skid steer disc mulchers? What's the craze with this style of land clearing attachment? And where can you get info and pricing, and potentially get your hands on one? All these questions will be answered in this short article.

A skid steer disc mulcher is an incredibly powerful forestry attachment. The inertia created by the heavy disc design gives the mulcher its ability to process large trees, in some cases up to 14", because the spinning disc has so much weight and momentum. They look mean, and when you see an attachment swallow a tree whole and spit it back out, it inspires awe. There is need for caution though...
Because of the nature of these attachments, they can be extremely dangerous when operated incorrectly or on the wrong machine. Many disc mulchers weigh over 2,000 lbs and require skid steers that have serious lift capacity AND high flow so they can give the attachment what it needs. The technique also takes some time for most operators to learn, and they are notorious for sending pieces of shrapnel flying hundreds of feet. Check out this instructional video on how to operate a skid steer disc mulcher.
That said, let's introduce you to some of the most popular disc mulchers on the market, NOW AVAILABLE ONLINE AT SKIDSTEERSOLUTIONS.COM!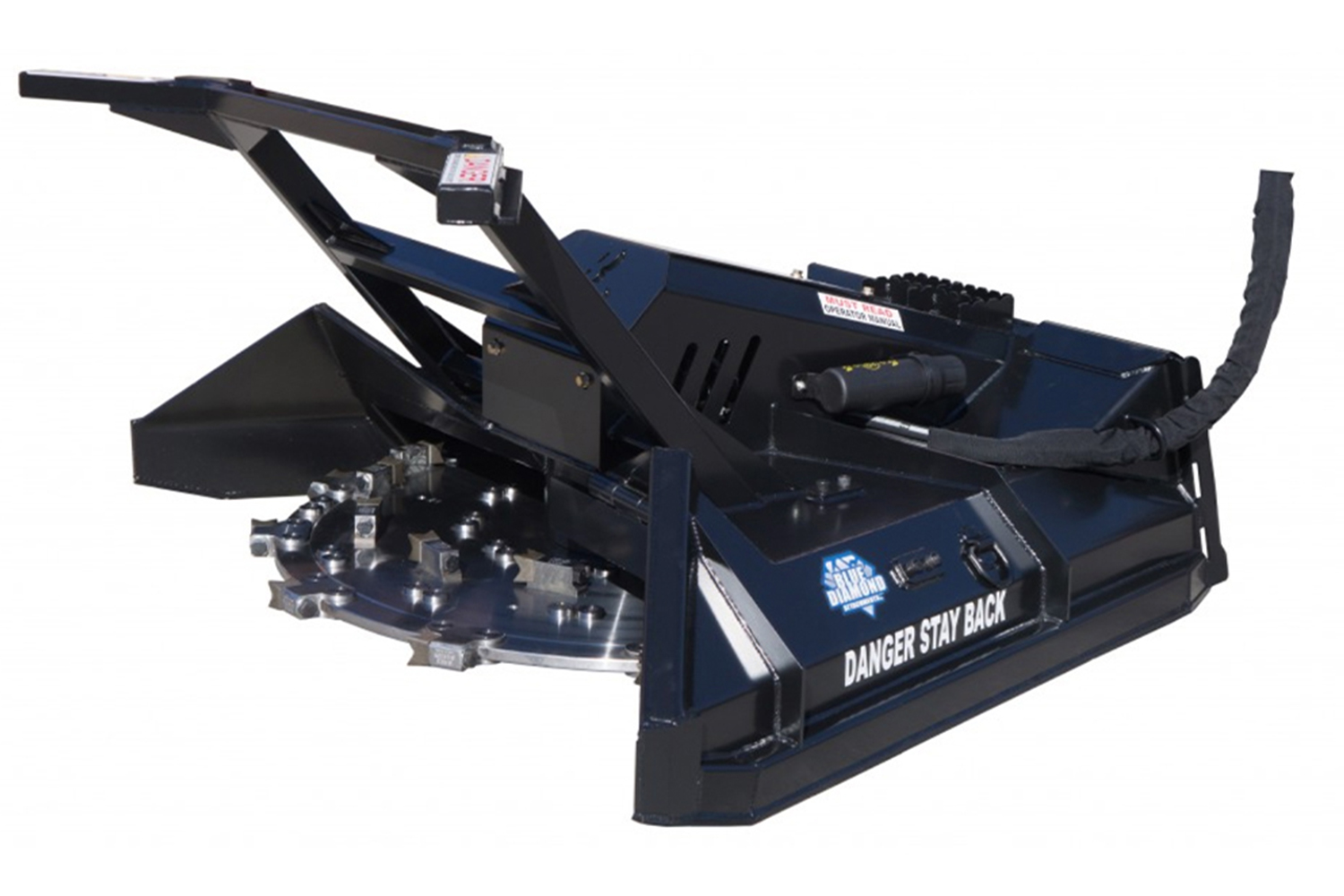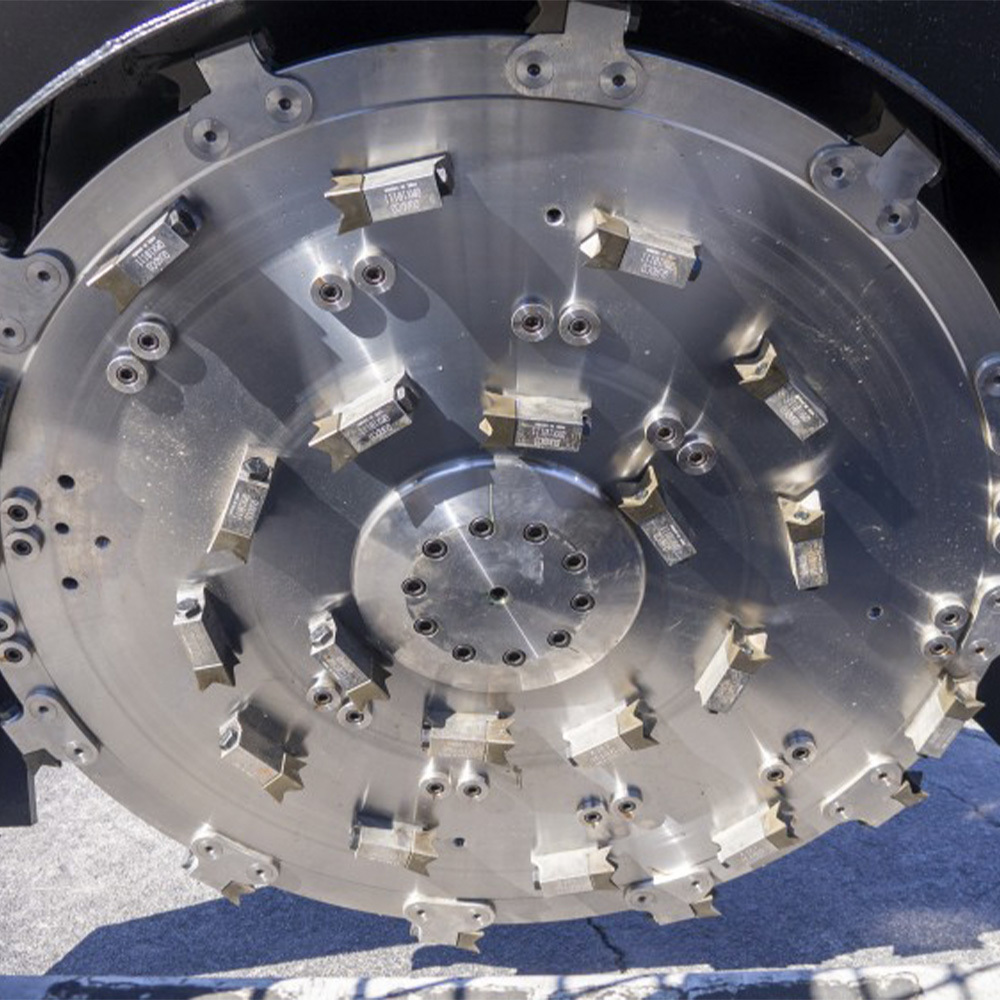 Blue Diamond is well known for putting out high quality skid steer attachments, and they've done it again. Their new disc mulcher comes in two different sizes, the largest model having a 60" width, 200cc motor, requiring 45-60 GPM, and weighing in at 2,432 lbs.
The deck is made with 3/8" reinforced steel to withstand the force, and it has replaceable teeth on the top, bottom, and sides of the disc, which can be rotated 4 times before needing to be replaced. If you're worried about the debris coming back at you, Blue Diamond included a 1" thick deflector plate just for that reason. This attachment is built tough and smart. More info and specs on the product page.
Virnig V70 Skid Steer Disc Mulcher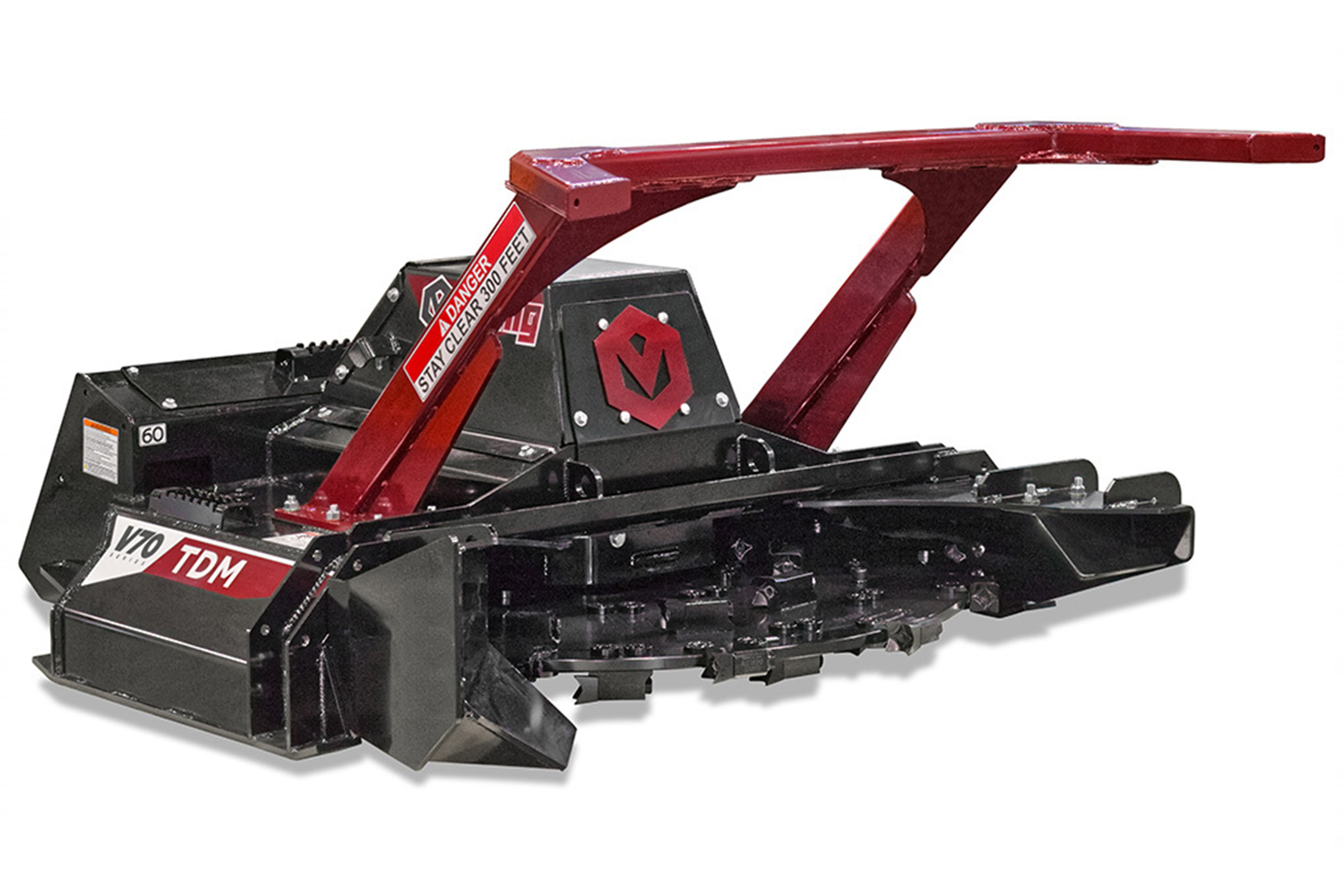 Man, if you've seen the demo video of this mulcher, you hardly need an explanation. The V70 also has a 60" cut width, high flow requirement, and this one weighs 2,700 lbs, meaning you're going to need a machine with a lifting capacity greater than 2,800 lbs. This behemoth boasts 44 rotating cutter teeth and a direct drive system and piston motor, meaning it will cut through and mulch 14" material like it's its job (which it is).
This is the attachment you're going to want when the zombie apocalypse... or if you want to thin your back 40 or clear serious acreage. More info and specs on the product page.
CID Skid Steer Forestry Disc Mulcher
This is a solid, American made Disc Mulcher that will realistically do everything the alternatives will do, but with a smaller price tag. CID has had this attachment on the market for a while now, and operators love it. Coming in two different size options, it can tackle 14" material like the rest, has a heavy duty machined steel disc covered in mulching teeth.
Weighing 2,425 lbs, CID's 60" model mulcher requires a large skid steer with 32-60 GPM, but they also provide a 44", 1,475 lb model that requires only 20-48 GPM. This attachment has been perfect for many operators and it could be the right one for you. Check out a video of the mulcher in action, or view additional specs on the product page.
Ever heard of Andrew Camarata? He has the 44" standard flow version of this attachment and runs it on his Takeuchi TL12 standard flow (23 GPM). Check out his video here.
We hope this article helped you gain some understanding of disc mulchers, the benefits, dangers, and various options that are available to you, and ultimately helped you make a better decision if you're in the market. For more information and other skid steer and excavator attachments visit us online at Skidsteersolutions.com.