Posted by Kyle Davis on 29th Jun 2018
The World's First Skid Steer Flamethrower
Presented by Skid Steer Solutions and Eterra
FOR IMMEDIATE RELEASE
BELLINGHAM, WA
Local equipment manufacturer, Eterra, has launched a new and innovative product with the intention of showcasing their design and engineering prowess. Announced to the world on May 9 th,, 2018 as the "World's First Ever Skid Steer Mounted Flamethrower," Eterra describes their creation as a skid steer mounted, boom-arm mounted, flamethrower attachment. Capable of shooting flames up to 70 feet, this fiery piece of equipment is sure to turn some heads.
Rob Leib, is the president and owner of the local company, Skid Steer Solutions Inc., which includes three separate entities in one single location in Bellingham, Washington off Bakerview Road. There's skidsteersolutions.com, an online marketplace for skid steer attachments and equipment, as well as Skid Steer Genius, a company that specializes in electrical controls and components for the machines. Finally, there is Eterra, the manufacturing arm of Leib's company, and the official brand of the Skid Steer Flamethrower.
"With the Flamethrower, we just wanted to showcase what we can do. And we wanted to have fun. We're a small company, but we produce products that we're really proud of. We're an American company that offers good paying American jobs and features American-Made manufacturing; we wanted to highlight our strengths in a bold and exciting way, and I think the Flamethrower accomplishes that."
Eterra and Skid Steer Solutions got their start in Everson, Washington, originally manufacturing and shipping loader tracks out of Leib's small garage. As sales and notoriety increased, Leib was one of the first leaders in the skid steer industry to put a lot of attention to the online space. With an increased web presence, the company began to grow and diversify, and is now home to over a dozen local employees in offices and warehouse space that exceeds 30,000 square feet.
Leib stresses the need to be creative and innovative in an industry that gets more competitive by the day, something the Flamethrower, with it's large spray of fire and flames, makes abundandly clear. On his design and manufacturing process, Leib has this to say: "If you look at the flamethrower, it's polished aluminum, everything is machined, the parts are just beautiful on it. And that's what our attachments look like. We don't skimp on anything, everything we do is first class here."
Another big component of Eterra's success has been their commitment to American-Made parts and American manufacturing for their products, a selling point that helps Eterra stand out, according to Leib. "A long time ago I realized, 'hey, we're just a small manufacturer, we can't be the cheapest, it's impossible - but we can be the best.'"
Leib says that he's in the equipment business because he loves the machines and the attachments, and he seeks out employees who also love the challenge of providing solutions to customers with high standards. Often times, customers have specific requests, specialized jobs and applications, and they're looking to complete demanding work as fast as possible. That's where creative design and durable manufacturing can rise to the occasion.
In presenting the Skid Steer Flamethrower, Leib mentions the creativity and forward-thinking that was required to execute such a unique project "We're the innovators, we're always innovating, and trying to come up with something better that's going to make a better product for our customers."
The challenge of innovating and manufacturing the world's first Skid Steer Mounted Flamethrower was large, complex and required the total commitment of many employees and many years of experience. The result is something that could have only been created by Rob Leib, his team of employees, and the partnership between his three companies, Skid Steer Solutions, Skid Steer Genius, and Eterra. No other organization boasts the knowledge, the passion, the expertise, or the creative spirit required to pull off something as truly unique and boundary-pushing as a Flamethrower mounted on a Skid Steer.
.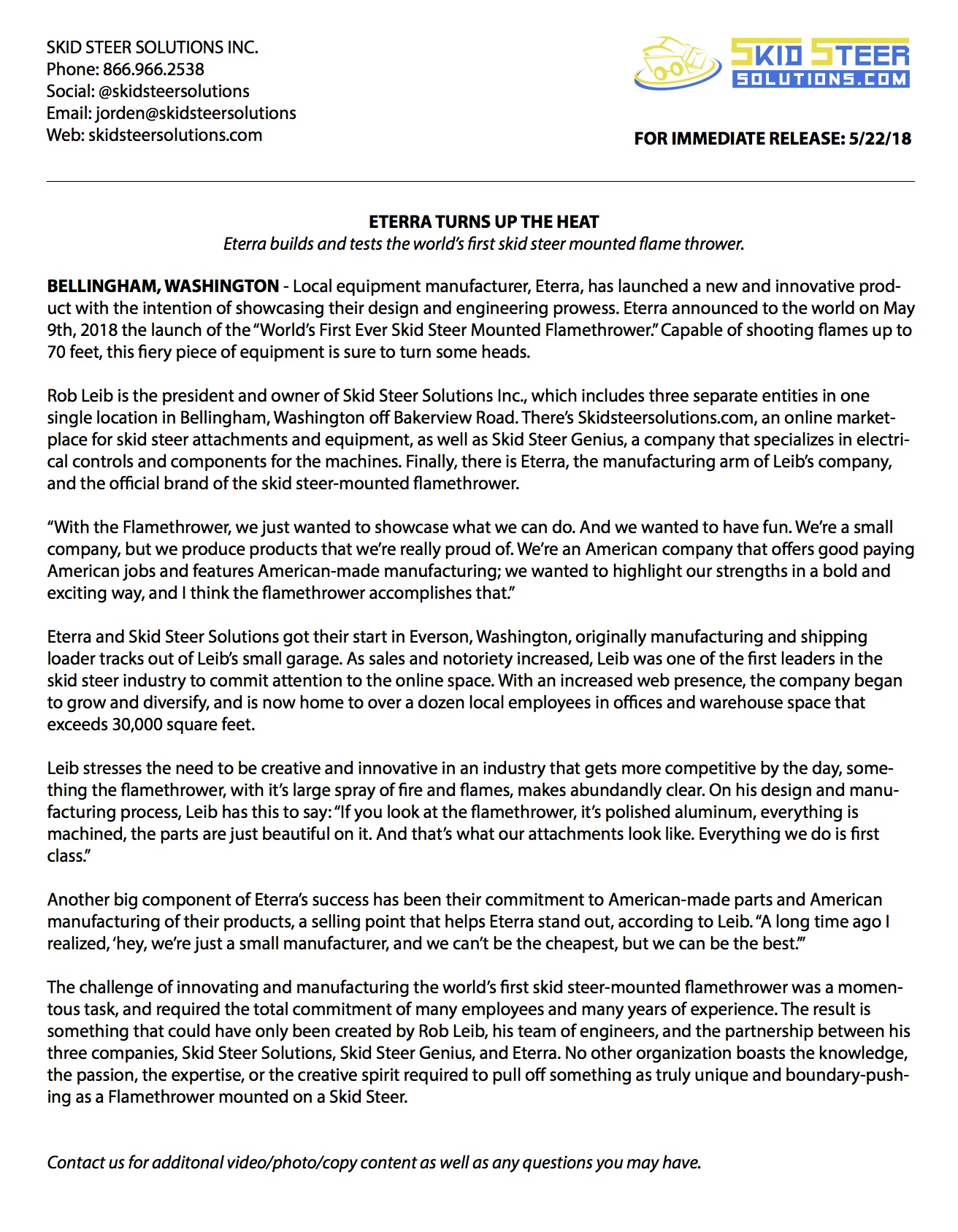 FOR ADDITIONAL DETAILS, PHOTOGRAPHS AND SPECIFICATIONS PLEASE CONTACT JORDEN@SKIDSTEERSOLUTIONS.COM

TO REQUEST THE OFFICIAL PRESS KIT PLEASE CONTACT JORDEN@SKIDSTEERSOLUTIONS.COM