Posted by Jorden on 12th Feb 2018
Supercross in Oakland, CA - Home of the Oakland A's
Michael Leib's Rude Awakening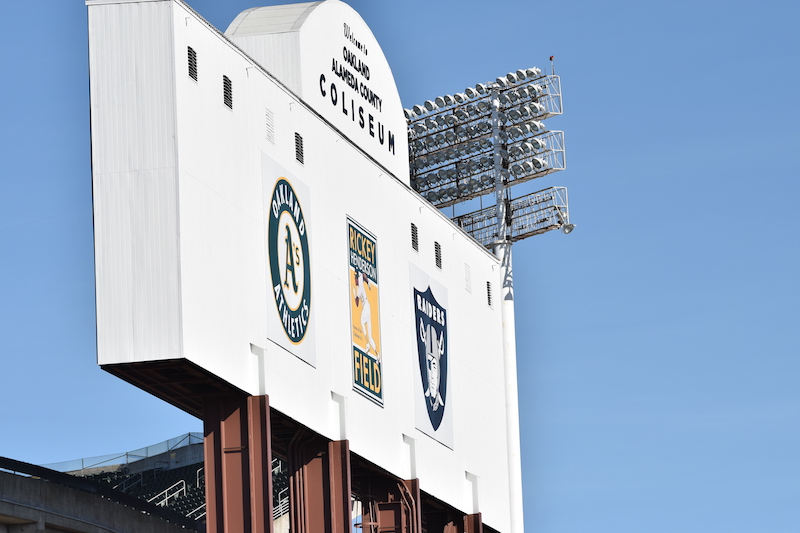 Tired of reading so many words online? Prefer a slick and professionally produced Supercross video? Give Racetrack Supercross a try, the latest and greatest series covering the sport of Supercross. Watch the latest video on Oakland Supercross below, and then keep reading anyway! Racktrack Supercross is proudly presented by Skid Steer Solutions and Eterra Attachments.

We traveled to Oakland, CA for three reasons:
1. To meet with customers.
2. To watch the races.
3. To see Michael Leib's come back race
(Now reverse the order and you've got the honest truth.)
(Our number one passion is machines and attachments, but Supercross is a close second.)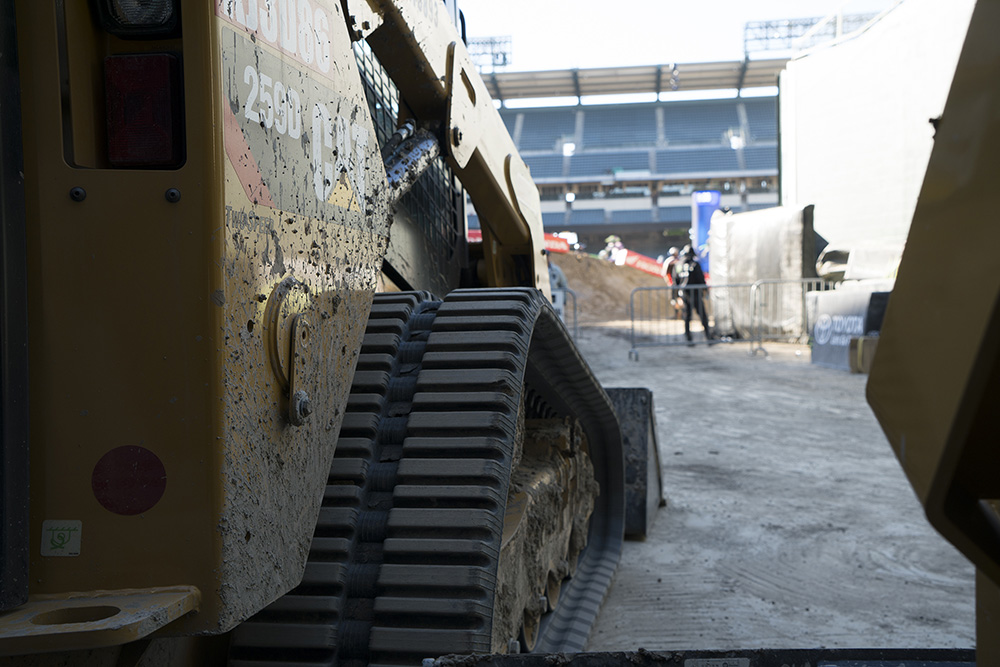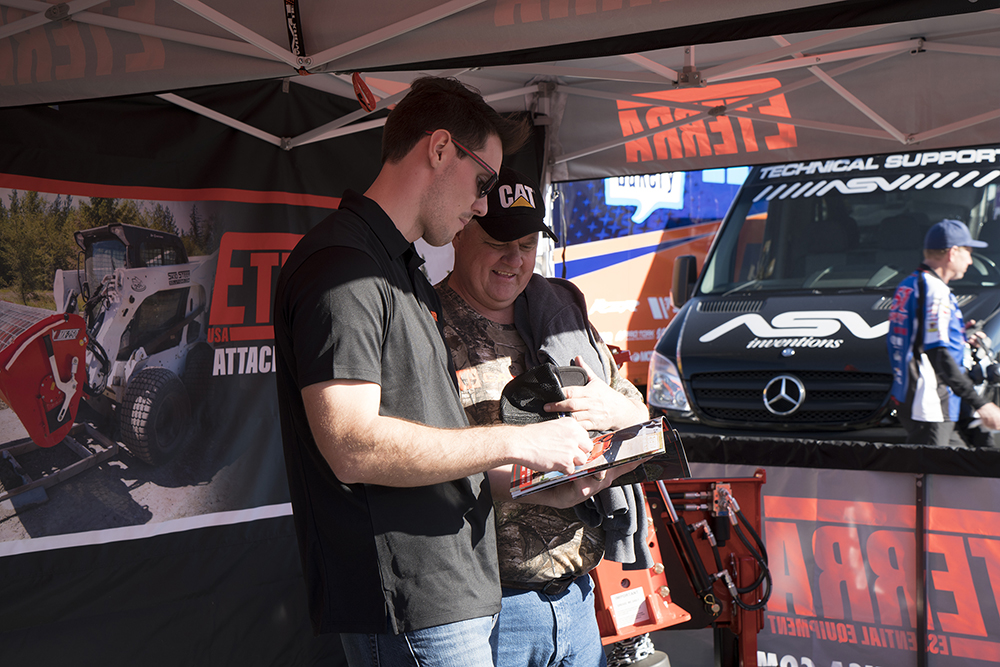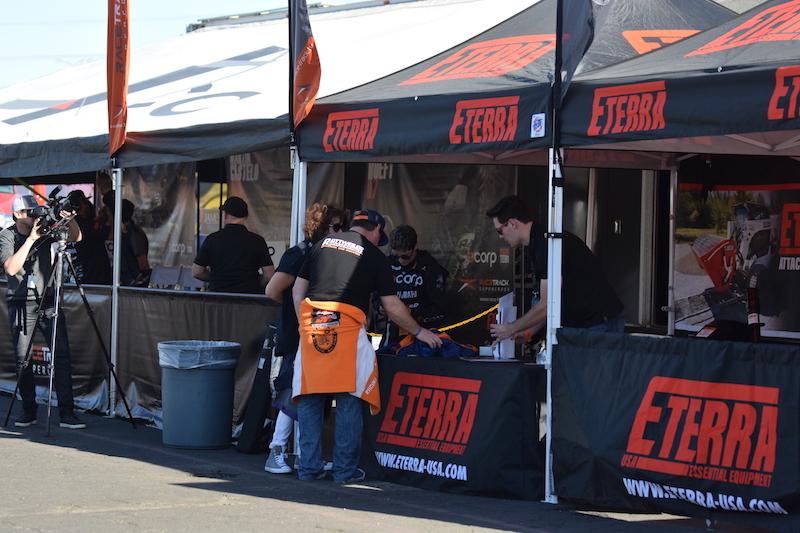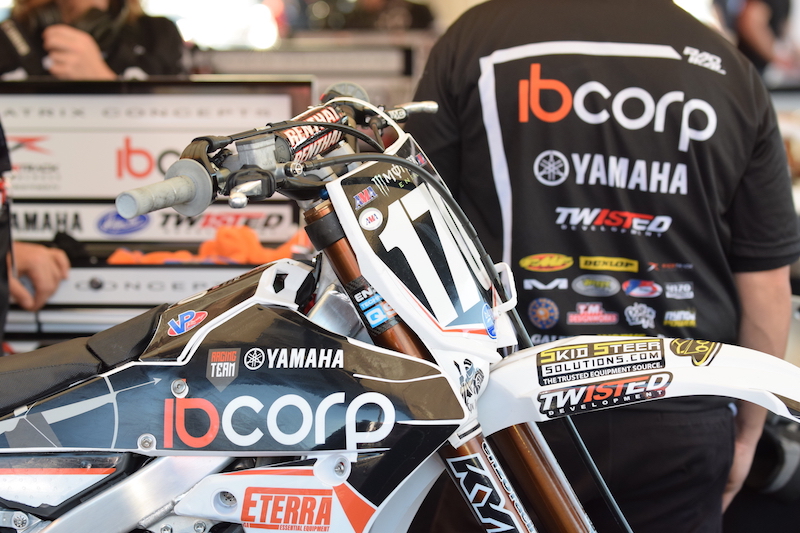 To start: the day was warm, the riders seemed ready, and the team was in good spirits. Nothing particularly crazy about the Oakland event besides the normal shenanigans from fans, all in all it seemed like we were about to have a great day of racing. On to the Qualifying times: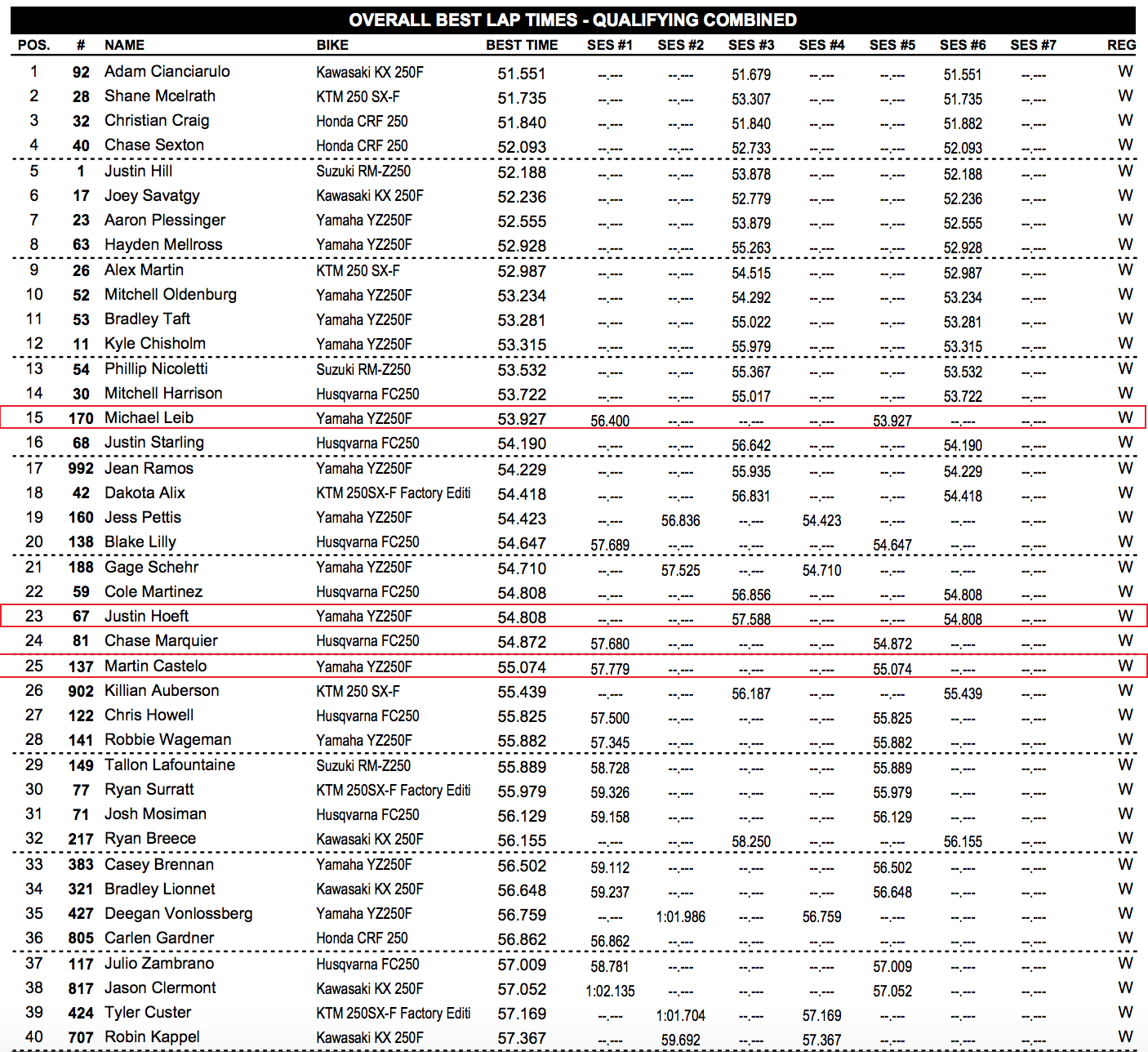 With only one race under his belt, Michael Leib qualifies for the heat races above the fold. Justin Hoeft and Martin Castelo didn't have spectacular qualifying times that put them a step back in gate picks for the heat race. For those of you that aren't in the swing of things, many more riders attempt to qualify for Supercross than the 40 you see above, but only 40 move through to the "Night show". The night show is also known as the main event and that includes two separate heat races, which trim the 40 riders down to 18 that will move on.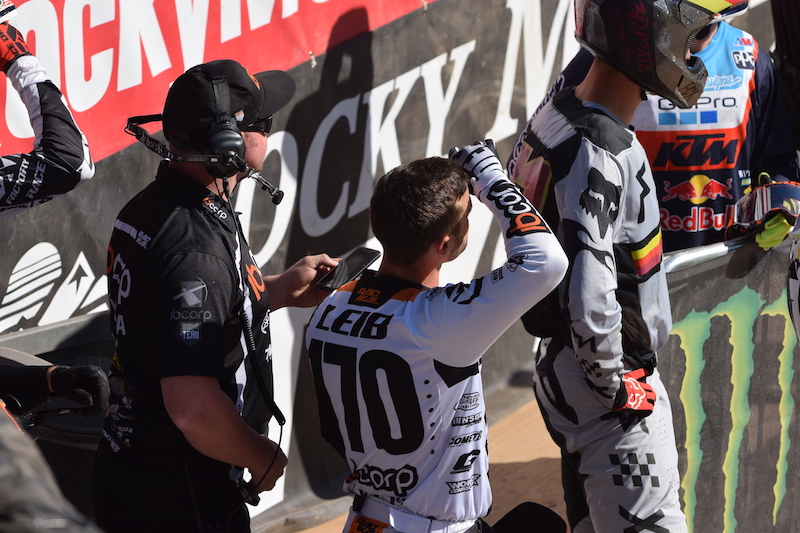 Let's see how they did in the heat races.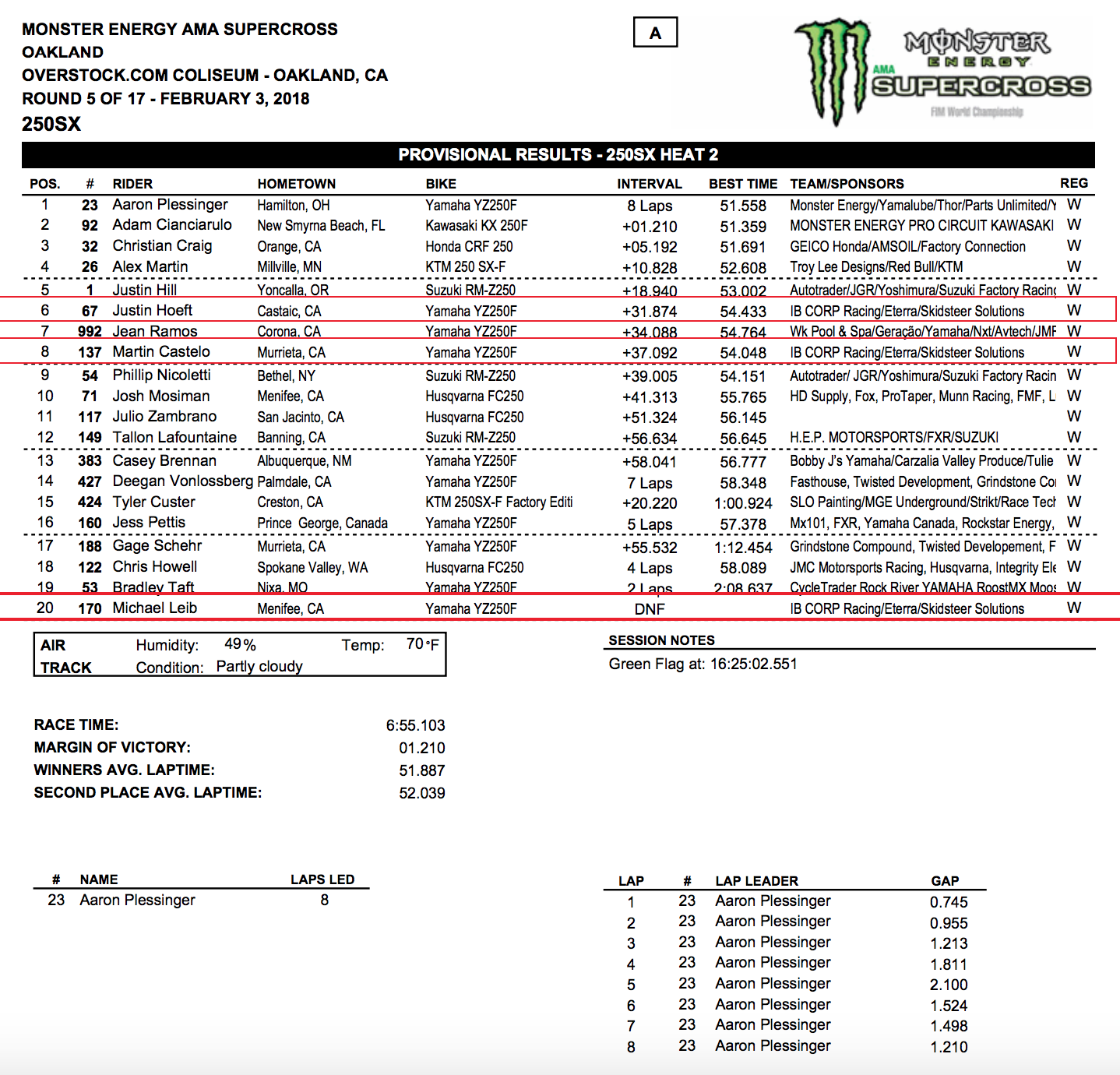 Justin Hoeft qualifies and puts himself into a great position going into the main event and Martin Castelo does the same. These guys were definitely excited, but Michael Leib's warm and fuzzy feelings about glory were diminished with a DNF (did not finish). If Michael was going to be in the night show (main event), he was going to have to duke it out in the infamous LCQ (last chance qualifier).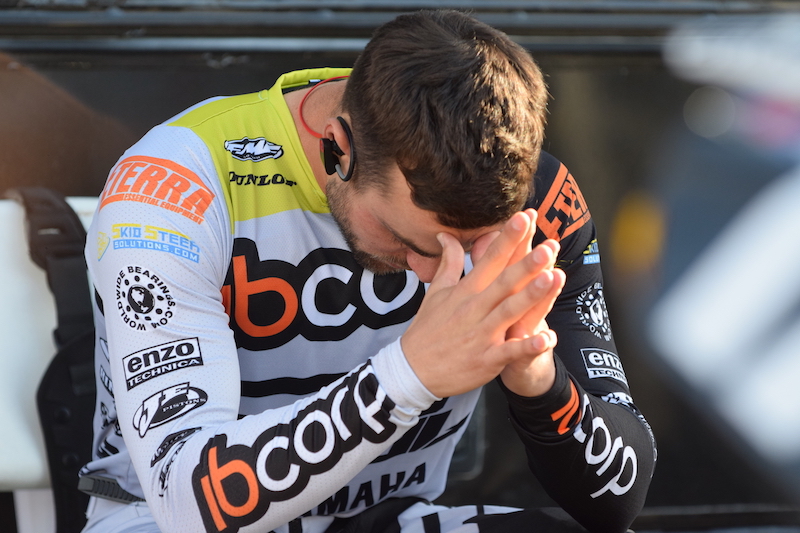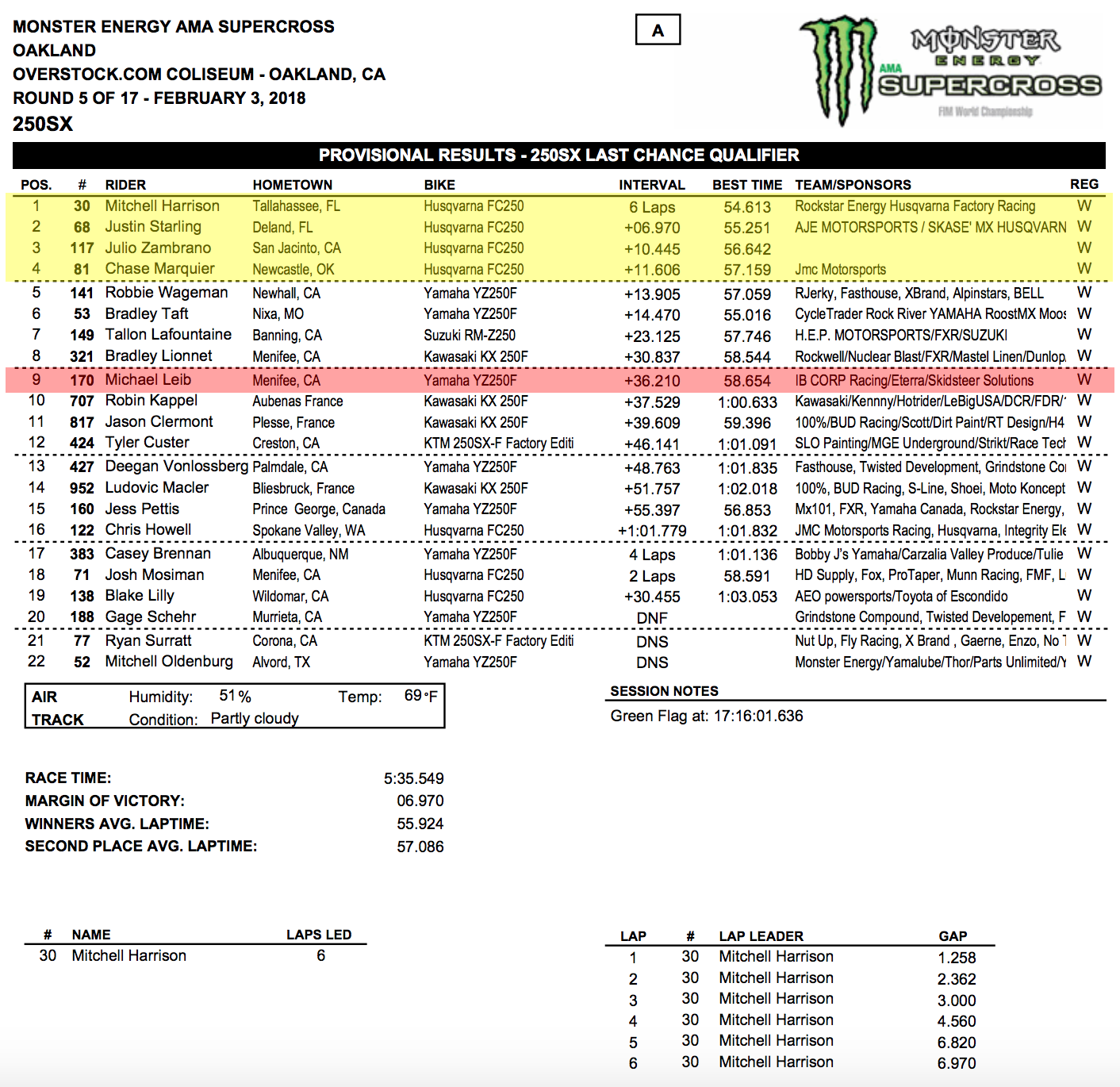 Unfortunately, this night was just getting worse and worse for Michael Leib.
Though it was the end of the night for Michael, the rest of the team set their eyes on the Main Event, and the results improved from the previous week in Phoenix. An 11th place finish was as good as we could expect from an injured Justin Hoeft (torn MCL in Phoenix), and Martin Castello coming back to the pits with a 14th.