Posted by Kyle Davis on 23rd Mar 2018
Bradco Rock Saw and Concrete Saw Attachment
A true testament to the power that can be harnessed by a Skid Steer or Compact Track Loader, the Bradco Rock Saw Attachment is a massive, rugged, and hard-working tool for cutting rock, roads and concrete. Designed strong enough to face-up to even the most demanding road-cutting and industrial applications, you have to see this Rock and Concrete Saw Attachment in person to truly appreciate it's toughness. We were able to view this tool live at a trade show recently, and we hope our video and photos can help do it some justice, along with the information provided in this post.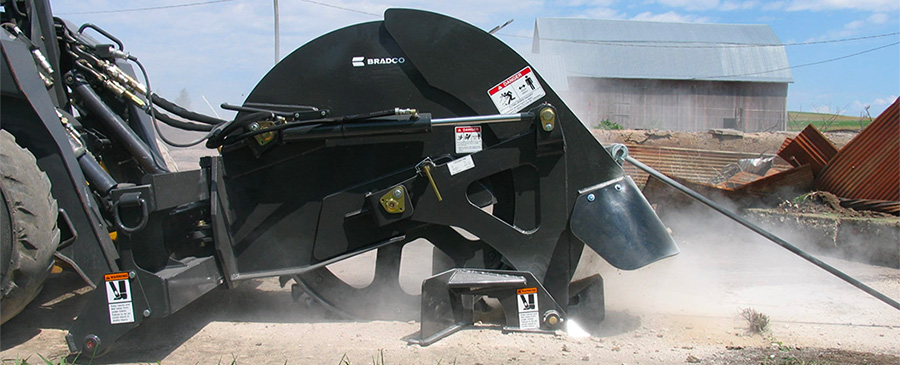 Bradco Rock and Concrete Saw Models and Applications
The official name from Bradco on this attachment is "Rock Saw," however, it's pretty obvious a tool this tough can handle multiple, extreme applications. The Rock Saw is equally at home cutting concrete, asphalt cutting, asphalt patch cutting, executing joint cuts for road expansion, utility trenching, street construction, parking lot work, and more. The list goes on and on when you can cut with this kind of power. The Bradco Rock Saw and Concrete Saw comes available in both 18" and 24" wheel depths, with flow rating options that range from 22-44 depending on the model selected. The 18" models weighs in at a substantial 1,775 pounds; while the 24" model is a massive 2,095 pounds.
You'll require a strong machine to operate this beastly attachment, but the combination is incredibly hard-working and capable of producing results in the harshest commercial environments. For road work professionals, municipalities and all other demanding professionals, this Rock and Concrete Saw Attachment is second-to-none.
Take a look at our video below. We hope the in-depth visuals will help give you an idea of what this attachment is brining to the table, while also providing some real-world perspective on how massive and strong this Bradco Rock Saw truly is.
Bradco Rock and Concrete Saw Key Features and Benefits
When putting this attachment to the test, you're going to want to get to work knowing it's been totally dialed-in from manufacturing to design, meaning you can trust it to get work done when it matters most. Thankfully, Bradco has delivered when it comes to the Rock and Concrete Saw. This Attachment comes manufactured with extreme applications in mind, so the steel, welding, gusseting and reinforcing measures are top-notch. In addition to strength, the Rock Saw can be adjusted "on the go" when you require a tweak to your cutting depth on the job. The steel planetary drive delivers the high-torque required for serious work, while depth controls and side-shift adjustment come standard, with no added up-charge. Knowing that this attachment is going to be in extreme conditions, with debris and dust flying, protective measures have been taken to protect the hydraulic and electrical components, so you don't have to worry about costly damage and down-time.Solid hardened steel wheels with greasable manifold pins, as well as secluded greased zerks make maintenance reliable as well as simple.
14-Pin and 8-Pin electrical controls are a standard option when shopping the Bradco Rock Saw. However, a large host of electrical controls are available additionally, ensuring you can run this attachment on all machine makes with the proper flow rating and lift capacity. Water Kit options are also available. If you're looking for a more custom solution for electrical, or you want to inquire on the availability on a water kit, please don't hesitate to get in touch with us at 866-966-2538.
Bradco Rock and Concrete Saw Specifications
Here's a run-down on some of the most key specifications for this attachment. Each wheel depth model offers a different set of specifications, and it's worth examining them in full before making a decision on such a massive attachment.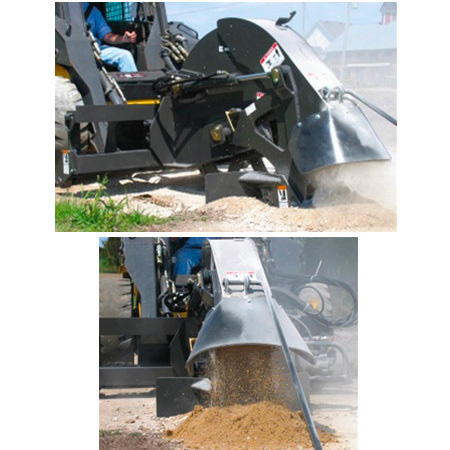 Overall Width: 67"
Operating Pressure: 2500-3000 PSI
18" Overall Length: 76"
18" Max Cutting Depth: 18"
18" Wheel Diameter: 48"
18" Picks: 42
18" Flow Requirements: 22-44 GPM
18" Weight without Picks: 1,775 lbs.
24" Overall Length: 86"
24" Max Cutting Depth: 24"
24" Wheel Diameter: 60"
24" Picks: 56
24" Flow Requirements: 30-44 GPM
24" Weight without Picks: 2,095 lbs.