Posted by Jimmy Vue on 2nd Aug 2023
Whether you're a landscaper, farmer, industrial worker, or maintenance worker, every sophisticated operation involves some sort of clean-up. No matter if it's for work, or personal use, you should become familiar with what angle brooms could provide for you, and which model of angle broom is right for you.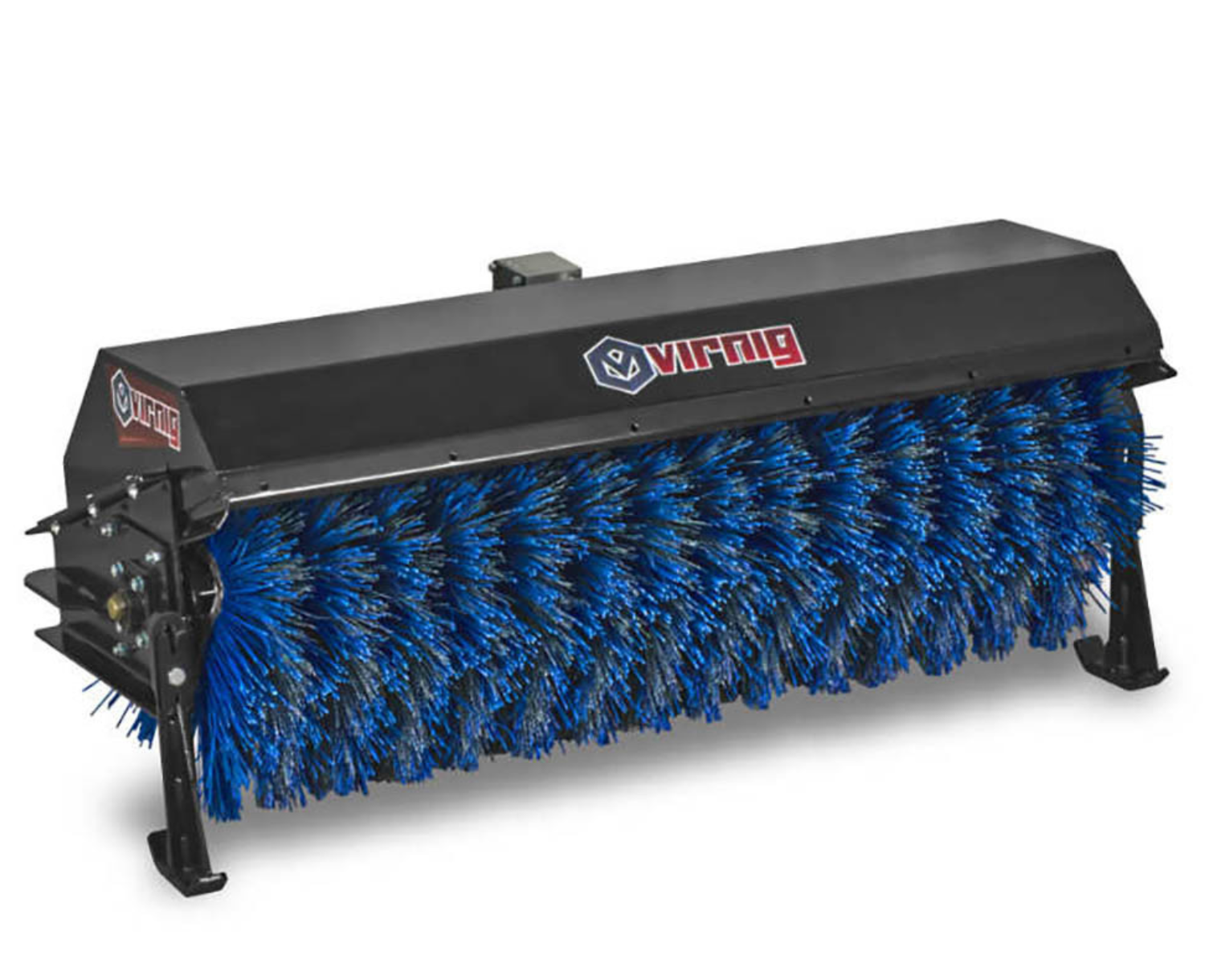 Virnig Mini Skid Steer Angle Broom | Skid Steer Solutions
What is an Angle Broom?
Recognized alternatively as a sweeper or broom attachment, the versatile angle broom serves as an indispensable tool for a broad range of cleaning and maintenance tasks. Excelling in sweeping and sanitation operations, angle brooms display remarkable efficacy in cleaning up diverse types of debris, including but not limited to dirt, leaves, gravel, and snow.
Sporting designs that span across a spectrum of lengths pickup brooms cater to a wide array of requirements and usage contexts. Their bristles, the core component of their design, are crafted from a variety of materials such as resilient nylon or robust steel. The material of the bristles you choose may vary depending on the task at hand.
One of the key strengths of angle brooms lies in their adaptability. Their practical design makes them a universal solution for post-operational cleanup, ensuring that any residue from a prior operation – be it construction, landscaping, or a simple seasonal clean-up – is efficiently swept away, leaving the space immaculate and ready for its next use.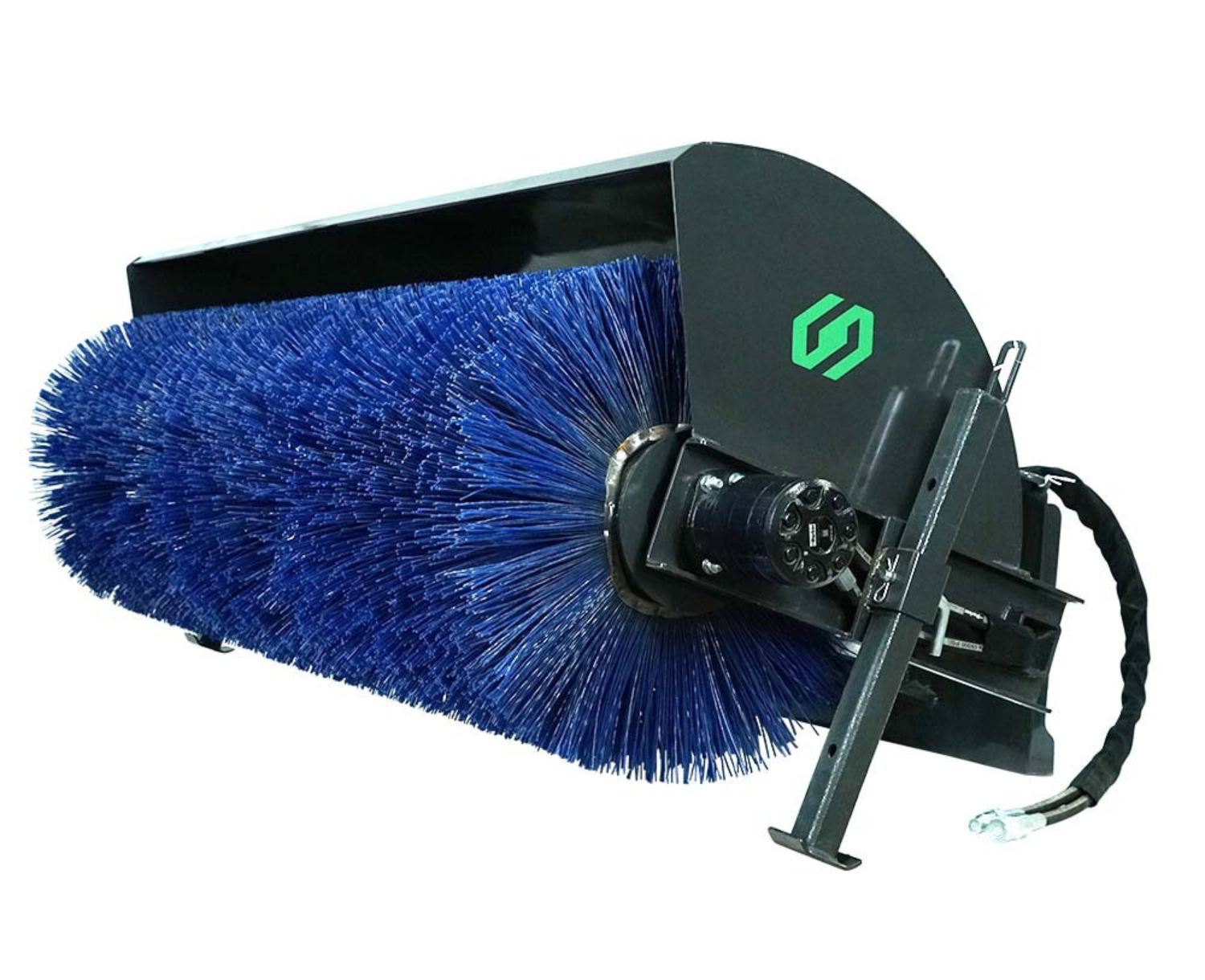 CID Skid Steer Manual Angle Broom Attachment | Skid Steer Solutions
What is a Manual Angle Broom?
Designed for smaller tasks, manual angle brooms are made for a user-friendly operation with simplicity and cost-efficiency in mind. Depending on the task at hand, manual angle brooms require the operator to manually adjust the attachment. Typically, manual angle brooms have some sort of mechanism (pivot point or swivel) where the broom head could be angled left, or right, as needed. With simplicity in mind, manual angle brooms are straight-forward and easy to use, they are affordable, and have low maintenance costs. This makes the manual angle broom a perfect option for individuals who are looking for a cheaper, but very reliable option to perform light duty cleanup for less demanding operations.
What is a Hydraulic Angle Broom?
Unlike a manual angle broom, hydraulic angle brooms are equipped with a hydraulic cylinder and control system that is used to adjust the angle of the broom head during operation. Even when in motion, the operator could adjust the angle of which they are sweeping/cleaning. Hydraulic angle brooms are more commonly used on larger and industrial-scale jobs. Since the broom head is adjustable from the control system, it is easier for the operator to maneuver around obstacles, edges, and corners.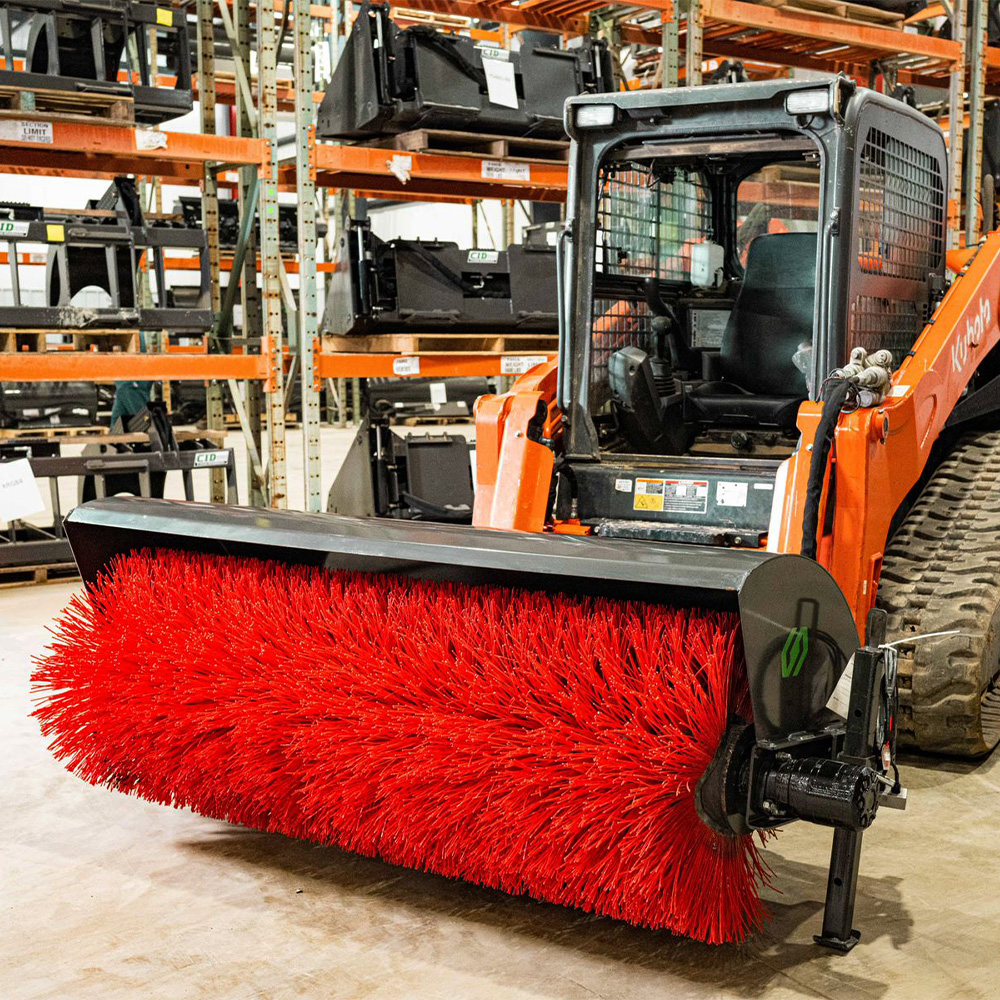 CID Skid Steer Hydraulic Angle Broom Attachment | Skid Steer Solution
Why Choose One Over the Other?
When determining which type of angle broom you need, you should first evaluate your specific needs. Tasks such as driveway maintenance, smaller backyard/garden maintenance, and smaller construction site clearing should opt for the manual angle broom. On the other hand, municipal street sweeping and largescale clearing of land would utilize a hydraulic angle broom. Both of these options could provide a solution to cleaning and sweeping needs of any variety. If you're still unsure about which one to buy, remember that the manual angle broom is more user friendly, and more affordable. On the other hand, the hydraulic angle broom is more costly but, more efficiently completes cleanup jobs.
Bristle Types
Poly bristles are well-known for their resilience and performance in sweeping lighter debris. Made from synthetic materials, these bristles are resistant to wear and can withstand the rigors of frequent use. Additionally, poly bristles excel in wet conditions, as they resist water absorption, and therefore maintain their effectiveness even in the face of damp or rainy conditions.
Steel bristles are designed to tackle more demanding tasks that poly bristles might struggle with. Known for their abrasion resistance, steel bristles are the go-to choice when it comes to sweeping hard, compact, or heavy debris such as gravel, snow, or even construction materials. However, they may not be as suitable for delicate surfaces, as the hardness of the steel could potentially cause scratches or other forms of damage.
Typically, Skid Steer Angle Brooms are designed for easily interchanging the bristles so if you find that your daily operations require both types, you have the option of interchanging the bristles and having more adaptability.
No matter the conditions or requirements of your cleanup jobs the perfect broom is out there for you.