Posted by Hailey Miller on 2nd Aug 2023
Are you a loyal customer here at Skid Steer Solutions? We are thrilled to introduce our brand-new loyalty point program called Skiddy Cash Rewards, designed exclusively for our valued customers like you. With Skiddy Cash Rewards, you can now earn points with every purchase and unlock a world of benefits, discounts, and exclusive offers. Let's dive into the exciting details of this program and explore why you should start using your rewards.
Earn Points, Save Money: How Skiddy Cash Rewards Works
At Skid Steer Solutions, we believe in appreciating our customers' loyalty and dedication to our brand. That's why we've created the Skiddy Cash Rewards program to give back to you. The concept is simple yet rewarding: every time you make a purchase on our website, you earn Skiddy Cash that can be redeemed for discounts on future orders.
Here's how it works:
Earn Points with Every Purchase: For every dollar you spend on Skid Steer Solutions, you'll earn 1 Skiddy Cash (Equivalent to $0.01). The more you shop, the more points you accumulate.

Redeem Points for Discounts: Once you've gathered enough Skiddy Cash, you can redeem them for discounts on your future purchases. The more points you accumulate, the bigger the discounts you unlock.

Exclusive Benefits for Members: As a Skiddy Cash Rewards member, you'll also gain access to exclusive promotions, early access to new products, and special offers tailored just for you.

Simple and Seamless: Managing your Skiddy Cash Rewards is incredibly easy. Simply log in to your Skid Steer Solutions account to track your points and redeem them in our launcher whenever you're ready.

Ways to Earn Points with Skiddy Cash Rewards
Now that you're excited about Skiddy Cash Rewards, let's dive into the various ways you can earn loyalty points and unlock a world of savings and exclusive benefits. At Skid Steer Solutions, we've made it easy for you to accumulate points and enjoy the perks of being a loyal customer. Here are some of the key ways to earn points:
1. Purchases: The foundation of Skiddy Cash Rewards is your purchases. For every dollar spent on our website, you'll earn 1 Skiddy Cash. The more you shop, the faster your points accumulate. It's a win-win situation where every attachment or accessory you add to your collection brings you closer to rewards off your next purchase.
2. Referrals: Sharing is caring, and with Skiddy Cash Rewards, it also pays off! When you refer a friend, family member, or colleague to Skid Steer Solutions and they make a purchase, you get 5,000 ($50) Skiddy Cash and your friend gets $50 off their first purchase!

3. Product Reviews: We love to hear what you think about our products! For each product review you submit on our website, you'll earn additional loyalty points. Your feedback not only helps other customers make informed decisions but also rewards you for sharing your valuable insights.
How much can I earn for leaving a review?
1. Written Review - $30: For each written review you submit, you'll receive $30 worth of Skiddy Cash. Whether you want to highlight the exceptional performance of a skid steer attachment or share some tips on how you used it effectively, your insights are incredibly valuable to us and our community.
2. Photo Review - $45: We love seeing our products in action! When you share a photo of your skid steer attachment in use alongside your written review, we'll reward you with $45 worth of Skiddy Cash. A picture speaks a thousand words, and your photos help other customers visualize the real-life applications of our products.
3. Video Review - $60: If you're feeling creative and want to go the extra mile, we welcome video reviews as well. Record a video showcasing your attachment in action, explain its features, and share your honest thoughts. In return, we'll grant you $60 worth of Skiddy Cash. Video reviews provide an in-depth perspective, and they're a great way to connect with our community.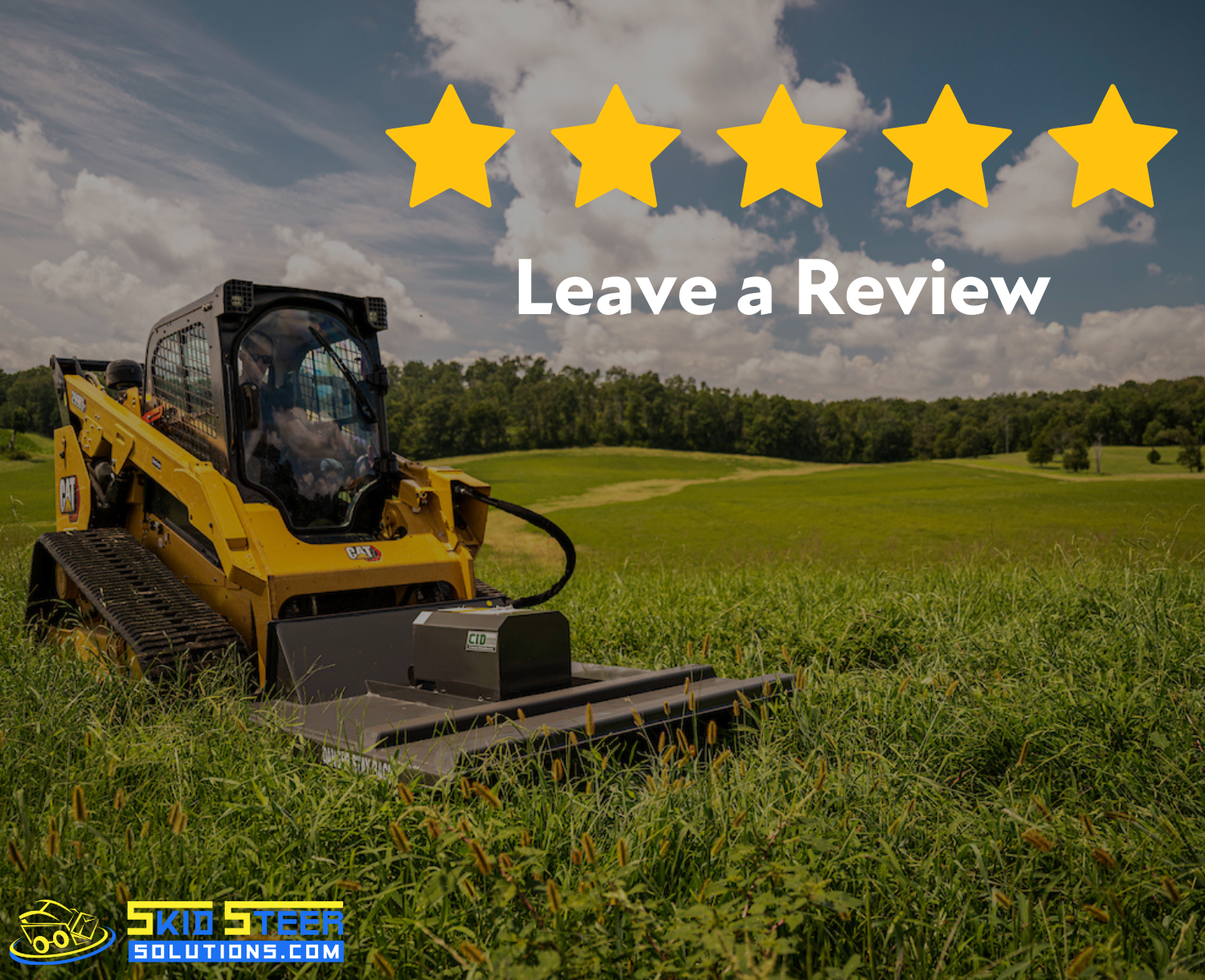 4. Social Media Engagement: Stay connected with us on social media and get rewarded! Interact with our posts, share our content, and tag us in your adventures. Your social media engagement earns you points as we appreciate your active involvement in our community.
5. Birthday Bonus: When your special day rolls around, we want to make it even more memorable. On your birthday, you'll receive Skiddy Cash as a birthday gift from us. Celebrate with us and enjoy the added perks of your Skiddy Cash Rewards membership.
Join Skiddy Cash Rewards Today and Start Earning!
If you're already a Skid Steer Solutions customer, you've already started earning points from your purchase. Embrace the opportunity to save on future orders, access exclusive deals, and enjoy a more personalized shopping journey with us.
To get started, simply log in or sign up for a Skid Steer Solutions account and navigate to the Skiddy Cash Rewards page. There, you'll find all the information you need to start earning and redeeming your loyalty points.
Skiddy Cash Rewards is our way of saying thank you for being a part of our Skid Steer Solutions family. We value your loyalty and are excited to reward you for choosing us as your go-to source for skid steer attachments.
Remember, every purchase counts, and every point earned brings you closer to fantastic rewards. So, start exploring, start saving, and let Skiddy Cash Rewards make your shopping experience even more rewarding!