Posted by Maranda Wilson on 13th Jul 2016
What We Offer: Breaker Style Skid Steer Post Driver Attachments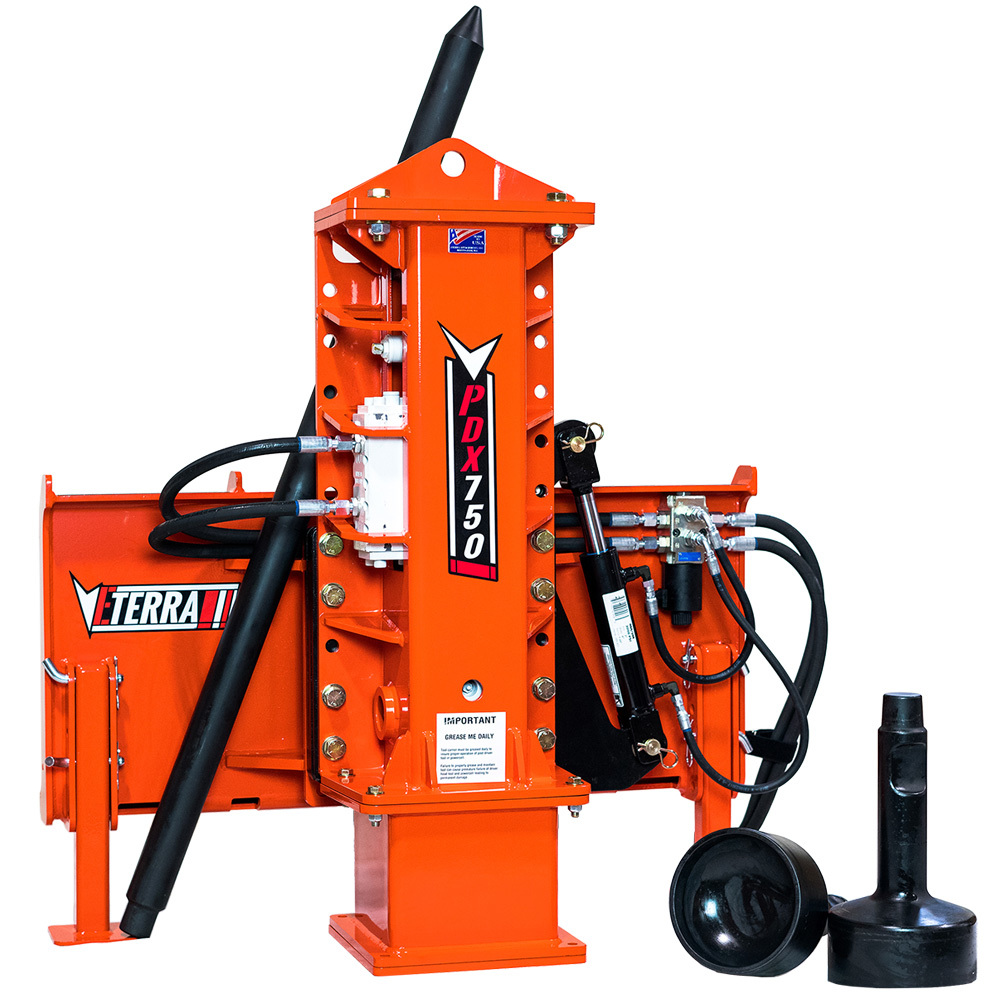 Click here to shop the Eterra PDX-750 Post Driver Attachment

Priced at $9,090.70, this popular post driver attachment is 670 lbs of solid high alloy strength steel. Measuring in at a height of 52" and a width of 45", its 8-inch coned styled driver head is ideal because it cuts down on the number of additional parts (i.e. cup sizes). In just 10 seconds, you can drive a 6" diameter post 3 ft into the ground — a demonstration of its speed and effectiveness, all without damaging your post. We have done tests on posts as small as 4" with the same results: no splitting, cracking, or post head damage. The BPD-750 is called our "breaker style" because it doubles as a concrete breaker with the purchase of our 5 foot spike. Not only will you shatter rocks but it simultaneously creates a pilot hole for your posts.
Eterra Skid Steer Post Driver Attachment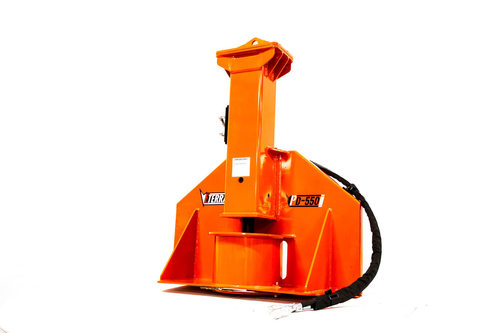 Priced at $11,501.46, the Eterra PD-550 Skid Steer High Impact Post Driver has a impulse force of 550 lbs delivered by a gas charged concrete breaker power cell and an expertly designed mount and cup. Weighing in at 1230 lbs in total, this driver is perfect for heavy duty jobs because it allows for posts with a diameter of up to 11" with its universal cup size design — we provide you with a 3" and 6" eyelet plates for more control when working with smaller posts. A unique feature of our PD-550 is its "boltless" design: the power cell is suspended between a rubber pad on the top and bottom, which is all held together by a cap on the top of the driver's exterior. The flotation of the power cell prevents the vibrations from carrying through to the skid steer arm to the operator. Our Eterra Post Driver has the option of being used with a Bradco Power Tilt Tach for a tilt of 20 degrees to the left and right, which can all be comfortably controlled from inside the skid steer.
Eterra Temor Vibrator Post Driver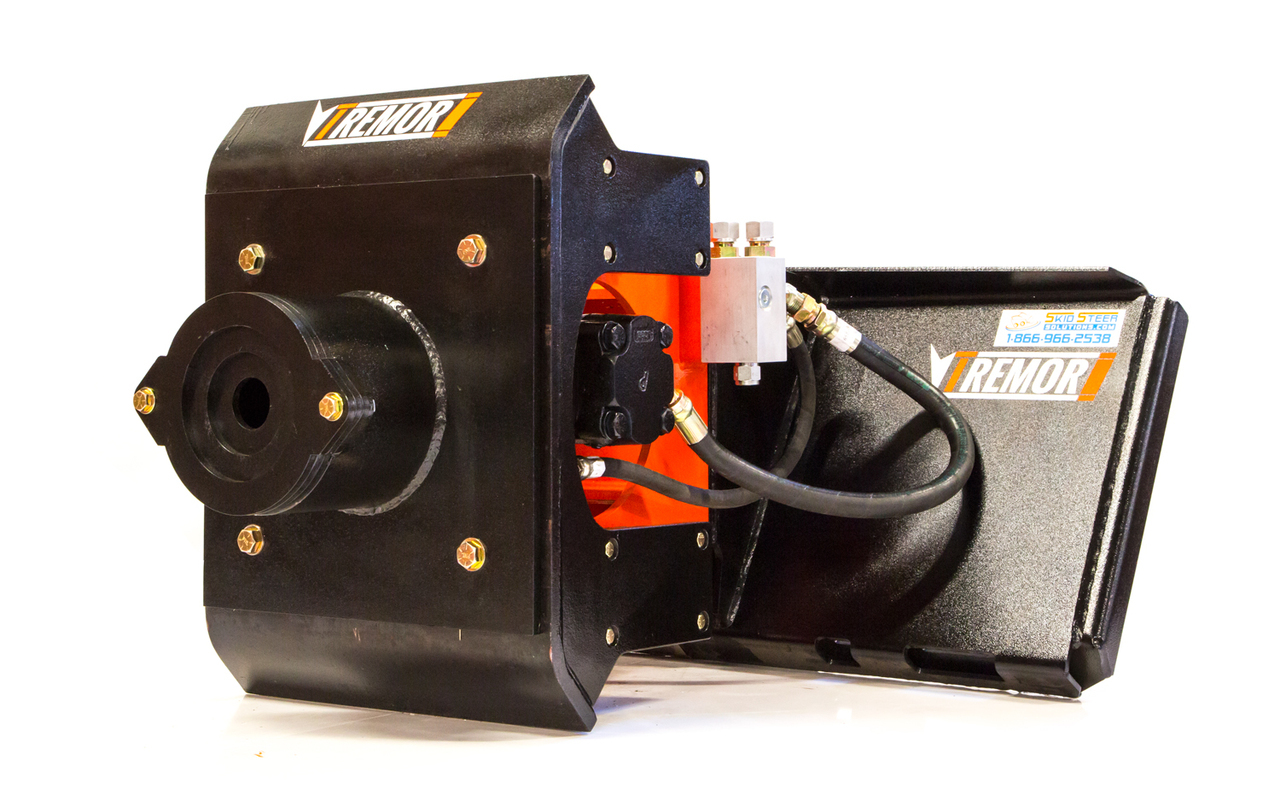 Priced at $9,350.62, the TD-3500 Tremor Vibratory Post Driver is ideal for high or low volume post driving into clay, solid, or rocky terrain. Inspired by the technology used by plate compactors on excavators, Eterra harnessed the power of the Stanley plate compactor and adapted it for a skid steer. Weighing in at 525 lbs, it can deliver 3400 lbs of force at a frequency at 2100 VPM over an area of 17.4" x 20". Like the Eterra Skid Steer Post Driver Attachment, this attachment has a number of cup sizes — 2", 4", 6" and 8". Because this attachment utilizes two systems (cup and mount system) and has a quick coupler, there is the option of unbolting the two systems from one another and using it on a mini excavator such as the E60 backhoe boom.
What They Offer:
Drop Hammer Style Post Driver
A free fall system, meaning no springs, hydraulic cylinder, or return line to allow the weight to come down. While a drop hammer is indeed powerful, the problem is that it has no way to control this power. Fractures and damage to the post head is common and inevitable when working with a drop hammer system on tough terrain. It is important to remember that drop hammers are frequently used to break and demolish concrete, which means no mercy on fragile wood posts. Not to mention, more moving parts drastically increases the risk for injury.
Post Driver Safety:
Operating heavy machinery always has its risks. While most products have the safety of the operator in mind, there is very little to protect those on the ground working alongside the machinery. With skid steers, the leading cause of injury for workers (non-operators) is being struck or crushed during its use. Common sense tells us to stay out of the way when heavy machinery is being operated nearby, but what about those situations where a team effort is necessary? Even the best post driver attachments sometimes requires human intervention. Take for instance some other popular post drivers on the market — even those with a post grabbing/grapple system won't have perfect positioning 100% of the time.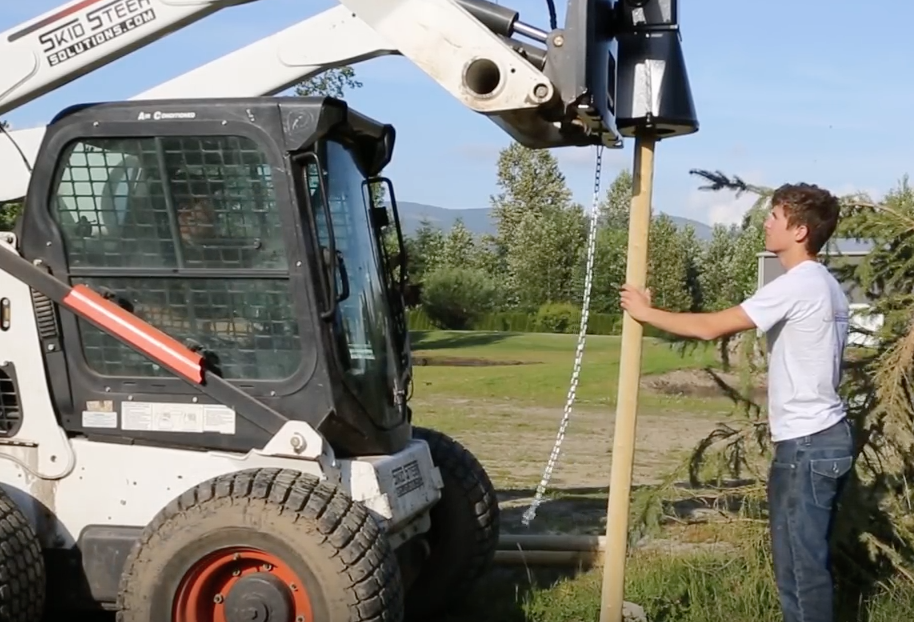 This is why we recommend a product like the Eterra's Skid Steer Post Driver, which is designed with safety in mind because it can guarantee its craftsmanship. First and foremost, it is designed and made in the U.S.A.. Clearly you sacrifice more than quality when you opt for the cheaper product.
What does this mean for you besides supporting local businesses and the American economy? Less moving parts, less risk of injury, and less time to complete each task.
The Eterra designed post driver was developed a decade ago and has since inspired our competitors to produce their own cheapened versions — versions that are more likely to lead to accidents.
A study titled "Causes of Accidents with Post-Drivers and Their Remedies" found that "most accidents occur due to a combination of poor machine design and poor operator communications," with most of the injuries occurring when hands are near or on top of a post during its positioning. The purpose of the study was to figure out "what was inadequate about the design or use of the machine that required or allowed the handler to put his hands on the post in the first place."
The study's findings were unsurprising: "the post would move from side to side as it was being hit into the ground. Therefore the handler would have to straighten it between or even during hits. Where the post guides were inadequate, the handler used a variety of methods to keep the post straight… six accidents occurred as a result of the weight falling unexpectedly" (only possible with a drop hammer post driver).
Our post driver works by utilizing a nitrogen gas back-head (as the energy source) to lift a piston directly into the gas using the hydraulic oil from the loader hydraulics. The hydraulic oil exits the hammer when the piston reaches the top of the stroke. Nitrogen gas then decompresses and drives the piston to the bottom of the stroke, and successfully impacts the working tool. There are no external hammers and no falling weights. Our 70lbs driver (a single piece of 4140 steel that has been machined and hardened) is delivered in short strokes so as to remain powerful enough to get the job done, but gentle enough it won't damage the post.
Another finding from the study was the need for control over the post to stop it from moving in all directions except downwards into the ground. They suggest a clamp that can quickly and easily secure and release, as well as "be tailored to the different size and shape of posts."
Again, our unique cup system (3 inch, 6 inch, or removed completely for an 11 inch opening) keeps the post from being ejected in directions besides downwards. We recommend no more than two inches of space between the post and the opening. Our range of sizes ensures optimum fit.
Caring for Your Eterra Post Driver: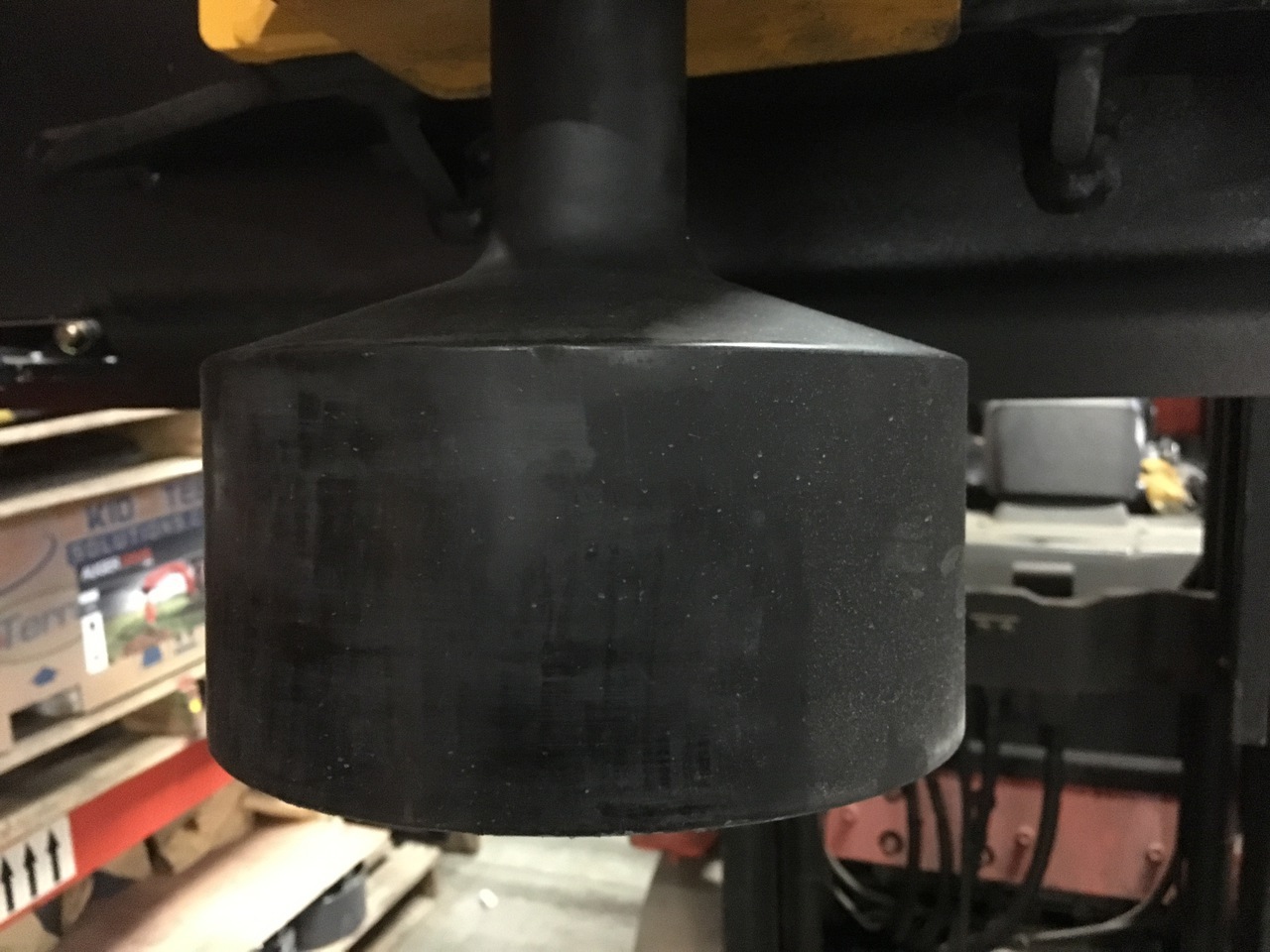 There's no need to dissemble your attachment or remove various parts — all you need is a couple of shots of grease every 6-8 hours to ensure the mechanisms are running smoothly. It really couldn't be any easier.