Will it fit my Skid Steer?
Will it fit my Skid Steer?
Hydraulic Couplers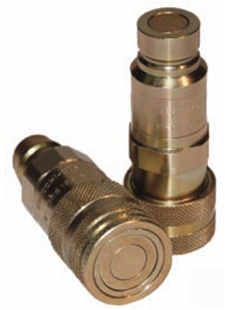 Hydraulic couplers: What are they and what do I need to know?
Couplers are used on the end of the hoses of any powered attachment and couple to your machines hydraulics. The idea is to have a coupler that is fast, easy and does not leak even though you tend to abuse them.
Male or Female?
There are now two styles most commonly used.
On most machines made prior to 1996, Pioneer style couplers are used. They are easy to distinguish between the two couplers.
The male end has a nipple protruding out of the end.
The female end has a hole that has a ring of ball bearings around it.
There are of course exceptions... Thomas used this style until 2004.
Case did something different again, and off-shore brands... who knows?
Common Sizes
On most machines made after 1996, modern flat faced couplers are used. When we and most other experts in the industry talk about size, we are referring to the internal port size; not the measurement across the entire face. The common style is a Parker FE style.
Case has used a Parker FF style and even though they look similar, they will not fit. The most common size on regular flow machines is 1/2" internal port size.
This can be measured across the tip of the male as 15/16" external size. High flow models up to 30 GPM use 3/4" and machines over 30 GPM such as the ASV RC100 use a monster 1" coupler.
Skid Steer Solutions can supply all of these couplers except the Case units.
Costs vary of course from $25 per pair to $150. We as well as the manufacturers that supply us, factor this into the price of the attachment to make things simple.
Visit our Hydraulic Couplers page for detailed pictures and descriptions of each type of coupler or if you'd like to purchase. We ship fast because we have them IN-STOCK.
How do my Auxiliary Hydraulics work?
These are by far the most asked questions we receive. Check out our videos answering these two important questions, then read even more information below to help you understand the important aspects about buying and installing your skid steer attachments.
Attachment Connection - The Universal Quick Attach
The origin of the Universal Quick Tach lies with the Bobcat. Bobcat Company (Not affilliated with Skid Steer Solutions) created an easy method to connect and disconnect attachments easily. This method was copied by other manufacturers, but not fully because they held a patent.
Because of this patent, all companies created their own connection methods so attachments made for one manufacturer would not fit others. This has been the shortcoming of the industry because if you changed machines, you would have to adapt your machine to all of your attachments. After the patent expired in 1994 most of the manufacturers got together and started making the Bobcat style Quick Tach available on their machines.
This spawned many new attachment businesses such as Skid Steer Solutions. Why? Because we could now sell our attachments to more than one manufacturers' customers.
Although when looking at the quick tach, they may appear to look differently, the dimensions should be about the same.
Shown here is a 2005 Bobcat Quick Tach (for your learning purposes). Your Quick Tach should be similar in design. Your pins may extrude out the bottom at different points and our attachments seen on our site allow for that.
Check the pin out slot measurements and compare them to yours if you are not sure. If your machine is older and doesn't use a modern quick attach, your going to want to make this universal quick attach replacement product your next purchase.
Let's Discuss the Fitment:
The general width of a modern quick tach measures 44" from the outside to outside. There should be two levers that each push one pin down out of the bottom of the Quick Tach (total = 2 pins). The pins measure 32" on center.
These pins line up with slots in the attachment. When the top of the Quick Tach engages with the lip on the top of the attachment and the pins are slid down into place, you will have a positive connection.
The Exceptions:
Case made 3 models that we know of. The Case model 1838, 1840 and early 1845's had a quick tach that was narrower. This quick tach measured 36 1/2" wide and the pins were 21" on center. Most of our plates will accommodate this style of quick tach. Please contact us to be sure if you own one of these models.
There are many varieties on older non Bobcat brands. In this case you should talk to your dealer to see if your manufacturer makes an updated plate or adaptor that you can use so that you may run modern Quick Tach style attachments. This WILL save you time, money and frustration throughout the life of the machine so we suggest you do this immediately.
You do need to check with us to insure the hydraulics will run the specific attachment because many older machines had a lower flow than most modern machines.
Here is a partial list of the machines our products will fit (NEW 2016 Updated List Coming Soon)
Contact us if you are unsure about your model.
RC-50/60/70/80/100. PT-100
PT-80
PT-70
PT-60
PT-50 (PT-30 is not universal, but an adaptor may be purchased from ASV to make it Universal. 2810
4810
MD-70
HD-4500
HD-4520
RC-50
RC-60
RC-85
RC-100
500-800 Series
963
1600
2000
2400MT
S150
S160
S175
S185
S205
S220
S250
S300
T200
T250
T300
A300
S330
T140
T180
T190
T250
T300
Toolcat 5600T (Verify with us prior to purchase as some items do not work well with a Toolcat)
Bobcat M Series including S630
S650
S750
A770
S770
S850
T630
T650
T750
T770
T870 - Copied from Skid Steer Solutions
1835C
1838
1840
1845C
40XT - 95XT
410
420
430
440
435
445
450
460
SR130
SR150
SR15
SV185
SR200
SR220
SR250
SV250
SV300
216
226
228
232
236
242
246
248
252
262
247
257
262
272
247
257
277
287
297601
801
1760
2060
430
440
450
460
4240
5635
6635 Universal Hitch
4640
4840
5640
7810
3635
6640
393
V270
V300
V400 - 4625's if equipped with Universal Quick Attach.
1300
1700D
2250
2550
2650
4475
5575
6675
7775
8875
240
250
260
270
317
320
325
328
332
2012
2022
2026
2032
2041
2044
2054
2064
2074
2099
2109
2066
2076
2086
2700
3300
4000
L464
L485
L565
L865
LX465
LX485
LX565
LX665
LX865
LX885
LX945
LS 140
LS 150
LS160
LS170
LS180
LS190
12LA
TC23DA
TC26DA
14LA
TC29DA
TC33DA
15LA
16LA
TC35A
TC35DA
TC40A
TC40DA
TC45A
TC45DA
17LA
TL130
TL140
TL150 - Longer hoses are required for most machines because of the added boom length.
TSR50
TSR60
TSR70
TSR80
TSV50
TSV60
TSV70
TSV80
TSV90
137
153
175
205
250
255
320
135
225
245
1000HD
1300HD
1700HD
1300C
1900CX
1500C
1700C
1700CX
MC60
MC70
MC80
MC90
MC110
So to answer the questions, "Will it fit my machine?"
A: Yes, as long as your applicable hydraulic flow matches the requirements of the attachment and if your Skid Steer has a modern universal quick attach. For mini skid steers. skid steers and excavators, we have many adapters to accomodate.
---