Posted by Ian Stewart on 24th Jul 2019
Many of us have heard stories from friends and family about taking falls from ladders or roofs, and maybe some of you have experienced it yourselves. It's a scary thing that you never think is going to happen to you until you find yourself falling through the air. This is exactly what happened to Minnesota farm owner Craig Blair.
Last summer, Craig was up on a step ladder with his chainsaw trimming branches from a tree, when all of a sudden the branch he was cutting swung down and knocked the bottom of the ladder out from under him, sending him to the ground. Falling with a live chainsaw is no joke, but Craig had the presence of mind to focus on keeping the saw away from his body to avoid contact with the blade. He landed on the ladder and the fallen branch, breaking 2 ribs.
About the accident he said: "Not only was it very painful but it also cost a lot for an emergency room visit, x-rays, medications, clinic visits, etc".
A split second accident turns into a painful healing process and a large medical bill.
Craig's accident prompted him to purchase a Skid Lift 2230s. This attachment allows him to reach everything a ladder would and more, but without the risk of another injury, and it conveniently attaches to and runs off of his John Deere tractor. Having the Skid Lift not only relieves Craig of unsafe activities, but also makes possible a wide variety of activities including maintenance of shop buildings, checking grain bins, trimming trees, accessing tall equipment for repairs and maintenance, and whatever else he can think of.
Those who work on a farm or in an industrial setting understand the importance of safety, and that keeping our loved ones from harm is of utmost importance. Craig has an only son who works with him on the farm during the summer and on breaks from school who also will be getting use out of the Skid Lift.
Craig: "I have done a lot of things in my life that can be somewhat risky but the last thing I want to do is take a chance on my son getting hurt like I did or possibly worse. Having the Skid-Lift is peace of mind that both my son and I are just a little bit safer when working around the farm and that is good peace of mind."
Long story short: Ladders are stone age technology that are often used in a risky way. In today's world, better tools are available and often are necessary to do jobs efficiently and SAFELY. Don't wait for something bad to happen to prompt you to buy a Skid Lift.
Plus, look at the thing. What kind of ladder gets you up 28 feet in the air AND on a stable platform with all your tools right at hand?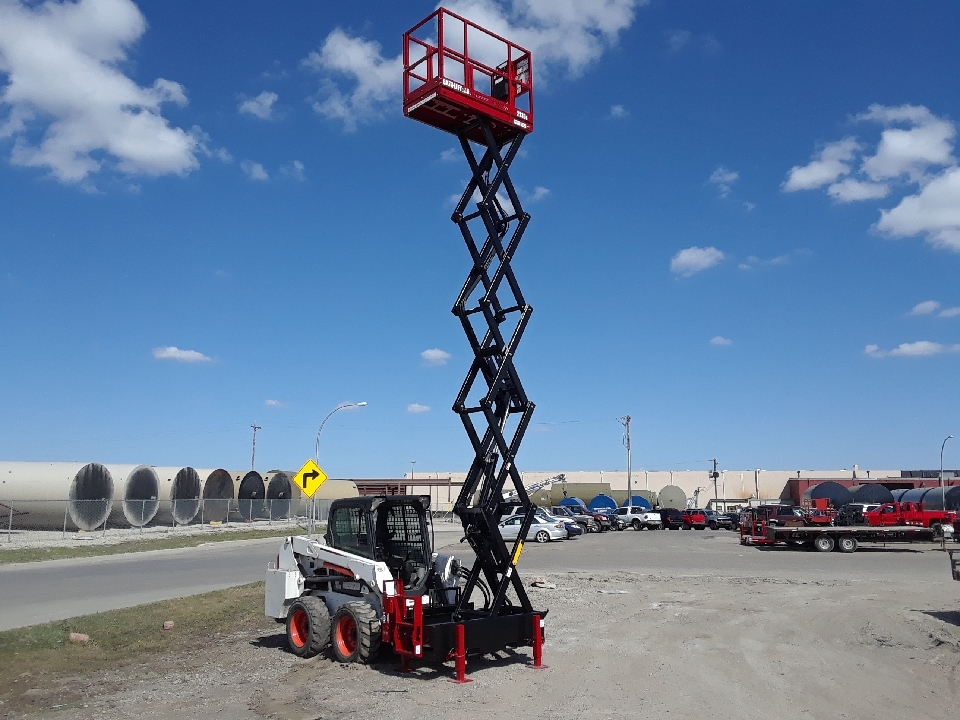 This attachment will make your life easier. Featuring a simple machine connection with universal quick attach and working with the hydraulic flow rating of just about every machine out there, the Skid Lift will allow you to do so much more with your tractor or skid steer.
The Skid Lift is designed to be operated by just one person, making previously dangerous solo jobs a walk in the park, and providing some peace of mind for spouses and loved ones.
Applications include:
construction

roofing and gutter installation/maintenance

tree trimming

power line maintenance

warehouse work

window washing

overhead photography

bird watching
The list could go a full page...
The makers of Skid Lift designed this attachment as the solution to a problem, and a very serious one concerning the safety and well being of real, working people. Don't worry, ladders will never go away. But for some of us they are simply not an adequate tool. For those who need to reach high places, the Skid Lift will never let you down. It gets the job done the right way: safely.
All Skid Lift products are available at https://www.skidsteersolutions.com/brands/skid-lift/ including the 2230S featured in this blog, but also smaller and larger models. These are versatile attachments that will run on many different machines, so go check them out and see which one is right for you.