Posted by Ian Stewart on 9th Dec 2019
Although Black Friday has ended, there's still plenty of time to save this holiday season with the Eterra End of Year Sale! All Eterra attachments listed on Skidsteersolutions.com are 5% off now through the end of December (find the coupon code at the end of this blog), so this is your chance to save big on attachments that you've had your eye on all year. We also have select attachments 10% off, 15% off, and more on Demo Units of products like the All New Eterra Vortex Skid Steer Stump Grinder! FREE SHIPPING applies on all orders.
Get 10% off these popular skid steer attachments:
Eterra Skid Steer Auger Attachment - Now only $2,155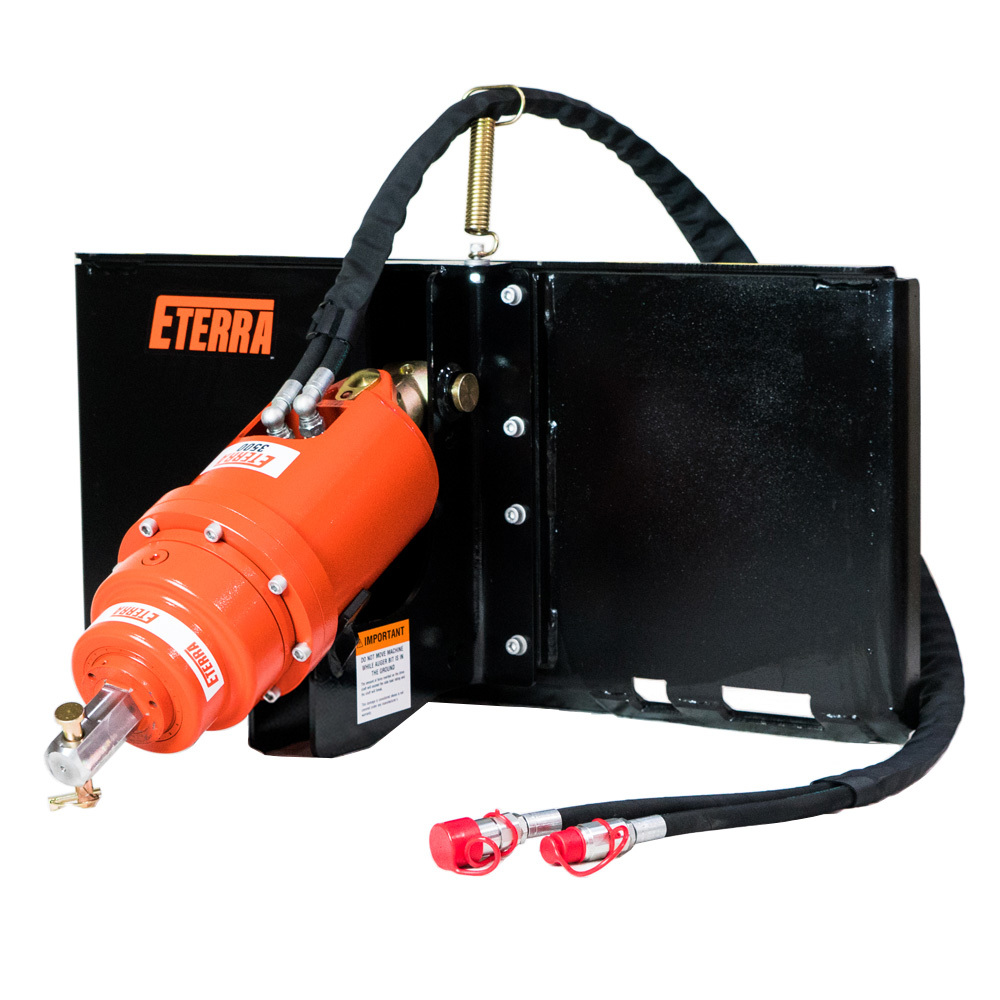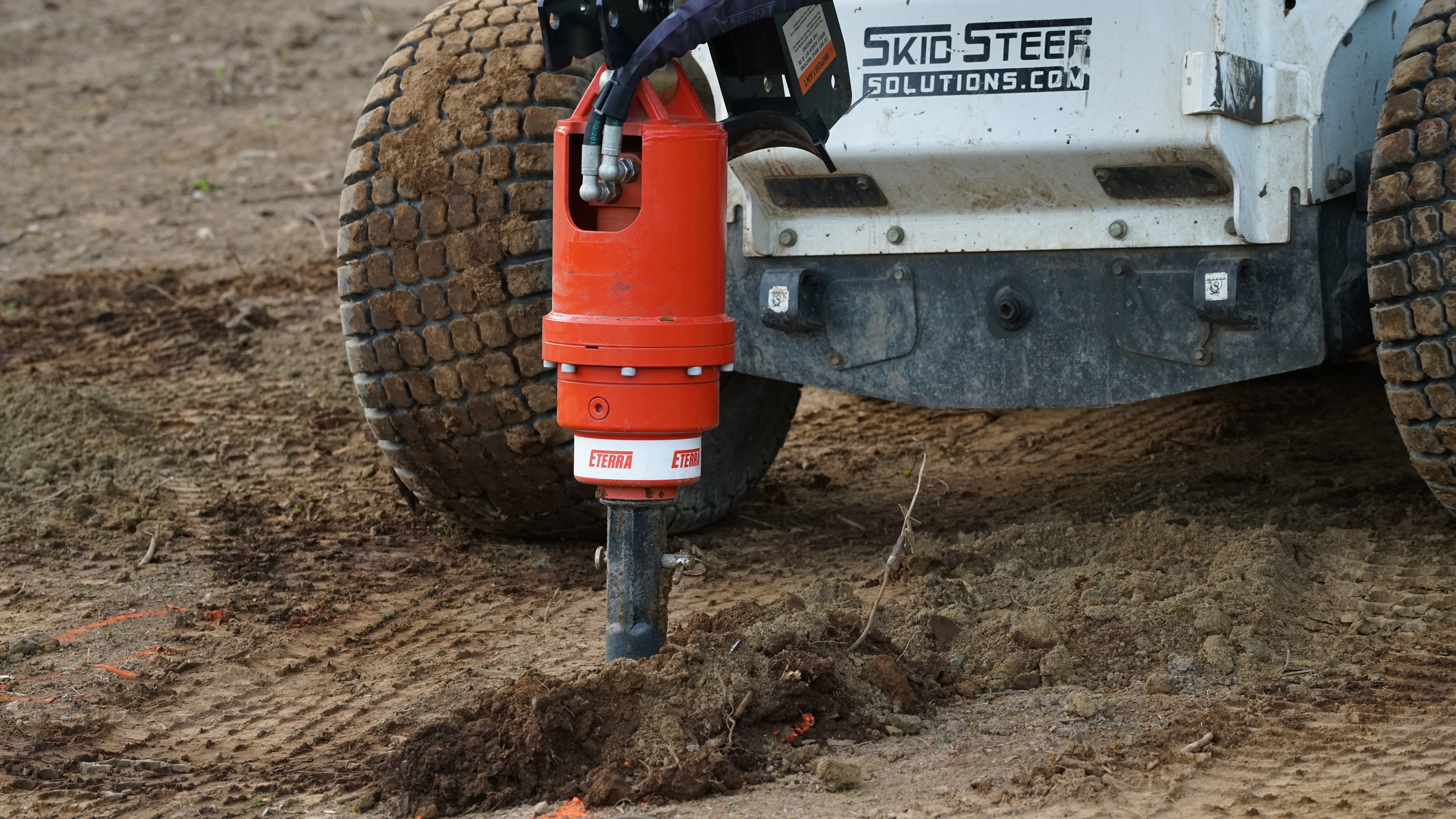 One of our best selling attachments, the Eterra Skid Steer Auger, can be snagged for the best price of the year. This is customer favorite, with a 4.9/5 star rating from 61 reviews. It's also just the right size to fit under the Christmas tree! Skid steer operators have been raving about these augers for years:
"This auger is the best in the world. We run them hard and it takes all you can give it! We've burned up the other brands and this one is still like new. Thanks!!!" -Dustin I.
Don't hesitate on these savings, this is the best time to get the attachment you deserve.
Serious savings - 15% off these skid steer attachments:
Eterra PDX-750E Post Driver Attachment - Now only $7,220
Save big on this powerful yet compact Breaker Style Skid Steer Post Driver! The PDX-750E drives up to 8" posts with tilt functionality of 15 degrees, pounding posts faster than competing post drivers. You don't see 15% savings very often on attachments of this caliber, so take advantage of this deal while it lasts. Plus, for even more savings, check out the barely used demo unit of this attachment in the Demo Unit section below.
Demo Units
Eterra Vortex Skid Steer Stump Grinder High Flow Demo Unit - Now only $9695
This is the best deal you'll find on this all new attachment from Eterra. More than 2 years of research and development went into the design of this highly efficient, high torque Stump Grinder. Check out the video above for an in depth overview of what separates it from the pack, and nearly 10 minutes of raw demo footage! The attachment's ability to power through stumps speaks for itself.
Eterra Raptor Boom Mower and Side-Work Attachment System Demo Unit - Now only $19,995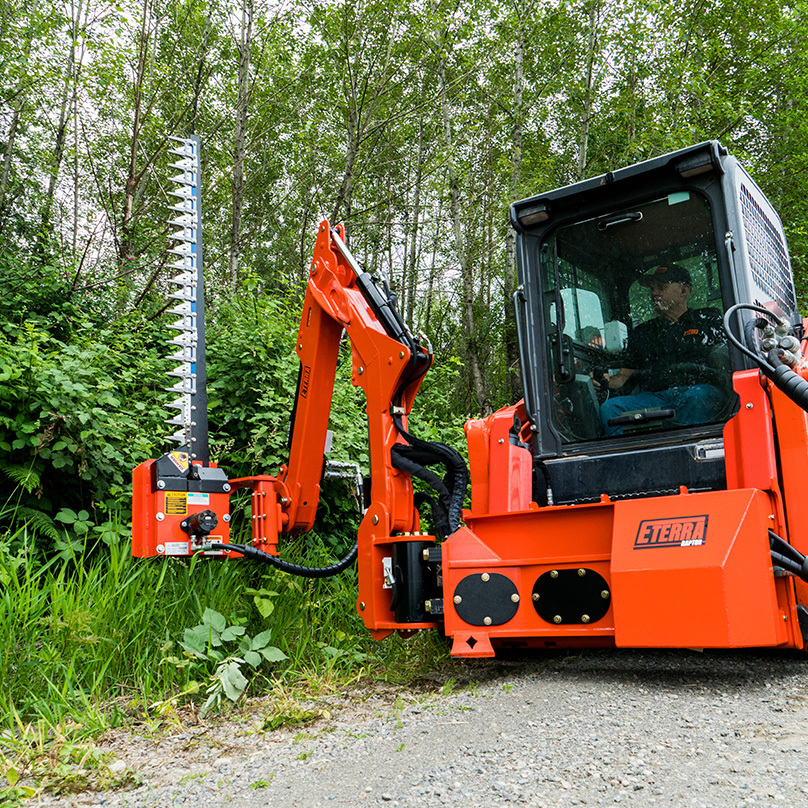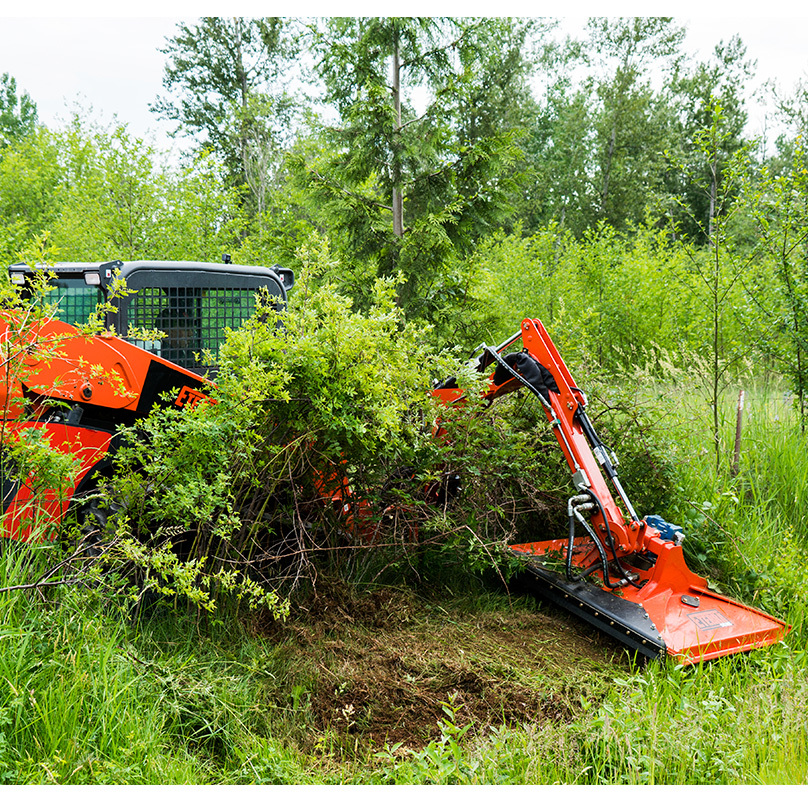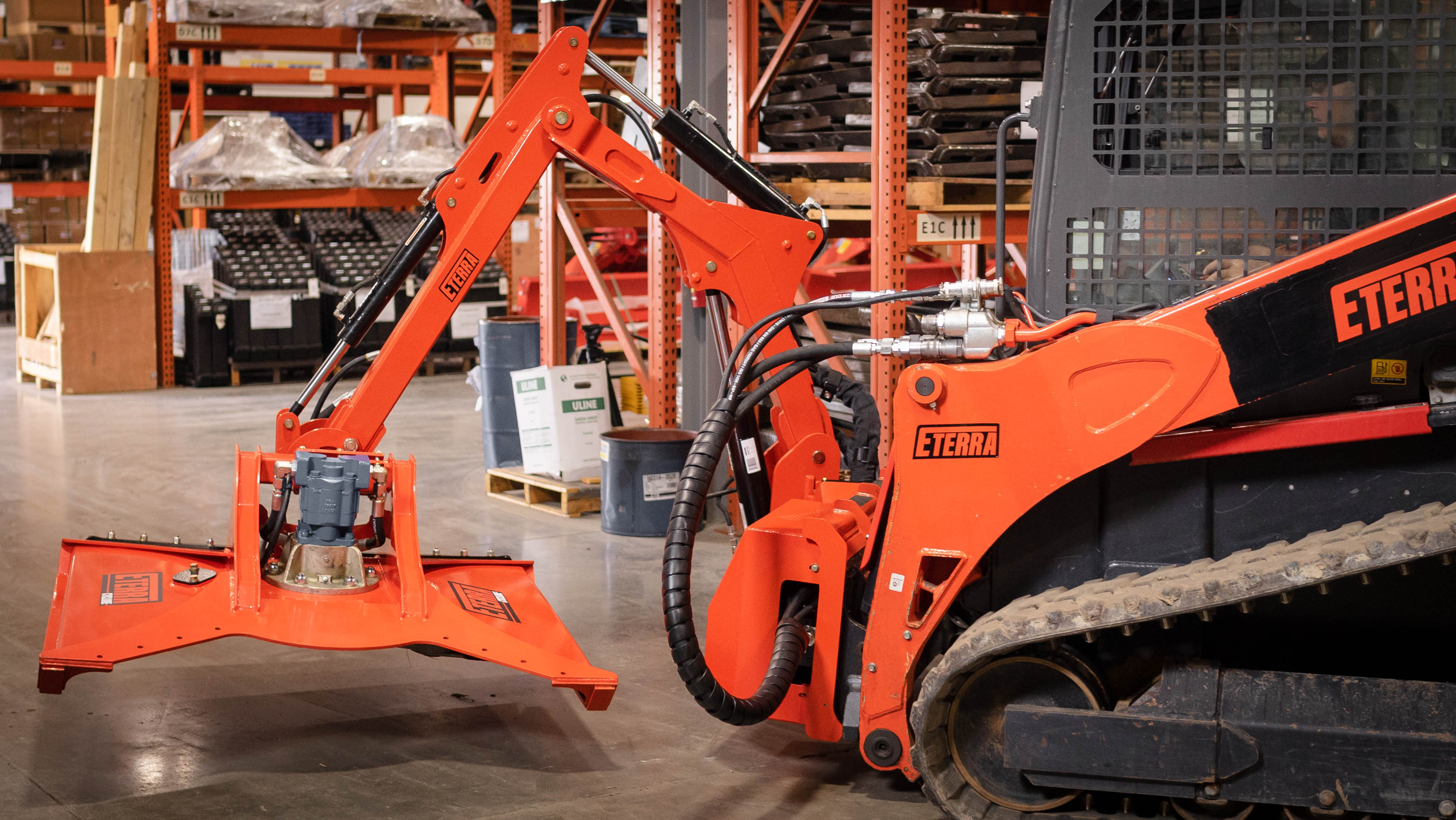 If you've had this one of a kind attachment on your wish list for some time now, this is the time to pull the trigger. This is one of Eterra's most unique and versatile attachments, and as you can see from the photos, this demo unit is battle tested and has a long life ahead of it. If you have any doubt of the quality or lifespan of this attachment, just take a look at the reviews on the product page (4.9/5 stars). Here's a few examples:
"Have used this mover on my JD 35D for last 2 years, it works great, always talking a beating." -Nick B.
"I have miles of private roads that overgrow during the summer. I use this to mow the road sides and down into my ditches. With the Cyclone mower, I can cut some pretty big branches with ease. The unit arrived quickly and ready to use. Took me about 30 minutes to learn how to use it." -Roberta W.
With an average reach of 14' this Boom Arm will help you more efficiently clear grass, brush, debris, and even small trees.
Eterra PDX-750E Post Driver Attachment Demo Unit - Now only $6,795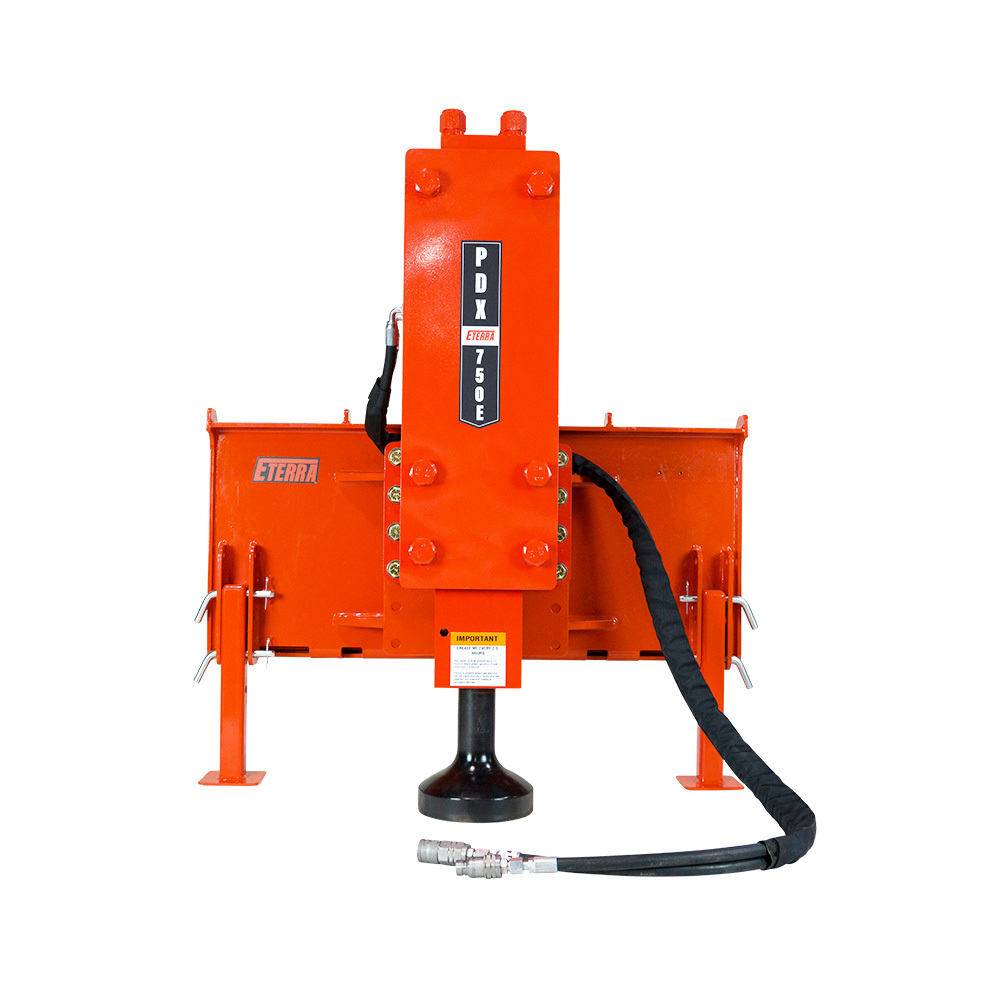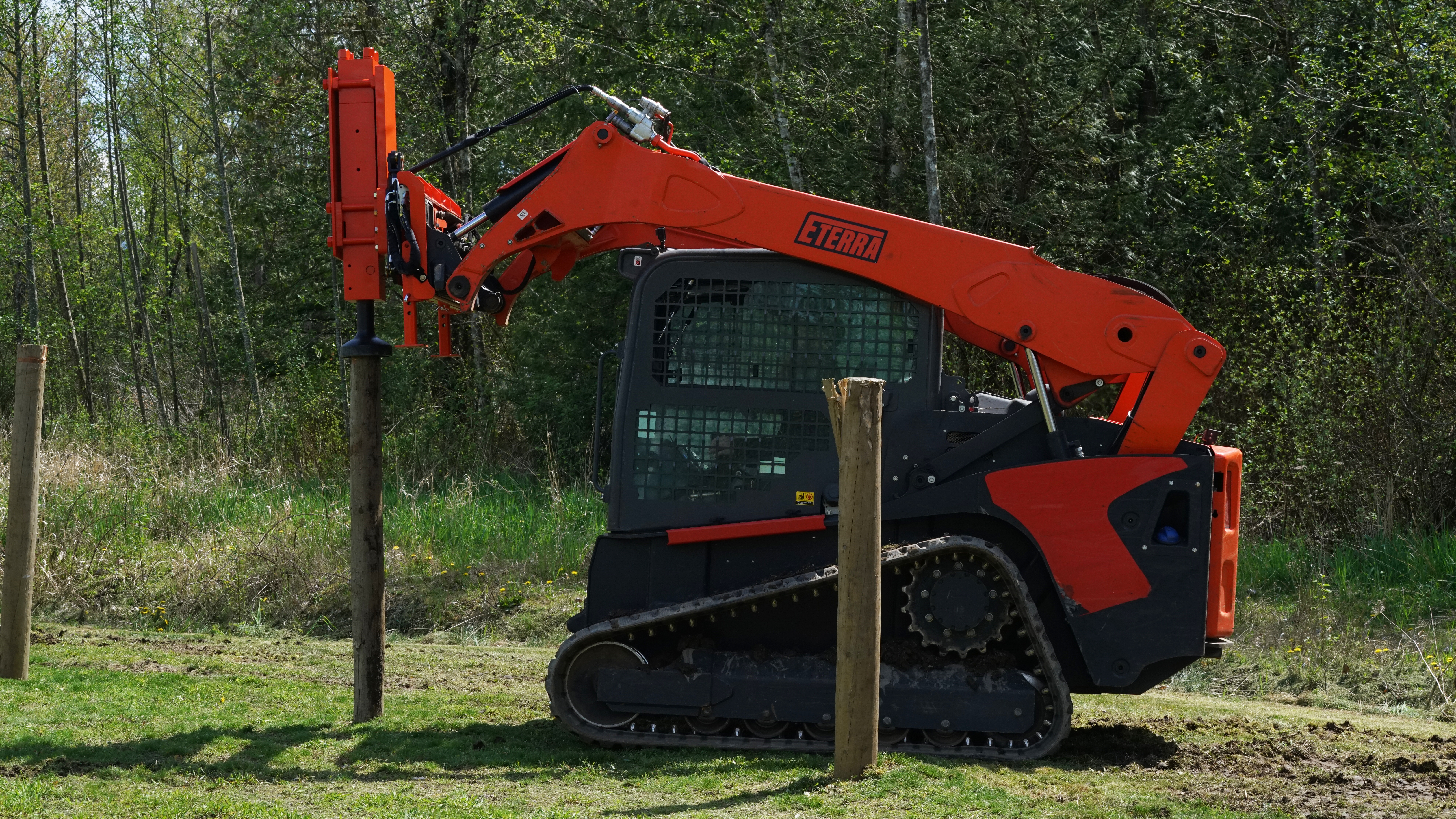 We know that the brand new version is already discounted 15%, but this demo unit is barely used and being discounted over 20%!! Get it while it lasts.
Eterra E40 48" Mini Skid Steer Backhoe Attachment Demo Unit - $1,695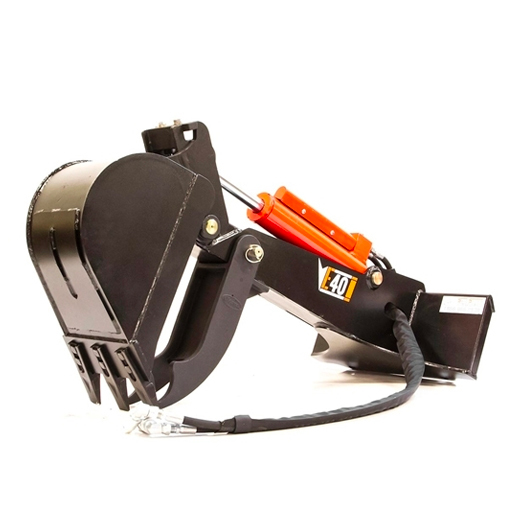 The Eterra E40 Mini Backhoe 48" for mini skid steers is ideal for digging small ditches, trenches, and more in spaces that larger machines can't access. It is built tough, with a full suite of buckets and tools that can be attached, and a 54" digging reach. Get this once used attachment like new, for
E60 Skid Steer Backhoe Attachment Demo Unit - $2,195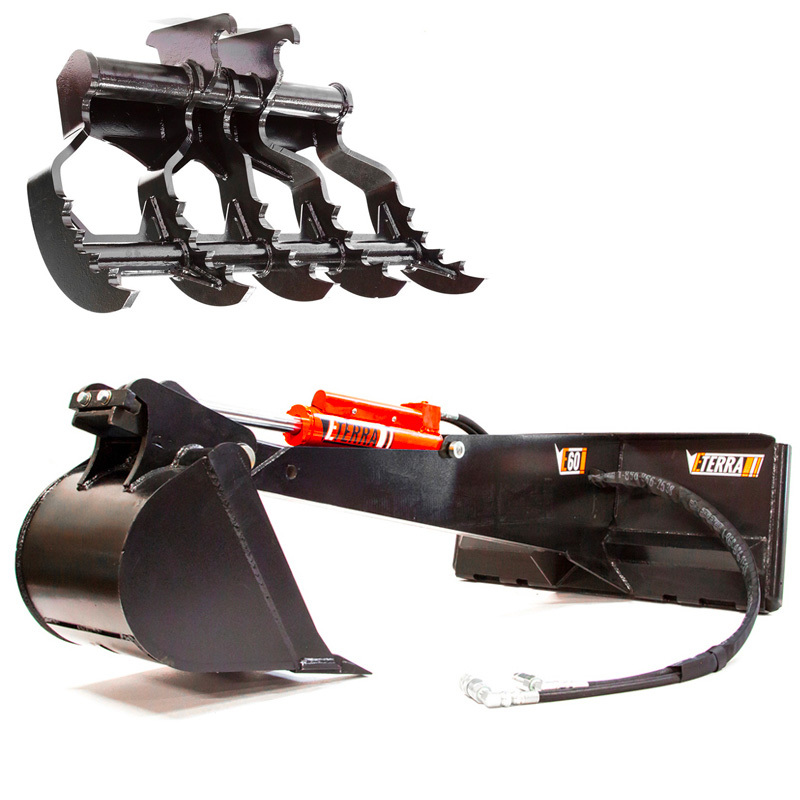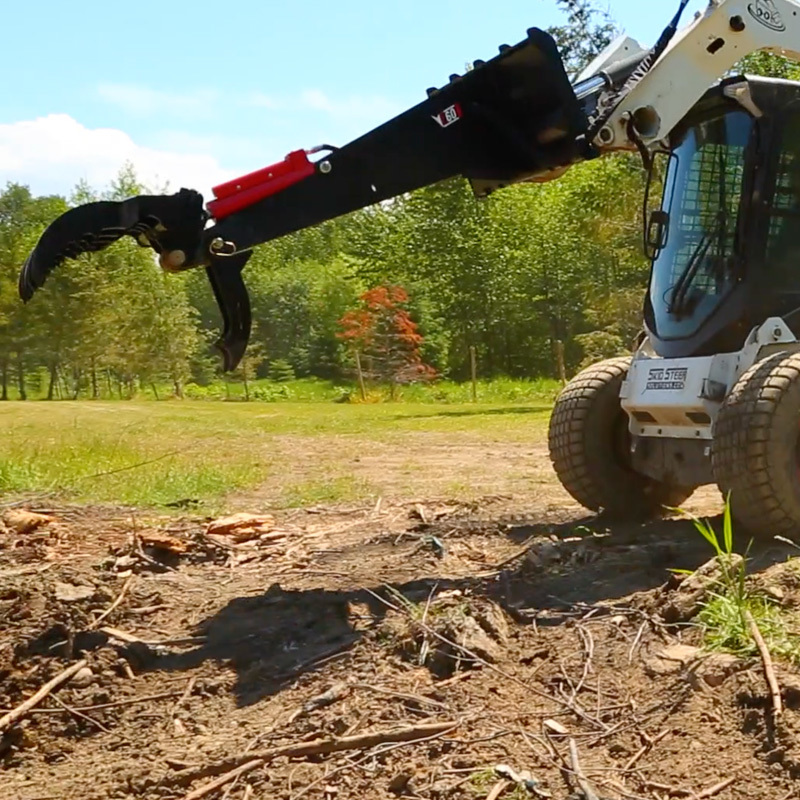 The Eterra E60 Backhoe is a staple of the Eterra line of essential attachments, and this listing combines the E60 with a 32" Grapple Rake addition, standard digging bucket included, all at a special price. Strong and durable, the Grapple Rake is great for debris removal, storm clean up, moving logs, smoothing out uneven terrain, or just about any other job you can think to throw at it.
E70 Skid Steer Backhoe Attachment Demo Unit - $2,275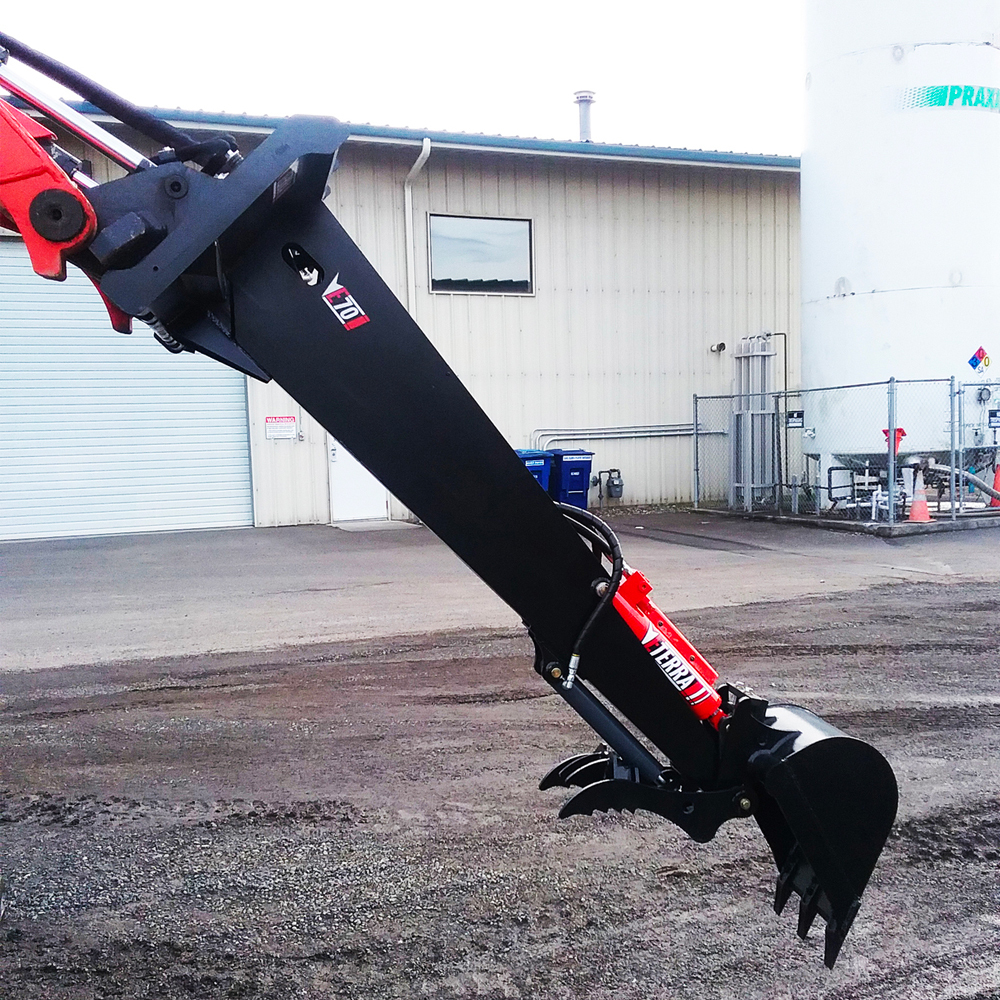 Unlike most backhoe attachment designs, the E70 enables the operator to utilize an optional hydraulic thumb and dig 7 feet with break out power of 14,500 lbs. Get this like-new (used once) demo unit for the lowest price of the year.
Eterra 72" Skid Steer Box Grader Attachment Demo Unit - $2,495
The Eterra Box Grader makes it simple for anyone to perform a wide range of tasks and make them look like they were done by professionals with almost no training at all. Whether you need to grade a road, a field or just final grade a landscape surface, this is the tool necessary to get the job done.
Eterra Skid Steer Tree Spade Demo Unit - $1,225 (20% off)
The Eterra Tree Spade makes tree removal simple and easy. Get a ridiculous deal on this already competitively priced attachment (Demo unit used once).
Eterra 72" Skid Steer Skeleton Bucket Demo Unit - $1,195 (20% off)
Remove rocks and debris and leave behind the soil or whatever material you want to leave behind. Take advantage of this huge discount on Eterra's popular Skid Steer Skeleton Bucket.
Eterra 18" Earth Auger Bit- $659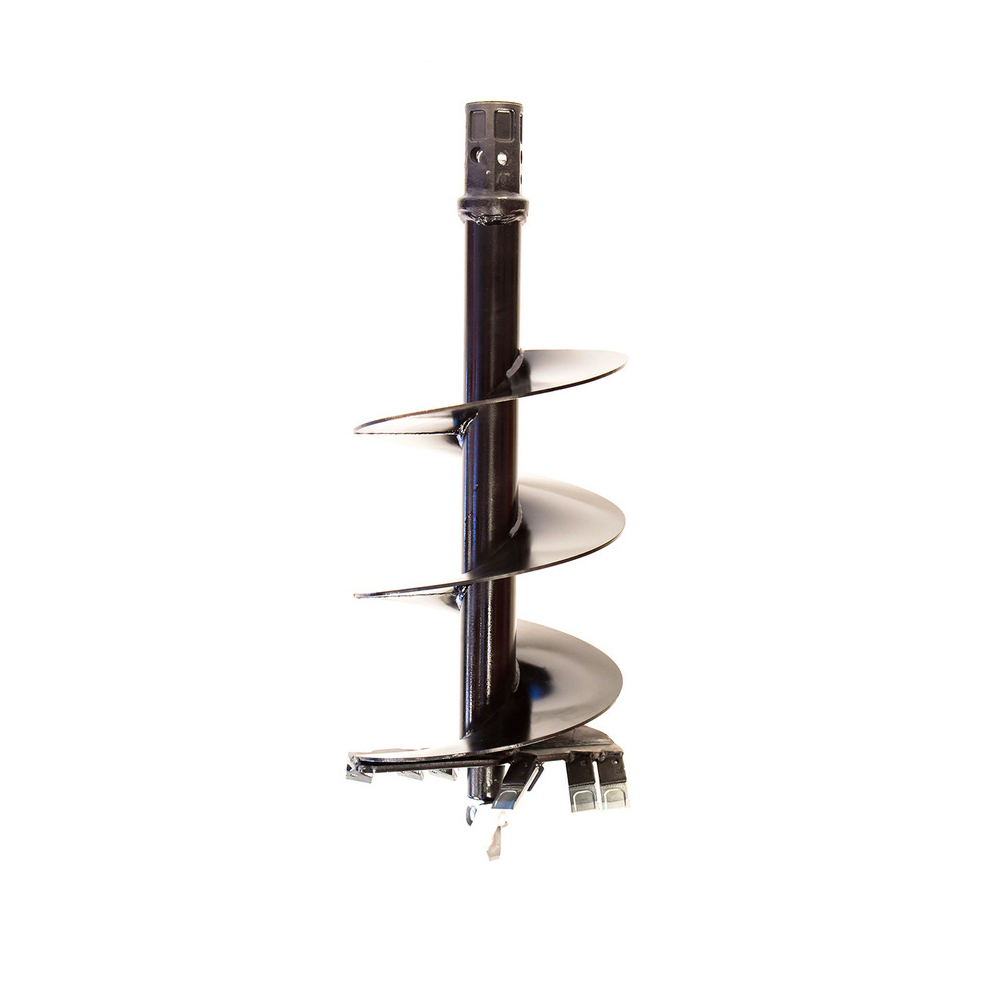 The Eterra Auger Bit is designed for heavy duty use in extreme ground conditions. Rocks, Boulders, Lava or areas mixed with cement or large broken solid rocks are no problem for the Eterra Auger Bits.
Eterra 30" Earth Auger Bit - $1,040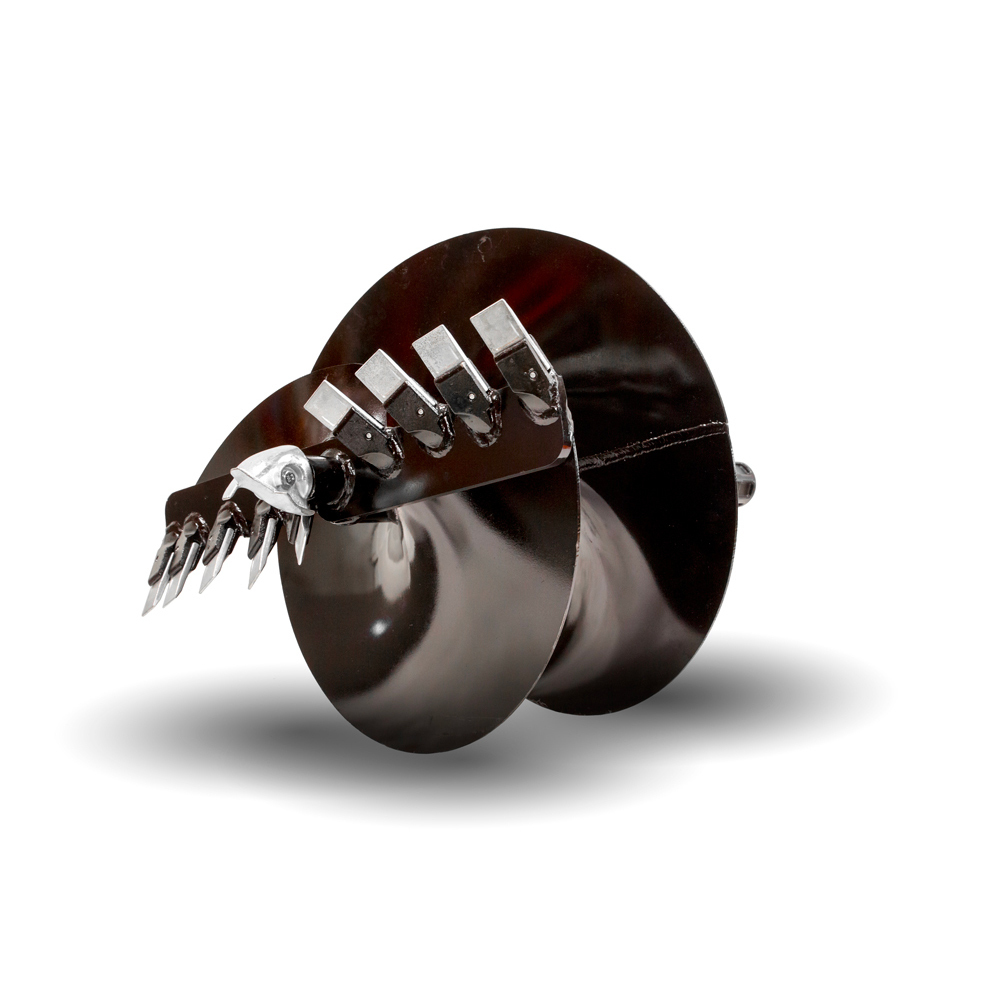 Click Here to view the full Eterra End of Year Blow Out Sale and all sale items on Skidsteersolutions.com
COUPON CODE: ETERRA19