Posted by Jimmy Vue on 2nd Nov 2023
Whether you're a contractor, homeowner, or someone looking to undergo a fencing project, it's imperative to have a powerful post driver. With the PDX-1000 from Eterra, quality is built into the attachment to ensure a smooth and efficient job.
The Breaker Style Post Driver is the product of decades of experience, constant improvement to model offerings and post driving technology, and a dedication to American Manufacturing, assembled custom to order in America and using globally sourced parts.
What is a Breaker Style Post Driver Attachment?
"Breaker Style" refers to the internal components of the PDX-1000 featuring the same concrete breaking technology found in heavy-duty jackhammers and concrete breaker attachments. This technology joins a tough and reliable power cell together with a thick and stable housing, delivering superior post driving speed, impulse force, and power.
The PDX-1000 is the latest generation of Eterra's industry-leading Post Driver Attachments, loaded with features that showcase Eterra's engineering and design prowess. For Skid Steer operators, the PDX-1000 is available in four different configurations, with customizable options for the driver head, tilt functionality, grapple functionality, and the ability to add a 5-foot concrete breaker to the toolkit. Learn more about each key feature in this comprehensive guide to the best skid steer post driver attachment available today.
PDX-1000 Post Driver: Available Models
Each fence installation operation is different, and different contractors bid different types of jobs. With variable terrain, a wide range of fence posts and fence types on the market, and the always changing customer demands and expectations, why would you pick a standard, one-size-fits-all Post Driver? Eterra has accounted for this range of applications and has designed the PDX-1000 Post Driver Attachment to be a truly modular and customizable tool. Select from four different configurations, and for customers who operate both Skid Steer Loaders and Excavators, the PDX-1000's modular design means it can accommodate both a universal skid steer attachment plate, as well as excavator couplers for all major manufacturers.
Types of Posts you can drive with the PDX-1000 Post Driver
Chiseled wood posts.
Flat wood posts
Wood posts between 4"-8" in diameter (depending on driver head option)
Railway ties (with Flat Head and Post Head Guide System)
Guardrail posts
Steel posts
T-Posts (carefully operate vs. on other posts)

Tilt Functionality
Fence posts aren't always installed on level and even ground. In fact, most aren't. For operators who often encounter variable terrain when running their Post Driver Attachment, the PDX-1000 there is an integrated tilt functionality option available. Add Tilt to your PDX-1000 to experience 15 degrees of angle side-to-side, a wide range of operation that allows for maximum precision and adjustment in especially demanding conditions.
The tilting mechanism has been designed by Eterra to be as compact as possible, this keeps the housing and the driving tool of the post driver close to the machine, which allows for maximum down-pressure to be applied at the time of post installation. All models including the PDX-1000 Tilt model have an impact force of up to 32000 lbs. By taking full advantage of the weight and downforce of your loader, you'll drive posts faster and more efficiently, something you don't have to sacrifice when adding tilt thanks to the clean design from Eterra.
Driver Head Detail: Cupped
As mentioned above, the PDX-1000 can be selected with a few different driver head options. Operators can also select to have both driver head options included with their purchase. The Cupped Driver Head option couples with the PDX to offer the more traditional post driving operation. The driver head is open and exposed from the housing and the driver and is a simple point-and-shoot type head. The operator positions the cupped head over the fence post and gets to pounding. The cupped design of the head keeps the post safe and secure while driving and is ideal for standard wood posts of various sizes. The cupped head is 9" in diameter, meaning it can accept up to an 8" post.
Post Driver Head Swap and 5-Foot Breaker Tool
Eterra insists on this level of quality to ensure reliable performance for machine operators who demand a lot out of their post drivers. With these exceptional driver heads, the highest durability is ensured so that the interval to replace these heads is as long as possible. Eterra has heard too many stories from professionals who load up for a job, get a machine, an attachment and a crew out to a remote location to install an extensive post, only to have their post driver attachment break or fail, costing untold man hours and wasted time, productivity and money. Put these driver heads to the test and we know you won't be disappointed.
Driver Head Detail: Flat with Post Head Guide System
The Flat Driver Head option includes a bolt-on housing which acts as the Eterra Post Head Guide System. This configuration is great for increased versatility in your post driving operations. This configuration is ideal for steel posts, smaller railway ties (in proper ground conditions), as well as smaller t-posts. The Breaker Style Post Driver features a flat head drive system that delivers power across the whole post, as opposed to the cupped head where power is focused in specific areas. The Flat Head and Post Head Guide System comes standard with 4 different sized eyelets, which can be changed out to match the size of the posts you're pounding and provide exceptional precision and control. Many customers take the smallest eyelet (2.5") and laser cut the circular hole into a custom shape. This is an excellent option for fencing professionals who work with the same type of post on a consistent basis and want to optimize their driving operation for maximum speed and efficiency. The operator also has the choice to not use an eyelet, and remove it for a 9"x9" working area.
Eterra Post Driver with Grapple Attachment
The Eterra Post Driver Grapple is the largest and most-heavy duty on the market today, and truly one-of-a-kind. Bundle up a large collection of chiseled posts, or even railway ties, and move the posts onto the jobsite without the need for extra equipment. The stronger design and larger opening of this grapple means you can move a larger volume of material. Once placed in the work area, the grapple is technical enough to enclose over a single wood post if needed. The grapple is capable of utilizing the power and downforce of your machine to place the post and get the post started into the ground. This means that the posts required to be driven need to be pointy (chiseled) on one end. Be sure to have another set of eyes to ensure the post is in the desired position to be driven down into the ground. You can then lift the post driver attachment and get to post pounding. The grapple can also be used to pull out and remove old posts and other impediments that need to be removed to make way for the new fence you're installing.
Flat Driver Head with Post Head Guide System
The Flat Driver Head and Post Head Guide System comes with the following eyelet sizes and configurations:
8.5" Eyelet // Up to 8" posts
6.5" Eyelet // Up to 6" posts
4.5" Eyelet // Up to 4" posts
2.5" Eyelet // Up to 2" posts, also great for steel T-posts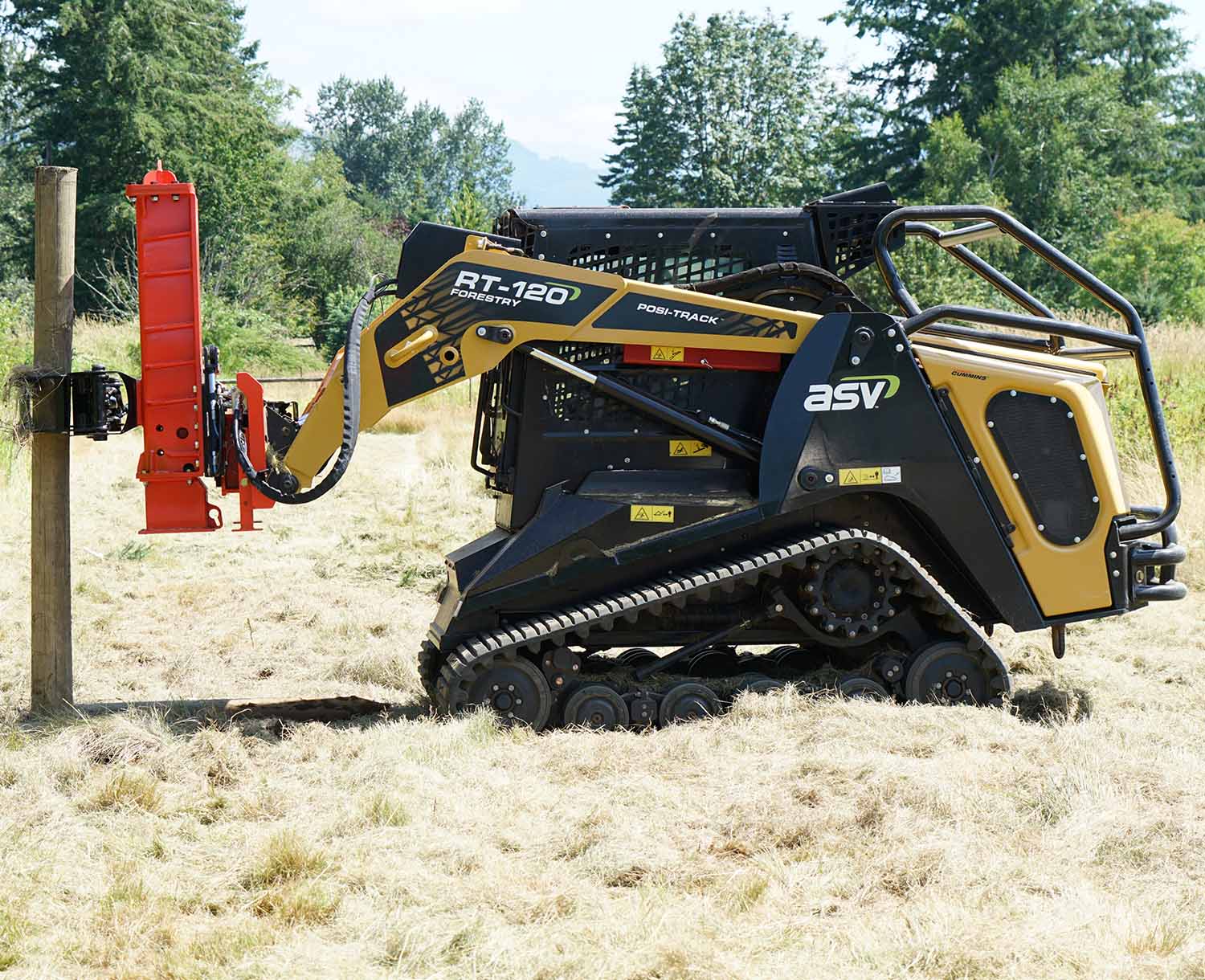 The 5-Foot Concrete Breaker Tool
The same simple and convenient single pin design that allows for the swapping of driver heads also applies to the available 5-Foot Concrete Breaker Tool for your PDX-1000. Drop the driving head out of your housing and quickly replace it with this heavy-duty tool. Take "Breaker Style Post Driver" to its rightful place and turn your post driver into a concrete breaker in no time. This tool comes in handy for operations that are driving posts in heavy-packed clay or rocky soil. It's also common to encounter old concrete footings or even foundational blocks, and this tool will make quick work of those impediments, making your next round of post driving fast and effective, without the need to pause your progress and deal with complications.
In extreme applications, a productive method is to drive down your fence line, and pre-punch all of the post holes. The same quick, one pin swap will allow the post driver head to be re-installed, and then you're on your way, installing plum and secure posts into unobstructed pilot holes, no matter the conditions. The Eterra 5-Foot Concrete Breaker tool is a strong and reliable 60" breaker spike, weighing in at 125 pounds.
The Powercell
The power cell of the PDX-1000 is notable in that it's simple, reliable and easy to maintain. With the fewest moving parts of any power cell available, the PDX-1000's power cell stays secure and reliable, even under heavy workloads. When the need for parts do arise, all parts can be sourced through Skid Steer Solutions. No complicated searching, ordering and waiting for unreliable support.
The power cell features a driver system on the output side of the cell and is independent from the housing itself. This means the driving piston, the tool, and the gas charge can be found within the housing of the post driver, but the power cell remains an independent part of the attachment. The power cell utilizes large dampeners to reduce vibration and recoil to the machine and operator, and is capable of being removed and serviced without disrupting the internals of the post driver housing.
Modular Post Driver System: Excavator Compatible
The main housing of the PDX-1000 is bolted to the standard universal skid steer plate with a simple and strong bolt-pattern. This means it's quick and easy to unbolt the housing from your skid steer plate, and re-mount to an excavator coupler, with almost no fuss or additional parts needed. You'll need the coupler for your excavator, and potentially a hose extension, but that's the extent of what it takes to take advantage of this modular system. For owners of both skid steer loaders and compact excavators, this allows you to buy one post driver attachment, and swap it back and forth depending on your needs.
Skid Steer Solutions offers excavator couplers compatible with a wide range of major machines, including but not limited to the Bobcat Exchange Coupler, Caterpillar CR304.5, John Deere 35D, John Deere 50D, Kubota KX121, Kubota KX091, and many more