Posted by Hailey Miller on 5th Aug 2022
Skid Steer Solutions has partnered with Branch Manager Attachments - A tree service equipment company bringing you some of the industry's best attachments for tree work! The Company first began in 2001 after gaining much knowledge and experience of the tree care industry, which helped them be able to design attachments specifically for this kind of work. Their offerings include mostly grapples but also winches, rakes, stump grinders, and more.
Branch Manager strengthens our product offering for tree care professionals, helping us to provide the right equipment solutions for our customers every time.
---
Featured Attachments
Mini Skid Steer Free Rotating Log Grapple

The Free Rotating Log Grapple Attachment is the original mini-grapple built by Branch Manager. It features a swivel mount, delivering free rotation and saving wear and tear on your machine.
---
Powered Rotation Hardox Mini Skid Steer Log Grapple
The Powered Rotation Log Grapple features a hydraulic powered rotating grapple so the operator can control the grapple rotation inside the cab. This attachment comes with a Hardox wear plate in the body and arms which increases the strength by up to three times the amount compared to the standard grapple, giving the attachment an extended service life.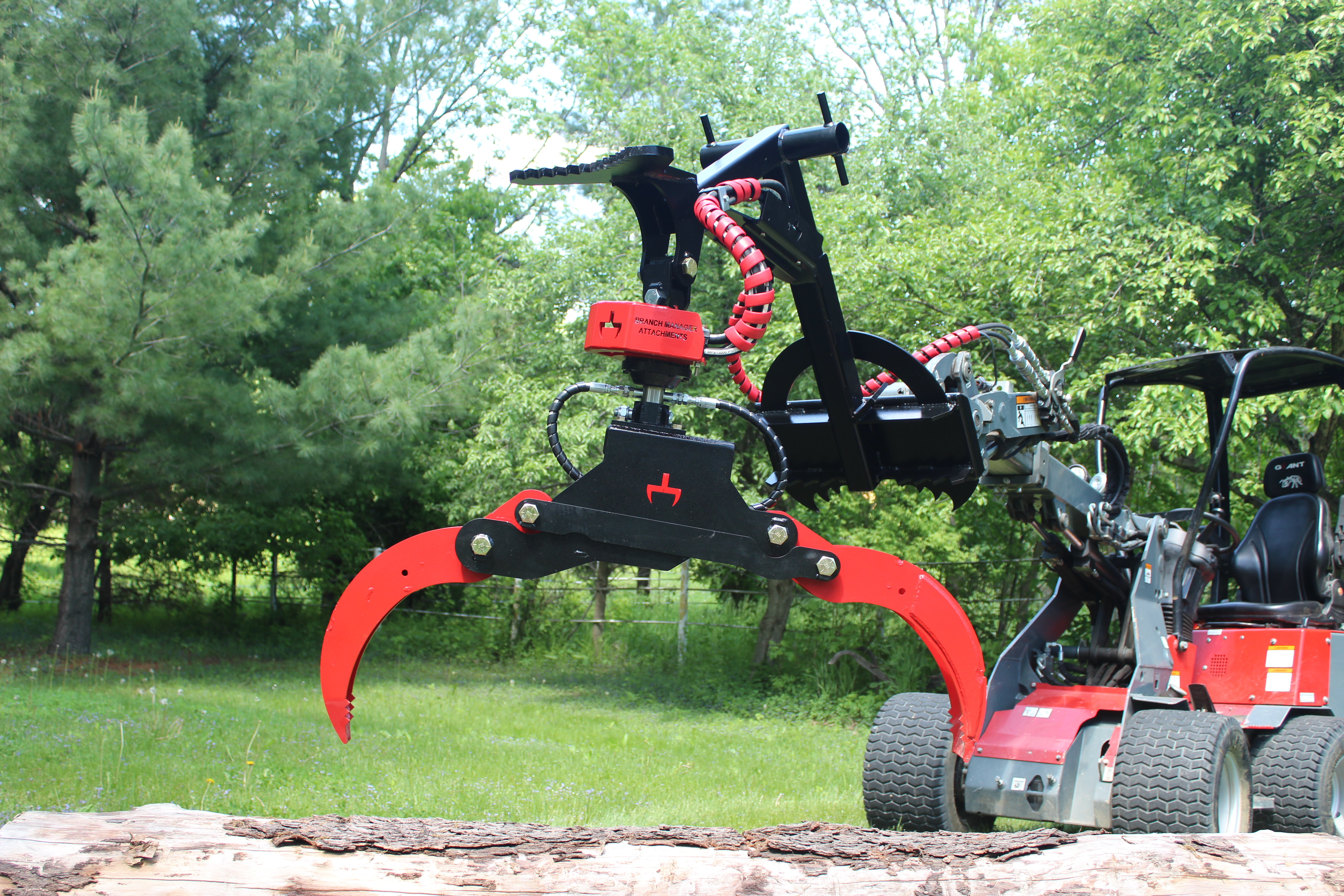 ---
Skid Steer BOSS Powered Rotating Log Grapple
The Boss Powered Grapple comes in a 58" or 60" max opening and has a hydraulic powered rotation that allows you to have greater precision over pick and place operations with your machines. It is fabricated from a Hardox wear plate that increases the grapples strength and durability.
---
Featured Accessories
Branch Manager Rake Accessory attaches directly onto their mini grapples and is great for sweeping up stump chips, pine needles, rocks, or any thing else you would usually rake up by hand. This accessory saves time and labor and is easy attach to the grapple itself.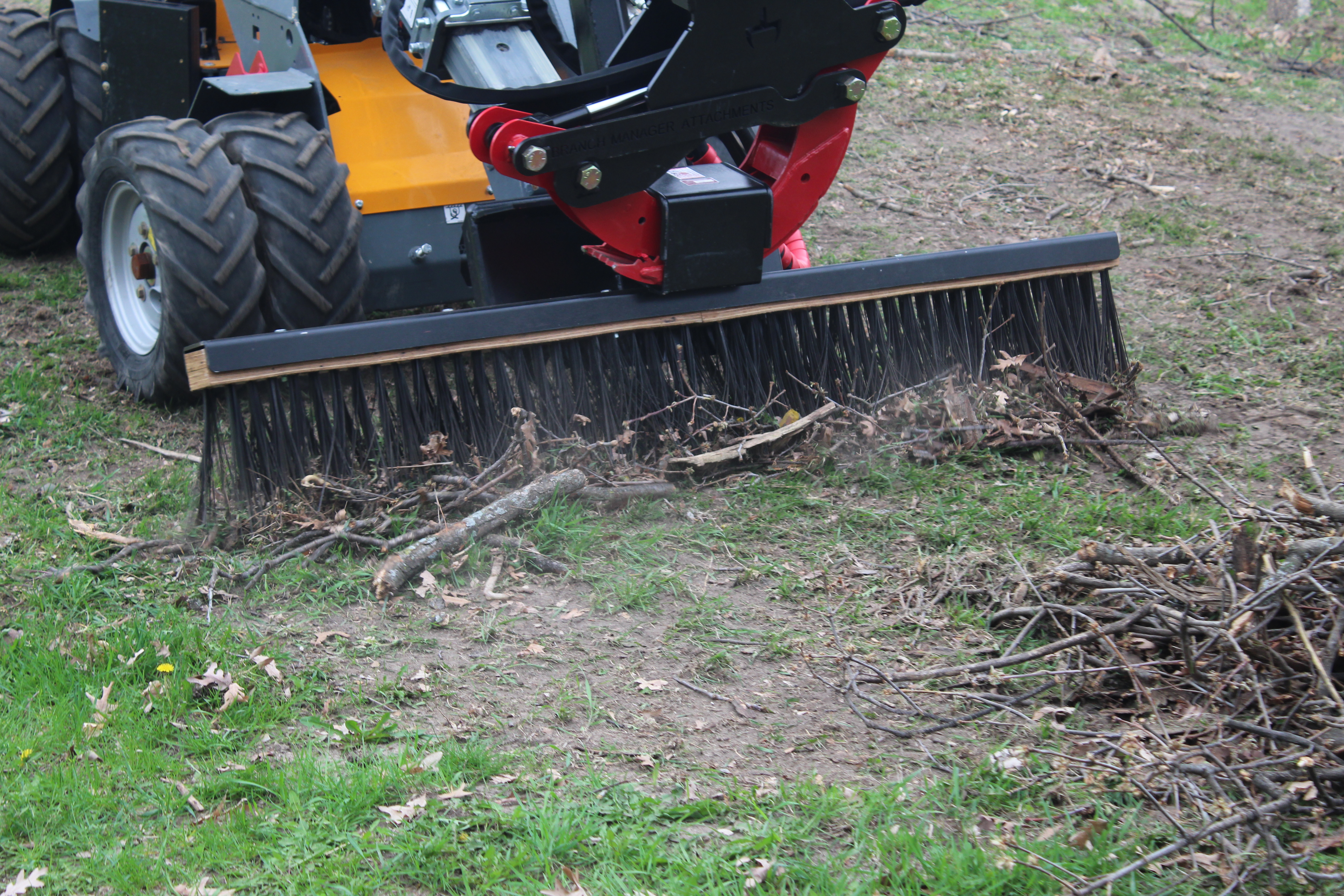 ---
The Grapple Clamshell Accessory is one of Branch Managers most popular items. They easily attach to a variety of their mini grapples and is used for easy pickup of stump chips, raking, mulch, loose dirt, and gravel.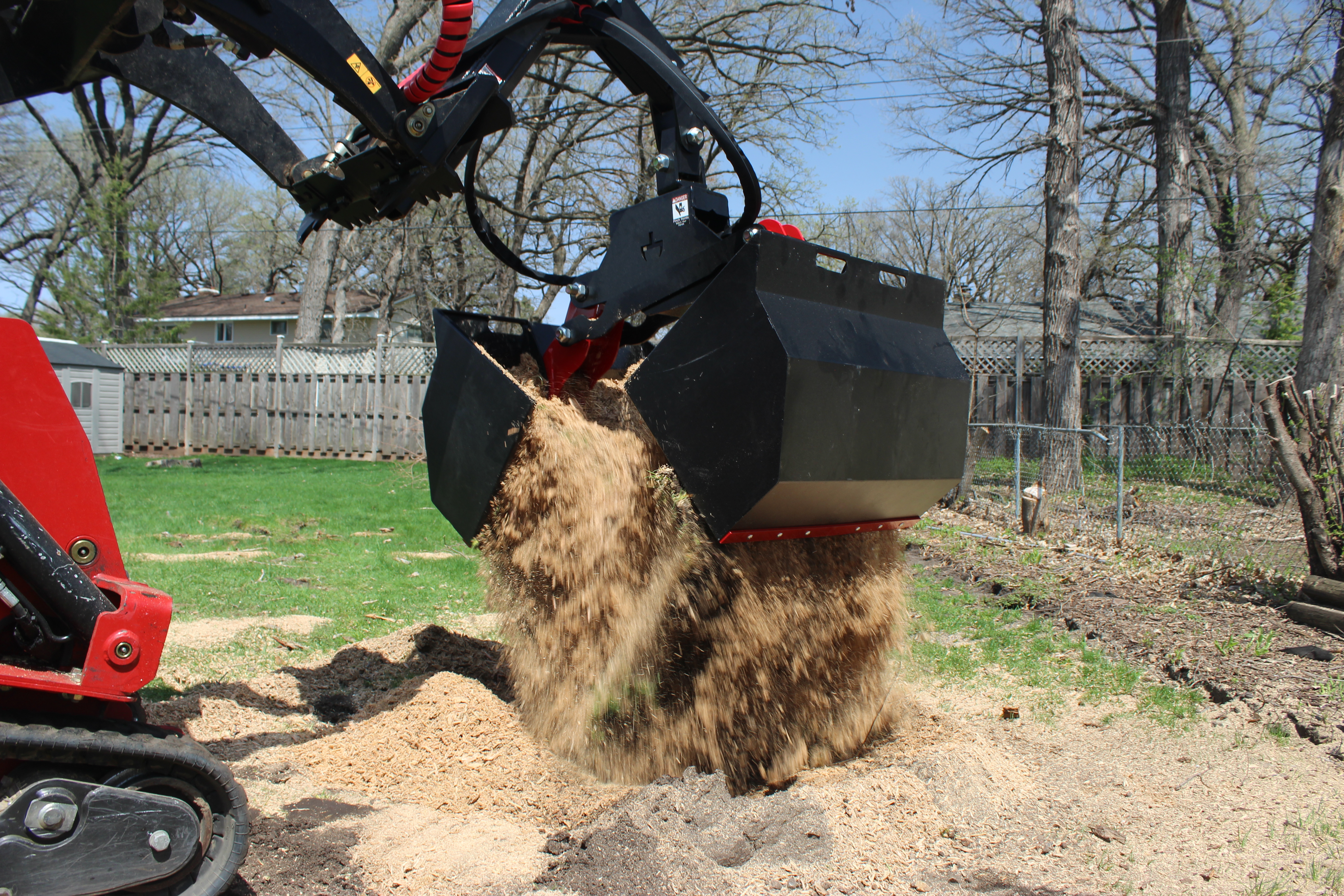 ---
Compatible Machines
Branch Managers Attachment's Mini Grapples fit on ALL types of Mini-loaders, coming fully assembled and ready for work, made in the USA.
Boxer
Giant
ASV-30
Thomas
Toro
Zahn
Bobcat
Ramrod
Vermeer
Ditch Witch
Avant
Multi-one
Standard Universal Quick Attach (Full Sized Skid Steers Only)
---
What else do they offer?
Coming Soon...
CEO Powered Rotation Domex Grapple

Root Grapple Style Grab Rake

Bucket Style Grab Rake

Bulk Material Buckets

Tree Shears
Branch Manager Attachments will increase efficiency, decrease labor, and secure safety on the job. View Branch Managers Full Brand Page here!