Posted by Maranda Wilson on 9th Jan 2017

With the growing popularity of compact track loaders (CTL) over traditional skid steer loaders (SSL), a few of our newer customers have asked us what the differences are, and whether these differences will impact their attachment options. We have the best skid steer attachments, but does that matter if you don't know the difference between a skid steer loader or a compact track loader?
The short answer: no, both machines can accommodate all of our attachments (assuming it is properly fitted to the machine in question). However, how effectively the machines will work for you depends on the conditions of the worksite, rather than wheel or track type. It's not a matter of what you have, but rather how you use it.
Conditions:
SSL: Most efficient on hard, packed surfaces because the tires are designed to increase traction and increase travel speed. In addition, the machine is lighter overall in design and easier to transport. Consider it a machine that runs its best in normal conditions (i.e. dry, consistent, "good" weather).
CTL: Best on uneven or sensitive surfaces because the lower ground pressure provides more direct contact with the ground (in contrast to four individual tires). Gentle on soft surfaces because it causes less disruption to the ground. Remember the design of a CTL was intended to make up for the performance flaws of the SSL, such as working in unideal weather conditions; therefore, consider it if a majority of your work is done on adverse ground conditions or if you refuse to be halted by bad weather.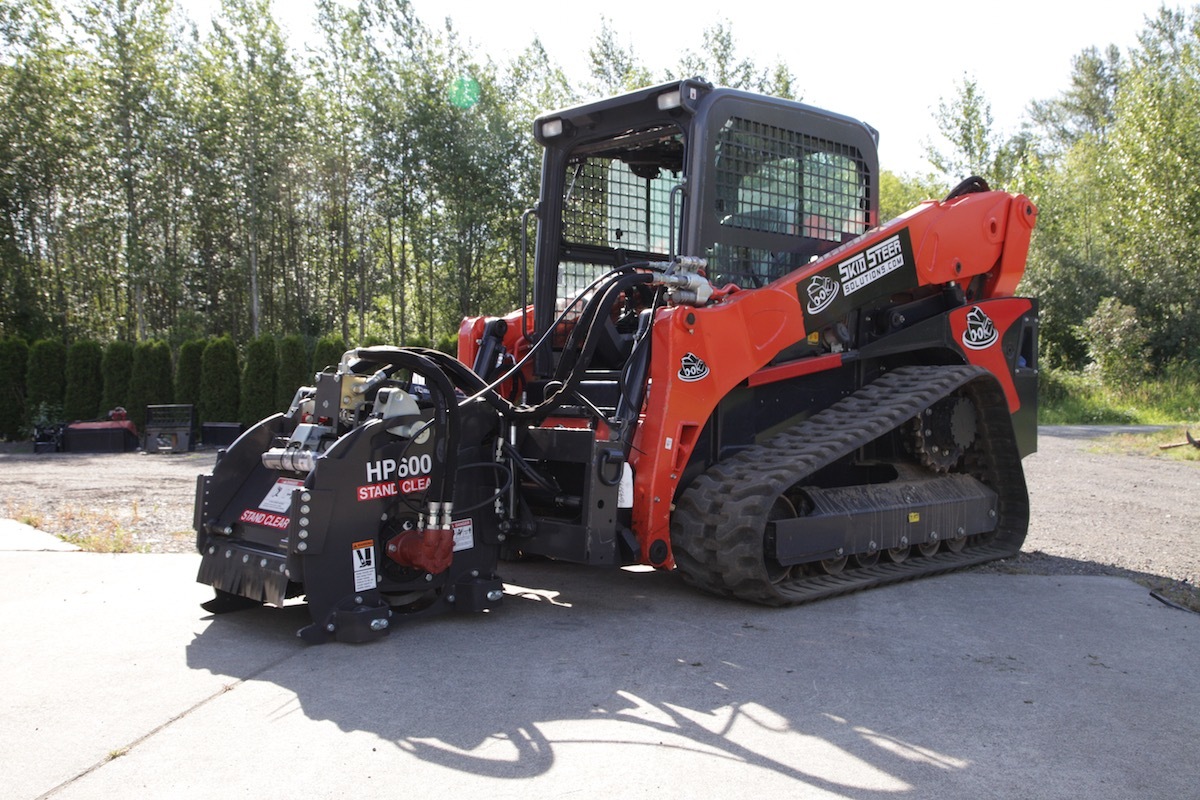 Upfront and maintenance costs:
The cost of a CTL is generally $10,000-$15,000 more expensive than a SSL. Tracks are typically double the cost of tires, but take into consideration that tracks can drastically lengthen your work season. CTL can work in a multitude of conditions (wet ground conditions, mud, snow, etc.), whereas a SSL will struggle. On the other hand, using CTL on hard surfaces such as asphalt and concrete can cost the customer 25% more per hour of usage over a SSL.
Surfaces:
SSL: Best for harder surfaces (such as concrete or asphalt) because it will likely tear up softer surfaces.
CTL: Softer surfaces. Frequent turns on rough surfaces will quicken track wear and require frequent replacement.
Jobs:
SSL: Road construction, snow removal, demolition, commercial construction, industrial projects.
CTL: Outdoor and landscaping projects (slopes and slippery terrain), developments in rural areas.
Maneuverability and speed:
SSL: Faster top travel speeds. On hard surfaces it has great maneuverability in close quarters because it has less rubber in contact with the ground in comparison to CTL. Suited for longer travel in one direction.
CTL: Slower, but more stable. Heavier and wider than a SSL, there's significantly more rubber touching the ground. Consider it a machine designed for grip and not for speed. Its relatively low ground pressure means minimal disturbance and a "float-like" quality. The loaders distribute the machine's weight evenly over the length and the width of the tracks. The design of the rubber tracks increases the traction and pushing motion for an overall smoother movement.
Drive systems:
SSL: A hydraulic motor is positioned near the center of the machine and utilizes a chain-drive system to turn the wheels.
CTL: A hydraulic-drive motor with a sprocket drives the track. The undercarriage system is powered by additional rollers and idlers.
The final verdict:
Both attachments function the same way and uses the same front attachments. However, the difference boils down to the job. Weigh the variables and make your decision based on the tasks you do the most. This isn't to say that you won't be able to work once in awhile in --let's say-- mud with your SSL, but it may not be the most practical or economical solution longterm. The good news is that it is the attachments that make the machine. Consider installing skid steer tracks on your tires if you're looking for CTL capabilities without committing to purchasing an entirely new machine.