Posted by Maranda Wilson on 30th Jul 2016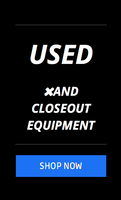 Did you know that Skid Steer Solutions has an inventory of used attachments and close out equipment? The products in this category of our site consist mainly of products used for demo only (speaking of demos, have you seen our Youtube channel?). What we classify as used has —at most— an hour of use on them. So in addition to being a company with a reputation, our used products are guaranteed to arrive to you as if they are nearly new.
Quick! Here's what we are currently featuring in our used and closeout category: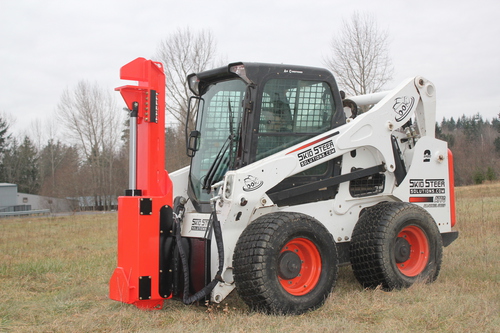 Eterra Log Splitter Inverted - The Reaper

Designed to split logs from the convenience of the operator seat. The mounting of this splitter is the key selling point because it, unlike other log splitters, is designed with visibility in mind. The splitter is carried upright — hence the "inverted" in its name. When in motion, the splitter is carried upright and rolls forward to force your quick attach plate to move out of your line of sight.
Specifications:
SKU: ET-RP-35
Single cut design made from 1" T1 structural steel
Cylinder is a 5" x 24" stroke with a 2-1/2" rod and 4000 psi seals
37 tonnes of force
Total weight of 675 lbs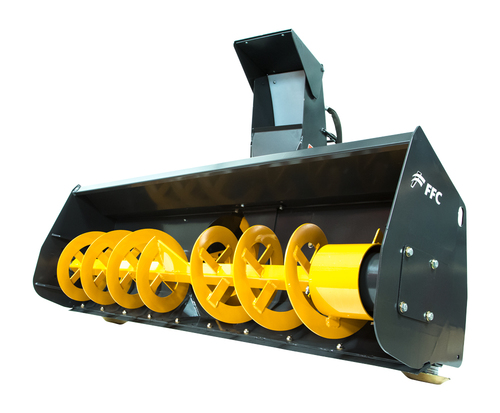 FFC 78" Snow Blower Standard Flow 12-21 GPM (FFC 84" and FFC 72" also available)
Ideal for fast and efficient removal of snow from large areas such driveways, parking lots, and roadways. Its ability to clear up the toughest snow conditions is unparalleled, and its adaptability to modern flow rates and pressures makes it truly a universal attachment.
Specifications:
SKU: FFC-11078D
Cutting width of 78"
Cutting height of 25"
Single motor flow
1800-3000 PSI
Two-stage hydraulic blower
Throw distance of 45ft
Total weight of 703 lbs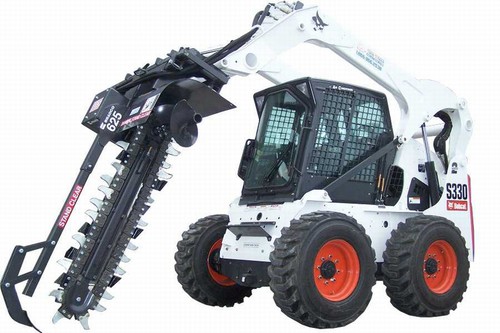 Bradco 625 Trencher Attachment 4ft (3ft available)

Create trenches that will last with the Bradco trencher available in both 3' & 4'. The ability to build deep and precise trenches prevents dirt from collapsing back into the worksite. Best suited for vegetation, land management, landscaping, soil preparation, material handling, and construction.
Specifications:
SKU: BR-B625-48
Flow rating of 14-23
GPM Auger 18"
Discharge chain of 6"
Total weight of 750 lbs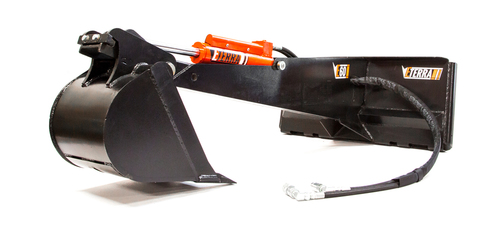 Eterra E60 Backhoe System Big Bundle

The Eterra E60 backhoe has the capabilities to dig up to 6 ft and up to 6,000 lbs. In addition, this backhoe system serves as a grapple for rocks, stumps, logs, and other heavy items. A classic attachment in our arsenal, this multipurpose attachment has always been immensely popular. Today, the original precision pins have been replaced by our exclusive ECS to allow the operator to be in control of mechanical changes.
The accessories you will receive with this bundle are:
Fixed, removable thumb -- now included for free.
8" Trenching Bucket with 2 removable digging teeth.
12" Digging Bucket with 3 removable digging teeth.
16" Digging Bucket with 3 removable digging teeth.
22" Digging Bucket with 3 removable digging teeth.
32" Clean-Out Bucket (No digging teeth).
5-foot Mini-Lifting Boom.
Grapple Rake.
Ripper
This package includes the E60 Backhoe and exchange coupler, 3" x 12" hydraulic cylinder, hoses and hydraulic flat face ISO ½" couplers. There is the option for extra accessories at 50% off the accessory cost. (Shipping charges still apply).
Specifications:
SKU: ET-E60-BIG-BUNDLE
Digging depth of 6 ft
Break out force of 14,000 lbs
Lifting capacity of 6000 lbs
Hoses of 4000 PSI rated
Total weight of 425 lbs
Happen to find what you are looking for elsewhere? Don't let the word "used" keep you from considering options that can potentially save you a lot of money. Here's what we suggest you consider before buying used from other retailers:
1. The general appearance
How is the condition overall? Are there any chips, cracks, bends, or missing parts? After judging the physical appearance, it is next important to inspect what the eyes may not catch. Consider requesting an inspection report or a note on the condition of the parts from the retailer.
Buckets: Check the leading edge of the bucket for signs of wear. Also check the side panels and the base and note the general thickness of the side panels. Thinning panels increase the likelihood of holes and leaks, which would render your bucket useless for more detailed jobs.
2. Look at the manufacture
If smaller parts need to be replaced, do you know where you can access such replacements? Especially with small wear parts (such as cylinder pins and rods), it is important that the correct parts can be purchased. Otherwise, your entire attachment might cost you more than it is worth.
3. Check for compatibility
Will the hydraulic pressure and hydraulic flow rate of the attachment work with your machine? How about with the size and capacity of your skid loader? It is easy for technical information to be forgotten over time, and so it is imperative to verify what your skid steer and/or attachment can handle.