Posted by Maranda Wilson on 8th Oct 2016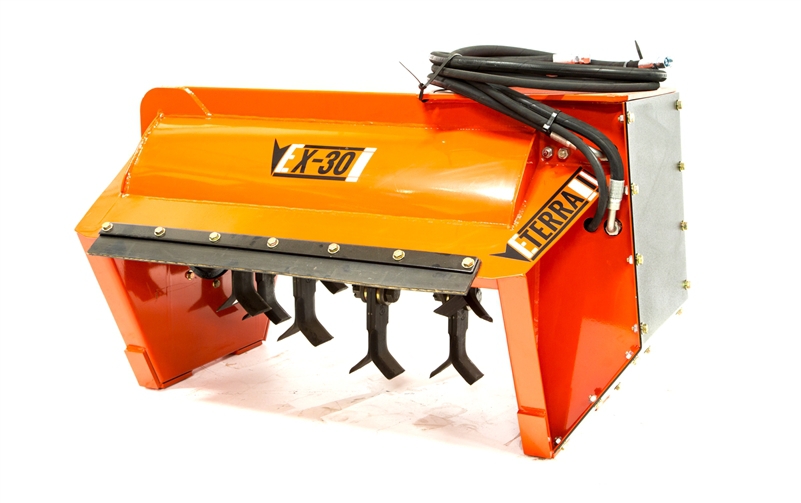 Did you know that our brush mower uses a 5" DOM tubing in the place of a steel pipe in the cutter shaft? Our product engineer, Cody Corfe, has this to say about this piece of exclusive technology:
"Everyone in the industry uses a schedule 80 pipe, which has an increased likelihood to bend and break. At Eterra, we use a 75,000 psi with DOM, which can take more abuse,is more accurate, and has no vibrations. We have engineered a proprietary machine — used exclusively by us in the industry — that electronically balances the cutter shaft. With 13 years of experience at other companies, I understand how the competitors' machines run. This knowledge has allowed me to design machines that are structurally stronger and can withstand real life scenarios. We understand the importance of durability, as these are the machines that operators rely on day-in and day-out to put food on the table for their families." — Cody Corfe, Product Engineer.
To prevent shakiness during operation, the shaft is custom cut then electronically balanced. Please note that DOM is a process rather than a type of steel tube: the tubing is "drawn over mandrel" and is an electric resistance welded tube tested for soundness of weld and drawn through a die and over a mandrel. The cold working process using SAE 1020 or 1026 steel, which significantly improves the mechanical properties of the the tubing. This cold drawing process creates a uniform and precise product with improved tolerances, surface finish and tensile strength. This attachment is exceptional precisely because it is the perfect combination of the right materials and industry expertise.
In addition to its meticulously constructed inner details, this attachment is designed for a combination of conditions. Eterra Attachment's Excavator Brush Mower can quickly adjust to sudden changes in terrain, material types, and directions. Being a flail style mover, it will clear brush from roadsides, ditches, driveways, fields — its uses are limited only by a lack of creativity. The EX-30 fits backhoes and excavators from 7,500 lbs to 14,00 lbs; the EX-40 from 9,000 lbs to 20,000 lbs; and the EX-50 from 17,000 lbs to 25,000 lbs.
With cutting capacities ranging from 4-inch to 8-inch material (depending on the attachment size) and a swing weight light enough to cut in all directions and inclines without the fear of tipping, this attachment must house only the most efficient systems. Superior balanced shaft and 2 lb blades powered by a quality Permco USA motor, Eterra upholds its commitment to using systems that have proven to be strong and reliable.
All of the Excavator Brush Mowers come with a blank universal mounting plate. Because this attachment requires a case drain line that directs pressure away from the motor seals to the oil tank, it is important for the operator to select the right coupler for their excavator. However, case drains are not required for Bobcat, John Deere, Yanmar, Kubota, Caterpillar or Case Excavators.
Features:
Safely cuts and mulches up to max 8" material (depending on attachment size)
Bolt on mount plate
High strength steel housing
Direct drive system
Electronically balanced cutter shaft
Safety Impact OSHA Safety Orange Powder Coat Finish
Wire proof wear cone standard
1 year limited warranty on parts and labor
Case drain line provided if needed.
Proudly made in the USA.