Posted by Kyle Davis on 12th Mar 2018
Skid Steer Attachments Shipped to Canada
Are you a machine owner located in Canada? Are you looking to have Skid Steer Attachments shipped to the Great White North? At Skid Steer Solutions, we know Canada, and we know how to ship essential tools and accessories quickly and cost-effectively. Our owner was born and raised in Vancouver, built many of his original inventions in Surrey, BC, and we're now located in Bellingham, Washington, just 20 miles from the border. This means we have a long history of successfully shipping Skid Steer Attachments and other products to our Canadian customers, and we know the most economical methods available to ensure you get the proper value out of your purchase.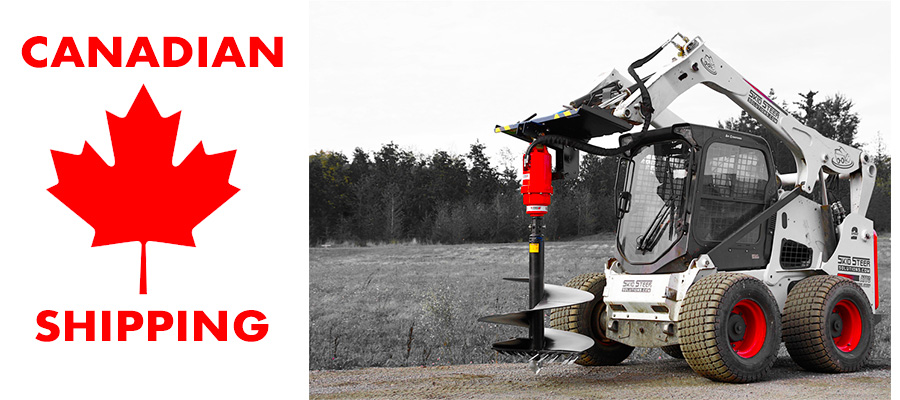 We pride ourselves on processing orders quickly and getting them shipped out the door. We work hard to complete all the necessary steps, complete proper assembly when needed, package and ship products securely, and get them shipped to your machine so you can get to work. When it comes to shipping attachments from the US to Canada, there are some key details to keep in mind, and we'll break it all down here. Things to consider include:
Shipping Logistics and Details
Sale Price, Taxes and Import Fees
Drop Ship Options
Payment from Canadian Customers
Brokerage and Duties
And most importantly:
How to help you save money on shipping costs
Shipping Logistics and Details
In our experience, USPS is going to be the fastest, and most cost-effective shipping option when it comes to shipping to Canada. Once your order is processed we will attempt to ship your order with USPS. If USPS is not available to your location, our next best option will be UPS. Fed-Ex is also an acceptable option if both USPS and UPS are not available.
Larger shipments will travel on a large freight truck, either R&L or ODFL, depending on your location and the size/weight of the attachment.
The base shipping charge you pay covers shipping to a business address or a freight depot. At this time, we're unable to offer shipping to Canadian home addresses.
If you have a special request, or are looking to have your order shipped to a farm or construction site, please let us know upon checkout and we can investigate your options, providing a separate quote and billing prior to shipment. During this process, we will be in regular contact with you to ensure accuracy and customer satisfaction.
Are you located in a smaller town or a remote location in Canada? Our shipping arrangements only allow for shipments to be dropped off in a major metropolitan city in your province. When you complete your order, we will let you know how close we can get your order to your location, and to what city. You can then arrange for additional delivery or pick up the order yourself. We can also assist is additional shipping arrangements should you be interested in a Canadian shipper to bring your order to your end-of-the-line address.
Sale Price, Taxes and Import Fees
All orders made through on website are in US Dollars.
We do not charge taxes for orders shipped outside of Washington State as part of an out-of-state transaction.
If you're a Canadian customer looking to ship an order within Washington State for later pick-up and transport, your order will be subject to Washington State Sales Tax.
The same goes for orders that are picked up at our warehouse location in Bellingham, Washington (unless you happen to be from a province that does not charge sales tax). If you are from BC, the only way to avoid sales states is to ship your order across the border.
Please be aware that we can't be help responsible for any charges that occur once your shipment leaves our facility. With this post, and our Canadian Shipping Page, we do everything we can to assist you and make you aware of all Canadian shipping details. That being said, you will be responsible for HST, PST and any other costs when importing your item(s).
Drop Ship Options
As a great money saving option for our valued Canadian Customers, we have partnered with two pick-up locations near the border on the US side. This will help you save some money if feasible for your location. You simply come down, pick up your order, and then import your items yourself, lessening brokerage and shipping charges.
See our drop-ship partners and their locations below. Please note that these locations charge fees for storage and pick-up. Please contact your pick-up location for further details and information.
Manitoba – Ship to Address
Mike's Parcel Pick-Up
183 West Stutsman Street
Pembina, ND 58271
Phone: 701-825-6471
Alberta – Ship to Address
At the Border Storage
408 Oak Street
Sweet Grass, MT 59484
Phone: 406-335-4040
Payment from Canadian Customers
We accept all major credit cards, including bank-to-bank wire transfers. Please not that credit card transactions made outside of Canada may incur a fee or associated fee for our Canadian customers.
Please take note of the exchange rate when finalizing your purchase. Also please take note if your bank charges any additional fees for out-of-country transactions. These are things that have taken customers by surprise in the past and we want to make you aware before you complete your order.
We do not accept out-of-country purchase orders or checks unless they are certified and drawn on a US bank.
We are currently unable to offer credit or terms on Canadian purchases. This is to protect our business and the relationships we have with our shipping partners, because once a product is shipped across the border, we are unable to retrieve the shipment in the event of non-payment.
Brokerage and Duties
When you export goods from the US to Canada, you are required to use a broker. The broker will manage the collection of all duties and taxes. When you purchase from Skid Steer Solutions, you are paying only for the item(s) in your order as well as shipping. Your broker will collect any taxes and/or duties as well as an additional brokerage fee. If you have any questions or concerns, please consult with your broker before finalizing your purchase.
You are not required to use a broker if you pick-up the goods in the US and enter Canada with the items in your personal possession. Canadian citizens can make an informal entry and pay taxes and duties personally without using a broker. The invoice must be in your personal name and this does not apply to products imported under your business name.
The majority of our attachments are made in the US or Canada. Skid Steer Solutions has a NAFTA certificate in place, allowing our customers to bring attachments across the border duty free. Attachments that qualify as farm attachments are also except from duty charges. If you have any questions, please contact us before purchasing.
How to Save Money
We have a long history of shipping products to Canada. We have been around a long time, lived in both the US and Canada, and done a lot of business in-between. We want our customers to get the very best attachments, at the vert best price, and have a pleasant shipping experience as well. This goes double for our Canadian customers, given all the details and complications that have been detailed in the above post. Given our experience, here is our suggestion on the most cost-effective method for Canadians. Please note that this is our personal advice, and you may have a more preferred method that works better for you. We encourage you to do some research and make the best decision for yourself. That out of the way, here is our informal recommendation to our Canadian customers:
Ship your item(s) to a US address close to the border
Pick the item(s) up on the US side
Import the items yourself using your personal exemptions and informal entry
Have the items shipped in bond and self-clear them
You will be required to fill out the Skid Steer Solutions Canada Customs form yourself
If this is a solution you are interested in. Feel free to get in touch with any questions or for further details.
Did we cover everything? I think we went pretty in-depth. We hope this post has helped clear up some things and has made ordering and shipping with Skid Steer Solutions a pleasant experience for our Canadian Customers. If you have any questions whatsoever, or just want to talk shop, we're always available, either through the website or on the phone. Thank you for your business and consideration.
Please enjoy the video above, featuring a joint trip we made to Alberta along with Eterra Attachments. We also love a good excuse to come back to Canada!