Posted by Maranda Wilson on 17th Nov 2016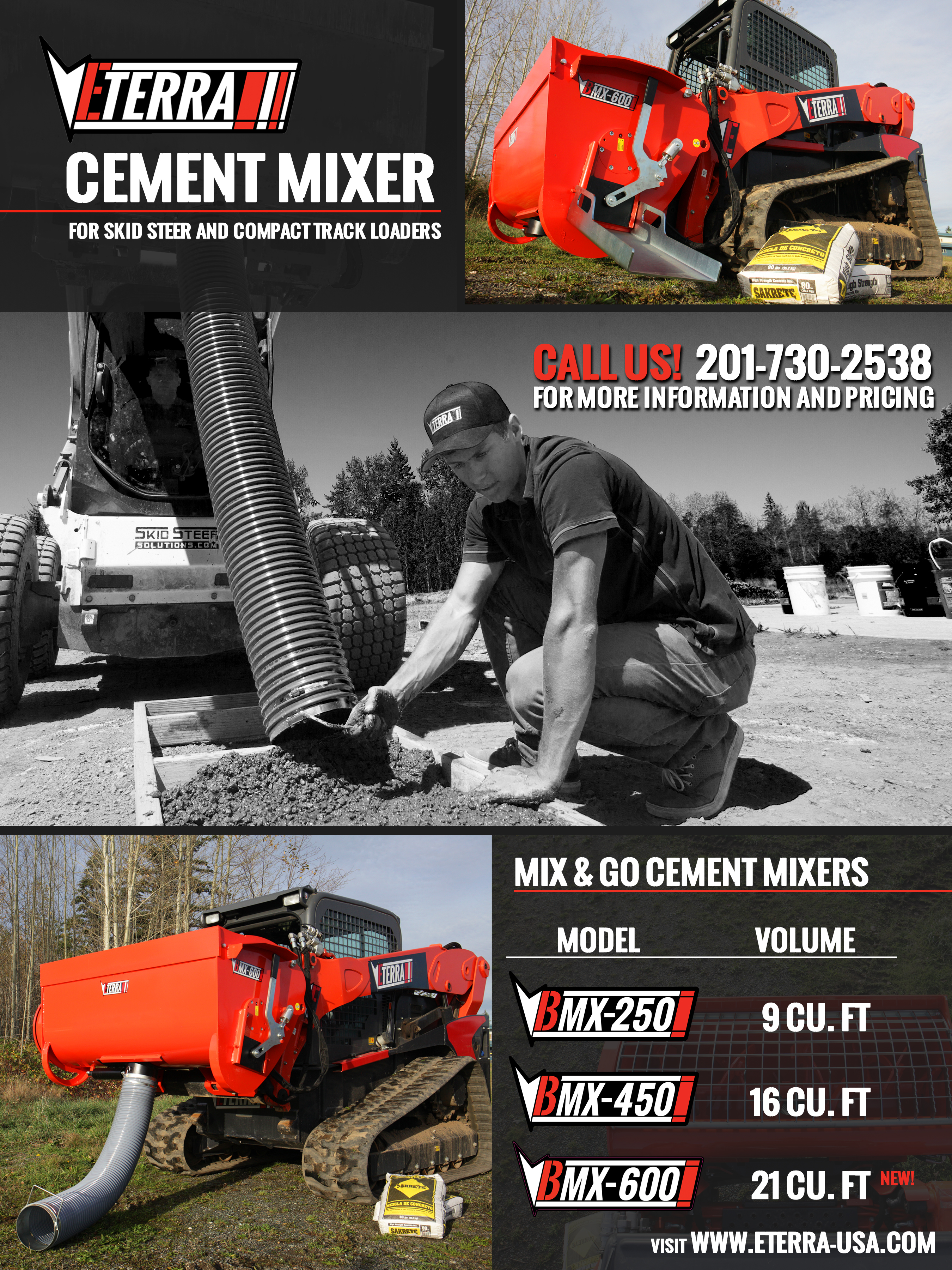 In partnership with Equipment World Magazine, Eterra Attachments, LLC is proud to announce the release of the latest addition to the popular Skid Steer Mix-and-Go Cement Mixer lineup: the BMX-600. Our Cement Mixer will be featured in their "New Product Spotlight Feature" with other new attachments of 2016.
Skid Steer Solutions, as the official retailer of Eterra Attachments, LLC, is excited to carry a product that will completely revolutionize the cement industry. After the success of the original two model lineup, the BMX-250 and BMX-450, Eterra Attachments introduced the BMX-600 after listening to customer requests for bigger capabilities to suit their bigger jobs. Prior to the Cement Mixer line, operators rarely considered using their skid steers when approaching a job involving cement. Why purchase a separate power mixer when most of the machinery in your arsenal are more than capable of powering an attachment that does the same... and more? Eterra's Mix-and-Go Cement Mixer streamlines the cement collection, mixing, and pouring process all into one hopper.
The BMX-600 has a remarkable 21 cubic foot capacity – a dramatic increase from the 9 cubic feet of the BMX-250 and the 16 cubic feet of the BMX-450. The specially designed bolt-on mounting systems allows the BMX-600 to be mounted on to the most powerful of machinery: telehandlers, front-end loaders, excavators, backhoe loaders, and, of course, skid steers. For machines at or over 2700 lbs, we suggest the BMX-450. For machines under 2700 lbs, we recommend the BMX-250. The volume of these two models range from 66-119 gallons with a hydraulic flow range of 12-25 GPM and max hose pressure of 3500 PSI. The hydraulically operated center chute can quickly dispense the contents of the hopper, or use the side chute for a more controlled pour. Another option is to use the 5-foot-long flexible hose attachment for a hands-on control over the pour. For mini skid steers, consider our BMX-100 mini mounted cement mixer.
The biggest selling feature of the BMX models is that it doubles as a steel auger/paddle combination. This attachment is suitable to mix virtually any dry material, and the center chute can double as a sand bag filler.
See it in action down below:
Mixing cement:
Our suggestion is to mix 9 cubic feet (1/3 of a yard). This amount is the optimal amount for our machines as it leaves enough space above the paddles to avoid spillage during transport. Our guidelines are 1-part water, 2-parts cement, and 3-parts sand/gravel by volume. In a product demonstration, the BMX-250 at 2/3 full, yielded 31 square feet of cement in 2x4 forms.