Posted by Kyle Davis on 26th Apr 2018
Skid Steer Cold Planer Buyer's Guide - Low Flow and High Flow Models
Restoring asphalt and concrete surfaces can prove to be a labor intensive and extremely expensive job, thankfully, skid steer operators have the option of utilizing a Skid Steer Cold Planer Attachment to complete this type of job in a quick and more economical way. Cold Planers can also be utilized to restore and repair potholes, widen shoulders, curbside work, water drainage restoration, and more. These tools are not inexpensive when it comes to the Skid Steer Attachment market, but when you calculate the ease of operation and compare the cost against more industrial or commercial solutions, a Cold Planer is yet another example of skid steer versatility and innovation at work. At Skid Steer Solutions, we stock a selection of Cold Planer Attachments from trusted manufacturers with sterling reputations, meaning when you invest in a big tool such as this, you can get to work with confidence knowing it's been manufactured to high standards and will be fully supported throughout it's operational life. We offer Cold Planers from Blue Diamond Attachments, Bradco and FFC, and are always on the look out for new products available in the marketplace that can bring value to our customers. Read on to see video, images and learn about the features and benefits of these individual Cold Planer models.
Blue Diamond High Flow Skid Steer Cold Planer
Blue Diamond designed their High Flow Cold Planer Attachment to meet industrial-grade requirements, sourcing components that operators have grown to trust and rely on in the most severe of applications. Blue Diamond boasts a heavy-duty operating weight for the Cold Planer, combining with an efficient drum tooth pattern that results in reduced vibration that eliminates waste during work. Less waste means faster job completion and more opportunities to make money.
A Sauer piston motor comes standard in Blue Diamond's High Flow model, including a Fairfield Planetery Hub and Blue Diamond's very own engineered tooth pattern. Blue Diamond terms their teeth as "Rocket Teeth" that are aligned in a "V-Tooth" pattern that make quick work of rugged concrete and asphalt surfaces that need to be dealt with.
Key Features: Sauer piston motor, proprietary tooth construction and tooth design, huge access cover for simple and easy maintenance and tooth replacement, available in 16"-48" grinding widths, Tilt Functionality, Adjustable Side Runners.
Blue Diamond Low Flow Skid Steer Cold Planer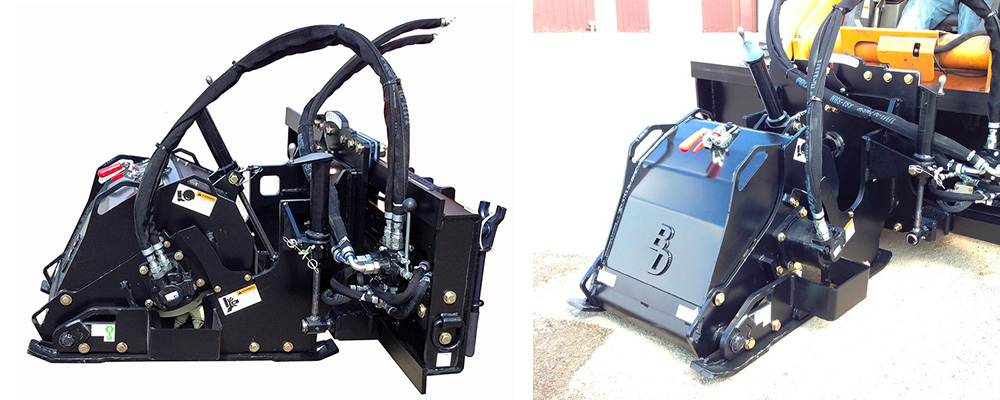 Blue Diamond offers an additional Cold Planer model as well, the Blue Diamond Low Flow Cold Planer for Skid Steer Loaders. The Low Flow model is an excellent option for machine operators who's loaders can't handle the heavy-duty high flow requirements, but who still want to be able to resurface and mill concrete and asphalt with some power. Blue Diamond has optimized this model for low flow machines, and it's an effective tool for pothole repair, widening shoulders, removing surfaces, and much more. The same Sauer motor and Fairfield planetary drive hub can be found in the Low Flow Cold Planer, so there has been no skimping on quality just because this is a smaller unit. If anything, it's been beefed up and studied over even more due to the hydraulic requirements and engineering challenges.
Key Features: Optimized for Low Flow Skid Steer Loaders, same Motor and Planetary Drive as High Flow Model, allows a wide range of loaders to take on this rugged application, cutting widths of 12" or 16" available, Tilt Functionality, Adjustable side runners.
Bradco Series 1 Cold Planer Attachment
Bradco has the benefit of being one of the biggest names in our industry, and as a result, the Bradco Series 1 Cold Planer Attachment is one of the most highly recognized and best-selling Cold Planer Attachments available. There are benefits to being the big dog, as customers can rely on Bradco's many years of customer service and support for these high-powered attachments. Parts and service come easier when there's volume and experience to back them up. Concrete milling, concrete and asphalt resurfacing, pothole repair, frost heave repair, curb cutting, pavement retexturing, the list of applications for the Bradco Cold Planer goes on and on. With this much history and experience, there's almost no end to the heavy-duty jobs these attachments have been proven on. Standard flow models as well as High Flow models are available, with a variety of 3 and 4 function controls, this means the Cold Planer is going to run on your machine, no matter the make or model.
Key Features: Extensive history and experience in the Cold Planer market, Standard and High Flow models available, 3 and 4 function controls available, compatible with just about any full-size skid steer, proven performance on a wide range of applications, fully adjustable, electro-hydraulic controls, Independent, self-leveling depth adjustment plates.
FFC Series II Cold Planer Attachment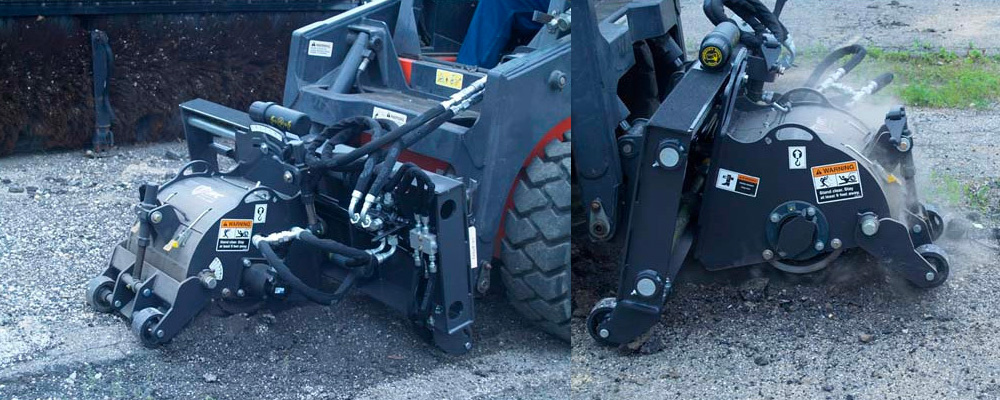 Another name you're sure to have familiarity with is FFC - another proven name under the wide and powerful Paladin umbrella. The FFC Series II Cold Planer Attachment shares a lot of features and functions as it's Bradco cousin listed above, with a few differences that merit consideration when shopping for a Skid Steer Cold Planer. The FFC model comes available in widths from 12" to 36", with Standard and High Flow models available. The High Flow models have the distinction of a planetary gearbox drive to increase torque and reliability. Another stand-out feature of the FFC Cold Planer is the available Water Kit option, which allows operators the availability to keep dirt, debris and dust under control during heavy application. This will keep your work area safe and secure, and also safeguard your crew against potentially harmful or hazardous particles in the air while they work.
Key Features: Available from 12" to 36" widths, Standard and High Flow models available, High Flow models come with planetary gearbox drive for optimal torque and reliability, Available Water Kit option, Water Kit helps control dirt, dust and debris to keep operator and work crew safe.
Bradco Cold Planer at the World of Concrete Trade Show
As an added bonus, here is an up-close-and-personal look at the Bradco Cold Planer Attachment, as featured in the World of Concrete Trade Show in Las Vegas. We were able to join Paladin's booth, examine their heavy-duty attachment, and provide closer look of their Cold Planer. We hope this video will give you some striking visuals and help to convey just how massive and heavy-duty these skid steer attachment really are. It's one thing to view an image online, it's a whole new thing to see these tools in person. The Cold Planer line of attachment is especially awesome and impressive when see at full scale in real life. We hope our video above gives you a sense of that.
Questions? Ready to order? Speak to us in person at 1-866-966-2538