Posted by Minh Do on 26th Feb 2019
Skid-Lift offers Skid Steer and Compact Track Loader owners the ability to turn their machine into a fully functional scissor lift, capable of booming your work up to 27'. The attachment is equipped with hydraulic controls that can function on just about any loader, manual extension platforms, standard forklift pocket and multiple sizes to choose from.
With Skid-Lift you will be able to reach new heights and increase efficiency with this incredible innovative attachment. Great for framing, roofing, siding, general maintenance, tree trimming, window installation, hanging holiday lights, and so much more. Access hard to reach places and get more work done with the Skid-Lift attachment.
Features of the 1530S:
The Skid-Lift 1530S is designed to be a one-person operation. Your machine needs to be turned on, but the operation only requires one person inside the lift controlling the attachment. The 1530S is the most affordable model with a working height of 21'. The max platform height is 15'. The deck dimensions are 5' long by 30" wide. The attachment has a lifting capacity of 550 lbs and the weight of the 1530S is 1500 lbs.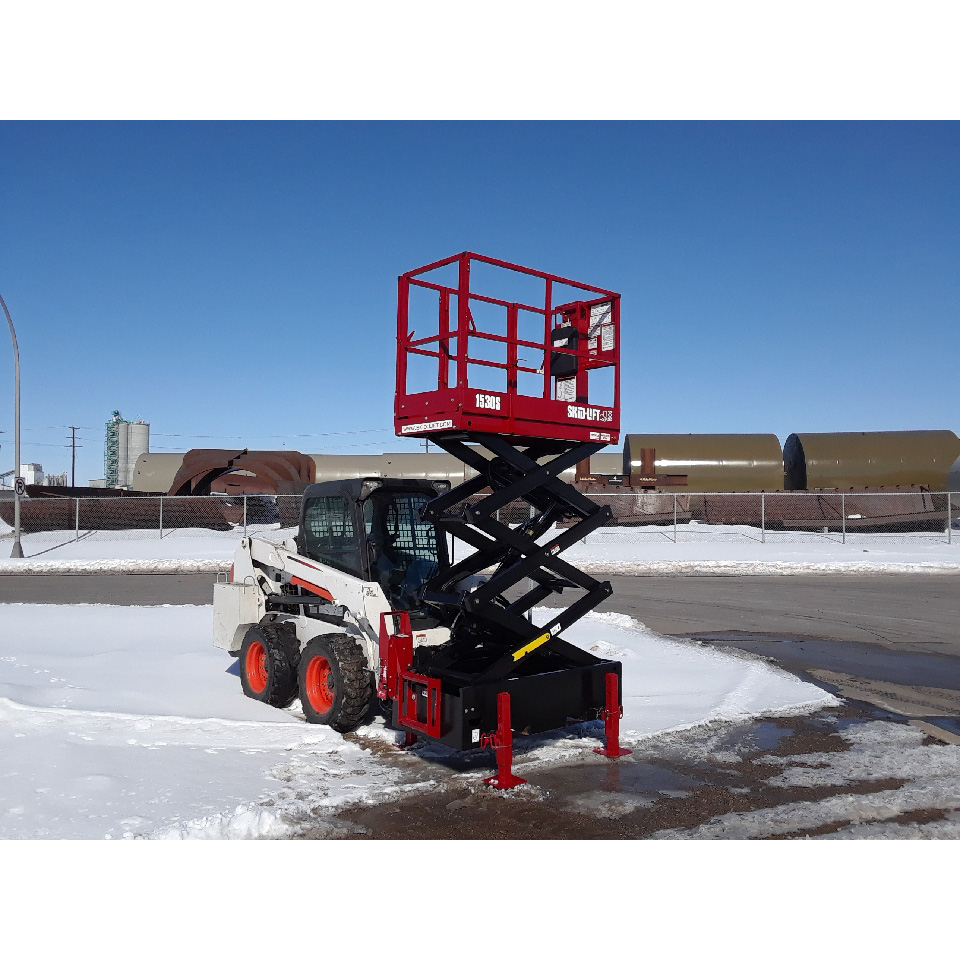 Features of the 2230S:
At Skid Steer Solutions, we're always on the for the next exciting skid steer innovation we can offer to our customers and Skid-Lift has delivered with their innovative scissor lift attachment. The 2030S model boasts a maximum platform height of 22', for an effective platform height of 28'. Get up in the air safely and securely, and complete the different task with ease thanks to this new attachment. The deck dimensions are 5' long by 30" wide. It has a lifting capacity of 550 lbs. The 2230S weights 1900 lbs.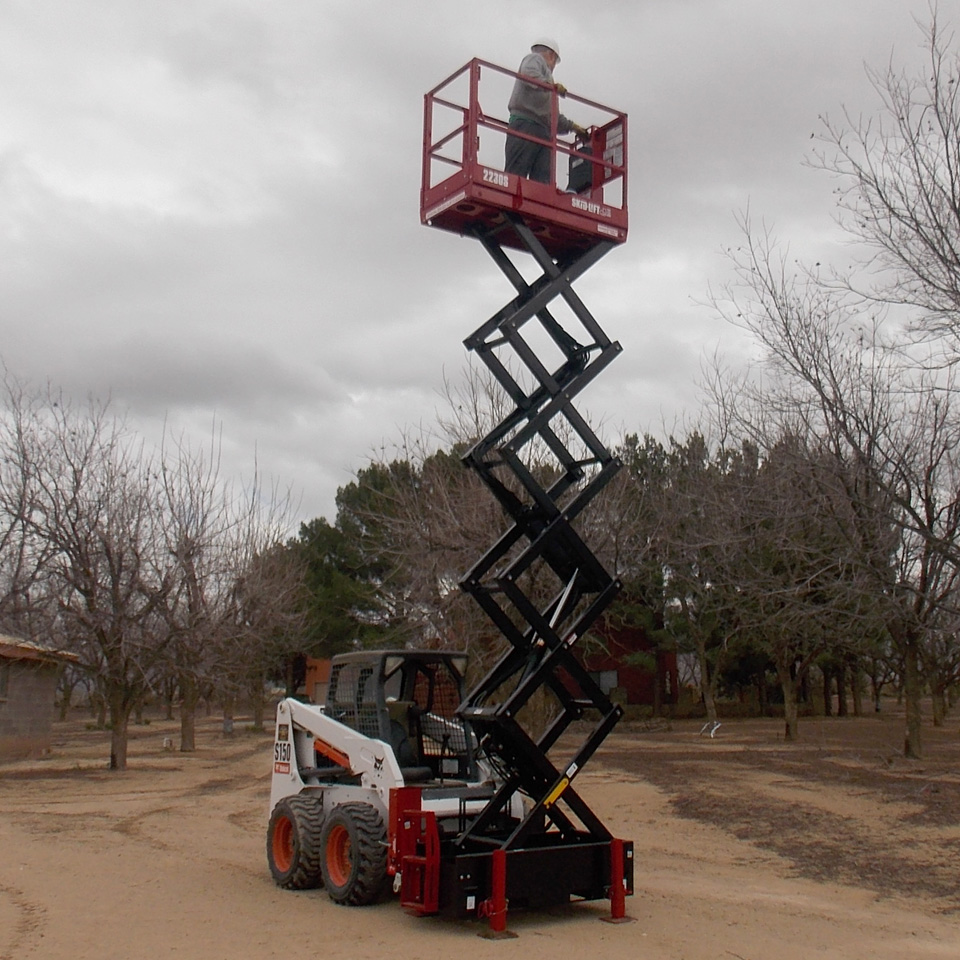 https://www.skidsteersolutions.com/2230s-skid-steer-scissor-lift-attachment-skid-lift/
Features of the 2030E HD:
The heavy-duty 2030E boast the same innovative performance as all Skid-Lift Scissor lift attachments, with a few extra upgrades thrown in. This model features 4 degrees of side tilt to bring that extra versatility to your work operations, dual attach plates standard (side and end) as well as an extra 24" deck extension, allowing you to access all hard-to-reach areas and complete your job faster. With a maximum platform height of 19' that translates to 25' of working height, there will be no end to your work access when combining this scissor lift attachment with your nimble skid steer loader. Work safely and effectively on the large 8' long and 30" wide basket with deck extensions. The 2030E HD has a lifting capacity of 1,000 lbs and weighs 2300 lbs.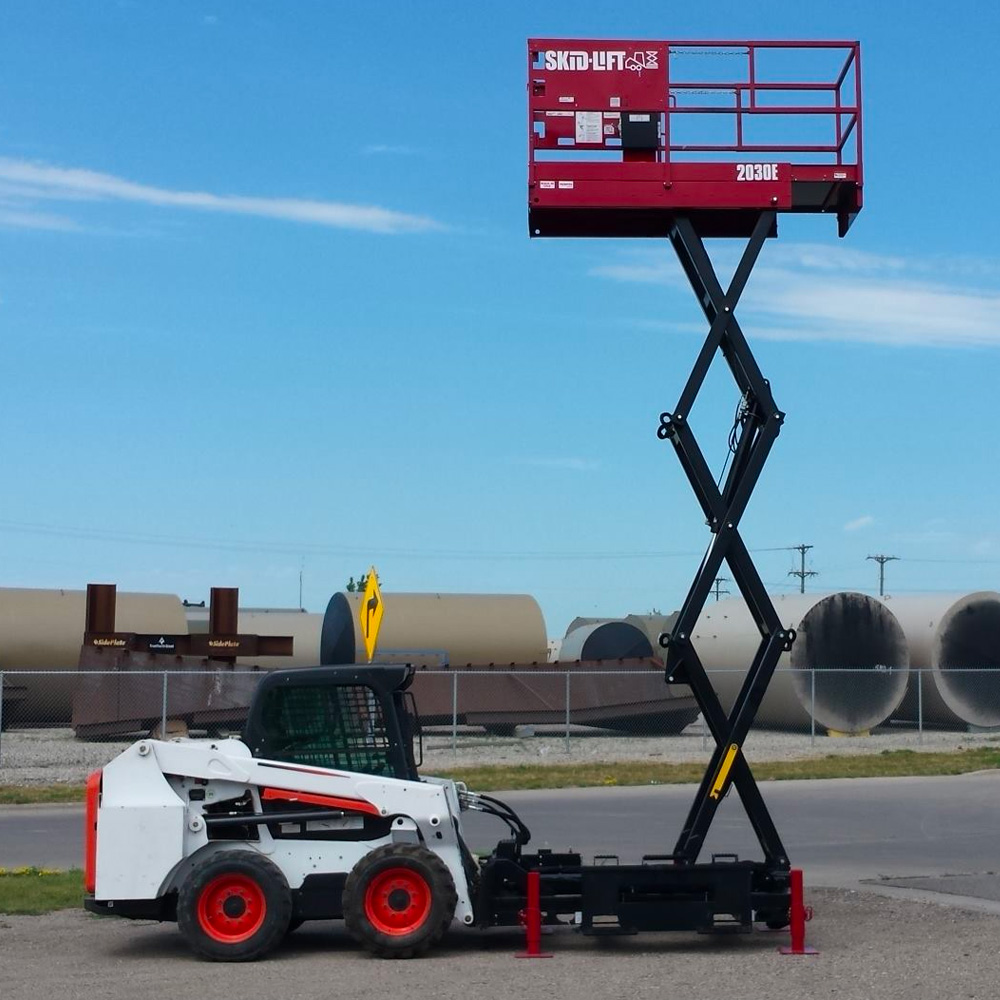 https:/ww.skidsteersolutions.com/2030e-hd-skid-steer-scissor-lift-attachment-skid-lift/